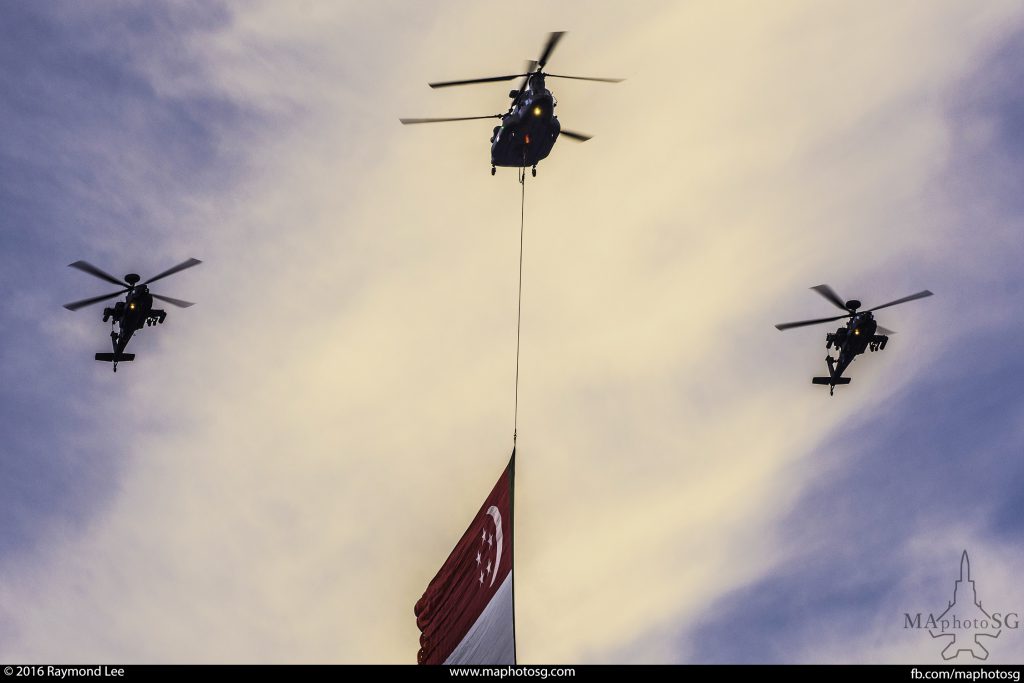 Come 9th August 2016, Singapore will be celebrating 51 years of independence! Some of our members were out and about capturing the magnificent State Flag flypast since July onwards.
In every National Day Parade (NDP), the huge State Flag has always been the symbol of the parade. The flag flypast will usually appear in front of the parade during the singing of national anthem – Majulah Singapura. However, for this year 2016, as the National Day Parade is held inside the covered dome of National stadium, the plan for the fly past had a twist.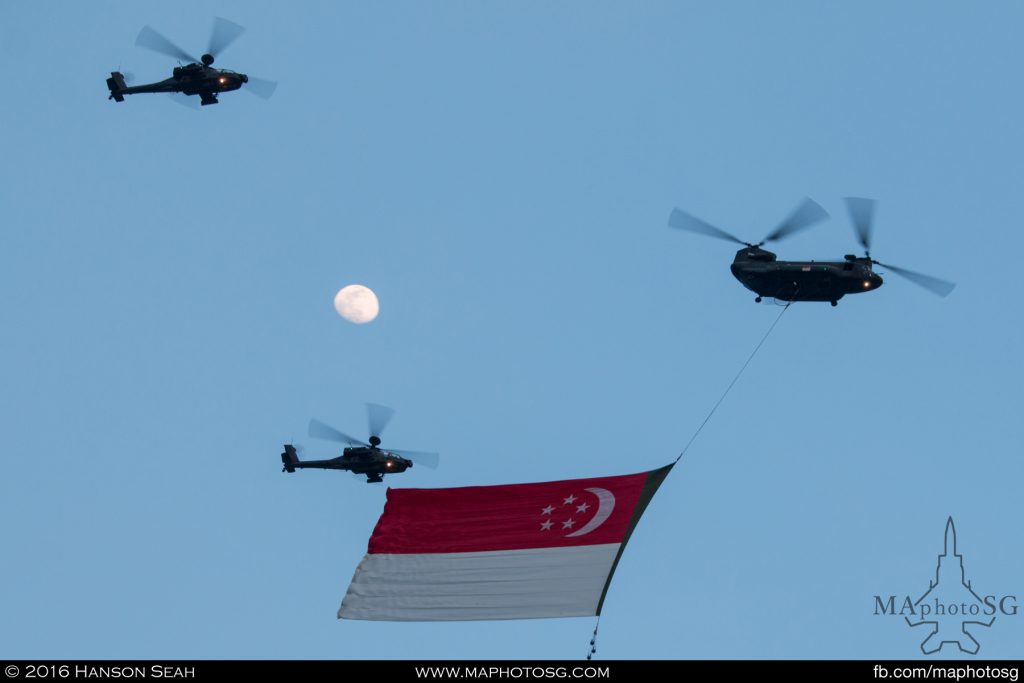 The Flag flying along the southern coast of Singapore. Seen here taken from Barrage.
The idea for this year is to do a LIVE video feed from RSAF Super Puma. For the first time ever the State Flag will be flying along the southern coast of Singapore with National Stadium and Singapore as the background.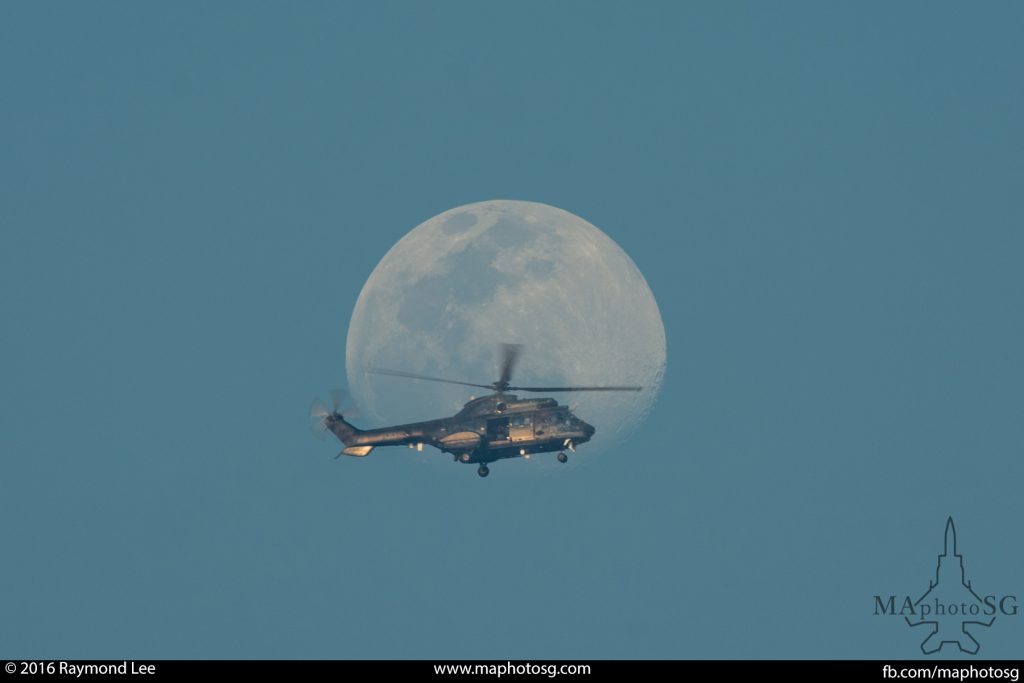 RSAF Super Puma with TV crew onboard to provide LIVE feed of the flypast.
The first State Flag flypast was conducted in 1970, by an Alouette III helicopter then. Today, the State Flag flypast is staged by a CH-47D Chinook helicopter, escorted by two AH-64D Apache helicopters, and carries a flag 81 times the size of the first State Flag.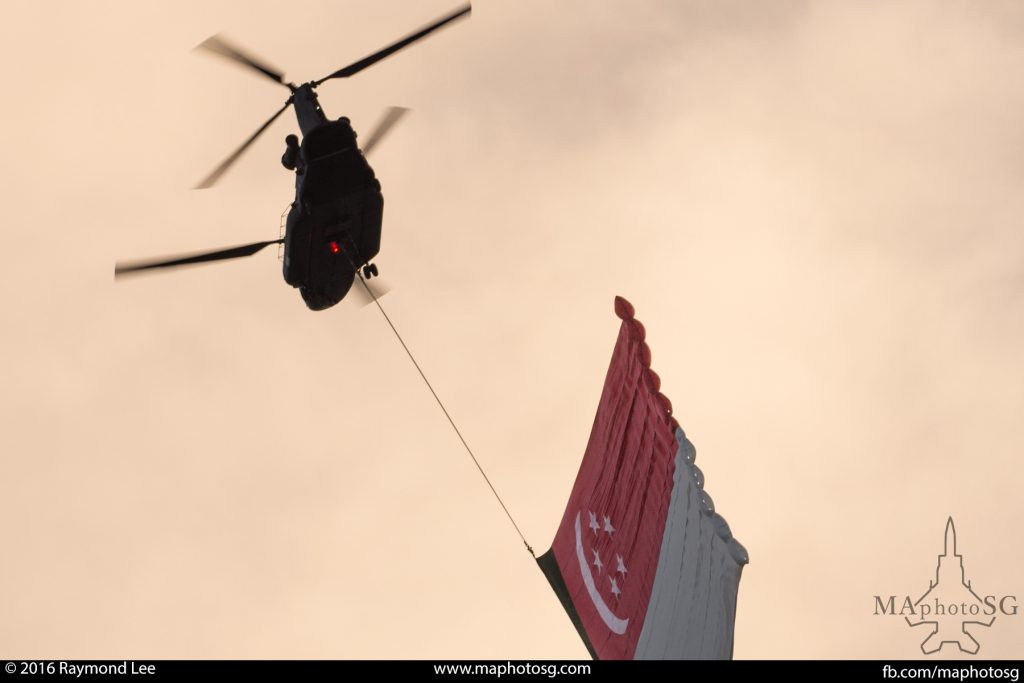 The State Flag flypast team involved some 300 men and women to prepare and rigged up from Pulau Sudong, Paya Lebar Air Base or Sembawang Air Base depending on the flag deployment plan and weather.
As a precautionary effort, there is always be a secondary party of another Chinook with State Flag and an  Apache flying closely together  while holding before actual flypast is required.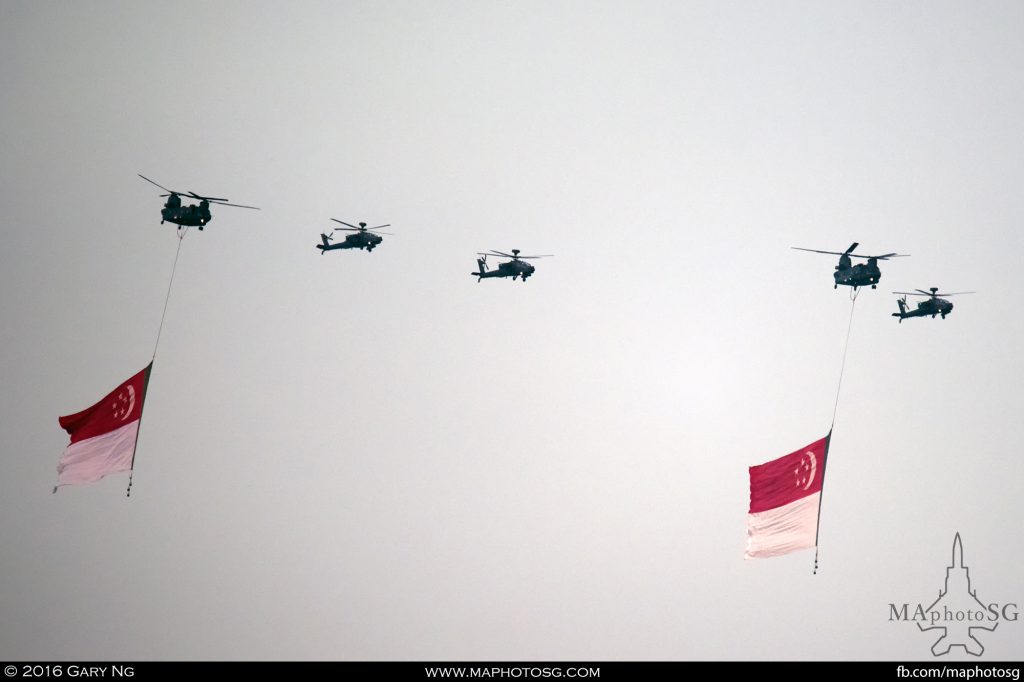 When all clear signal from the primary party is given, the secondary party split off heading back to base.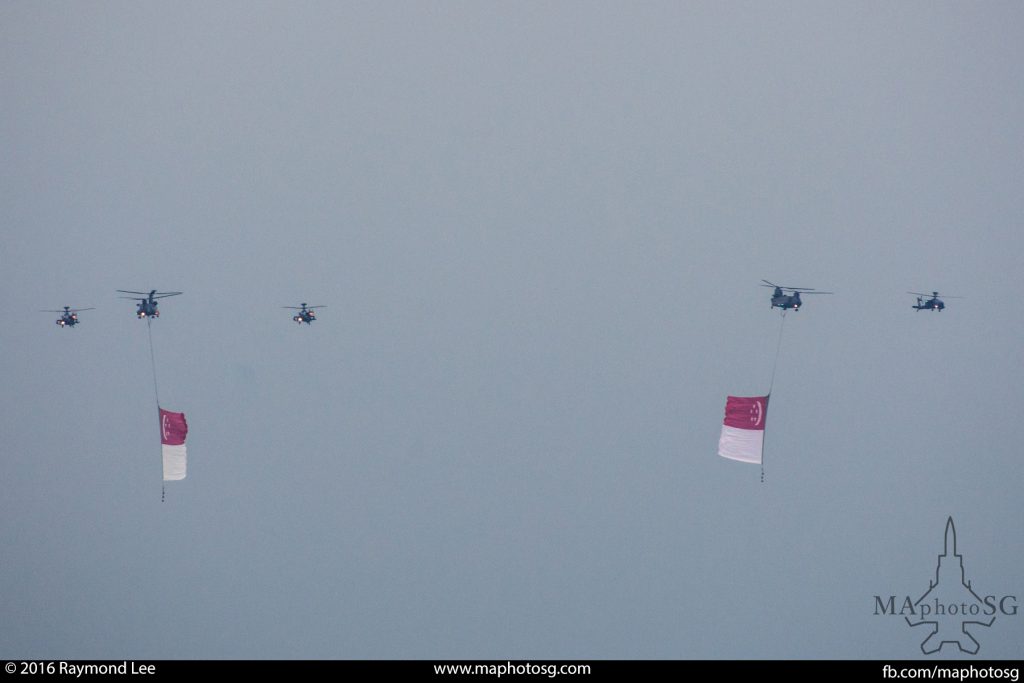 At about 7pm, the national anthem began and it's show time for the State Fly flypast. The State Flag will continue to fly west, over Barrage, Marina South Pier, PSA and back to base for recovery.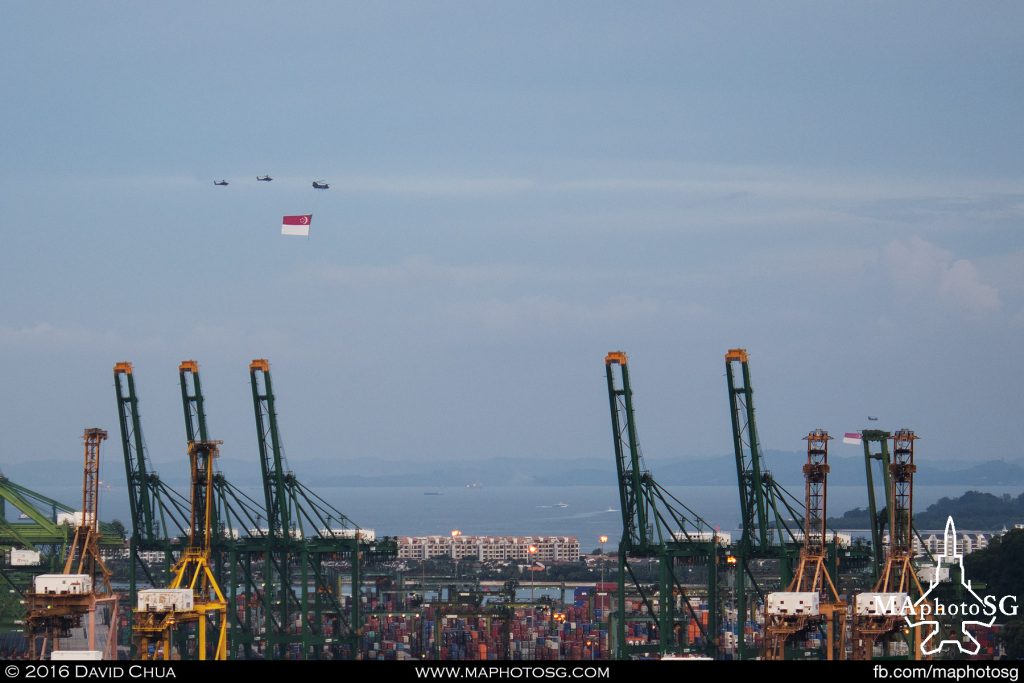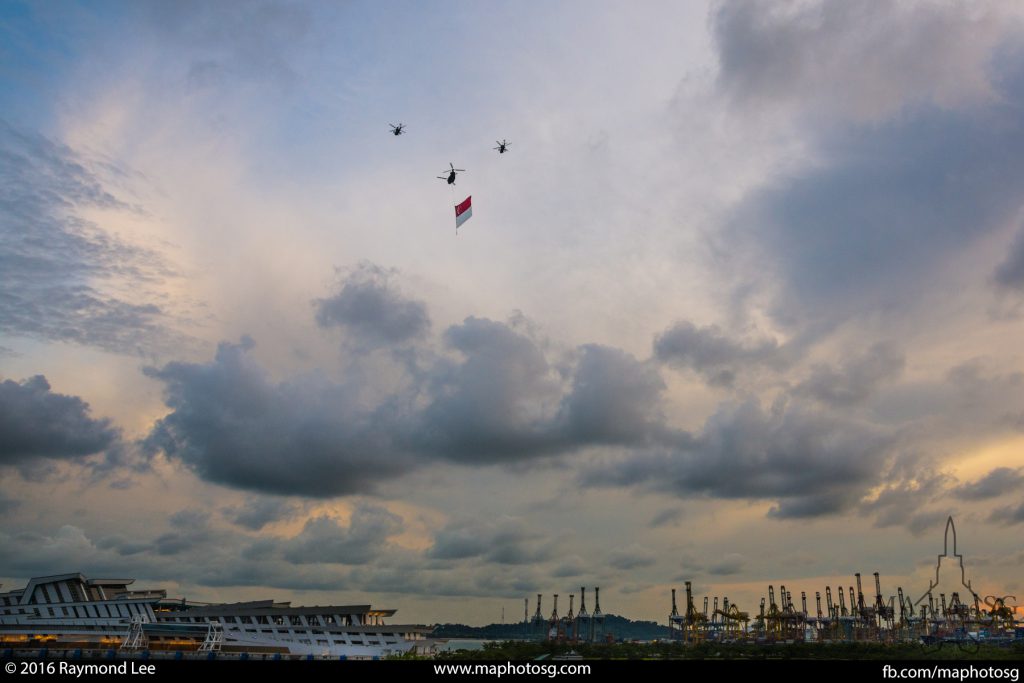 MAphotoSG team would like to wish Singapore a Happy 51st Birthday Day!!!
See here for our full gallery of all our photos of the State Flag flypast!
About MAphotoSG
MAphotoSG (Military Aviation Photography Singapore) was founded by Raymond and David in 2015 and currently consists of a group of passionate volunteer local aircraft spotters that share the common interest of aviation photography. Core activities include the coverage of aviation events and aircraft spotting, both local and overseas.
Some of the key significant events captured by the group include the Exclusive Preview of the RSAF at Singapore Airshow 2016, the first sighting of 142 Squadron's F-15SGs and the F/A-18Ds of Exercise Commando Sling 16-2. The group was also featured in a pre-Singapore Airshow 2016 article published by the local compact, TODAY.