We are proud to share that our Co-founder and a member of MAphotoSG.com were interviewed by TODAY paper and was published on 20 Feb 2016 (1st public Airshow day) on their Airshow special edition!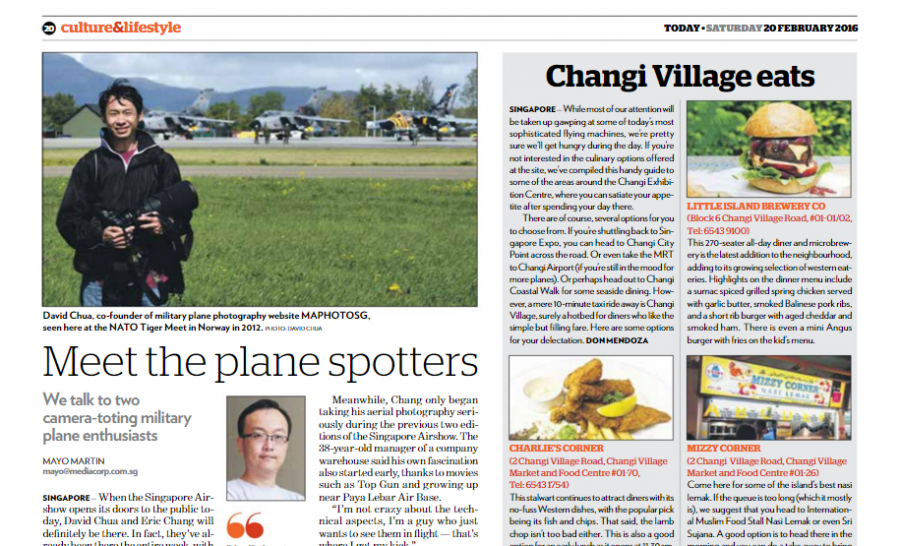 Click here for the PDF version
Excerpt from TodayOnline.com on 20 Feb 2016:
SINGAPORE — When the Singapore Airshow opens its doors to the public today, David Chua and Eric Chang will definitely be there. In fact, they've already been there for the entire week, with their DSLRs, ready to take the perfect aerial shot.
Their obsession with military planes is only equaled by their passion for photography, which can be seen on the website MAPHOTOSG or Military Aviation Photography Singapore, which Chua co-founded…
…"We maintain a close relationship with the RSAF. We don't post anything that's sensitive and don't hang around the perimeter fences. We've even shared our pictures with them," he said…
…"It's all about the whole feel of the airshow, not just the aircraft," he said, recalling how he was impressed by the China exhibition of its commercial aircraft the previous edition… (Eric)
Read more from http://www.todayonline.com/lifestyle/singapore-airshow-2016-meet-plane-spotters
About MAphotoSG.com : Military Aviation Photography Singapore is a rare and tight community of 10 individuals who share a common interest in Military Aviation Photography in Singapore. Co-founded by David and Raymond, this group is somewhat exlcusive and on invitation only. We are also in close contact with RSAF New Media team, making us a responsible group, adhering to the guidelines – Do not photograph into airbase and do not photograph around the airbase perimeter.