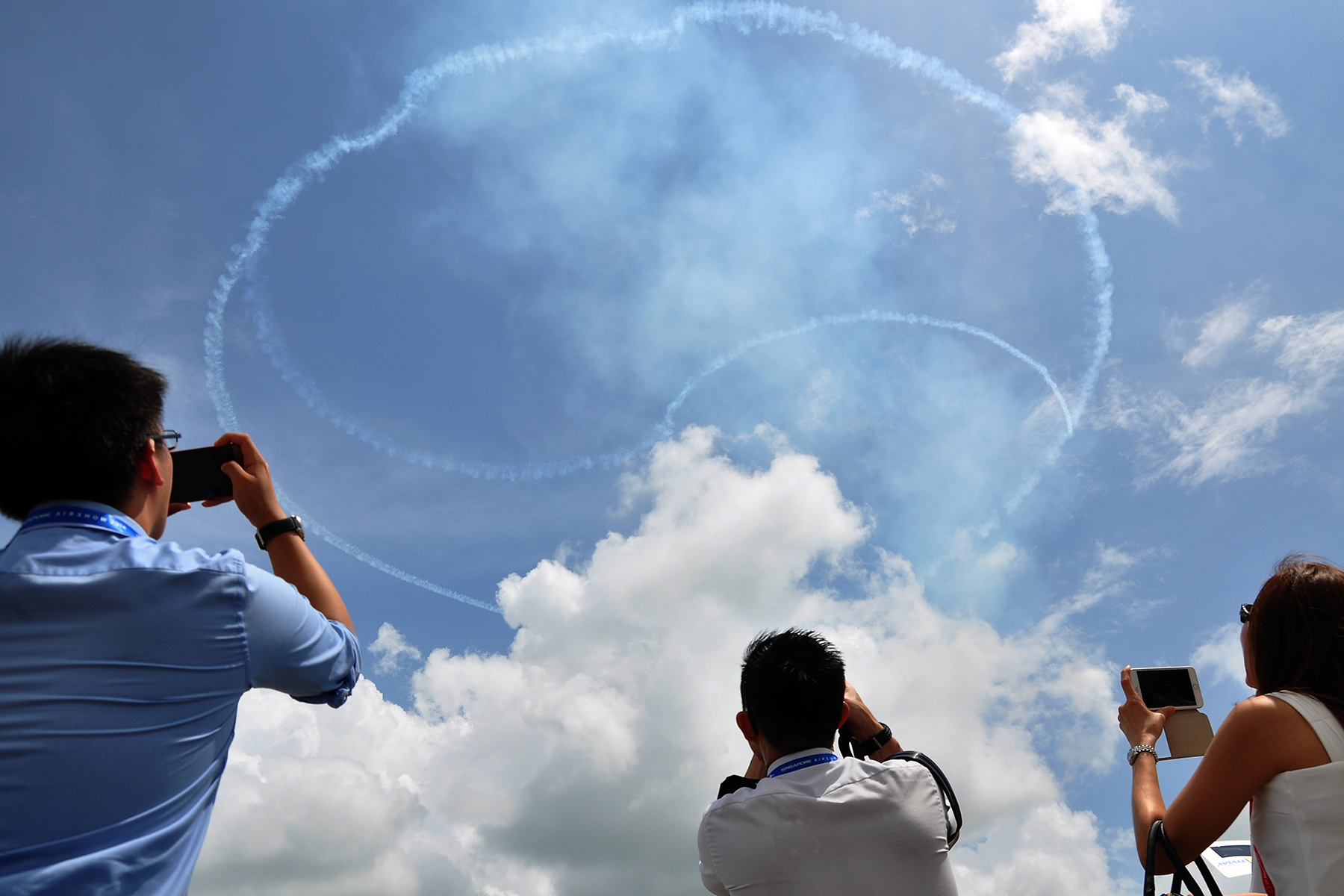 After shooting for 3 days, MAphotoSG team is sharing photography tips on how and what will you be expecting for the Singapore Airshow 2016 flying display!!
For public days flying display timings, please refer to Official Singapore Airshow 2016
Here are some tips from us on how you should approach on each flying machines!
RSAF F-15SG and AH-64D Longbow Apache
Ray: As these are 2 totally different machines, one is slow and one is fast! For me, I would suggest to forget about propblur (propeller blur) and use high shutter speed. Because even at 1/250s, you cannot get a good blur on the Apache rotor blades! During the SAM weave, go a little wide and "spray and pray" all the way. As for the finale – Bow & Zoom, track as the F-15SG approaches, go wide and would zoom into the F-15SG while climbs up and flare… for a long time till no more flares!
David: Look out for the SAM Weave manuveur just after the F-15SG comes into the show. For the F-15SG display, there are many opportunities to catch different angles of the aircraft and also the afterburners. When the F-15SG hands over the stage to the Apache, track the F-15SG and start bursting as much as your camera can do to get the shot of the airshow. Lastly, for the finale, go wide to catch the Apache and F-15SG behind popping flares.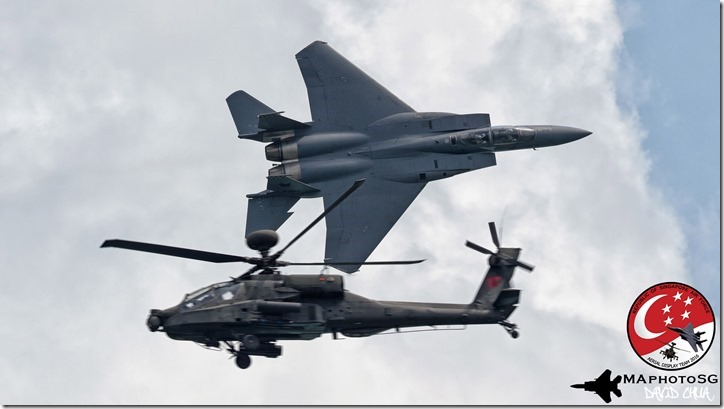 RMAF SU-30MKM Flanker
David: This is a highly manuverable aircraft which defies basic principles of flight. For this segment, it does not go as fast as the F-15SG but does a lot of thrust vectoring. Look out for the blue afterburners and lots of vapor on the wings and canards when it goes through its demonstration program.
Ray: This is the slowest flying, but also flying far and high. Go in tight with this and pay close attention to those beautiful vapor it creates…. LOTS of it!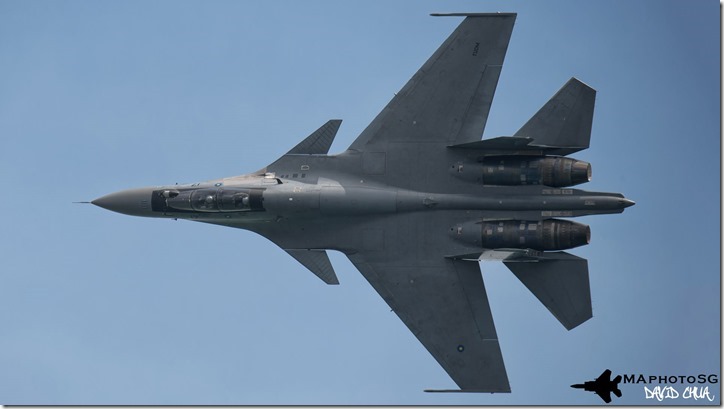 USAF F-16C Fighting Falcon
Ray: This plane tends to fly pretty far and away with few very fast close-ups… go tight when its near! And you can try when it's far for its vapor.
David: Opportunities for a good shot is few and far between and most angles would be belly up shots which are not interesting. It does not help when the F-16C is also a much smaller aircraft then the SU-30MKM or F-15SG. I would advise to hold on to the shutter until it does the rolls where you would be able to see the cockpit or the upper part of the aircraft.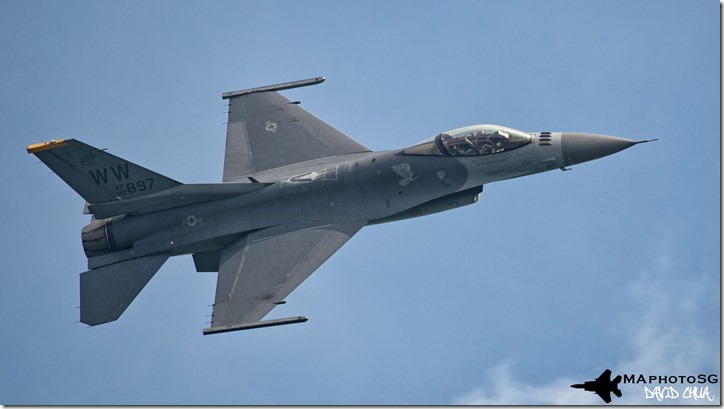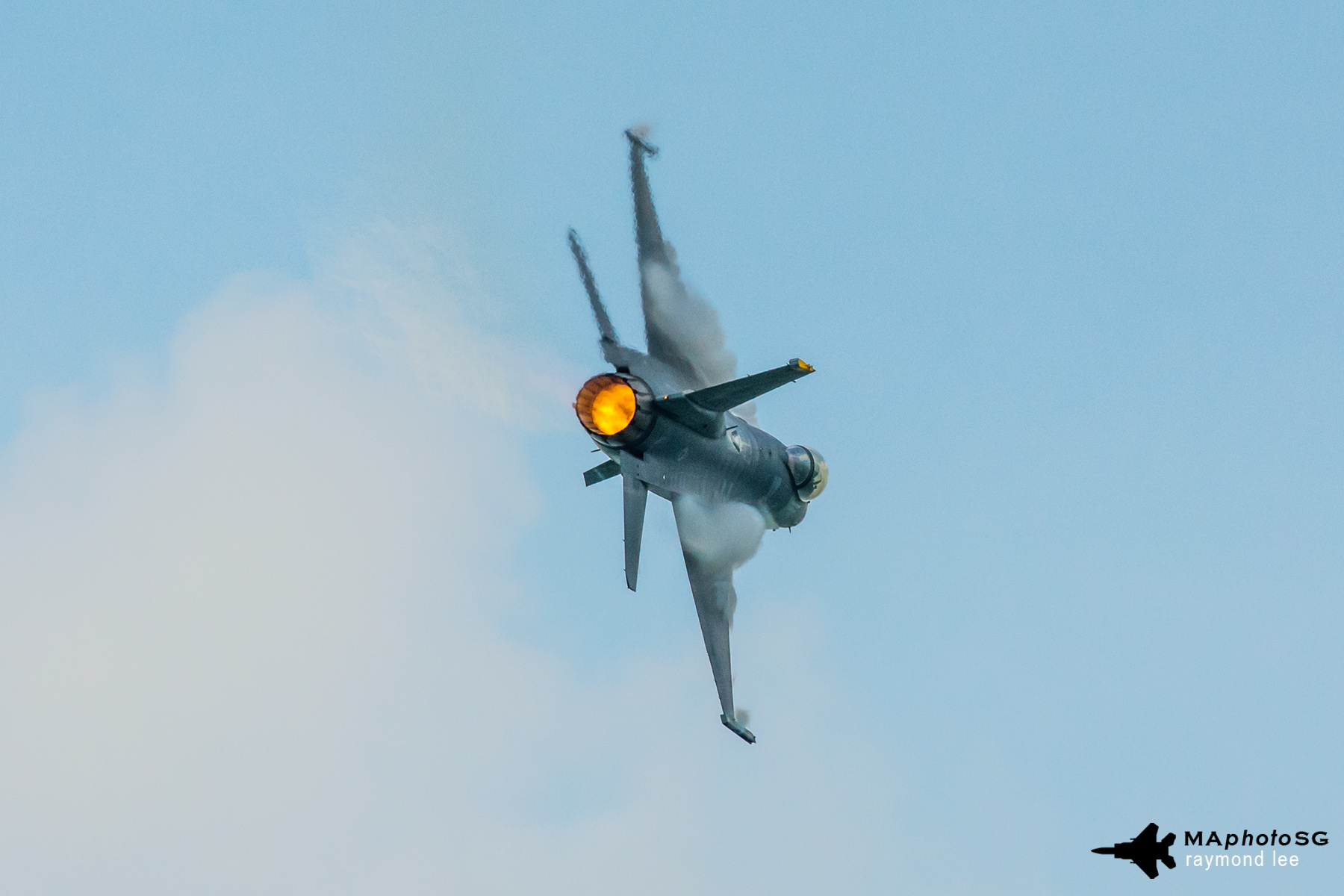 ROKAF Black Eagles
David: For the Black Eagles, a 70-200 and a wide angle should suffice. As this is a team aerial display, there would be a lot of formation flying which could easily be handled by the 70-200. Use the wideangle for the Heart+Cupid and Taegeuk formation.
Ray: I would go 80% on mid tele focal length (50mm to 100mm) to catch its smoke trails. Some tight zoom if you have time for individual or during splits. And oh, as David mentioned, prepare wideangle too!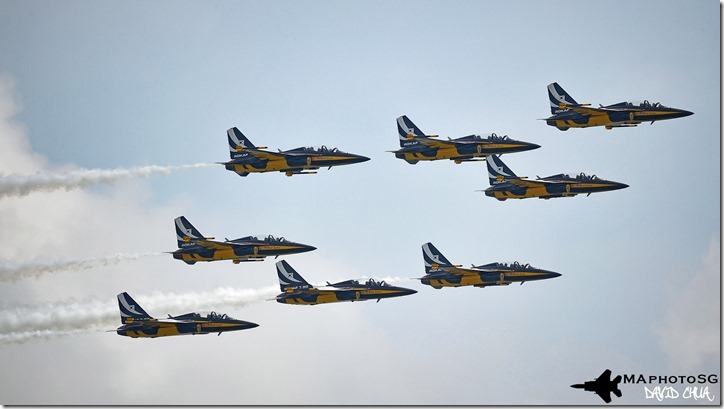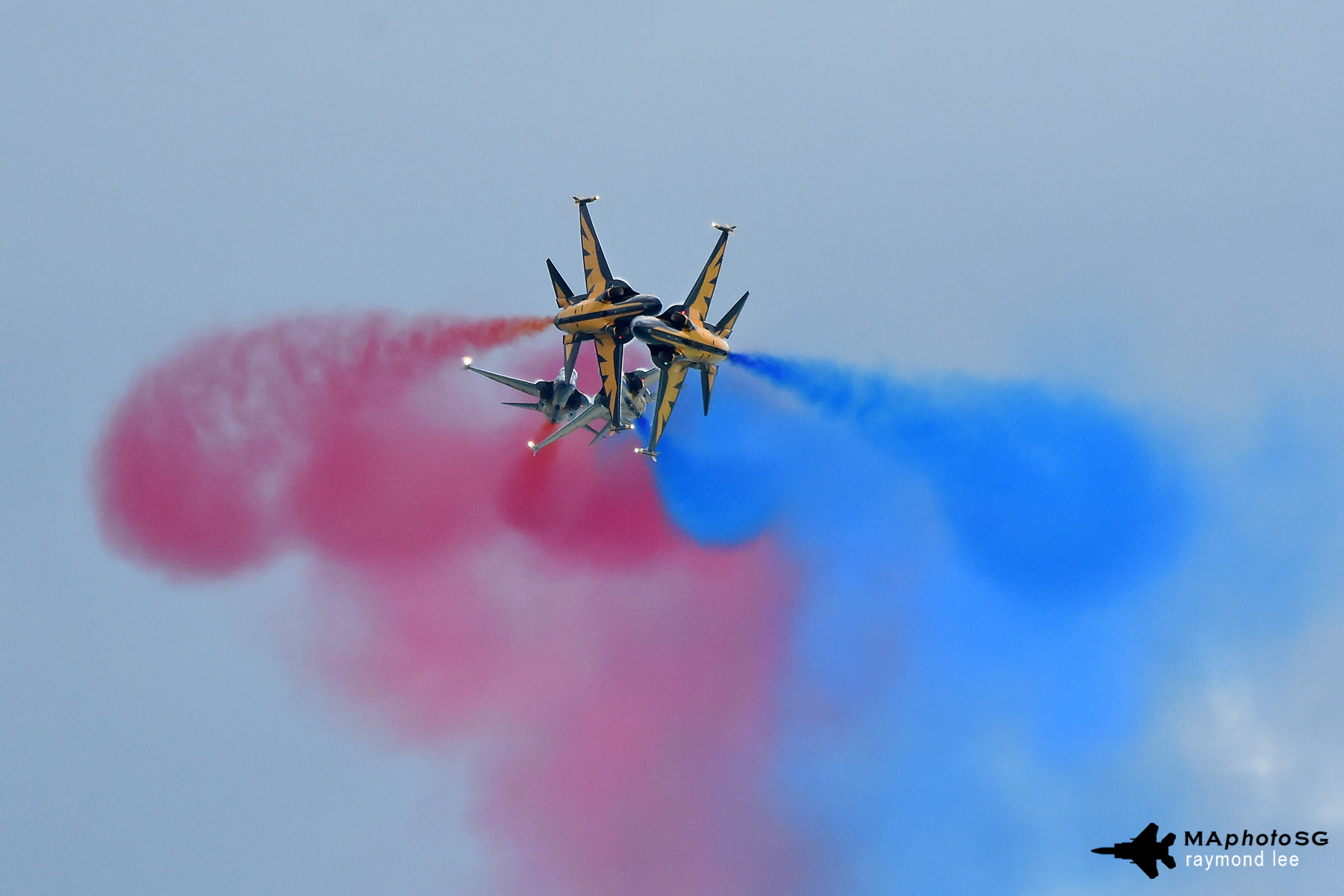 Dassault Rafale
Ray: Similar to F16C, it's fast and far. It tends to fly away from the audience showing the afterburners, try it for some heat exhaust haze.
David: The Rafale gives a very spirited performance with great engine sound. As this is a single plane display like the F-16C, go in as tight as possible and watch out for lots of vapor trails and afterburner actions. There are many opportunities for a side view or top view shots the shows the cockpit and pilot.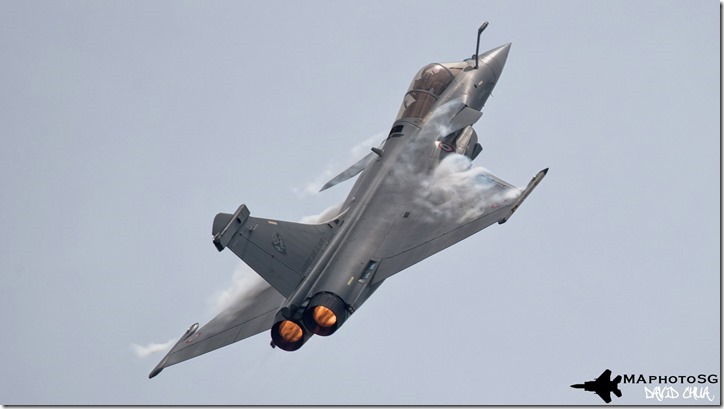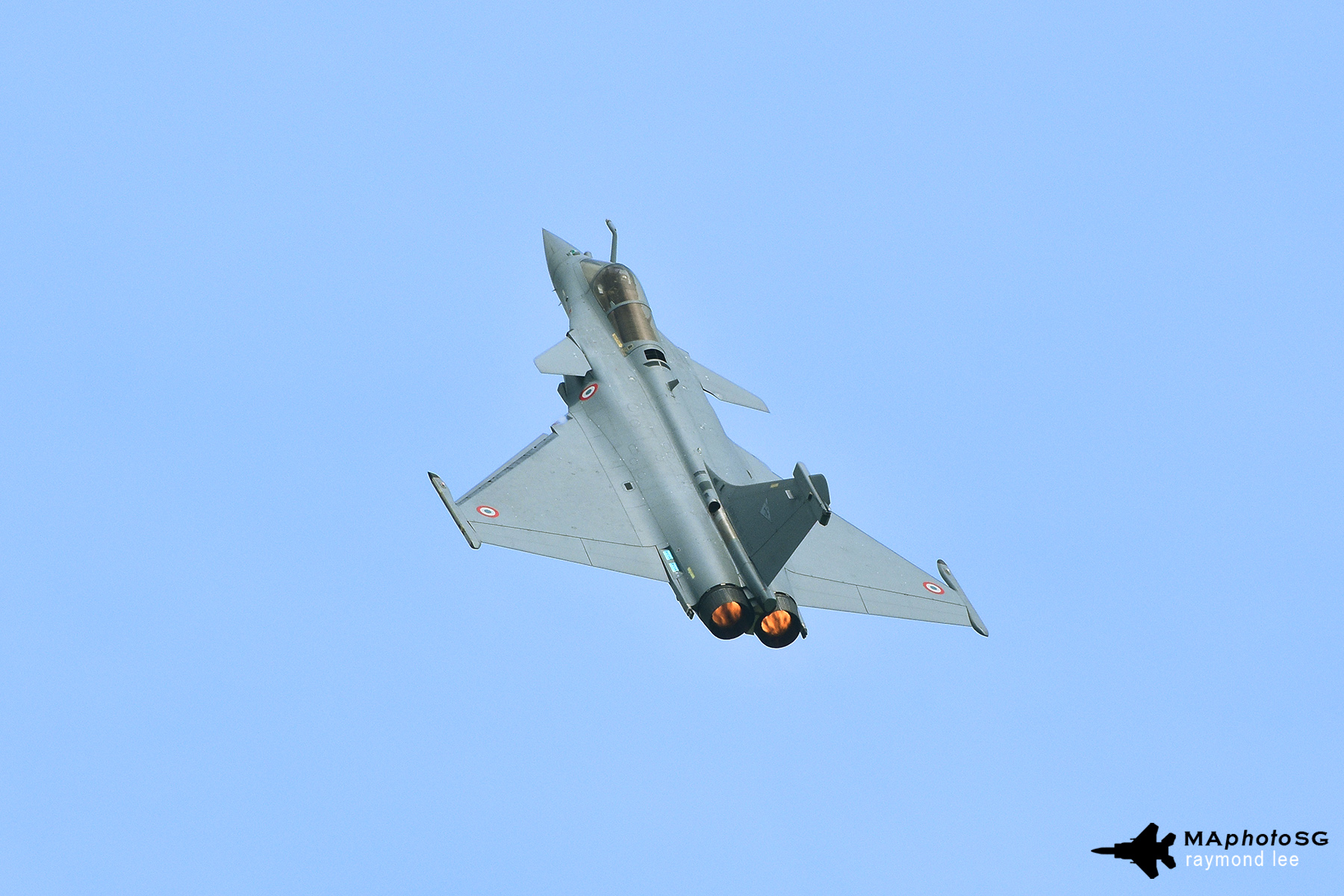 About Authors
Raymond Lee (Instagram: @rayzlee) is the co-founder of MAPHOTOSG. A corp salesperson and also a freelance photographer since 1997. 2 times Official NDP photographer in 1999 and 2001. Loving miliatry planes since young. He shoots with Nikon 200-500mm f5.6 on Nikon D7200 and D90.
David uses Nikon 300mm f2.8 and Sigma 150-600mm Sports on D4s for the above images.
Disclaimer:

Most of the images are cropped.

The above suggestions are for the best approach for each aircraft after we have been photographing for 3 days.

A good result will varies on individual's photography experience and technical skills.