The biennial Singapore Airshow finally took place last week from 16th – 21st Feb 2016. Located at a remote far eastern tip of Singapore at Changi Exhibition Centre. All 10 members of MAphotoSG were there on both trade days and public days to bring you report of Singapore AirShow 2016.
We will zoom into each component of the Airshow from aerial flying display, static display, transportation and some bits of the exhibitions.
The flying display segment seemed to be a disappointment and less exciting as compared to 2014. In 2014, there were 3 aerobatic teams, Singapore RSAF Black Knights, South Korea ROKAF Black Eagles and Indonesia TNI-AU Jupiter Aerobatic Team, performing and wow the crowds. While in 2016, we saw only 1, the ROKAF Black Eagles in their T-50B.
RSAF – F15SG and AH-64D
The Republic of Singapore AirForce (RSAF) provided an "integrated flying display" by pairing up F-15SG strike eagle and AH-64D Apache Longbow attack helicopter . The F-15SG wow the crowds with impressive displaying flares in "Sam Weave" and saluting the nation with long burst of flares in "Bow & Zoom". While the Apache demonstrates its amazing combat maneuvers.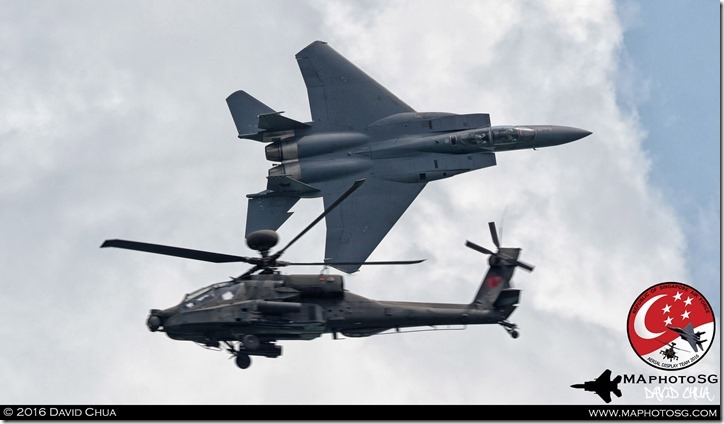 RSAF F-15SG and AH-64D Longbow Apache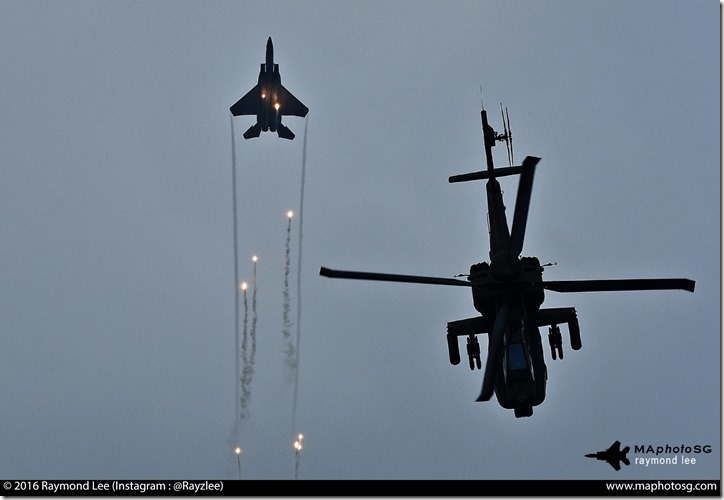 Bow & Zoom
USAF – C17, F-16C and B-52H
The United State Air Force sent forth their C17 Globemaster III showing its agility despite its massive size. F-16C Fighting Falcon from 35th Fighter Wing, Misawa Air Base, Japan. The F-16C demonstrate how quickly it can turn and combat maneuvers. B-52 bomber flown in for a straight flypast out from Anderson Airbase, Guam.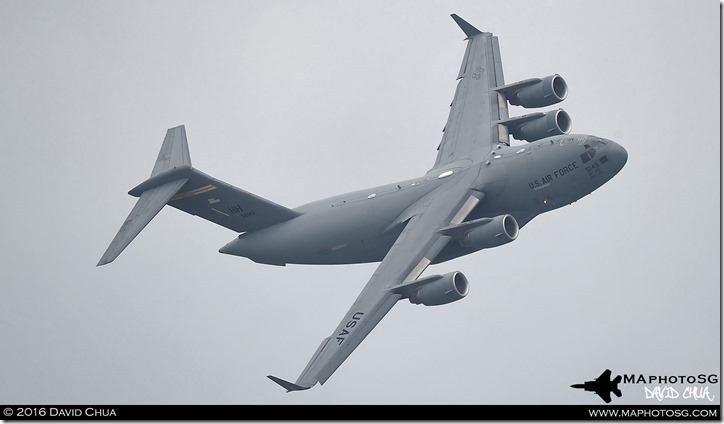 USAF C-17 Globemaster III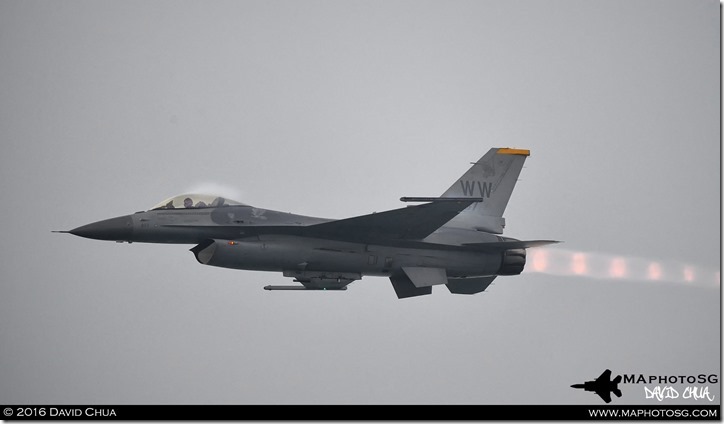 USAF F-16C Fighting Falcon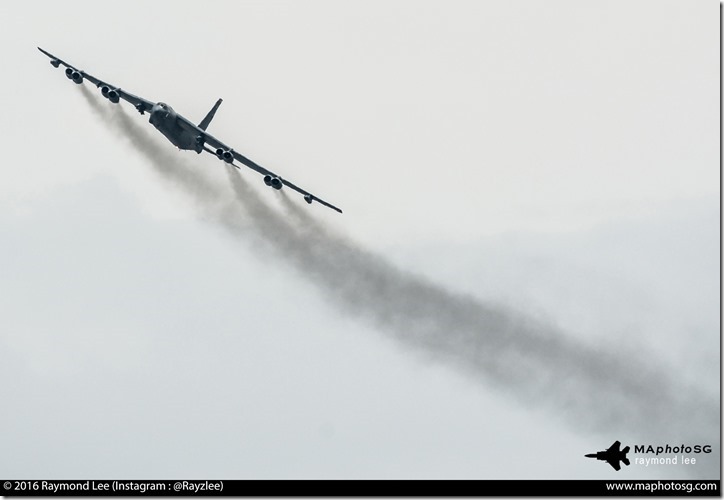 USAF B-52H Stratofortress
RMAF – SU-30MKM
Royal Malaysian Air Force sent their SU-30MKM. This Russian made fighter jet demonstrated amazing feat that wow everyone. The "falling leaf" where the jet cuts its power, falls and power up again to resume flight! The other "cobra" was where it's tip pointed up and still fly in a level flight…. It was really amazing to watch SU-30MKM and I kept asking myself … "How is that possible!?"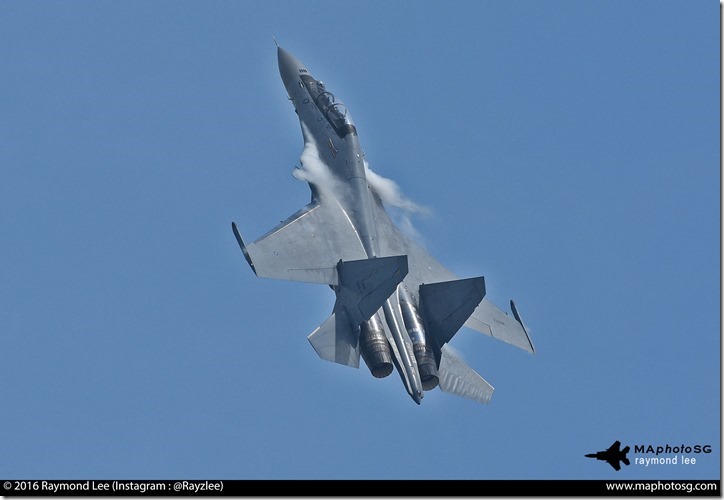 RMAF SU-30MKM Cobra Maneuver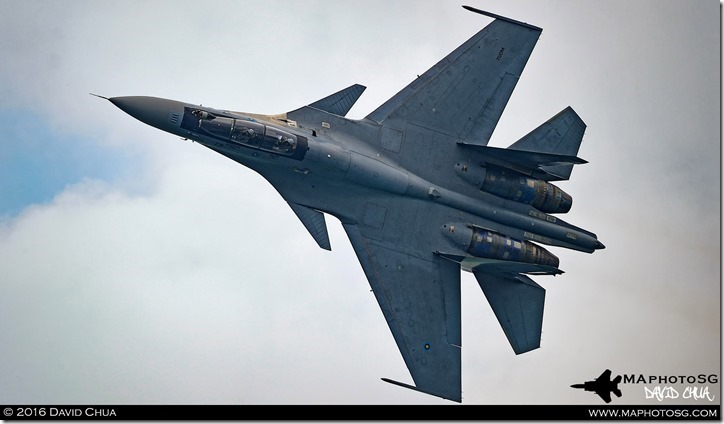 RMAF SU-30MKM
FAF – Dassault Rafale
French Air Force sent their French made Rafale. Demonstrating how this nimble this jet compared to F-16C. The Rafale Solo Demonstration is highly regarded in Europe. Flying it is Captain "Tao" Planche who is completing his tour as a demo pilot with his last aerial display flight of his career on the last day of the Singapore Airshow 2016.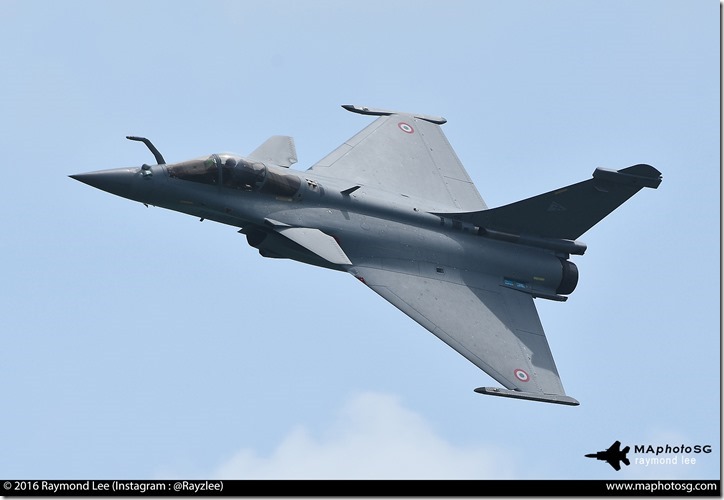 FAF Rafale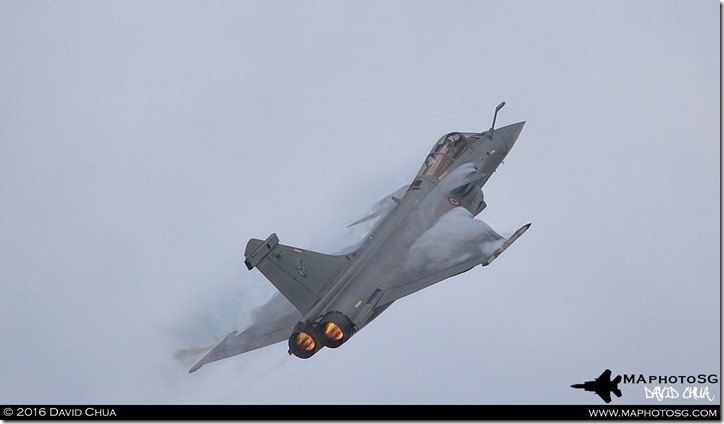 FAF Rafale Burner climb
ROKAF – T-50B
ROKAF's Black Eagles aerobatic team is back again to wow and amazed the crowds. What caught us were the forming up process stunts after stunts. Every photo shows the precise alignment down to few meters.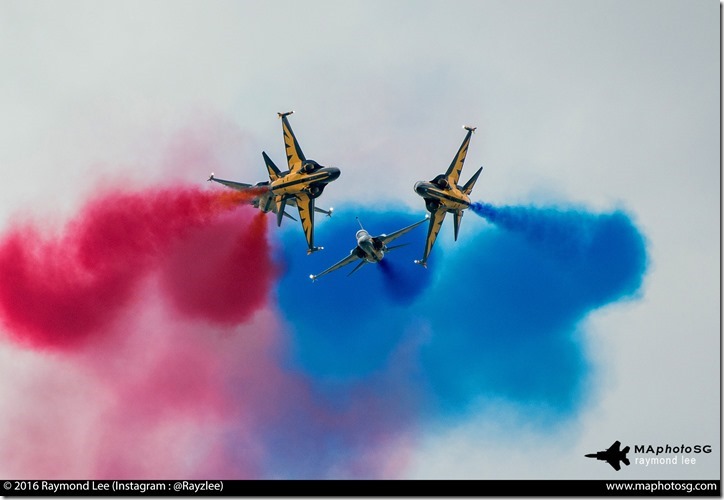 ROKAF Black Eagles – Dizzying Break
ROKAF Black Eagles – Victory Break
Airbus – A350 (Trade days only)
A350 is the most quiet flying display on the list! It was so quiet, that the music accompanied to this display was of watching a ballet dance!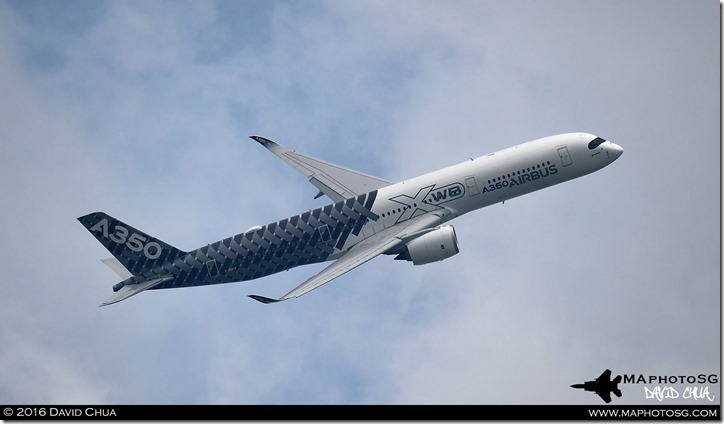 Airbus A350-900 Carbon Livery
The prized trophy for 2016 static display goes to the pair of USAF F-22 Raptor. Unfortunately, the barrier kept us from being near, some 10m way! But in a way good for photographers to snap clear wide angle of the pair.
USAF F-22A Raptor
RSAF displayed a pair of F-15SG, F-16C in Black Knight livery (probably the last we will ever see), F-16D+ block 52, Chinook, Apache and Super Puma. Visitors were allowed to have a chance to sit in the pilot seats, go on board and touch them up close. Others were G550 AEW, Hermes and Heron were just for display.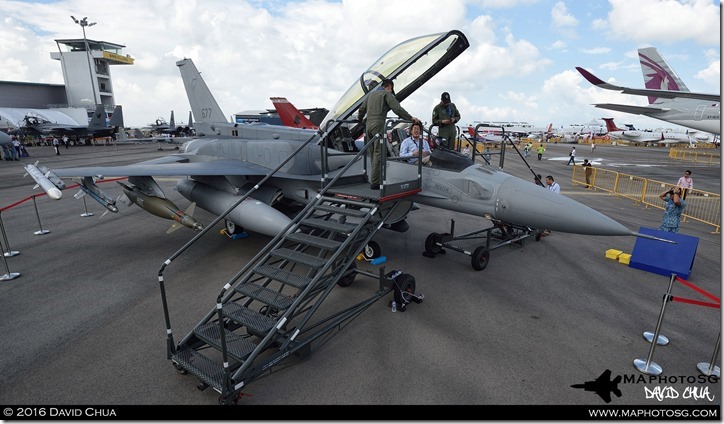 RSAF pilot answering questions of visitor about RSAF F-16D Block 52+ Viper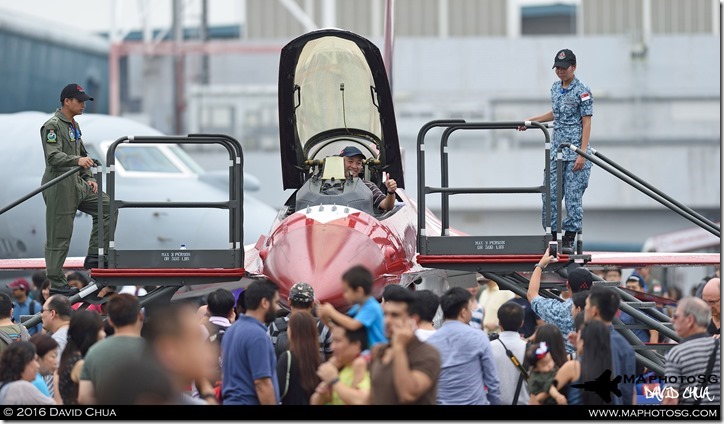 Visitors get a chance to sit in the cock pit of RSAF F-16C Black Knight Livery
United States displayed a pair of F-22, pair of FA-18, P-8 and Osprey. C17 and KC-135 allows visitors to board up and view the cockpit.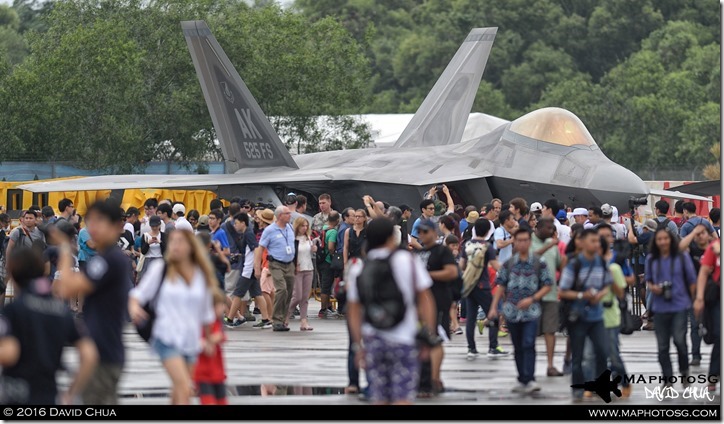 USAF – F-22A Raptor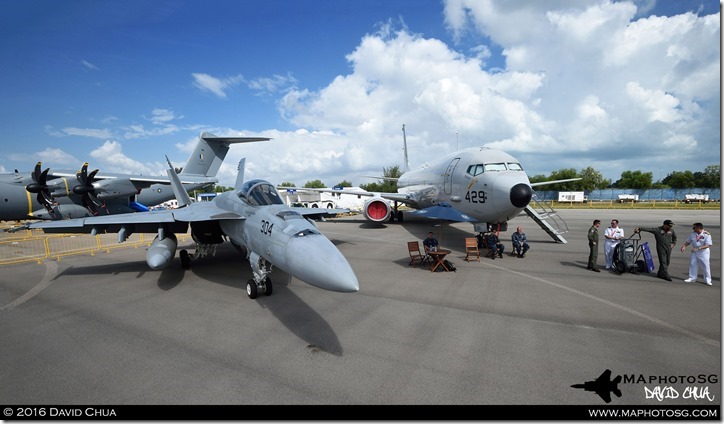 USN F/A-18E Super Hornet and P-8A Poseidon. Seen here without barriers during trade days.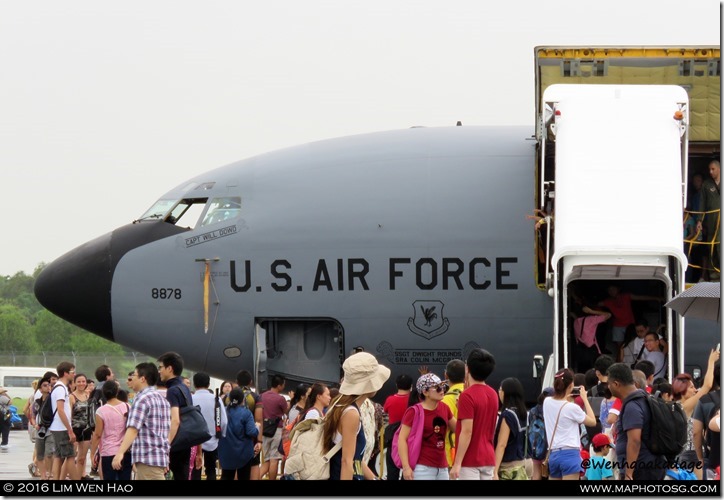 USAF KC-135 Stratotanker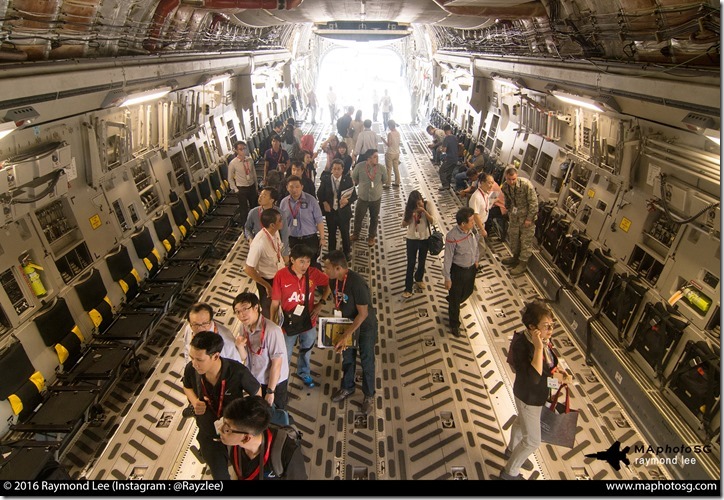 Inside USAF C17 GlobeMaster III. Visitors queuing up for a chance to get up to the cockpit.
On the commercial aviation front, Airbus was the main exhibitor in the static display, deploying the Airbus Carbon A350-900 and Qatar Airways with the display of the A380-800 and another A350-900. Bombardier brought in their new CS100 jet painted with the Swissair colours. Sadly, these were only on display on Trade Days only. The public did not get to see these beautiful airliners which they would be flying on in the near future.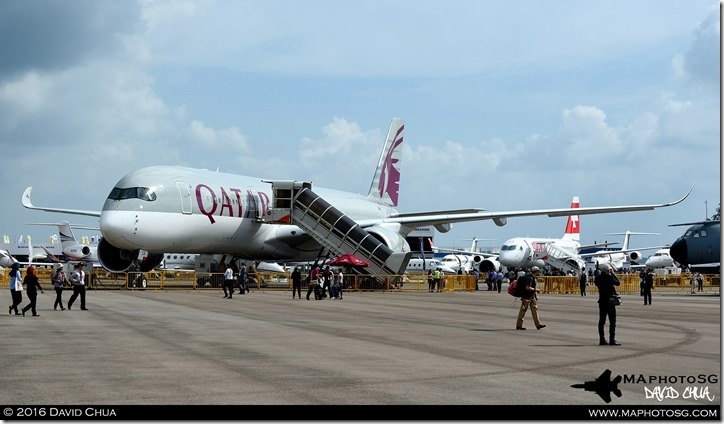 Qatar Airways A350-900 and Swissair Bombardier CS100
Qatar Airways A380-800
Boeing did not seem interested in selling their civil aviation and had a Scoot B787-8 Dreamliner for only the first day of the airshow in what seems to be a half hearted effort to have some presence.
For the rest of the display line up, please visit Official Singapore Airshow website.
We will be showcasing more photo galleries of each country/team in the coming weeks! Stay tune!
With the location being so far and remote, there's only 3 ways to get to the Airshow – taxi, shuttle bus and self drive ($120 car park for a day). There was a transportation issue which made the headlines on the first Trade Day, where visitors waited as long as 2.5hrs for a taxi! But the situation turned well after taxi companies pushed more taxis to the site. The shuttle bus was very smooth and fast on trade day, S$8 per way, takes about 15mins from Expo MRT station to CEC. Security checks takes awhile before entering CEC. Well done to the organisers!
On public days, the shuttle service is free. Security check are done in Expo Hall 7 instead of CEC. It takes about 40mins from Expo into CEC (including checks) and about 45 mins with massive queue (right after afternoon Airshow) to Expo. There were streams of SMRT chartered buses kept flowing into pickup spot, the buses were there to wait for the bus infront to be filled and moved on. Although the buses are quickly filled and go. However, the walk way to the pick up points seemed narrow and created a bottleneck issue. Just bear with it said some of the members who went there by shuttle.
Oh, the food is pretty expensive though. Costing as low as $5 for a simiple sandwich with water, average of $15 with rice set and soft drinks ($3 per Coke/100plus/Iced Lemon tea or $2 for mineral water). But the good thing was that the organisers did not restrict a "no external food" policy. Pack some food or sandwiches for your next visit!
In summary, the Singapore Airshow 2016 is still worth the effort getting there and dealing with the crowds on the public days. Given the limited land area and airspace, the organizers in our opinion had done what they could to schedule the flying displays. Especially for the public days where there were another show in the afternoon. The support from RSAF was also tremendous. The activities surrounding their static displays definitely made the event much more engaging for the public visitors as there are nothing much in the Exhibition Halls during the public days.
We really hope 2018 will have a much more impressive line up in both flying and statics. Please also have a flying F-35. The mock up has been there for too long!
Until next time, we will see you again in Singapore Airshow 2018!