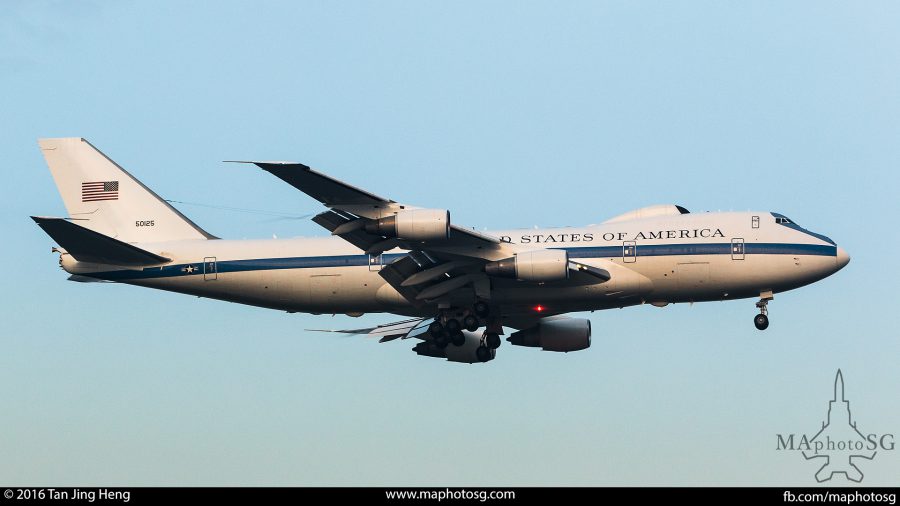 United States Air Force E-4B aka 'Nightwatch' arrived in Singapore for Shangri-la Dialogue.
The United States Secretary of Defense Ashton Carter arrived in Singapore on the evening of 2nd June in United States Air Force E-4B for the annual Shangri-la Dialogue which was held from 3-5 June 2016.. The E4B 'Nightwatch' which is an advanced airborne command post, it is a strategic command and control aircraft and also widely know to ferry the United States Secretary of Defense for overseas visits. There are only 4 E4B now in operation by the United States Air Force, they are operated by the 1st Airborne Command and Control Squadron of the 55th Wing based in Offutt Air Force Base (ICAO : KOFF).
During the dialogue, United States Secretary of Defense Ashton Carter stated the importance of maintaining security in the Asia-Pacific region, the growing numbers of strengthening cooperation between countries in the Asia-Pacific, Asia-Pacific will remain one of the commitment, strength, and inclusion, the United States would remain economically, politically, militarily engaged, as well as geographically located in the Asia-Pacific as United States engagement in the Asia-Pacific is in America's interest, the growing anxiety in the region about China's activities on the seas and how continuing these actions would lead to a 'Great Wall of self-isolation' for China.
A highlight of United States Secretary of Defense Ashton Carter visit to Singapore was flying together with Singapore's Minister of Defence, Mr Ng Eng Hen over the Malacca Strait in a United States Navy (USN) P8 Poseidon – a multilateral initiatives such as joint sea patrols and Eyes-in-the-Sky maritime patrol flights with US, Indonesia, Malaysia and Thailand, which have managed to maintain the security of the Strait.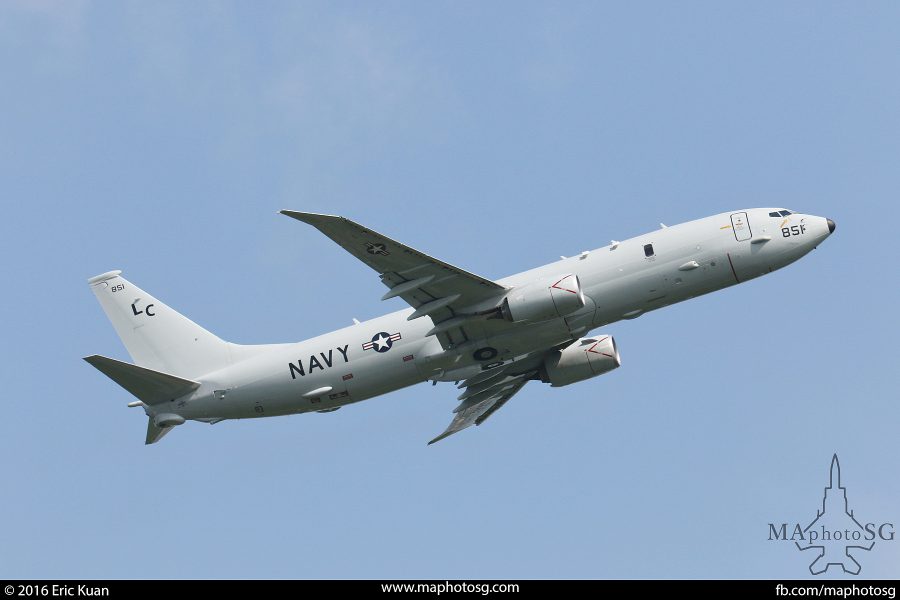 Dr Ng Eng Hen and Mr Ashton Carter flew on a US Navy P-8 Poseidon aircraft over the Malacca Strait.

The P8 Poseidon is a sub-hunting and surveillance aircraft. The P-8 aircraft's deployment to Singapore provides maritime security efforts, and support for regional aid and disaster relief, among others. Which is part of the 1990 Memorandum of Understanding and 2005 Strategic Framework agreement between both countries.
Last year, United States Secretary of Defense Ashton Carter also flew over the Malacca Strait in a USMC MV-22 Osprey when he was here for Shangri-La Dialogue 2015.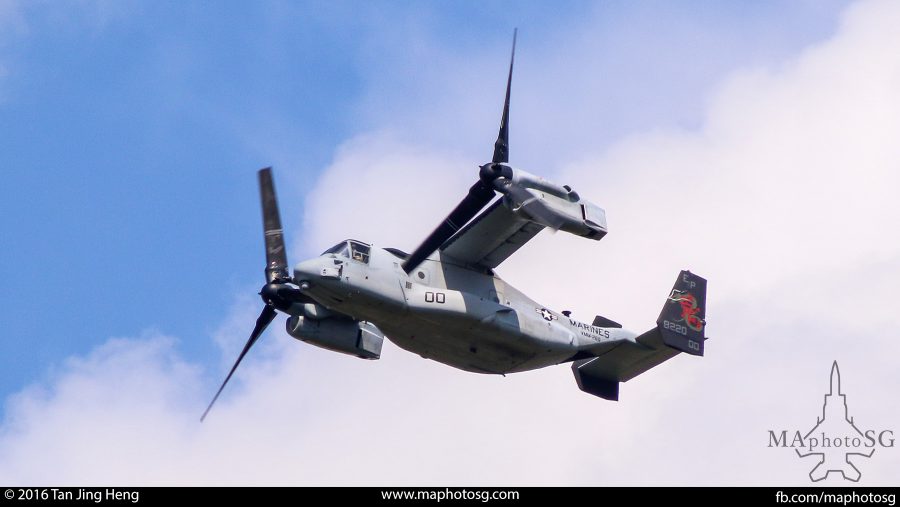 USMC MV-22 Osprey in June 2015.
United States Secretary of Defense Ashton Carter's E-4B and few other US military planes were departed from Singapore on 4th of June 2016.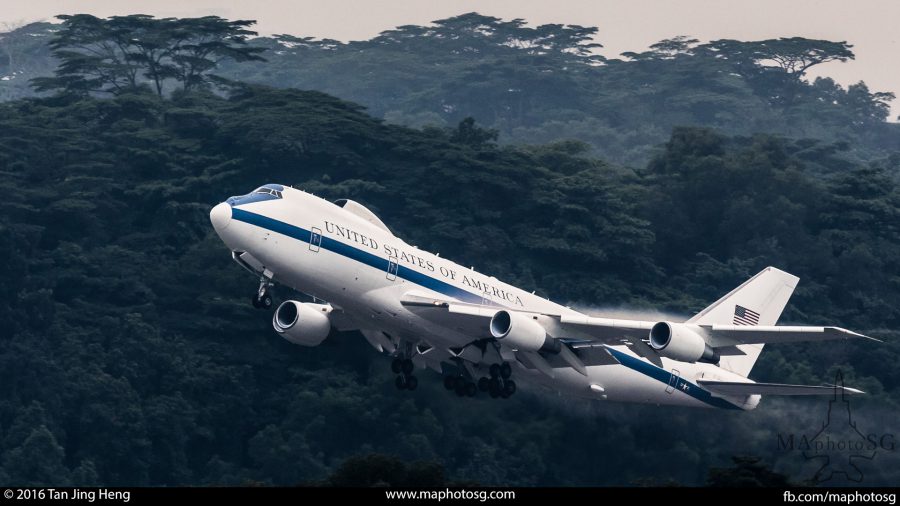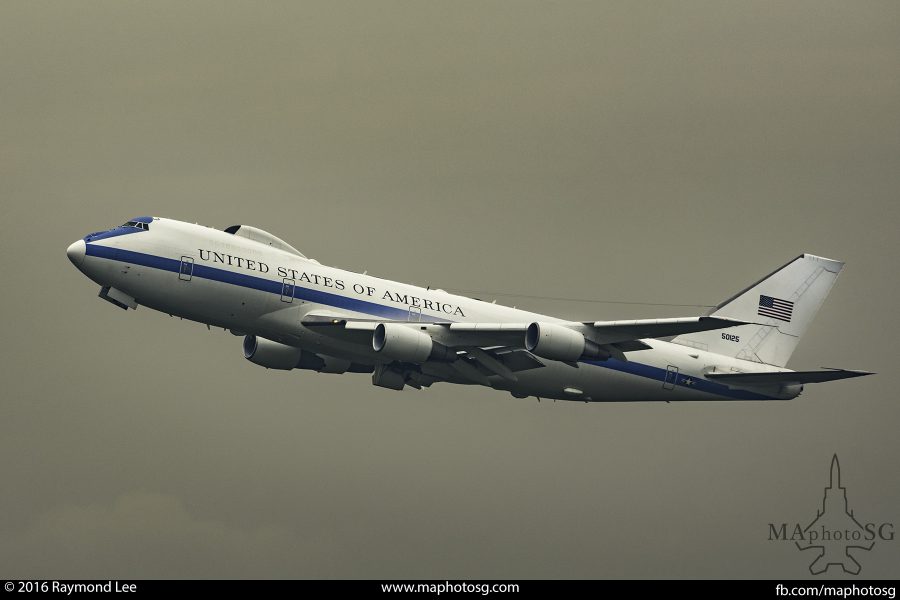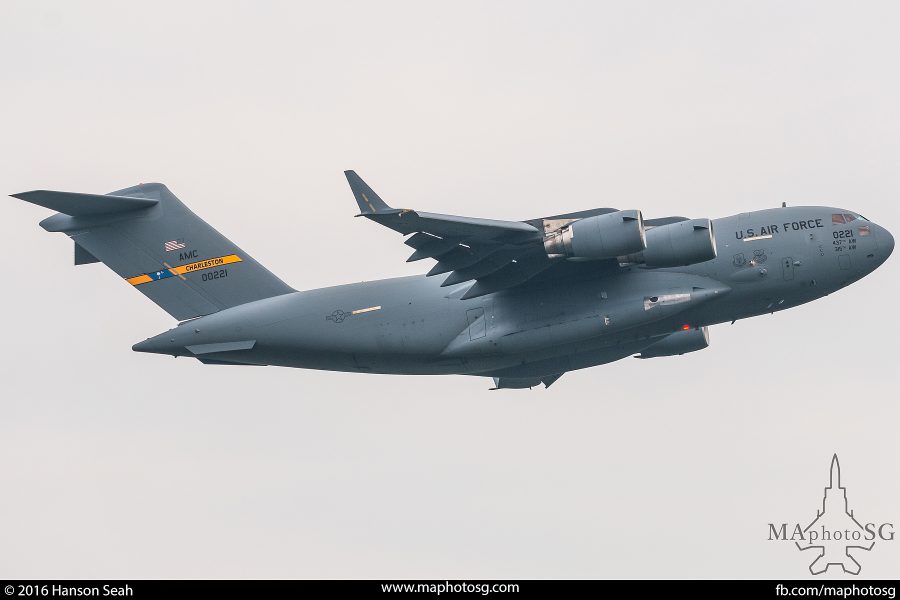 Air Mobility Command (AMC) C-17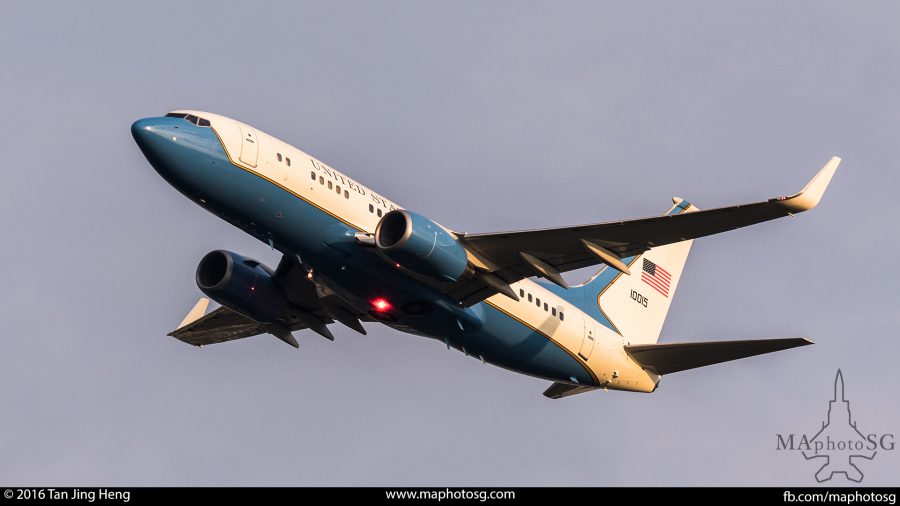 USAF Boeing C-40 Clipper
Note:
MAphotoSG members were based on our 2015 collective observations for their departures. It was a long 12 hours but fruitful wait.

Text  by Tan Jing Heng: @mbe_photography
Images by the following members: Tan Jing Heng, Raymond Lee @rayzlee.maphotosg,  
Hanson Seah: @photograph.sy, Eric Kuan: @ Erichotspot
About MAphotoSG.com
MAphotoSG (Military Aviation Photography Singapore), is proudly represented by a number of dedicated individuals who are passionate about military aviation. Through our photography, we have captured some of the "first" images of RSAF Exclusive 2016 Airshow Preview,  RSAF's 142 Sqn tail art on F-15SG, and Exercise Commando Sling 16-2. We also bring you selected news from Singapore and International which we feel that will be interesting and important to share. Our Co-founder, David and one of our member, Eric were featured by TODAY Paper (a Singapore newspaper published by MediaCorp) for 2016 Airshow featured article in Feb 2016! Click here to learn more about the team!