(also known as "Why must RSAF aircraft fly over my house?")
Editor: This article is based on information and graphics which were presented to the public during the RSAF Open House 2016. We would like to thank the RSAF, especially Malcom Koh from AFIC, for allowing us the usage of the key information presented in this article.
"Why are the RSAF jets flying so low?"
"Why must the aircraft fly over our HDB flats?"
"Doesn't the RSAF have other flight paths to fly into?"
"Why so noisy when taking off?"
Sounds familiar?
One of the "popular" feedback the RSAF has received over the years is the flight path of its aircraft and the noise it generates. With a land area of about 719 km2, it is inevitable that RSAF aircraft will overfly certain residential areas in Singapore. In this article, we take a look at the flight path constraints faced by each of the RSAF air bases.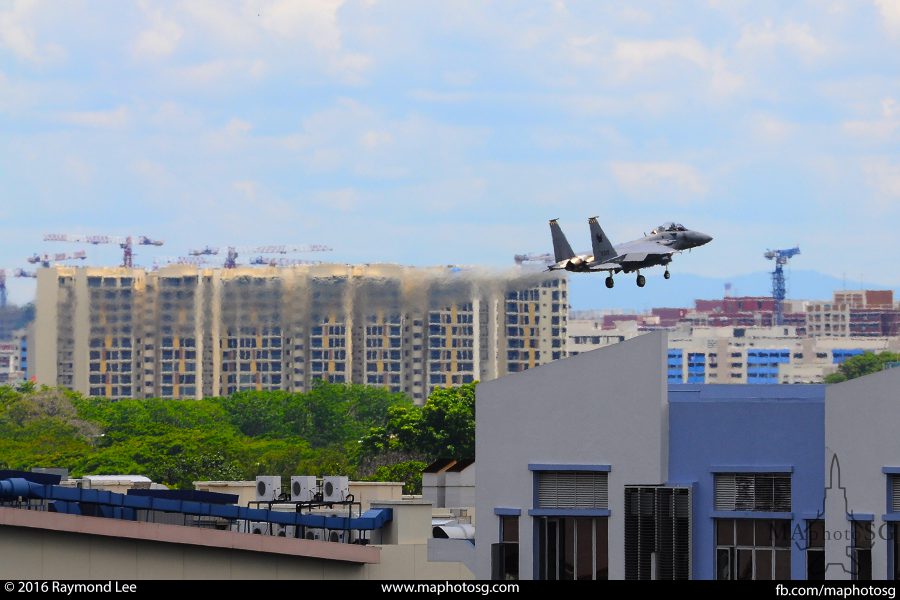 RSAF F-15SG returing to Paya Lebar Airbase
Paya Lebar Air Base (PLAB)
Located on the eastern side of the island, it is the closest air base to Changi Airport, and as such, has to ensure it doesn't affect civil aviation operations with its flight paths.
Why can't the aircraft turn earlier?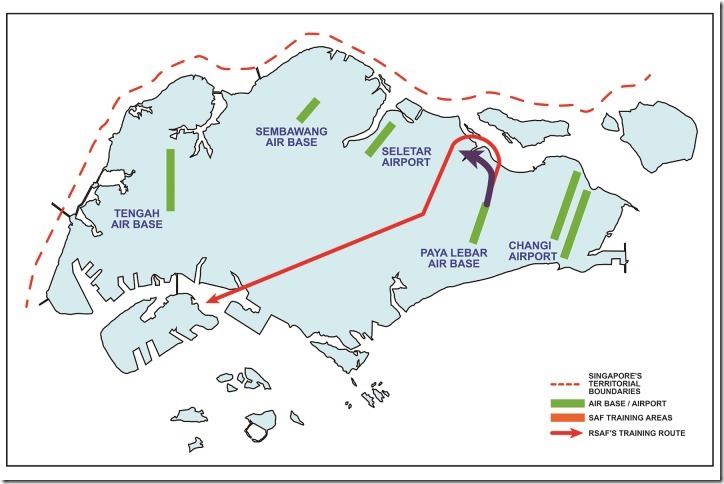 Airports and RSAF Airbases in Singapore
By turning earlier, the aircraft may not gain enough height during take off, and may generate even more noise as it has to use more engine power to gain altitude.
Why can't the aircraft turn later?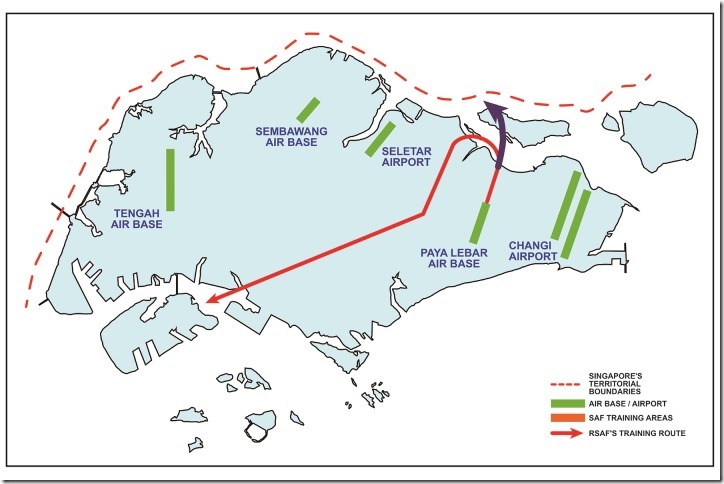 By turning later, the aircraft will fly past our territorial boundaries and intrude into our neighbour's airspace, which is prohibited.
Why can't the aircraft turn towards Changi?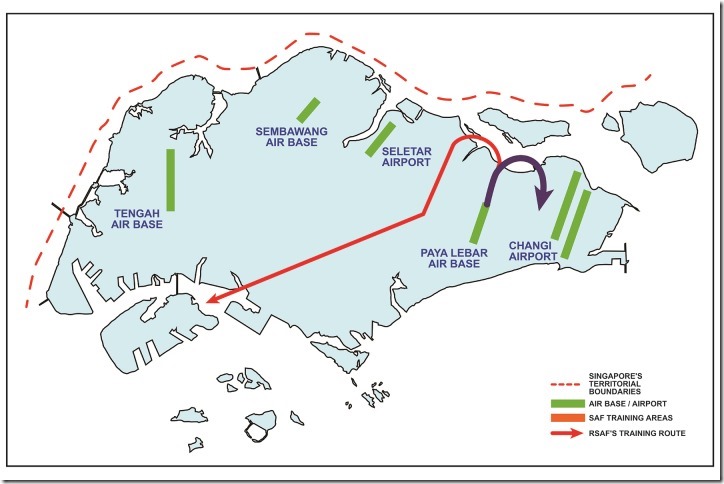 Aircraft turning into the Changi Controlled airspace will interfere with the civil air traffic and cause a disruption.
Tengah Air Base (TAB)
TAB has unique constraints due to the presence of the SAFTI Live Firing Area next to it, and this restricts the take off and landing flight paths.
Why is this TAB's primary flight route?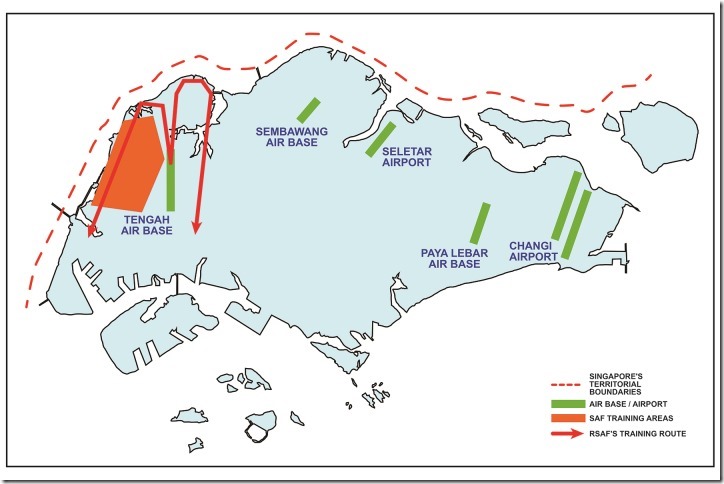 In permissible weather conditions, the primary departure flight path will bring the aircraft over the waters along the straits. However, during periods of live firing conducted in the SAFTI Live Firing Area, alternative profiles are flown at a higher altitude to reduce the noise level.
Why do aircraft land from the south?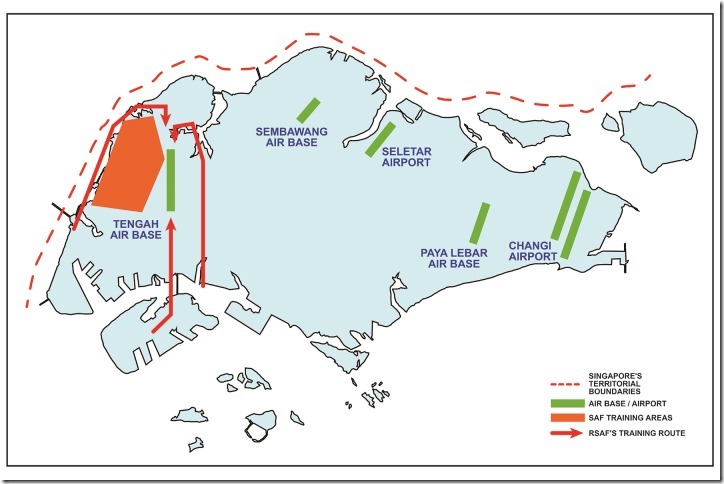 To avoid airspace infringement in our neighbour's airspace, and to ensure a smoother air traffic flow, all aircraft landing at TAB approach from the south. The landing procedure is a very critical phase, so there cannot be any major changes to the flight course.
Sembawang Air Base (SBAB)
RSAF rotary platforms are based at SBAB, and they usually conduct flying training over the nature reserve southwest of SBAB, Pasir Laba, Yishun Reclaimed Land and the vicinity of Pulau Pawai.
Main helicopter transit routes
During training, helicopters transit mainly via the coastal areas of the island. A pre-defined flight path which ensures minimal flight over buildings and residential estates reduces the noise pollution. However, in certain cases, some flights over residential estates is still inevitable.
SBAB arrival and departure routes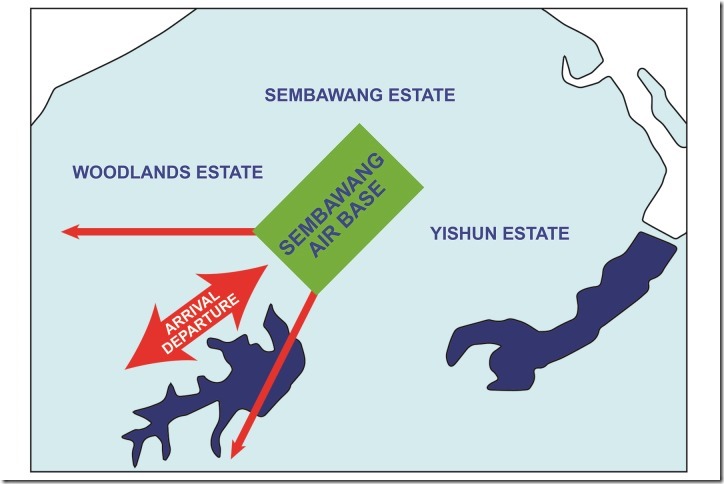 All helicopters departing and returning to SBAB utilise a flight path that is clear of residential areas via a western corridor that connects directly to the Central Catchment Nature Reserve.
KEEP OUR SKIES SAFE FOR FLYING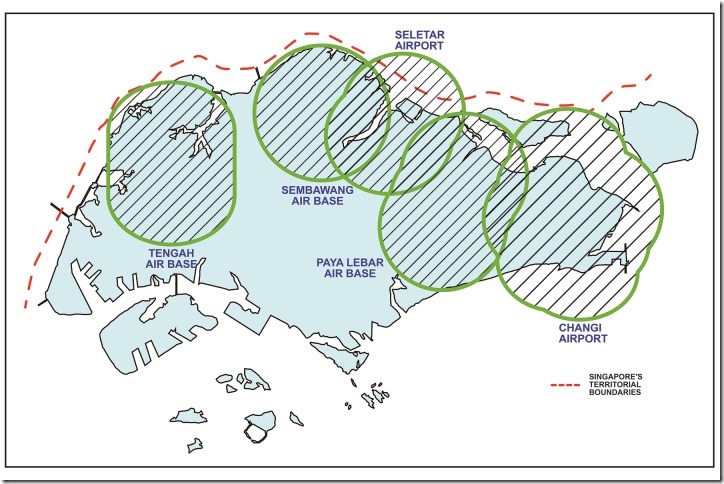 Aerial objects flown near aircraft can distract pilots or be ingested by aircraft engines, endangering the lives of those on board the aircraft and on the ground. Aerial activities cannot be conducted in the vicinity of airports or air bases without a permit.
In the other parts of the island, kites and parasails can be flown or operated up to 500 feet, and model aircraft and unmanned airships operated up to 200 feet. Shining a laser light at an aircraft presents a very strong hazard to the safety of the aircraft as it can cause discomfort, distract or confuse the pilots. It is against the the law to shine laser lights at any aircraft, and anyone caught will be arrested and prosecuted.
Text and graphics created by Gary Ng.
About MAphotoSG.com
MAphotoSG (Military Aviation Photography Singapore), is proudly represented by a number of dedicated individuals who are passionate about military aviation. Through our photography, we have captured some of the "first" images of RSAF Exclusive 2016 Airshow Preview,  RSAF's 142 Sqn tail art on F-15SG, and Exercise Commando Sling 16-2. We also bring you selected news from Singapore and International which we feel that will be interesting and important to share. Our Co-founder, David and one of our member, Eric were featured by TODAY Paper (a Singapore newspaper published by MediaCorp) for 2016 Airshow featured article in Feb 2016! Click here to learn more about the team!