The Republic of Singapore Air Force (RSAF) has always sought ways to overcome the airspace limitations in Singapore in order to fulfill its training requirments to ensure the high level of skills and proficiency of its personnel. While simulators and virtual technologies do overcome this limitation, training in an unrestricted airspace with challenging terrain and scenarios can never be replicated realistically.
The RSAF has over the years forged friendly relations with foreign air forces in order to be able to deploy its assets overseas for training. In this article, we take a basic look at the breadth of overseas deployments which the RSAF currently does in order to maintain its edge.
RSAF Training Deployments
Air Grading Course
Air Grading Centre (AGC) conducts screening of potential RSAF aircrew in Tamworth, New South Wales, Australia, as part of the pilot and WSO (FTR) selection process. The 6-weeks course serves as an introduction and trial of the trainees' aptitude for military aviation.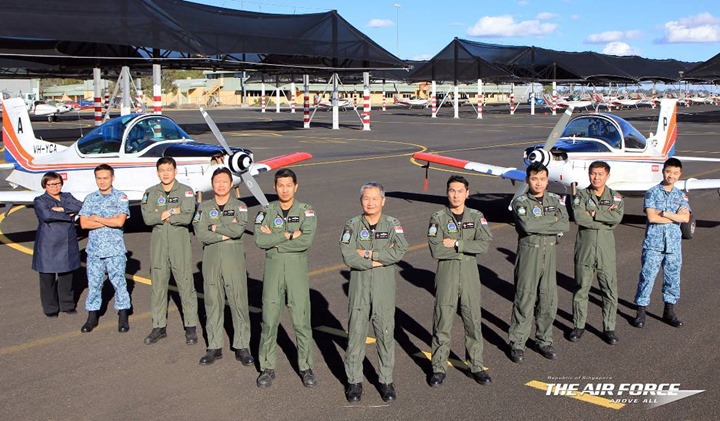 Air Grading Centre, Tamworth, New South Wales, Australia (Photo credit: RSAF)
Basic Wings Course
The RSAF's 130 Squadron conducts a 34-weeks Basic Wings Course in Pearce, Australia. The course provides the RSAF's pilot trainees with the knowledge and skills of basic flying with the Pilatus PC-21 aircraft before they progress to advanced aircraft training.
Fighter Wing Course
The RSAF's 150 Squadron conducts a 9-month Fighter Wings Course using the Alenia Aermacchi M-346 Master in Cazaux Air Base, France. The squadron trains both fighter pilots and Weapon Systems Officers (WSO) with the knowledge and skills of advanced flying before they progress to become operational fighter pilots.
Weapon Systems Officer (FTR) Course
The Weapon Systems Officer (Fighter) or WSO (FTR) trainees conduct their training either in Salon-De-Provence Air Base / Tours-Saint-Symphorien Air Base, France or in Pensacola, United States. Over a 72-weeks course, they are trained in missions planning, flight navigation, surface and air tactics, preparing them to operate from the back cockpit of the Boeing F-15 and General Dynamics F-16 aircraft.
Rotary Wings Course
The RSAF's 124 Squadron based in Seletar Airport, Singapore, conducts an 8-month rotary flying training course with the Eurocopter EC-120B Colibri helicopter. The squadron conducts the Rotary Wings Course to train and produce helicopter pilots after their graduation from Basic Wings Course.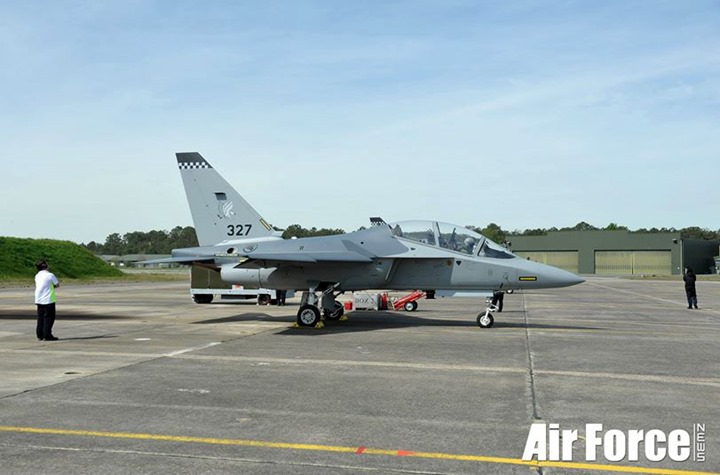 RSAF Alenia Aermacchi M-346 Master, Cazaux Air Base, France (Photo credit: RSAF)
Transport Wings Course
After graduating from their Basic Wings Course, transport pilot trainees will attend this 6-month course conducted in Seletar Airport, Singapore. This course focuses on training our transport pilot trainees on the Beechcraft King Air C90GTi aircraft, in a multicrew cockpit environment.
Unmanned Aerial Vehicle Wings Course
The UAV Wings Course (UWC) is conducted locally by UAV Training School (UTS). The UAV pilot trainees will be assigned to attend the 3-month UWC to impart the knowledge and skills for them to become qualified UAV pilot.
RSAF Detachments
Peace Carvin II Detachment
The Peace Carvin II detachment in Luke Air Force Base, Arizona, United States, operates the General Dynamics F-16C/D. The detachment operates with a mix of USAF and RSAF personnel to conduct operational conversion and continuation training of our pilots and WSOs in interdiction and attack missions with advanced weapon systems and tactics.
Peace Carvin V Detachment
The Peace Carvin V detachement in Mountain Home Air Force Base, Idaho, united States, operates with a mix of USAF and RSAF personnel. Their main roles are to conduct operational conversion and continuation training of our aircrew on our Boeing F-15SGs.
Peace Prairie Detachment
The Peace Prairie detachement at Grand Prairie, Texas, United States, operates the Boeing CH-47 Chinook helicopter. The detachment provides quality training for our Chinook crew and enhances our operational capabilities and readiness.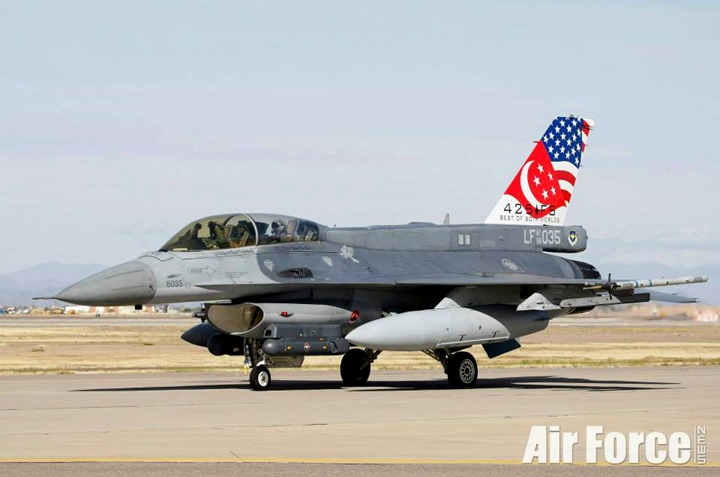 RSAF General Dynamics F-16D, Peace Carvin II Detachment, Luke Air Force Base, Arizona, USA
(Photo credit: RSAF)
Peace Vanguard Detachment
The Peace Vanguard detachment operates the Boeing AH-64D Apache Longbow attack helicopter in Marana, Arizona, United States. It aims to enhance our capabilities to complement the wider spectrum of operations required of the AH-64D in the 3rd Generation RSAF.
Oakey Detachment
The Oakey detachment in Oakey, Queensland, Australia, operates the Eurocopter AS332 Super Puma helicopter. The detachment serves as an advanced training centre, where operational conversion and tactics training are conducted to meet the SAF's need for helicopter operations.
RSAF Foreign Exercises
Five Power Defence Arrangements Exercises
The Five Power Defence Arrangements (FPDA) nations include Australia, Malaysia, New Zealand, Singapore and the United Kingdom. Exercise Bersama Shield and Exercise Bersama Lima are part of the annual series of FPDA exercises the SAF participates in with the armed forces of other FPDA member countries for the defence of Singapore and Malaysia against a spectrum of threats. These exercises enhance the interoperability and mutual understanding amongst participating countries.
Joint Military Training (JMT)
JMT is a biltaeral exercise conducted in Kalaikunda Air Force Station, India, involving the RSAF and Indian Air Force (IAF). The exercise improves combat readiness and interoperability between the RSAF and IAF, and also to enhance the strong defence relations between the two countries.
Exercise Brightfire
Exercise Brightfire is a Ground Based Air Defence live-firing exercise, conducted at Overberg Test Range in South Africa. This exercise is conducted by Divisional Air Defence Group to validate our weapon systems and enhance the operational readiness of our airmen.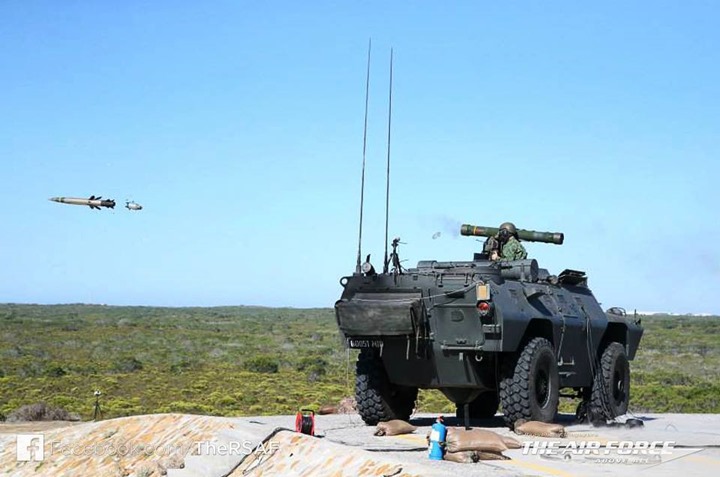 RBS 70 Missile System mounted on Cadillac Gage V-200 Commando, Overberg Test Range, South Africa (Photo credit: RSAF)
Exercise Cope Tiger
Exercise Cope Tiger, first conducted in 1994, is an annual trilateral exercise conducted by the Republic of Singapore Air Force, the Royal Thai Air Force and the United States Air Force. The exercise provides a good opportunity for the three air forces to work together, enhance interoperability and to forge stronger bonds.
Exercise Elang Indopura & Exercise Camar Indopura
Exercise Elang Indopura and Exercise Camar Indopura are bilateral exercises between the RSAF and the Indonesian Air Force (TNI-AU) held in Indonesia. These exercises have served as a platform for improving bilateral relations between the two nations. It has also promoted cooperation not only in the field of joint operations, but also in the realm of military education and training through exchange visits to both countries.
Exercise Red Flag
Exercise Red Flag comprises a series of exercises held throughout the year by the USAF in Nellis Air Force Base, Nevada and two locations in Alaska; namely Eielson Air Force Base and Elmendorf Richardson Air Force Base. It allows our aircrew to execute air combat and strike operations in a realistic, high-threat environment to enhance their combat readiness and operational capabilities.
Exercise Pitch Black
A biennial multilateral exercise conducted in Darwin, Northern Territory, Australia. It allows the RSAF to fine-tune our Offensive and Defensive Counter Air combat tactics. Participants include air forces from France, Malaysia, Indonesia, New Zealand, Singapore, Thailand, UK and the USA.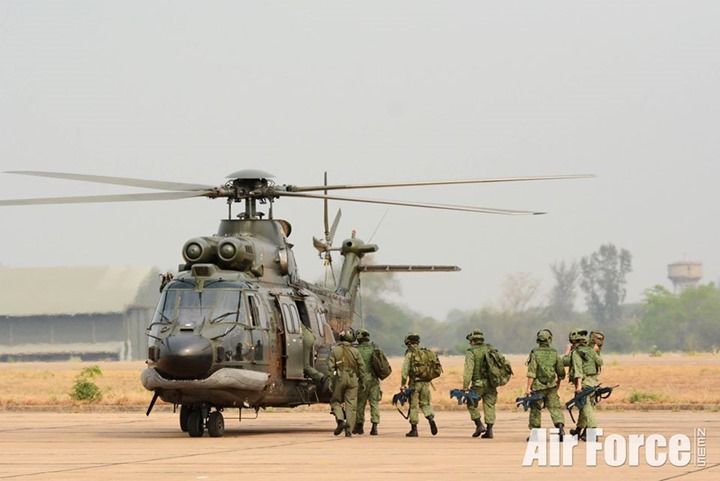 RSAF Eurocopter AS332 Super Puma at Exercise Cope Tiger, Korat Air Base, Thailand
(Photo credit: RSAF)
Exercise Wallaby
Exercise Wallaby is an annual large-scale Singapore Armed Forces exercise at Shoalwater Bay Training Area, Rockhampton, Australia. This exercise provides the SAF with an excellent opportunity to enhance our air-land integration and operational readiness.
Exercise Maple Flag
Exercise Maple Flag is an annual multinational Large Force Employment exercise conducted in Cold Lake, Alberta, Canada. It provides realistic air combat training scenarios that simulate war operations in a vast and unrestricted airspace. It allows the RSAF to benchmark against established air forces in the world.
Exercise Forging Sabre
Exercise Forging Sabre is an integrated strike exercise conducted by the Singapore Armed Forces in Phoenix, Arizona, United States. The exercise comprises the various RSAF elements, including fighter aircraft, UAVs and helicopters together with Army forces such as artillery platforms and commando ground forces for coordinated strikes in a very complex and highly challenging scenario against static, and moving targets in day and night missions.
About MAphotoSG
MAphotoSG (Military Aviation Photography Singapore) was founded by Raymond and David in 2015, and currently consists of a group of passionate volunteer local aircraft spotters that share the common interest of aviation photography. Core activities include the coverage of aviation events and aircraft spotting, both local and overseas.
Some of the key significant events captured by the group include the Exclusive Preview of the RSAF at Singapore Airshow 2016, the first sighting of 142 Squadron's F-15SGs and the F/A-18Ds of Exercise Commando Sling 16-2. The group was also featured in a pre-Singapore Airshow 2016 article published by the local compact, TODAY.