Read our Ex Torrent 2016 Report here
On 13 Nov, Lim Chu Kang Road will be transformed into a runway as the Republic of Singapore Air Force (RSAF) Exercise Torrent returns after an eight year break. This Alternate Runway Exercise, or commonly known as Exercise Torrent, will be the seventh in the series which first started in 1986.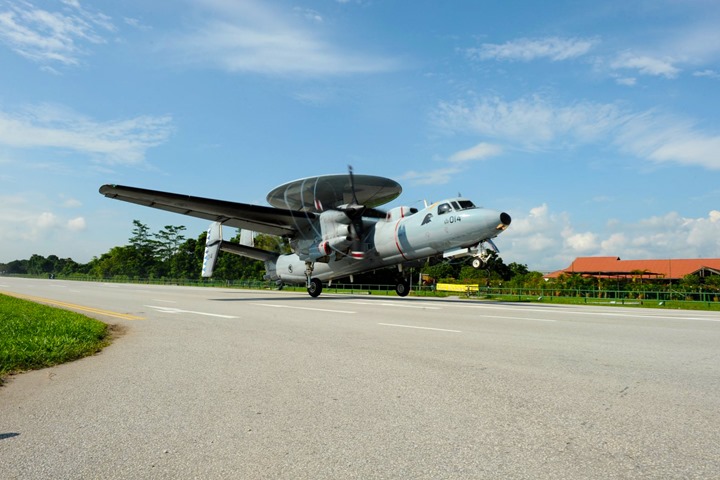 A RSAF E-2C Hawkeye takes off from Lim Chu Kang Road during Exercise Torrent VI in 2008
(Photo credit: MINDEF)
Under the command of the RSAF's Air Power Generation Command (APGC), the exercise hones the RSAF's readiness and ability to deliver uninterrupted air power at all times. Prior to the actual day, APGC will be utilising special equipment and removing civilian installations to convert the major public road into an operational runway within 24 to 48 hours.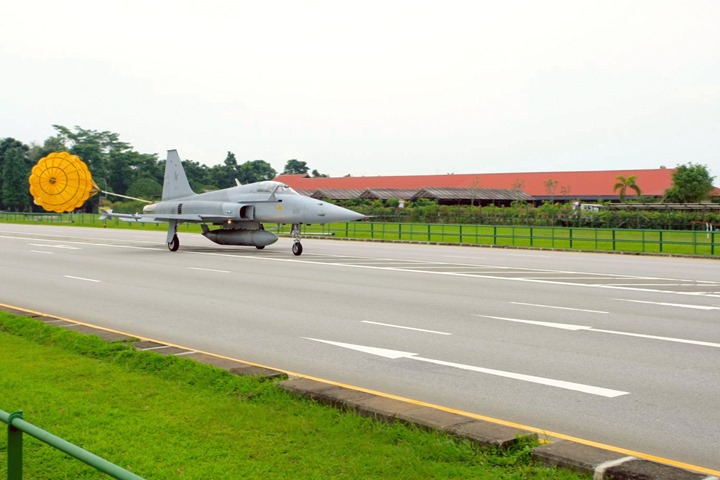 A RSAF F-5S Tiger II deploys its brake chute during landing at Exercise Torrent VI in 2008
(Photo Credit: MINDEF)
During the exercise period, arterial roads leading to Lim Chu Kang Road will be cordoned off and not accessible to public vehicles and bus servies will also be rerouted. The areas surrounding the exercise will be secured by the Military Police and Singapore Police Force (SPF) and the public will not be allowed to enter these areas.
The RSAF will be announcing the road closures in due time through public media channels.
MAphotoSG will be covering this event so stay tuned for our post-exercise article and photos!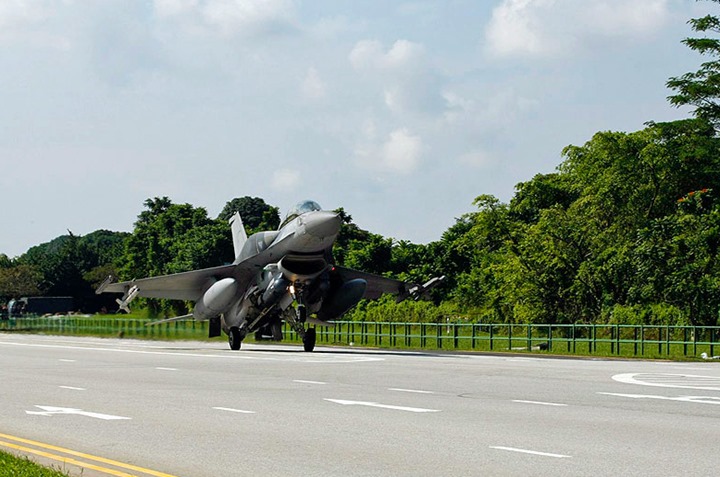 A RSAF F-16D Fighting Falcon takes off during Exercise Torrent VI in 2008
(Photo Credit: MINDEF)
Past Alternate Runway Exercises:
Exercise Torrent I – 16 Apr 1986
Exercise Torrent II – 8 Mar 1990
Exercise Torrent III – 1 Nov 1992
Exercise Torrent IV – 7 Dec 1997
Exercise Torrent V – 10 Nov 2002
Exercise Torrent VI – 30 Nov 2008
About MAphotoSG
MAphotoSG (Military Aviation Photography Singapore) was founded by Raymond and David in 2015, and currently the  group consists of passionate volunteer local military plane spotters that share the common interest of aviation photography. Core activities include the coverage of aviation events and aircraft spotting, both local and overseas.
Some of the key significant events captured by the group include the Exclusive Preview of the RSAF at Singapore Airshow 2016, the first sighting of 142 Squadron's F-15SGs and the F/A-18Ds of Exercise Commando Sling 16-2. The group was recently engaged by British High Commission Singapore for Royal Air Force Red Arrows Asia-Pacific & Middle East Tour 2016 coverage in Singapore. MAphotoSG was featured in a pre-Singapore Airshow 2016 article published by the local compact, TODAY.