Editor: As we look forward to the upcoming highly anticipated RSAF Open House on 21-22 May 2016, let our member, Gary, bring us back in time to see how SAF and RSAF open houses and displays were like in the 60s and 70s. Note: the grid-like effect on some images was due to the texture of physical photo paper.
Text and Images by Gary Ng, Instagram @clipper.sg
Since the inaugural SAF Display on 1 July 1969 at the Jalan Besar Stadium, SAF displays and open houses have been always a crowd puller and a source of excitement for the Singapore public. It is one of the most anticipated event for a local military enthusiast or photographer to view the SAF assets being showcased in a static or mobile display.
The Republic of Singapore Air Force (The RSAF) has always been involved in such displays. In this part 1 of 3 series, we'll take a brief look at how RSAF showcased its assets to the public from its early formative years.
60s-70s
When Singapore became an independent country on 9 August 1965, the air defence duties were still undertaken by the Royal Air Force (RAF), based in Tengah, Seletar, Sembawang and Changi. In 1968, the Singapore Air Defence Command (SADC) was formed to prepare for the eventual withdrawal of the RAF in 1971. In May 1969, eight Cessna 172H aircraft became the first air force aircraft, followed by eight Alouette IIIs.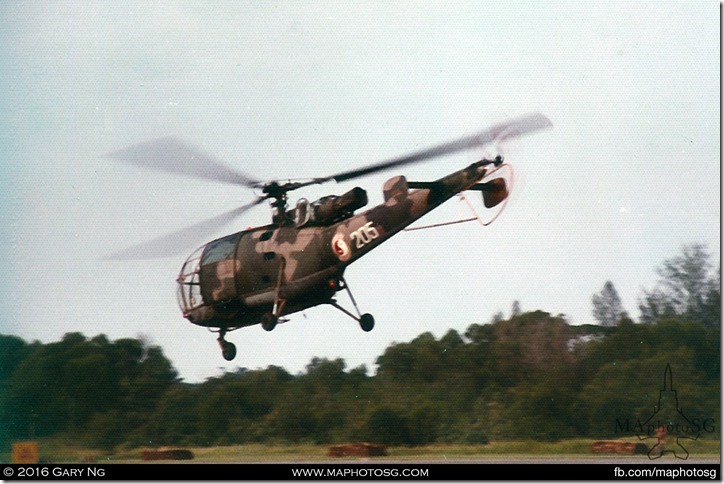 Alouette III, SAF Display, Changi Air Base, June 1975
One of the earliest displays of the-then SADC aircraft was at the 1971 SAF Day Display at the Jalan Besar Stadium when the Alouettes performed a mock air rescue operation with SIR infantry. It was surely an unforgettable sight for the public who were seeing a military maneuver, albeit a "sanitised version", up close.
The Air Force public presence and approach in the early years was that of winning the hearts and minds of the public and to showcase the beginning of a credible defence force vital to the long-term survival of a newly independent country.
From 1973 to 1978, SAF Day Displays were held at the Changi Air Base as the mobile displays required a much larger display area. In March 1973, the first RSAF Display Team, the Osprey Reds, was formed, flying the Hawker Hunters and they performed in the same year. In 1974, a new all Singaporean aerobatic team was formed led by LTA Jimmy Lim, and they named themselves the Black Knights.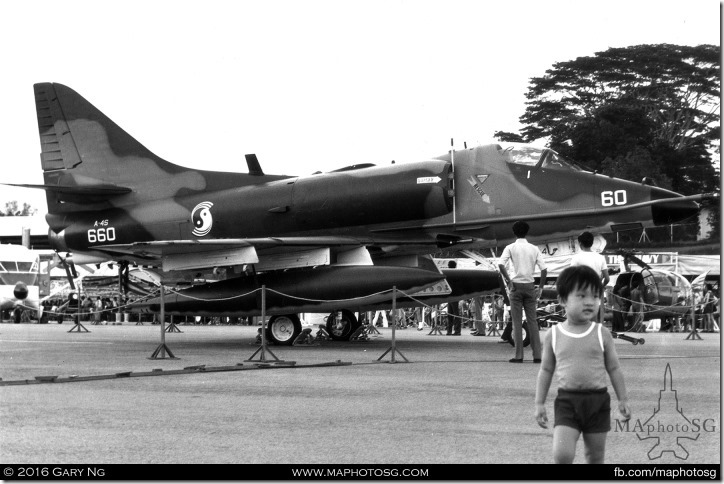 McDonnell Douglas A-4S Skyhawk static display, SAF Display, Changi Air Base, June 1974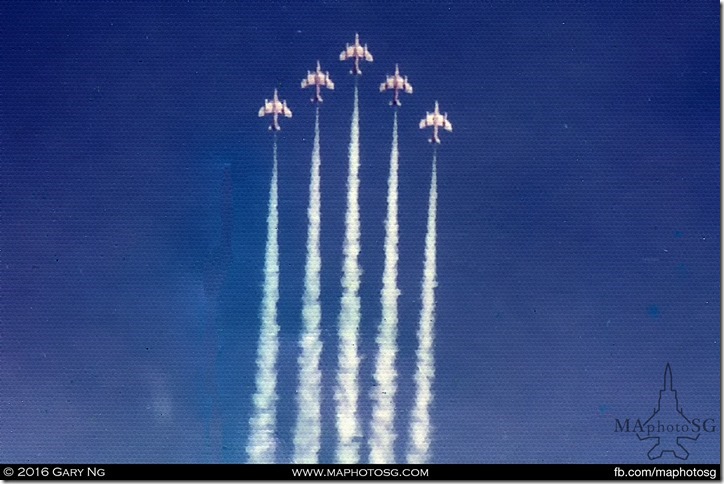 Black Knights performing a vertical loop in their Hawker Hunters, SAF Display, Changi Air Base, June 1975
Black Knights rolling out of their vertical loop in their Hawker Hunters, SAF Display, Changi Air Base, June 1975
In the same year, the "Ying-Yang" roundel replaced the RAF-style roundel, and on 1 April 1975, the SADC was renamed the Republic of Singapore Air Force (RSAF). From 1974 to 1978, the Black Knights was the major attraction at each SAF Day display along with the Synchro Pair Strikemasters, SF.260s and Alouette IIIs. Static displays featuring assets such as the McDonnell Douglas A-4, Shorts Skyvans and Bristol Bloodhound SAMs allow the public to have a firsthand tactile experience. By the end of the 70s, the RSAF had modernised sufficiently to bring itself into the supersonic age.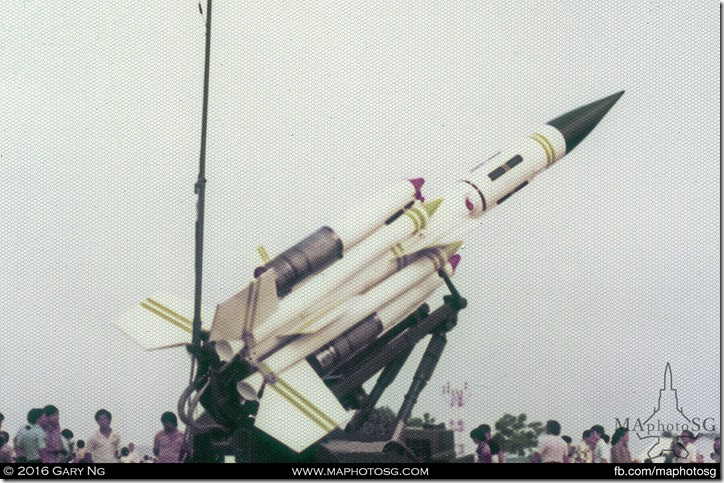 Bristol Bloodhound Mk II static display, SAF Display, Changi Air Base, June 1978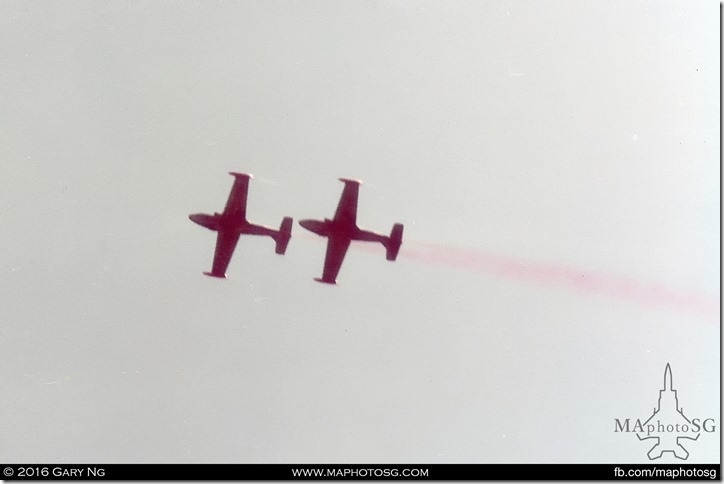 BAC Strikemasters Synchro Pair, SAF Display, Changi Air Base, June 1977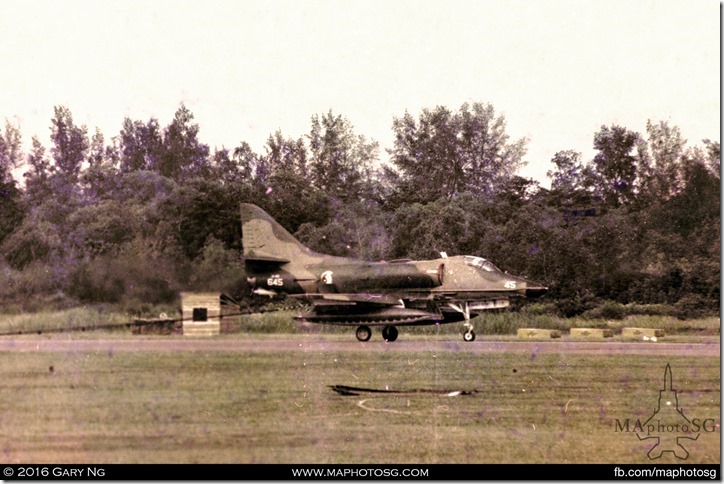 McDonnell Douglas A-4S Skyhawk performing an arrestor hook landing, SAF Display, Changi Air Base, June 1975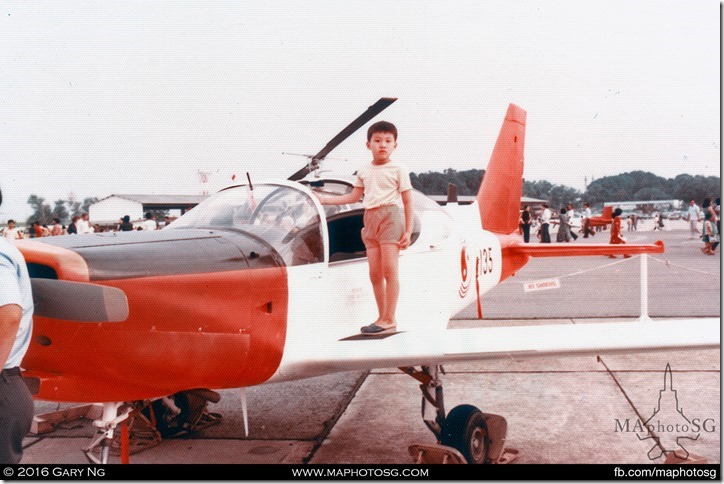 SIAI-Marchetti SF.260 static display, SAF Display, Changi Air Base, June 1978
For more information on the upcoming RSAF Open House 2016, do check out The Republic of Singapore Air Force Facebook at https://www.facebook.com/TheRSAF/
About the author – Gary Ng
Gary has been interested in all things military since young, especially aviation. Visiting SAF displays as a young boy got him thrilled with the sights and sounds of jets flying at low levels. Along with his passion in photography, this allows him to enjoy his two favourite hobbies during such visits.
Over the past 45 years, he has attended almost 30 SAF displays and open houses, and attempted to capture them for posterity. His interest in aviation also extends to the historical aspects, where he tries to include visits to museums and aviation-related attractions during his overseas trips. Apart from our own RSAF museum, he has visited 23 overseas sites including Thailand, Malaysia, Australia, New Zealand, South Korea and USA.
In 2011, he was the development advisor for the book "Singapore's Aviation Centenary (1911-2011)" by authors Teo Yew Chiat and L M Mani (ISBN 9789810863920). Gary is still very active as a photographer and military enthusiast presently, being a member of MAphotoSG.com and through it's platform, he hopes to share his experiences, histories and the joy of aviation photography with everyone.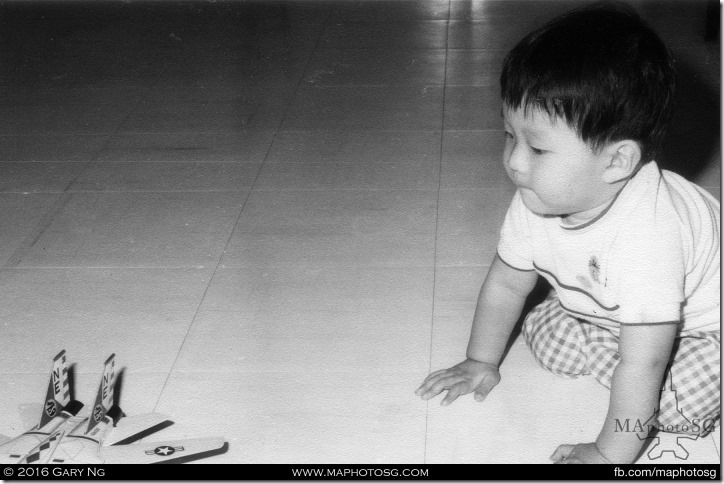 The author carrying out his aviation spotting early…at age 2!
About MAphotoSG.com
MAphotoSG (Military Aviation Photography Singapore), is proudly represented by a number of dedicated individuals who are passionate about military aviation. Through our photography, we have captured some of the "first" images of RSAF Exclusive 2016 Airshow Preview,  RSAF's 142 Sqn tail art on F-15SG, and Exercise Commando Sling 16-2. We also bring you selected news from Singapore and International which we feel that will be interesting and important to share. Our Co-founder, David and one of our member, Eric were featured by TODAY Paper (a Singapore newspaper published by MediaCorp) for 2016 Airshow featured article in Feb 2016! Click here to learn more about the team!