In view of celebrating a triple jubilee in 2014, namely 100 years airforce, 50 years Patrouille Suisse and 25 years PC-7 Team. The Swiss Air Force organised a big international air meeting at the Payerne Airbase which was held on 30-31 and 6-7 September 2014. This is the first of many articles covering AIR14.
According to officials, a total of 86400 vehicles were parked during the entire event. Traffic jams were inevitable with this many cars, especially in the morning. Close to 75000 people travelled by train and 15000 people travelled by bicycles to AIR14.
This is a massive airshow going by the number of visitors and the a total of 8hrs of flying each day for the 2 weekends. I was there on the first weekend, and it was a truely amazing experience. We parked our car in a massive carpark created out of harvested farmland at about 7am. Then, there is a  walk of about 1.5km to the nearest entrance gate.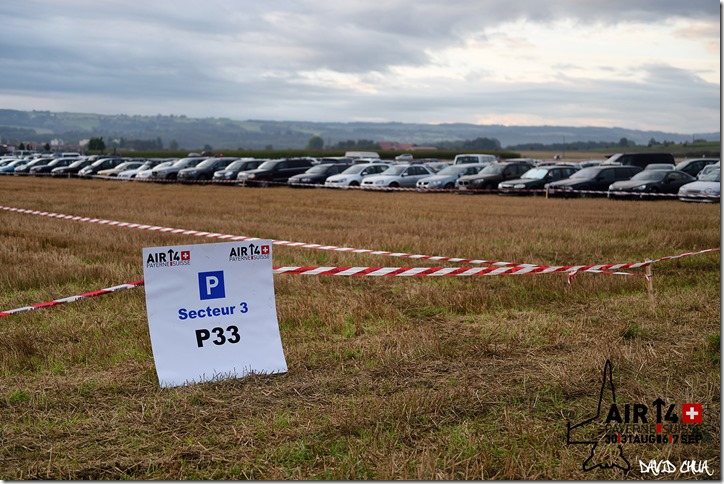 Parking Field
After the quick scanning of our tickets, we are through into the airbase. Overall, crowd control on site was great. Food was basically cold bread with cheese but it's good enough to fill the stomach and not expensive.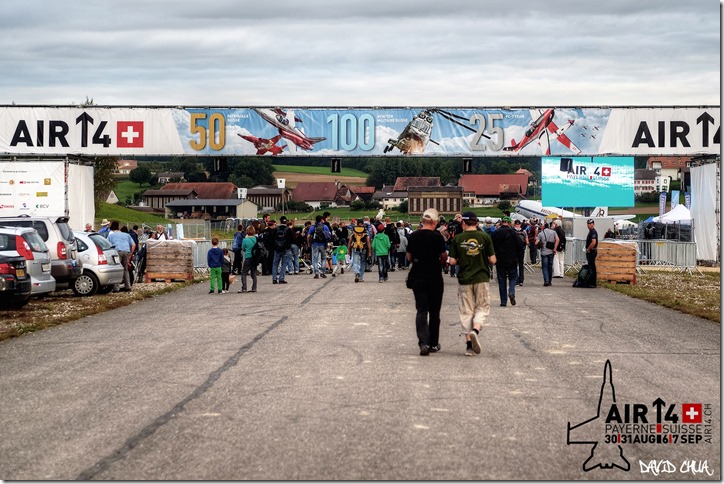 Entrance at 0730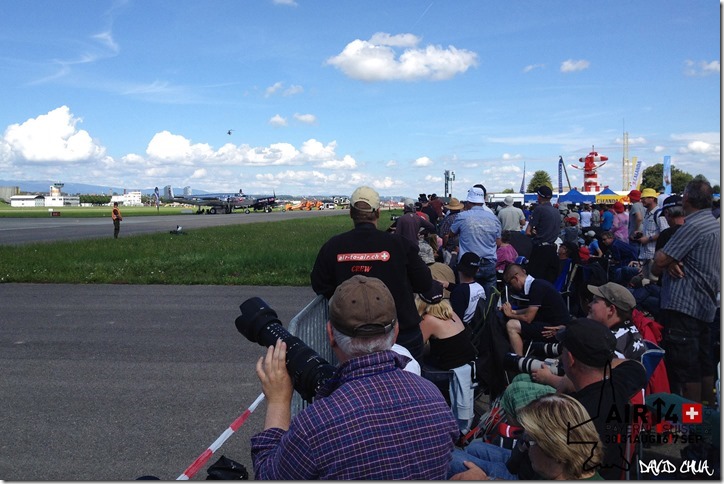 This is how close you can get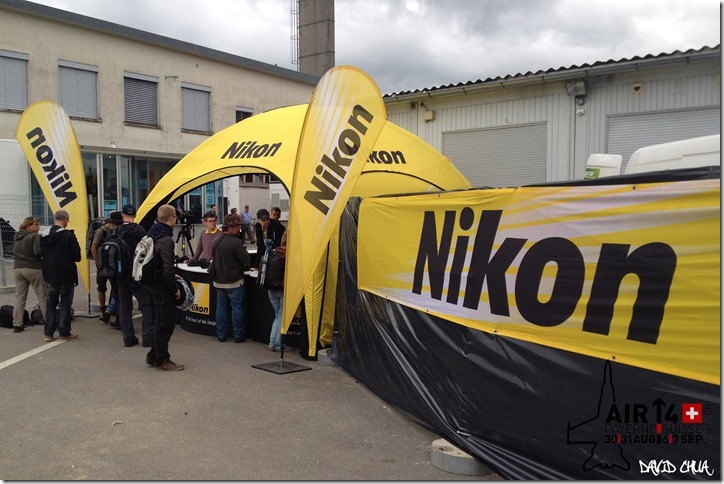 NPS Booth
The flying program starts at 9am and ends at 5pm with a break between 12-1pm. There are many aircrafts flying from the host country, basically all types from the Swiss Airforce. The foreign display teams include the Breitling Jet Team, Patrouille de France, Patrouille Aguila and the Midnight Hawks. There were also many solo displays by F-16, F-18, MIG-29 and vintage aircrafts. On the 1st day itself, we were also treated to an over flight by a Swissair Airbus A330 escorted by the Patrouille Suisse team.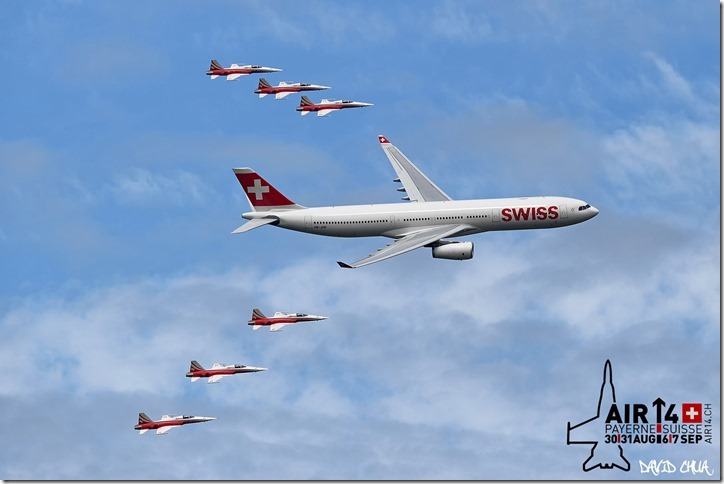 Swissair A330 with Patrouille Suisse Escort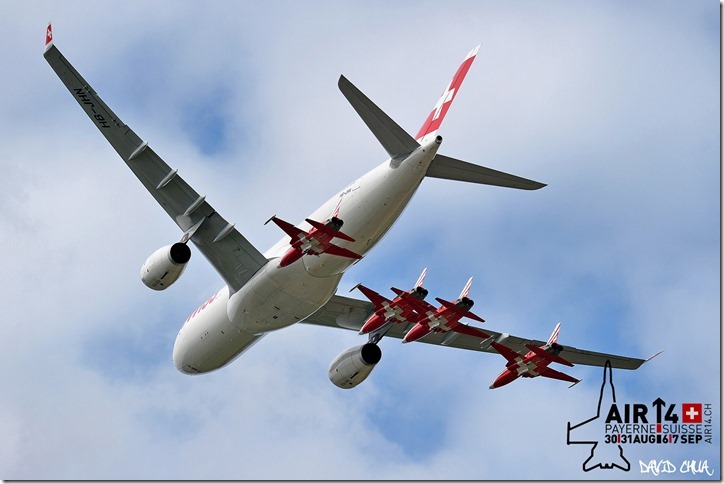 Swissair A330 with Patrouille Suisse Escort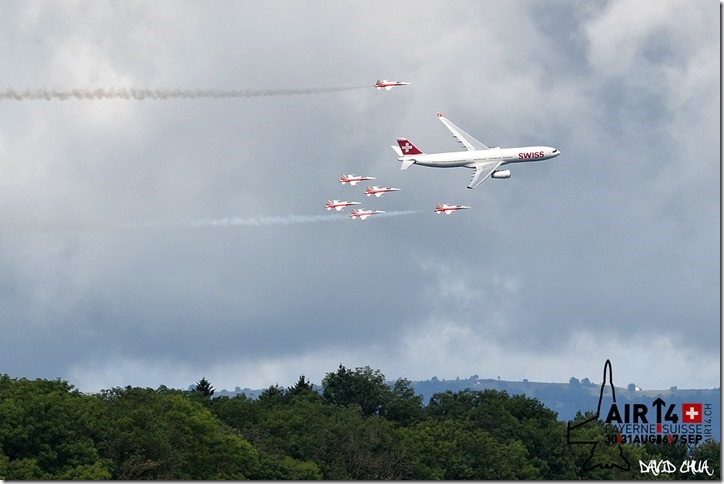 Swissair A330 with Patrouille Suisse Escort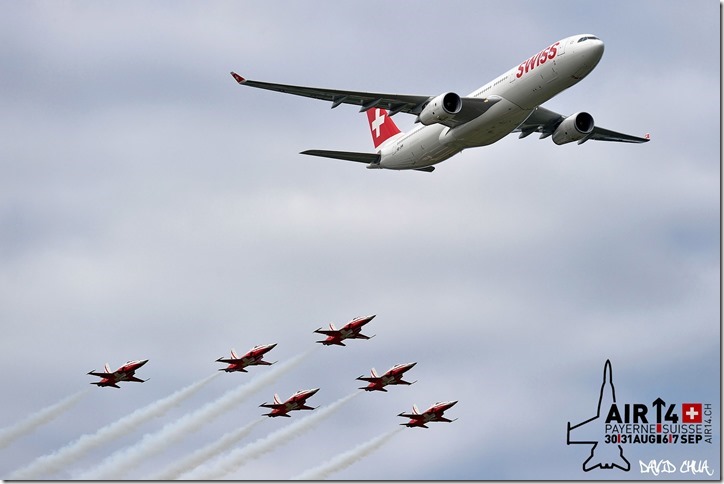 Swissair A330 with Patrouille Suisse Escort
So, without further delay, here are some shots of the Swiss Airforce Parouille Suisse Display team in their F-5E Tigers. All the pilots belong to F/A-18 Hornet squadrons and this is their side job.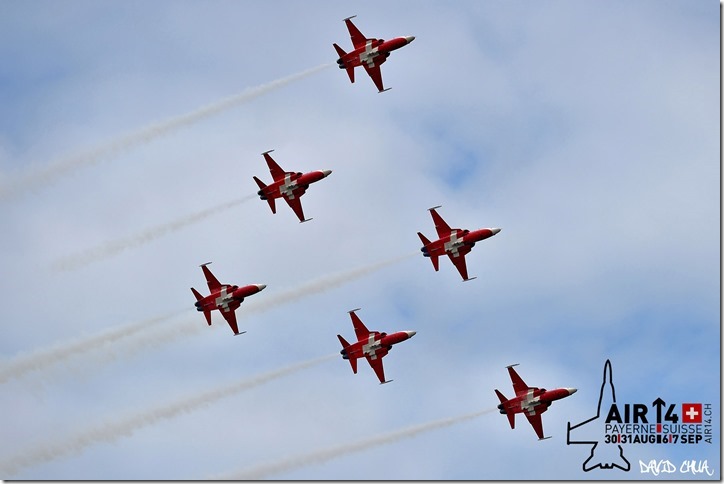 Eiger Formation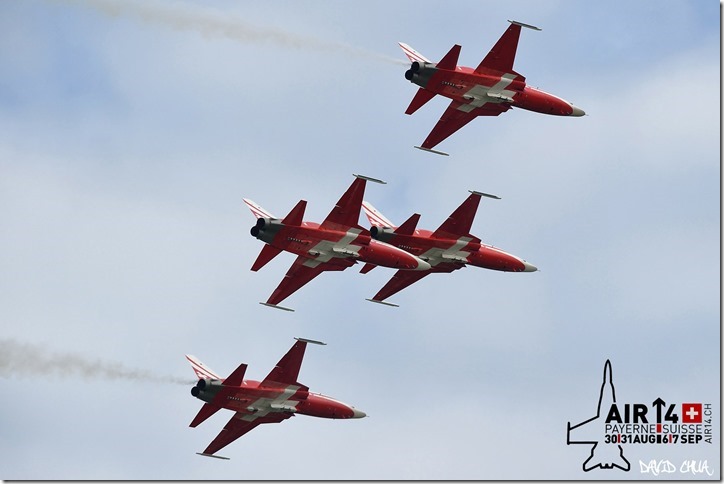 Diamond Formation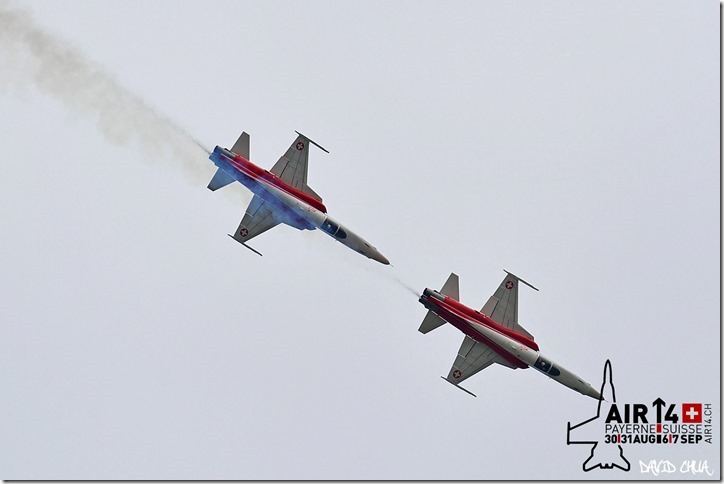 Coming in for Barrel Roll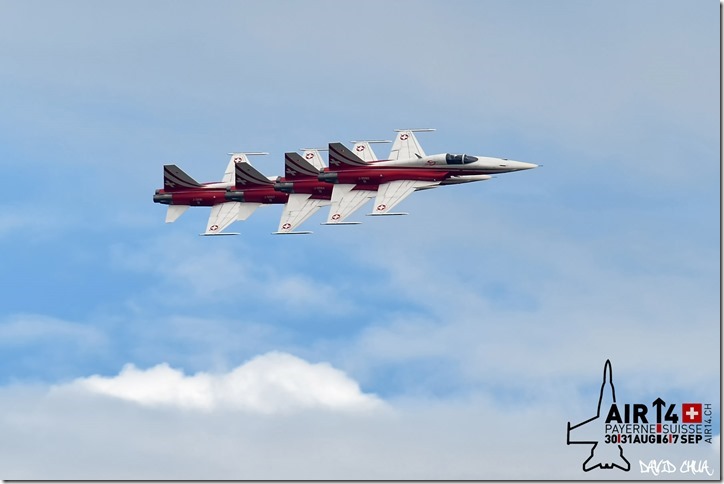 Shadow Formation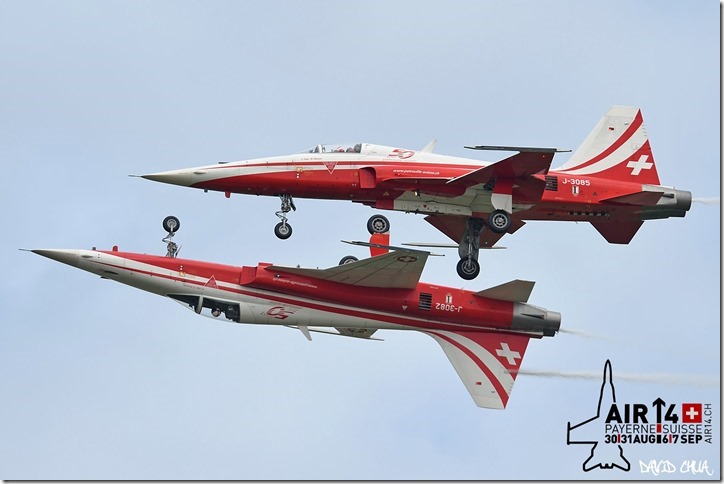 Mirror Formation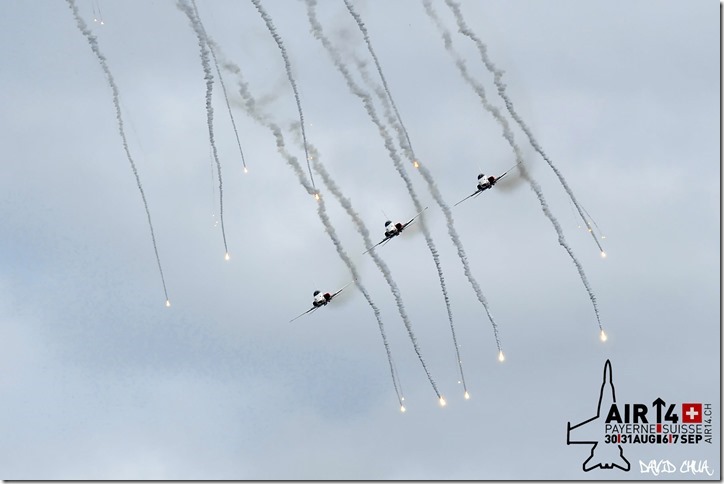 Flares Deployed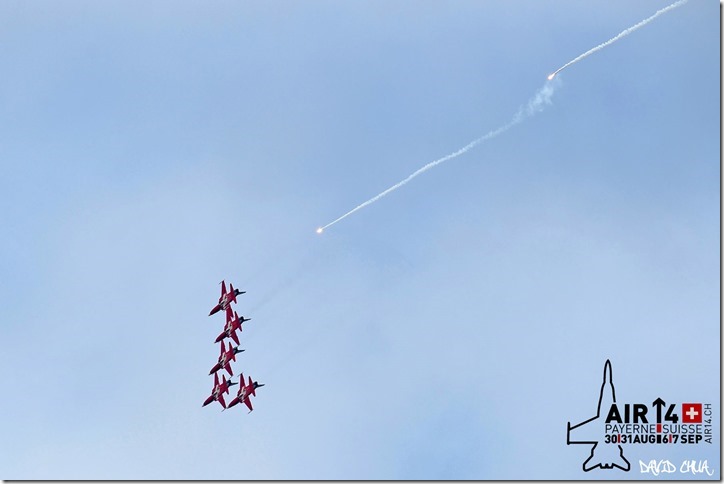 Trailing Flares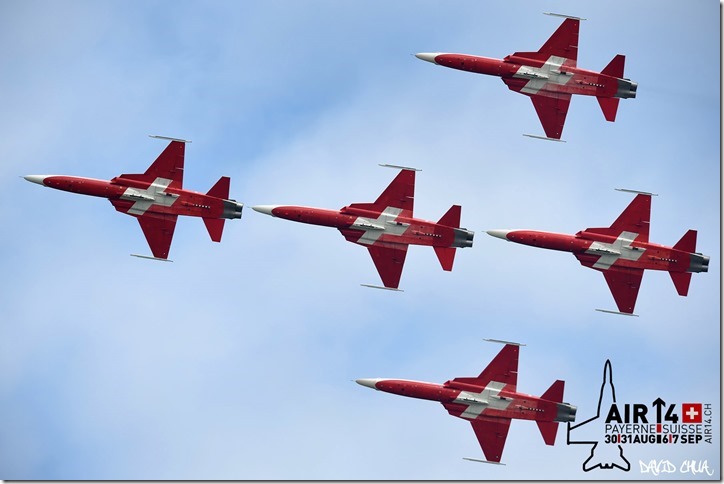 Executing Manta Barrel Roll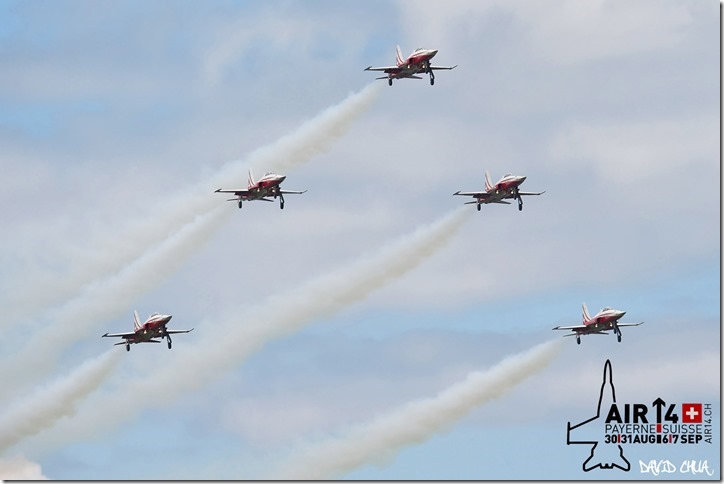 Tunnel Formation
Thats all for now. Do look out for more on the rest of the AIR14 in future articles.