The biennial IMDEX Asia once again returns to the Changi Exhibition Centre for its 12th edition on the back of a projected rise in Asia Pacific naval budgets of 60% to US$107 billion through to 2020. 236 participating companies from 30 countries will showcase their latest technologies and products, and about 10,500 trade attendees are expected from 65 countries. The exhibition will also play host to 26 chiefs of defence forces and navies, vice chiefs, directors-general of coast guards and senior naval officials. 25 warships from 15 countries will also be berthed at RSS Singapura – Changi Naval Base for ship visits, including three big decks – HMAS Canberra from the Royal Australian Navy, INS Shakti from the Indian Navy, and JS Izumo from the Japan Maritime Self-Defense Force.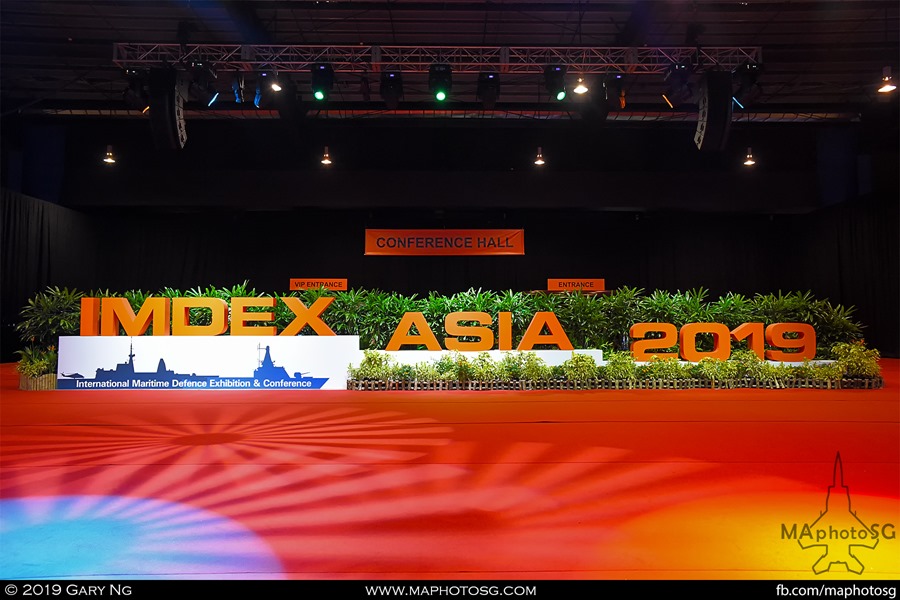 With a successful launch at Singapore Airshow 2018 and Rotorcraft Asia and Unmanned Systems Asia 2019, the What's Next programme will makes it debut at IMDEX Asia 2019, featuring a total of 13 international start-ups to showcase and pitch their innovations and establish new business development leads. The programme also features a Shipyard 4.X Challenge where start-ups pitch solutions to the four areas of naval bases, ports & shipyards, supply chain & logistics support, shipbuilding & MRO, and ship operations.
"IMDEX Asia embodies the collaborative and innovative spirit that defines the region's naval and maritime defence sector. The breadth and depth of technological advances that are on display will empower naval defence and maritime stakeholders to harness the vast potential of technological innovation for solutions within a complex security landscape in Asia Pacific. With the presence of every emerging innovation in an environment of collaborative mindset, IMDEX Asia is truly where the finest in naval defence and maritime sector meet," said Mr Leck Chet Lam, Managing Director, Experia Events Pte Ltd, at a pre-event media conference.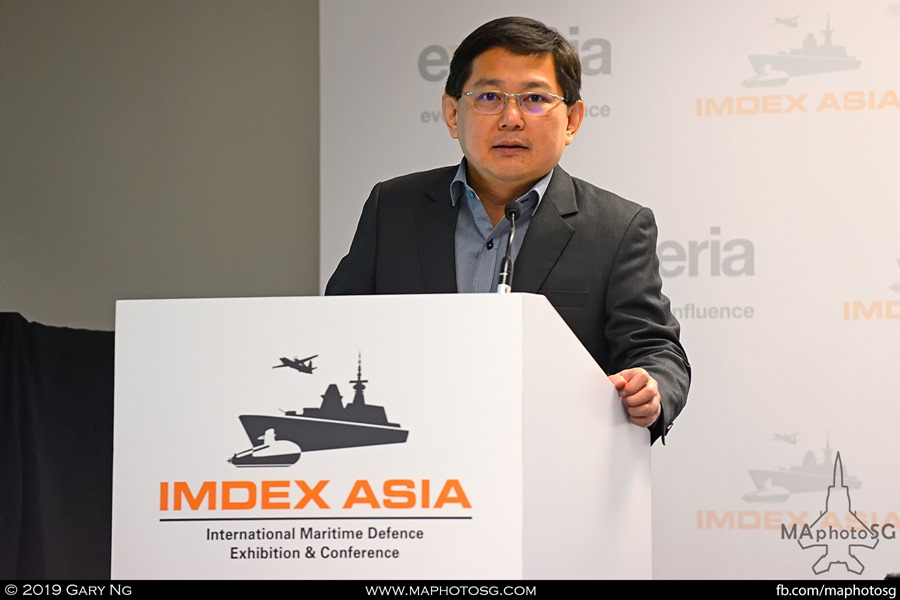 Mr Leck Chet Lam, Managing Director, Experia Events Pte Ltd
The Maritime Campus will also makes its debut at this year's IMDEX Asia with the partnership of the Singapore Maritime Foundation. This 360° holistic platform aims to inspire and groom the young aspiring mariners of tomorrow, and about 1,000 students from 13 participating secondary and tertiary institutions and full-time national servicemen are expected to attend the talks, walk-through exhibitions and engagement with professionals and practitioners from the maritime and naval defence industries.
The International Maritime Security Conference (IMSC) will also be held alongside the exhibition with this edition's theme being Safe and Secure Seas: Promoting Mutual Security in our Maritime Commons. Senior Lieutenant-Colonel (SLTC) Ho Jee Kien, Commanding Officer 188 Squadron, Republic of Singapore Navy, said, "This year's conference will provide a forum for discussion and discourse on the maritime security challenges we face today. The sixth edition will see an exciting line-up of practitioners and academia who will speak at plenaries on the current rules-based maritime order, maintaining peace in our maritime commons, as well as ways to strengthen cooperation and engender trust."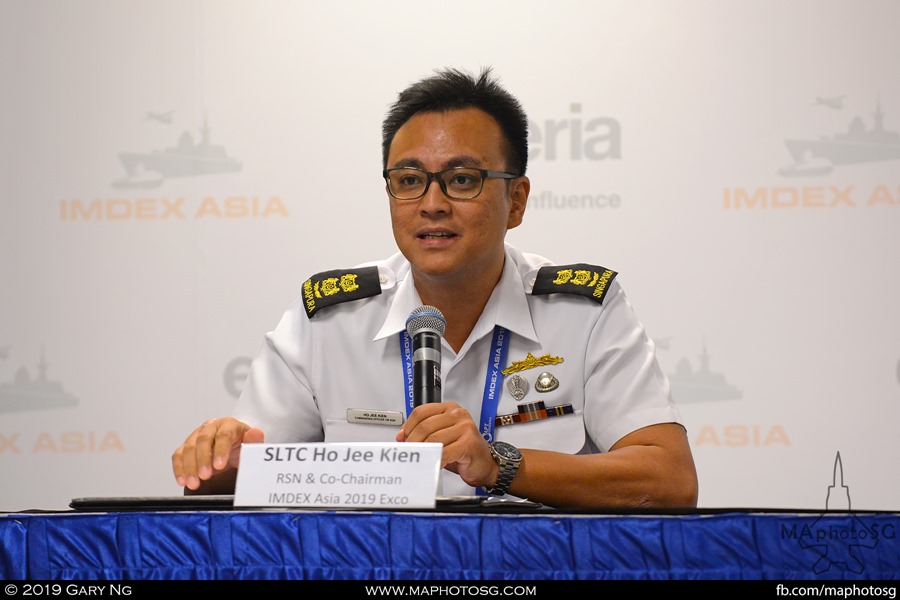 Senior Lieutenant-Colonel (SLTC) Ho Jee Kien, Commanding Officer 188 Squadron, Republic of Singapore Navy
"The IMSC is in fact from day one, being put together as a knowledge sharing platform for academia, navies, regional countries and international maritime stakeholders, to think about what are some of the maritime security challenges; i.e. assessing what is the current maritime situation out at sea, what is the current strategic thinking, what is the areas where regional countries can come together to collaborate, or if you disagree with one another, having a platform to talk it through to better understand one another," pointed out Ms Jane Chan Git Yan, Institute of Defence and Strategic Studies, S. Rajaratnam School of International Studies.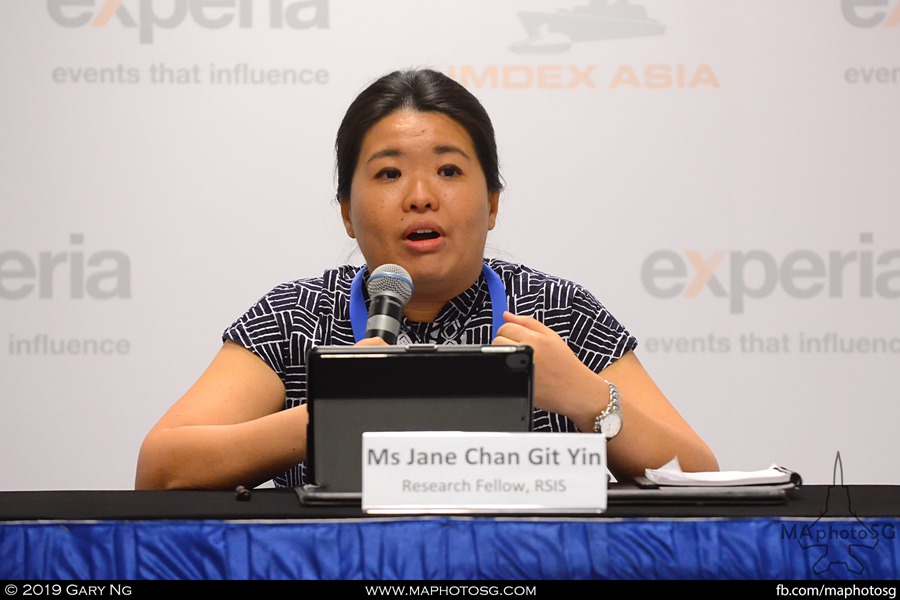 Ms Jane Chan Git Yan, Institute of Defence and Strategic Studies, S. Rajaratnam School of International Studies
Complementing the IMSC will be two business forums that will focus on Cybersecurity in the Maritime Domain and Innovation in the Maritime Domain.
Charting Security and Paving the Future
In his welcome speech at the opening ceremony today, Mr Vincent Chong, Chairman, Experia Events, said, "Singapore is strategically located as a maritime gateway to the region; it is well-positioned at the centre of international commerce and multilateral co-operation, this making it an ideal venue for IMDEX Asia, as the strong participation levels over the years have demonstrated. The backdrop of increasing regional and global interdependence underscores the vital need for us to come together to deliberate complex naval and maritime challenges, forge multilateral collaborations and chart long-term solutions for peace and security."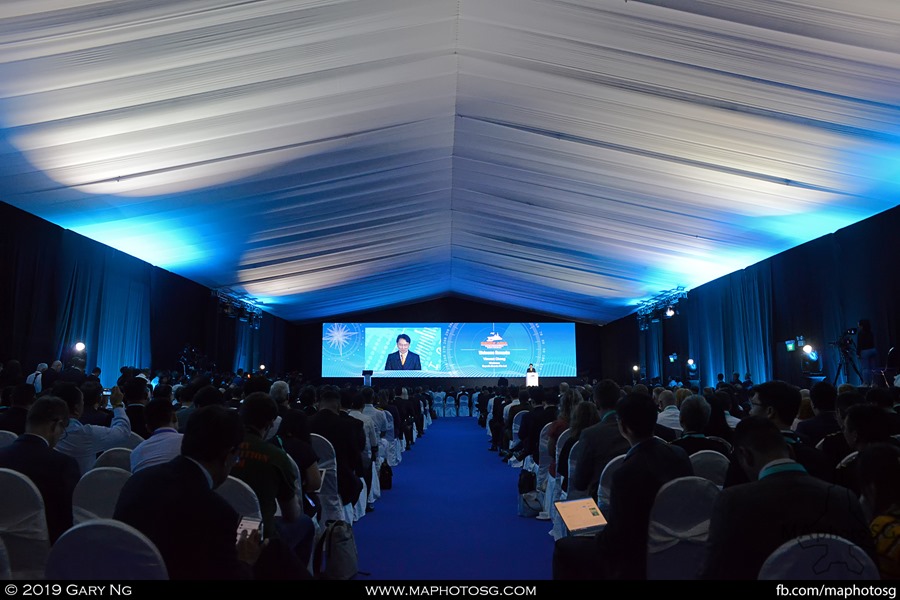 "This year, more than 400 delegates will come together for conversations that are focused on ways to promote safe and secure seas and ensure mutual security for all of us. This will include the development of frameworks and solutions that deal with maritime threats and potential disruptions to sea lines of communications."
On paving the maritime future, he said, "Even as we immerse in strategic dialogues on collaboration and explore game-changing ides for a safe and secure future, our sight is cast much further afield. The future that we seek is also about grooming aspiring young mariners of tomorrow. This year, we are grateful for Singapore Maritime Foundation's parthership that made the inaugural edition of Maritime Campus possible. In due time, I'm sure some of them will be seated among you; taking the baton from you, and leading us into that future we are paving today."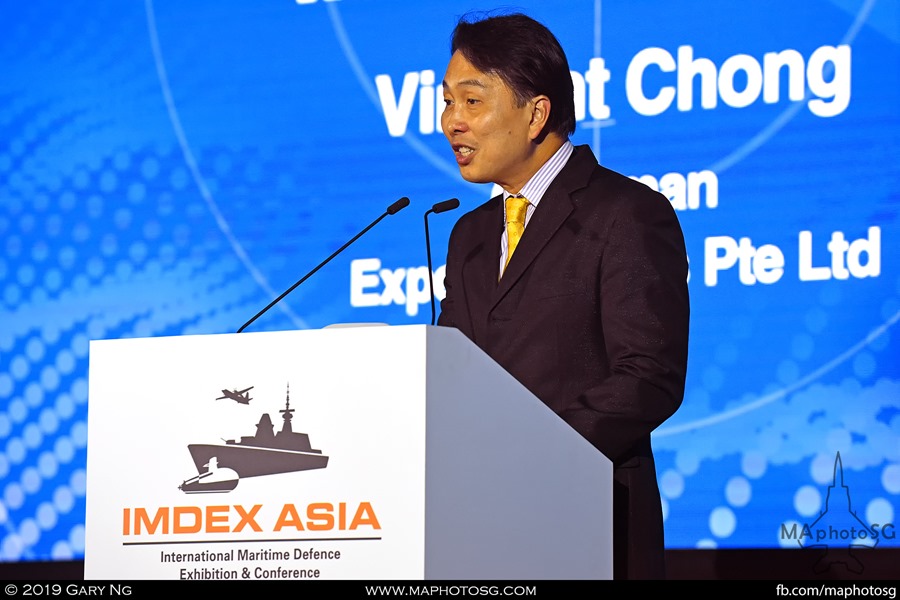 Mr Vincent Chong, Chairman, Experia Events Pte Ltd
Challenging Regional Dark Storm Clouds
Dr Ng Eng Hen, Minister for Defence, touched on the importance of the sea to global trade in his opening speech. "This region, at its heart, is a maritime region. From historical times, seminal influences have travelled across seas to impact countries here. In diverse fields – trade, religions, migrants, knowledge, even livestock and crop – these pivotal influences from lands faraway reached across the seas to fundamentally alter the lives of millions in this region. These influences still run deep and last long after their epicentres have diminished or disappeared altogether."
"Today, global connectivity has increased leaps and bounds through air, land, sea and the internet. But the seas still hold powerful forces that can continue to shape the destinies of our countries, individually or collectively. Singapore sits at the confluence of the two key arterial networks formed by the Strait of Malacca and the South China Sea. As a result, 25% of all the traded goods in the world on more than 1,000 ships pass through the Singapore Strait each day. From there, ships go to over 600 ports in more than 120 countries – nine of the ten busiest ports in the world are in this region, including Singapore, the second after Shanghai."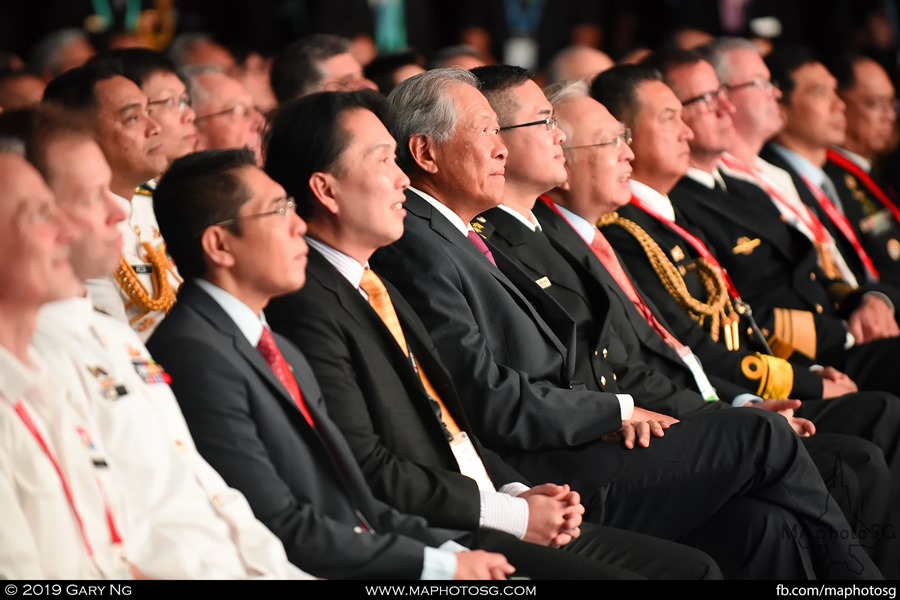 On the dark storm clouds that threaten this importance, he said, "Traditional maritime threats persist, such as transnational maritime terrorism, piracy, armed robbery and the trafficking of drugs, weapons and humans. But for other recently evolved security challenges, more work needs to be done. During the Trump-Kim summit held on Sentosa, terrorist threats from the seas on the southern flank were a concern, and the SAF had to mount considerable protection against potential threats. Our Maritime Security Task Force worked closely with the Indonesian Navy to secure these waters. Collectively, we need to step up our intelligence efforts as the centre of gravity of global terrorism shifts away from the Middle East and moves to other regions of the world, including this region, which have been susceptible to radical ideologies."
"Of concern too in this maritime region are the different rules adopted by various countries that govern the use of the global maritime commons, not least the rules that relate to freedom of navigation but also extending to maritime territorial claims on fisheries and other resources."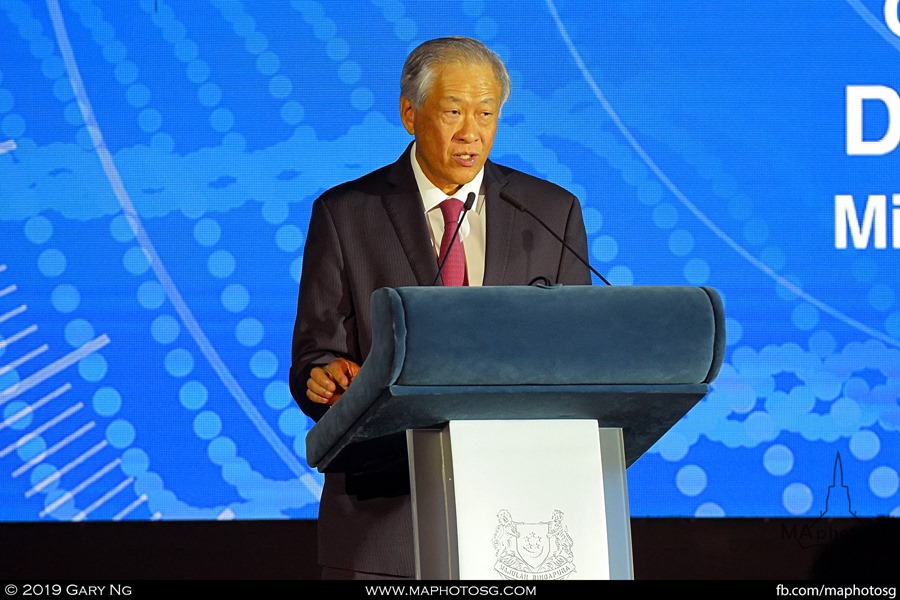 Dr Ng Eng Hen, Minister for Defence
"Maritime history teaches us that whenever and wherever there is conflict on the seas, surrounding countries and their common folk invariably suffer. And because so much depends on the seas, we need a strong consensus from all countries for common rules for the seas and their use. For the South China Sea disputes, the Code of Conduct (COC) can pave the way for agreement on international maritime norms and conflict prevention. It is good that ASEAN and China have come to an agreement on a single draft negotiating text, and all of us urge quick progress and an expeditious conclusion of a meaningful and impactful COC," Dr Ng said, highlighting examples of meausres that resolved such storm clouds.
"In parallel, militaries can do much to build confidence and trust through cooperation and collaboration. We have seen this work in the Republic of Singapore Navy's Information Fusion Centre, which celebrates her tenth anniversary this year. The Experts' Working Groups under the auspices of the ADMM-Plus is another live example. In November 2017, the ADMM-Plus navies adopted and practised the Code for Unplanned Encounters at Sea (CUES) and did so again at the ASEAN-China Maritime Exercise last October, and at the recently concluded 18-nation ADMM-Plus Maritime Security Field Training Exercise. These military initiatives between regional navies reduce the risk of misunderstandings and unintended escalation between our warships."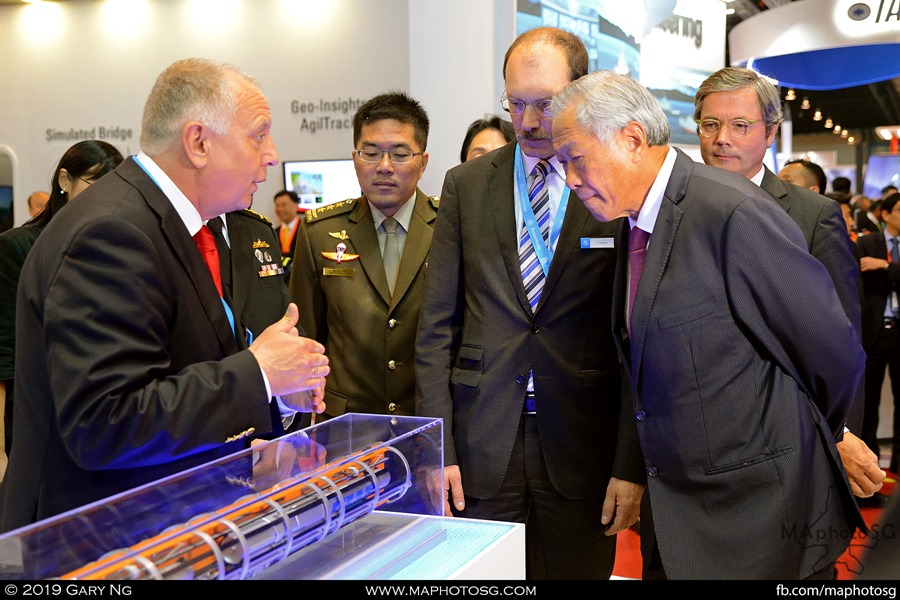 IMDEX Asia 2019 will be held at the Changi Exhibition Centre from 14-16 May, and entry is only for trade visitors. There will be a complimentary shuttle bus service operating between Expo MRT station and the show site during the show days.