At this year's 54th National Day Parade (NDP) to be held on 9 August at the Padang, the public will have a chance to see the debut flypast of the Republic of Singapore Air Force's (RSAF) Airbus A330 MRTT (Multi-Role Tanker Transport). This was revealed at a media conference on 10 June at Paya Lebar Airbase where details of this year's NDP flypast were announced. This year's NDP aerial segments will consist of the Red Lions freefall display, State Flag flypast and the Salute to the Nation bomb burst, MRTT flypast, and the F-15SGs shackle, high-G turn and vertical climb segments.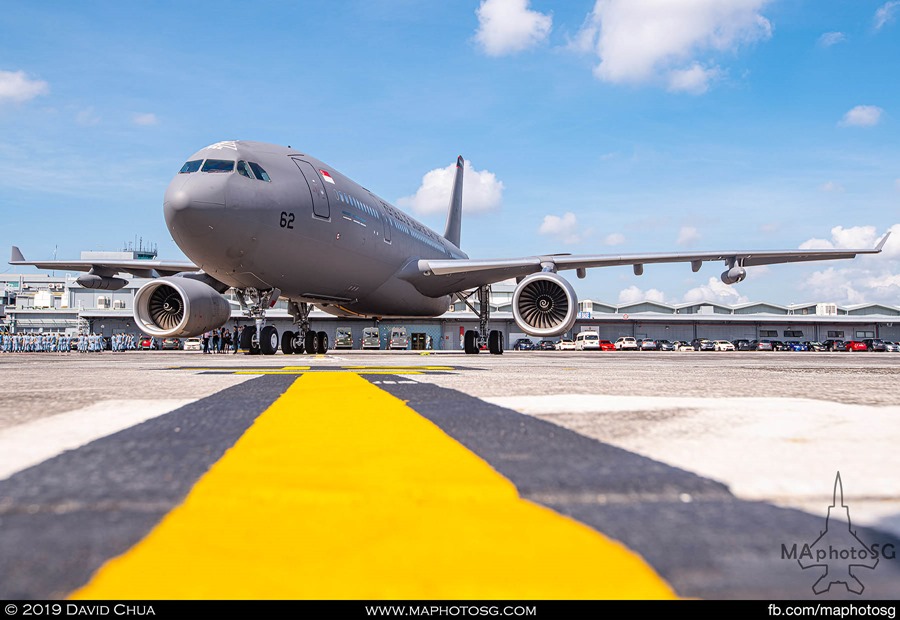 Participating in the NDP for the first time is the RSAF A330-MRTT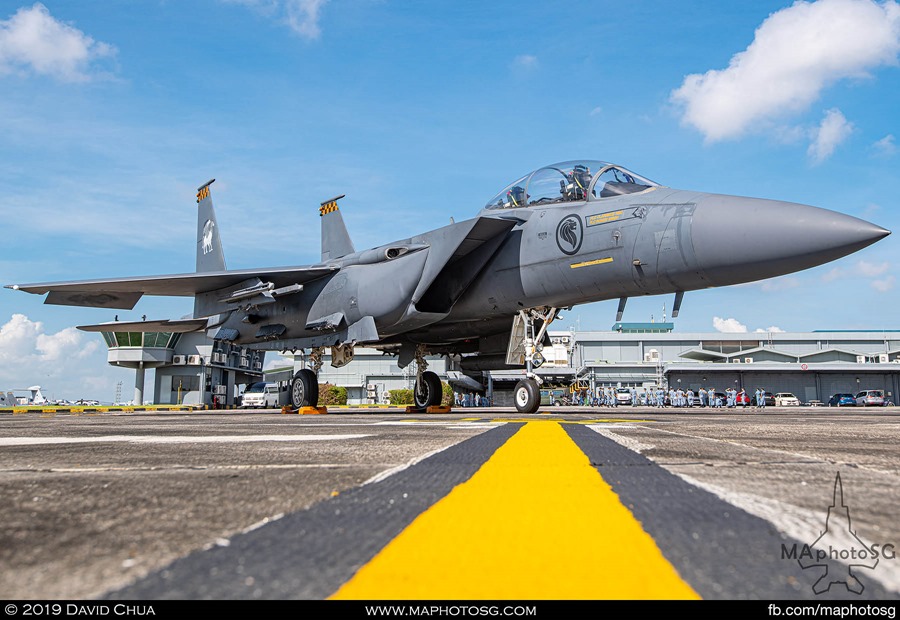 RSAF F-15SG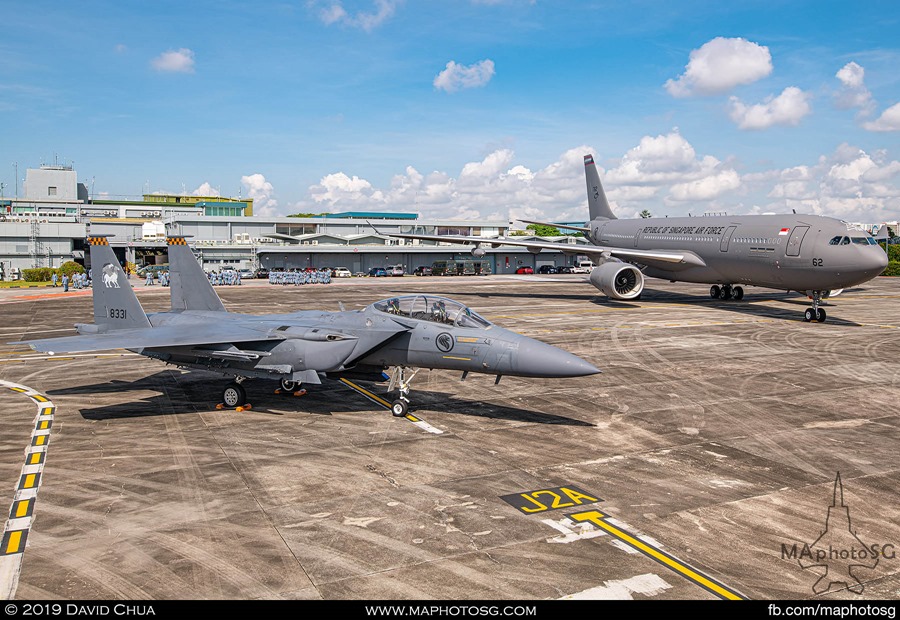 Two of the aircraft types participating in the aerial display. The F-15SG and A330-MRTT
On how different this year's flypast will be compared to other years, Major (MAJ) Arumugam Sivaraj, Officer Commanding, 142 Squadron, said, "In terms of planning manoeuvres templates that were used in the previous NDPs, we have to adjust most of them based on what is the best axis to route in from,  what gives the audience the best show and how well to showcase the team effort between our squadrons. Other challenges which is throughout every NDP is the rapidly changing weather, the contingency that we need to put into that, as well as for this NDP, the F-15SGs are involved in three different segments, so how we sequence the five aircraft in the air to converge and execute all these three manoeuvres well."
For Captain (CPT) Vincent Tan, Weapon Systems Officer, 142 Squadron, who is participating in the NDP for the first time, he said, "For me personally, I'm quite proud to participate in the NDP and it's always special to be able to showcase the RSAF over the parade." On the challenges flying over the Padang, CPT Tan said, "You can imagine the Padang is surrounded by a lot of tall buildings, so being able to find show centre is definitely a challenge. We have to use the tall visual features around that area to help us execute those manoeuvres, and we are doing this under a high-G environment, so it's going to pose extra challenges."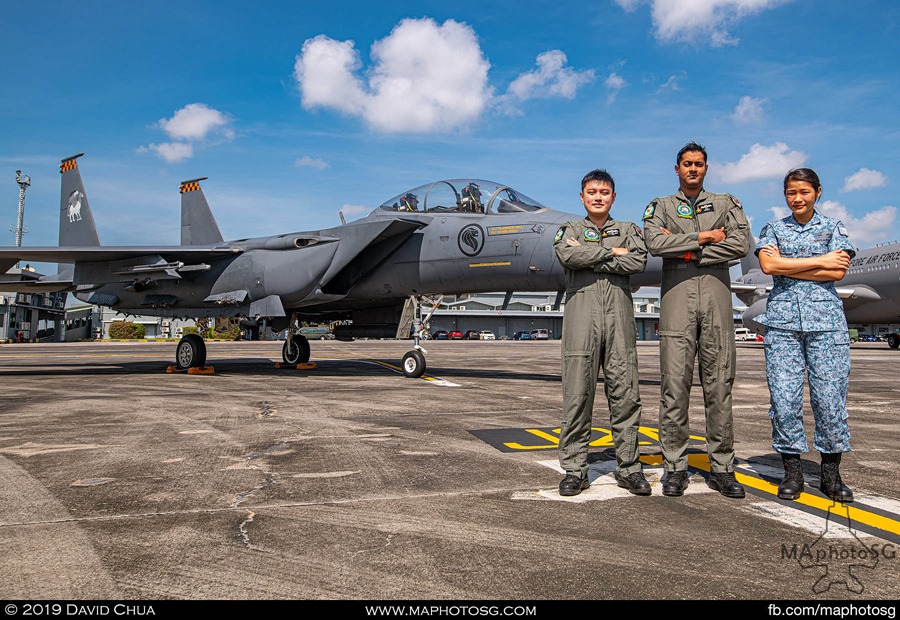 Pilot MAJ Arumugam Sivaraj, WSO CPT Vincent Tan and Air Force Engineer ME1 Joey Tay with their F-15SG aircraft
This year is Military Expert 1 (ME1) Joey Tay's, Air Force Engineer, 807 Squadron, first involvement in the NDP flypast as a flightline crew, launching and recovering the F-15SGs. Her previous participations were as a maintenance crew. "For this year's NDP work as a flightline crew, training is about six months in total. We start with the basic understanding of the aircraft, followed by aircraft inspection training. An example would be the preflight inspections, where we clean the canopy surface and inspect for surface abnormalities, or check the pressures of the tyres and make sure they are good with no cracks on it."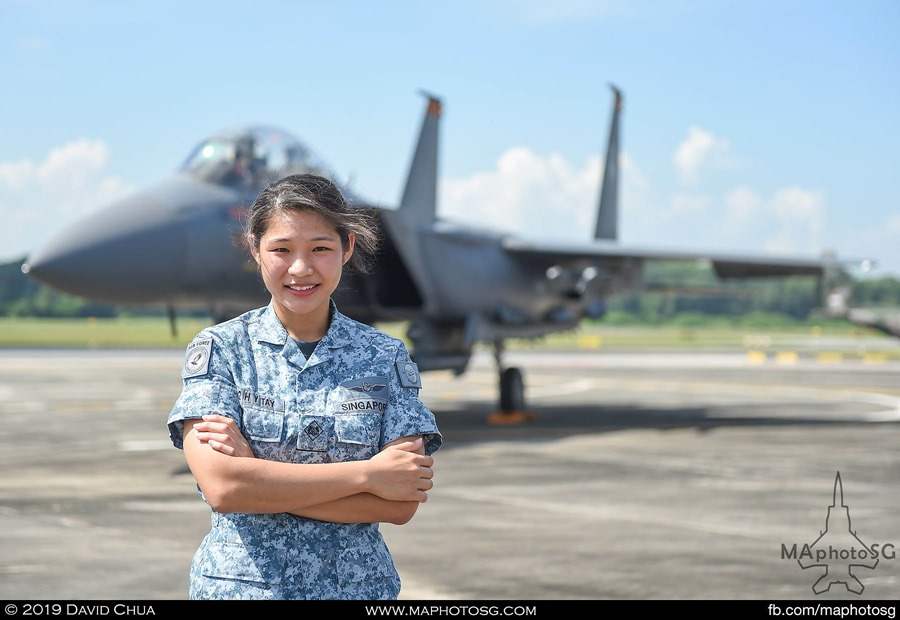 Flightline crew of the F-15SG, ME1 Joey Tay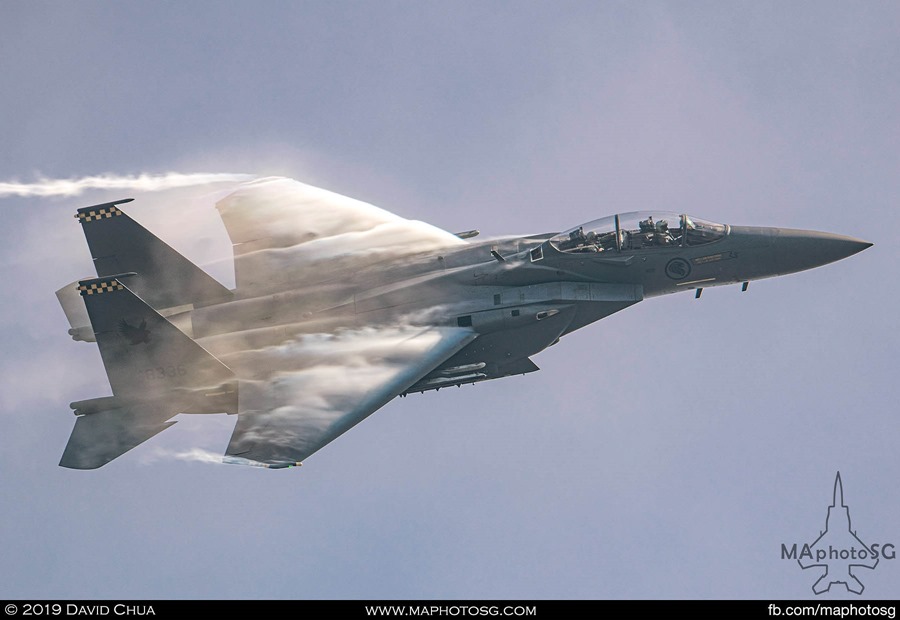 F-15SG High G Turn generating huge vapors as it cuts through the air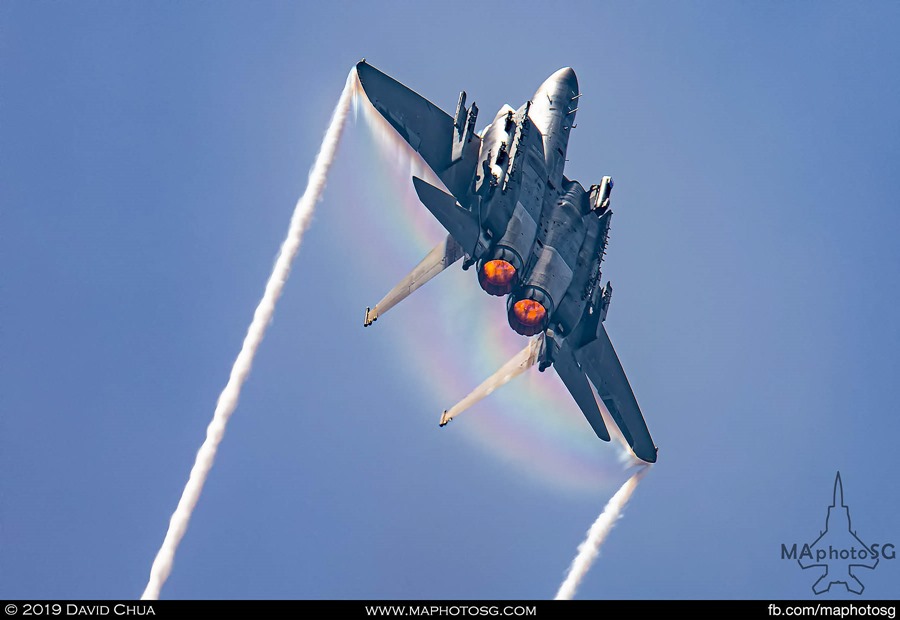 F-15SG Vertical Climb with afterburners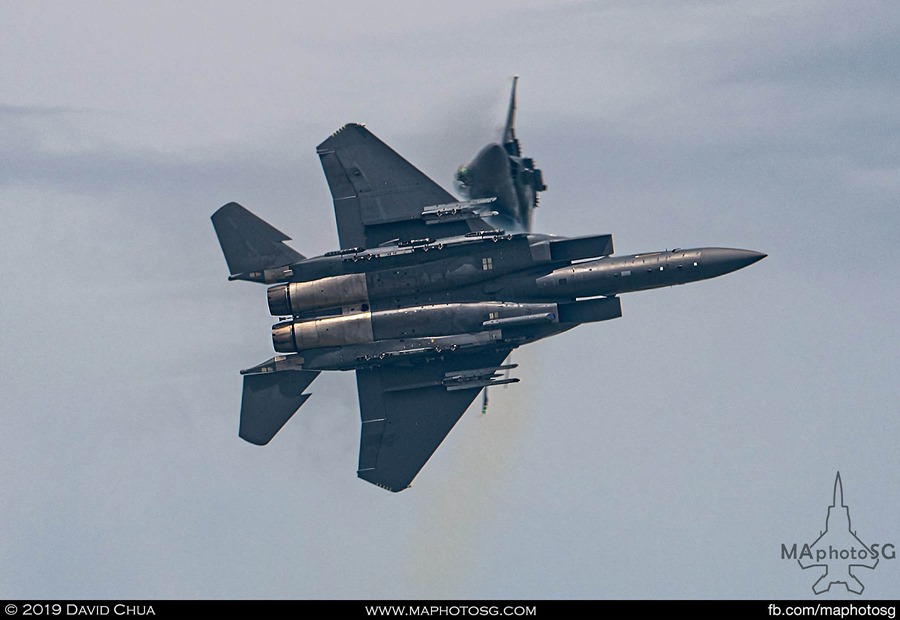 2 F-15SGs performing the Shackle manoeuvre
Captain (CPT) Teo Yi Quan, Transport Pilot, 112 Squadron, last participated in the 2015 SG50 NDP flypast on the Boeing  KC-135R Stratotanker platform. On training on the MRTT for this year's flypast, he said, "For this year's training we started off in May, and in terms of the previous platform, there's not much of a difference actually. What we do for NDP is quite similar to what we do in our day-to-day role. We have to get to, in this case the Padang as show centre, on time and on track. Likewise for training for operations such as air-to-air refuelling, we also have to be on time to deliver the fuel to our fighters." The extra personal motivation for CPT Teo's participation this year comes in the form of his nine-month old son, and wife, who was his fiance during his 2015 stint.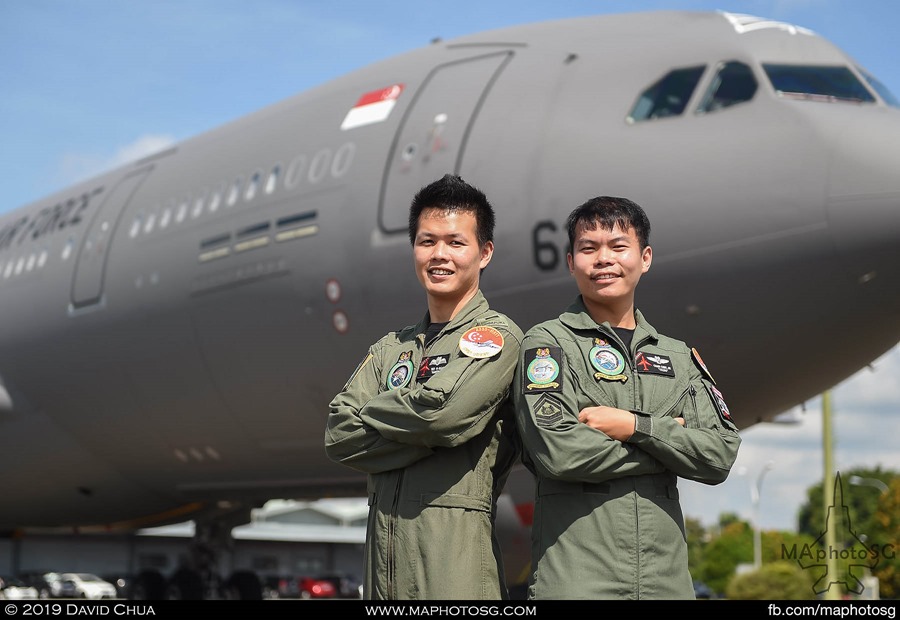 CPT Teo Yi Quan and SSG Chan Chee Jie will be flying the A330-MRTT over the parade
"For myself, it's the first time doing the NDP flypast, because I was away for overseas duty for the past four years," said Staff Sergeant (SSG) Chan Chee Jie, Air Refuelling Operator, 112 Squadron. "Fortunately I'm in Singapore this year for the NDP celebrations, and am very honoured to be able to do the flypast. As an Air Refuelling Operator, before the flight I have to ensure that our onboard cameras are working for the flypast, and I need to calculate the weight and balance of the aircraft for flight safety. In flight, I will be an extra pair of ears and eyes, so that when the pilot is flying, I'm able to notify them of anything they may have missed out, or safety concerns as well."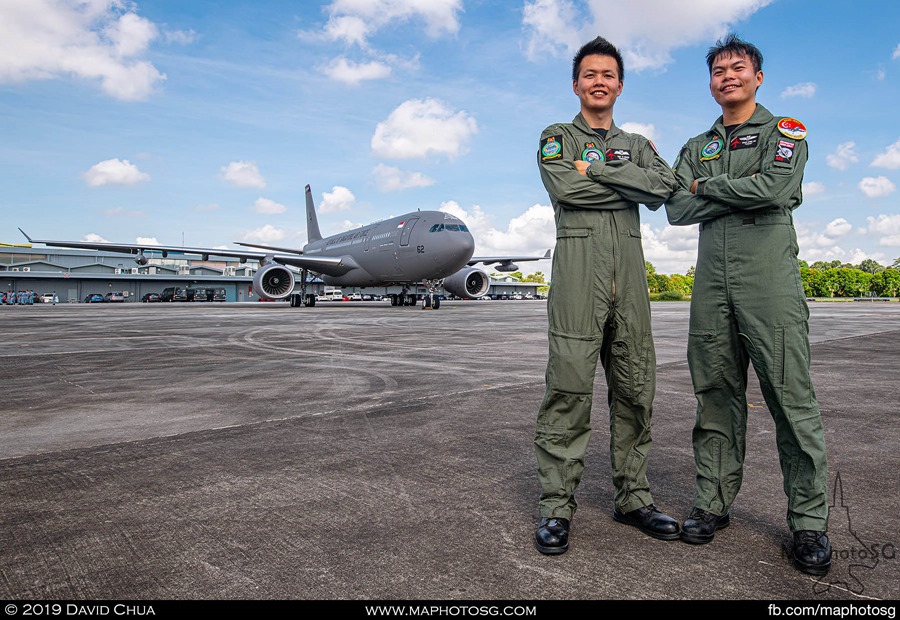 Pilot CPT Teo Yi Quan and Air Refuelling Operator SSG Chan Chee Jie with their A330-MRTT aircraft
A330-MRTT with 2 F-15SG escorts fly past the Central Business District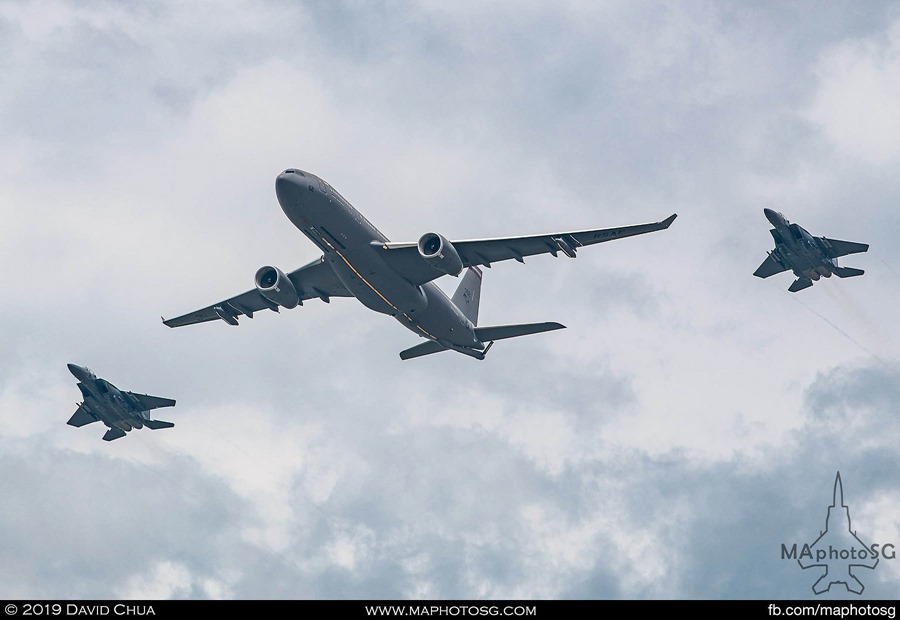 RSAF A330-MRTT formation with F-15SG escorts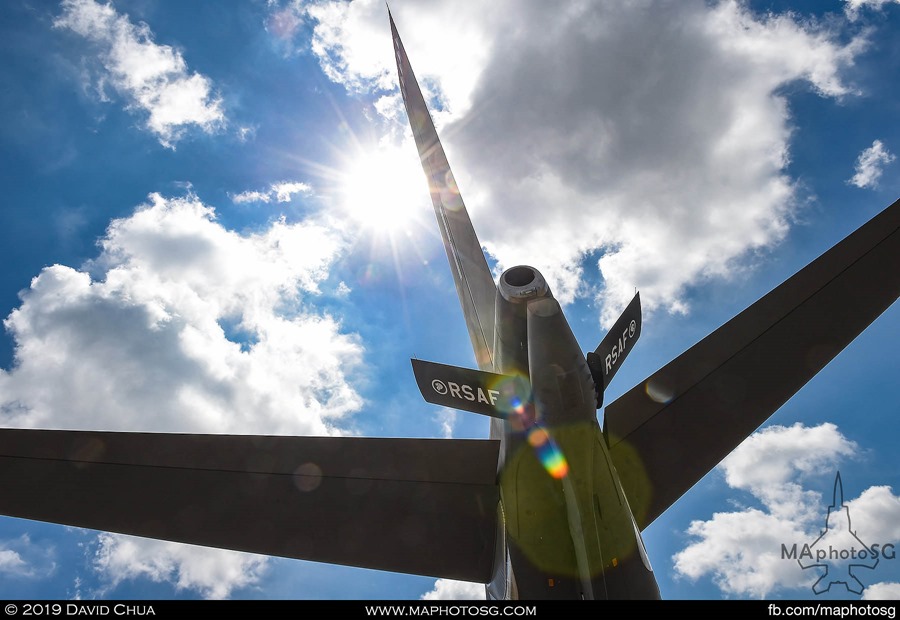 Tail of the RSAF A330-MRTT