Editor's Note: MAphotoSG would like to thank Ms Jasmine Ng from Orbis Singapore for providing and arranging visitor slots for our members to tour the aircraft. All photos are copyright Orbis, unless stated otherwise.
On 10 December 2016, some members of Military Aviation Photography Singapore (MAphotoSG) met at the Suntec Convention and Exhibition Center to embark on a tour of Project Orbis International's McDonnell Douglas MD-10-30F, more popularly known as the Flying Eye Hospital (FEH). This is the 3rd Generation FEH, with the earlier platforms being the Douglas DC-8-21, McDonnell Douglas DC-10-10 and DC-10-30(ER).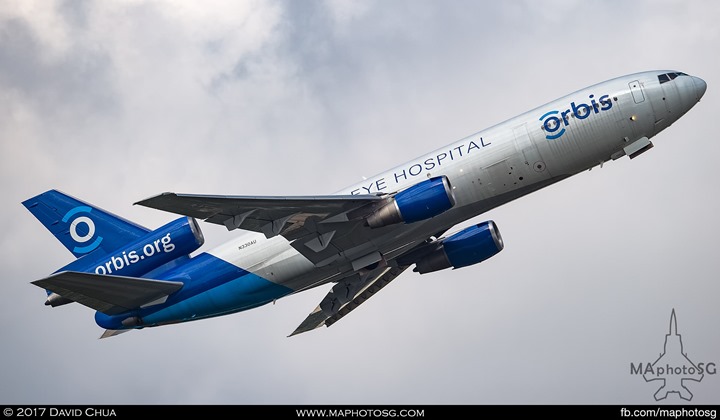 The MD-10-30F aircraft was donated by FedEx, and is essentially an upgraded DC-10-30 with the MD package. The aircraft features a modular hospital suite, which is the first time such units have been used on an aircraft. Fresh from its inaugural program in Shenyang, China, and tours in Hong Kong and Macau, the aircraft arrived in Singapore for a Charity Gala to launch the new FEH. Currently, 18 volunteer FedEx pilots fly the MD-10 on a rotational basis.
Walkthrough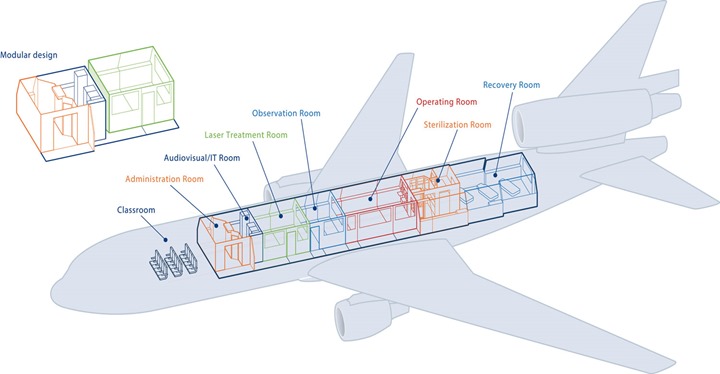 The flight deck of the MD-10 is an upgraded digital flight deck, and this reduces the number of crew members from three to two. With a range of 6000 nautical miles, this aircraft is able to complete transatlantic flights.
Behind the flight deck is the Alcon Foundation Classroom, a 46-seat onboard learning hub. This unique classroom has a two-way communication system, and allows for real-time interaction with all areas of the aircraft. It also has vivid three-dimensional imaging technology which provides a view similar to the surgeon's microscope lens and allows local doctors and residents to observe live surgeries. Presentations are also conducted here, led by the faculty of volunteer ophthalmologists.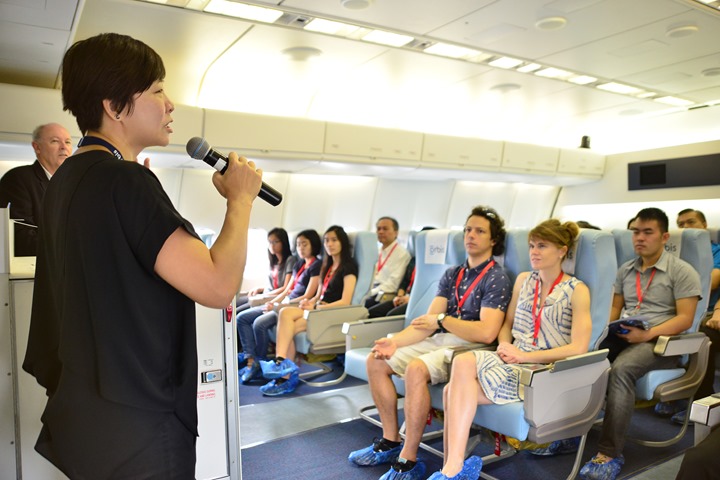 Ms Amy Tan, Director, Project Orbis International Inc. (Singapore) Ltd (Jim Tan, Flypixar/Orbis)
The Ho Man Fat Foundation Administration Room provides a comfortable modern office-style working environment for staff and Volunteer Faculty. The Emperor Foundation AV / IT Room enables all the the onboard aircraft activity to be linked and broadcasted to the stations inside the aircraft, and on the Internet. Creston Electronics, Inc donated the telecommunication, audio, video, sound recording and duplication systems.
The L'Occitane Patient Care & Laser Room enables the conducting of extensive laser treatment training. Equipment located here includes three optical lasers for anterior, posterior and general laser surgeries, an optical coherence tomography device and, A and B scan tachymetry systems.  The Grace Tsao Observation Room is an extension to the Patient Care & Laser Room and allows visitors to see live operations taking place in the adjacent Operating Room.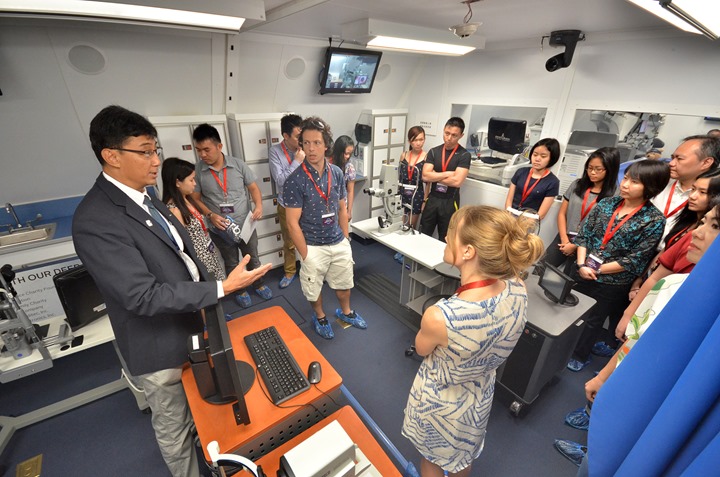 Mr Ronald Gyi, Staff Nurse, introducing the Patient Care & Laser Room to visitors
(Jim Tan, Flypixar/Orbis)

The Yuen Yee Operating Room is the main venue where all eye surgeries are conducted, and the module itself is located directly over the aircraft's center wing box for optimal stability. Orbis Volunteer Faculty and local medical professionals work side by side here on hands-on, one-on-one training with a full complement of technologically advanced, cutting-edge equipment and supplies.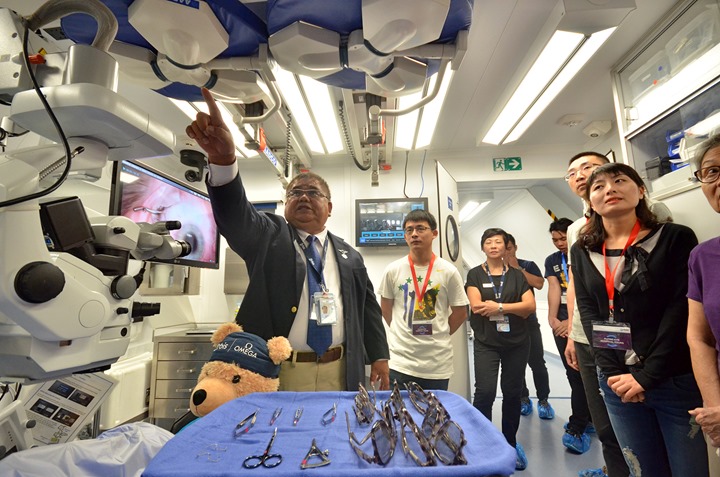 Mr Leonardo Mercado, Staff Nurse, explaining the workings of the Operating Room
(Jim Tan, Flypixar/Orbis)
The Yuen Yee Instrument Sterilisation / Substerile Room is where local nurses learn how to sterilise instruments for surgery, the usage of ophthalmic tools and the prevention of infections. The room has been constructed to comply with the most stringent international hygiene and airflow standards, and there is a designated dirty room, clean room and storeroom.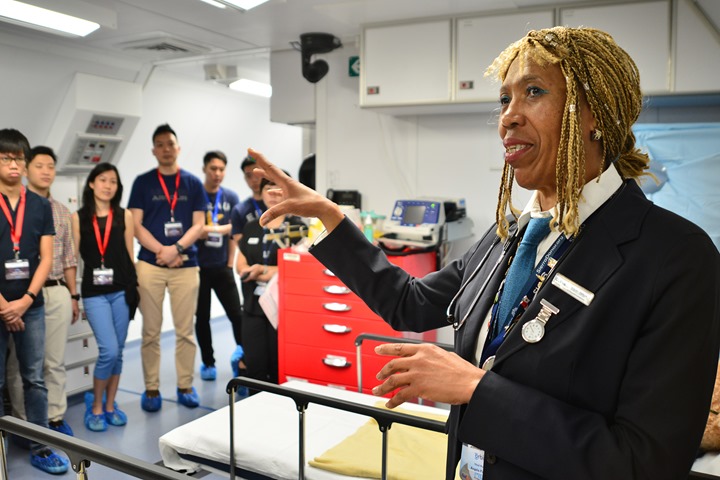 Ms Angela Purcell, Head Nurse, explaining the post-recovery process for patients
(Jim Tan, Flypixar/Orbis)
Pre- and post-operative patient care are addressed in the FedEx Recovery Room, where patients are prepared for surgery and sent for post-surgery recovery. Local nurses work with Orbis nurses here to enhance their patient care skills, and the hospital monitoring system is housed in the same room.
The Biomedical Work Area houses the workspace and tools for the biomedical engineers in charge of all onboard diagnostic, surgical, anesthesia, laser and patient monitoring equipment. These engineers also carry out training and repairs locally through skill and knowledge sharing with local hospitals.
Sponsored by OMEGA, the FEH carries an important cargo of teddy bears which are given to every pediatric patient to offer them comfort after their surgeries. For young children, the bears are also used to explain the surgical procedures that they will be undergoing to allay their fears.
Donating to the cause
As an international non-profit non-governmental organisation dedicated to saving sight worldwide, Orbis International relies on the generosity of each individual donor and supporter. Every donation, big or small, makes a real life-changing difference to patients and doctors. To support their invaluable programs, please visit www.orbis.org to learn how you can make a difference.