American Air Show 2016 at Imperial War Museum Duxford
Forget about Brexit – to any military or commercial aviation enthusiast, a trip to the United Kingdom has to be considered one of the countries that one must visit. From RIAT to Heathrow to RAF Bases, there always something to look out for. During my recent trip to London in May/June 2016, visiting the Imperial War Museum (IWM) at Duxford was among one of the things to do in my bucket list which ranged from a day at Heathrow to ogling the clock tower of the Palace of Westminster where Big Ben resides.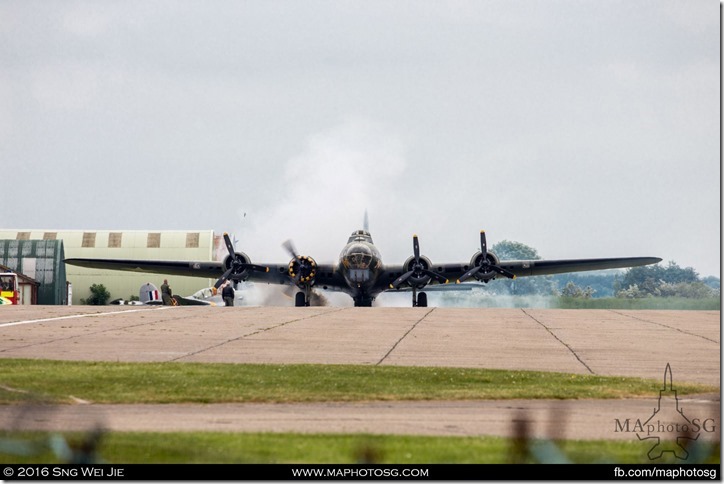 US Army Air Corp Boeing B-17G Sally B starting up her engines.
I have always been a closet aviation geek since I was a kid, and I knew I had to be there when I saw the list of attending aircrafts. Snapping World War Two birds at the Air Show was a first for me. I've always been used to commercial airliners and the occasional warbird or two, but the speed of these grand old dames were slow enough to throw me off my comfort zone in terms of camera settings. Notwithstanding the awful English weather of gloom, I yearned hard for sunlight to pierce through the low lying clouds that haunted Duxford for most of the event.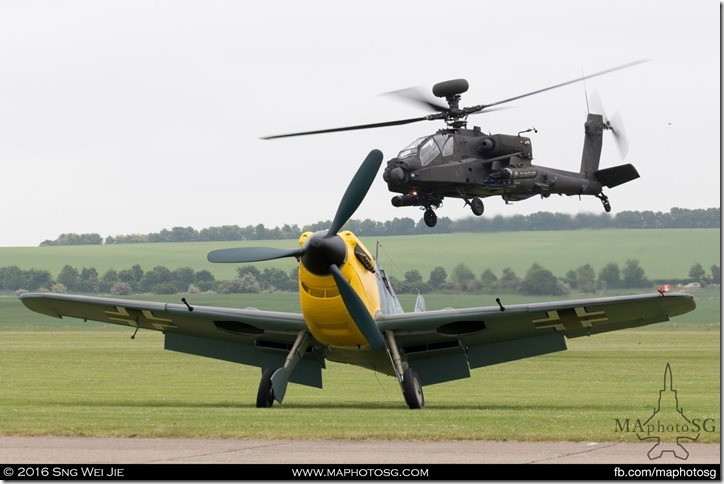 Hispano Buchón (Messerschmitt Bf 109) with a AugustaWestland Apache AH Mk I of the 3 Regiment Army Air Corps,Wattisham Flying Station in the background
 Putting up the evening before at Shelford Lodge, I rose up at 6am for a 20 minutes' walk towards Trumpington Park & Ride for the free shuttle service that links Cambridge Station and Trumpington Park & Ride to IWM Duxford that commences at 8am. Getting my ticket sorted out, I brisked my way towards the American Air Museum and the Airspace exhibits (which I will write-up in the near distant future) before making my way to the Silver Premium pass holder's area for front row seat. I thought I would have been the overly eager tourist, but the locals were definitely way ahead of the game, leaving bags and books unattended on all but three remaining front seats. I certainly would not leave my camera bag lying around in Singapore, but looks like every operates on a great level of trust at Duxford!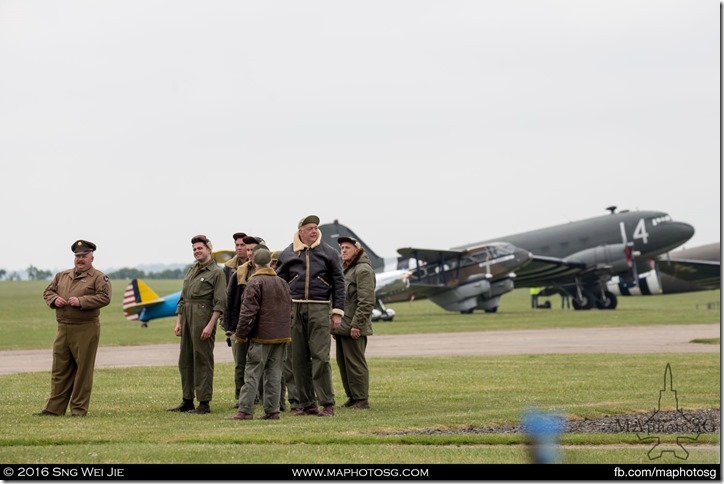 Period accurate ground crewmen watching the aerial display
To commemorate the re-opening of the American Air Museum at the Imperial War Museum Duxford, the American Air Show tells a tale of American and British collaboration over a century, to show the impact of the American Forces on Duxford (where the airfield served as home to the 78th Fighter Group
Having been all but a novice at attending Air Shows and Open Houses, I was pleasantly surprised at the general orderliness of the English plane enthusiasts less the uncontrolled kids who ran amuck around the Silver Premium Pass viewing area which set me back an additional 30 GBP on top of the 30 GBP basic entrance fee for the Air Show.
Before I go any further – and I am sure you guys are here for the photos and not a wall of text -, I present to you, Day Two of the American Air Show 2016.
World War I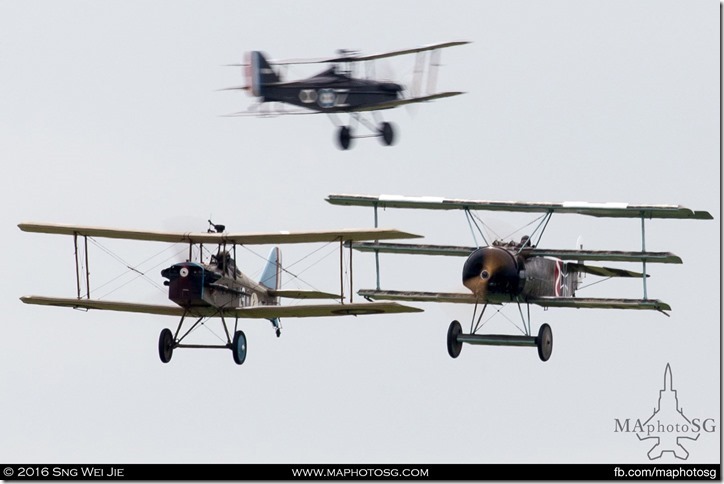 Royal Aircraft Factory SE5a and a Fokker DR.1 (the most famous piece being the one flown by the Red Baron – Manfred von Richthofen) simulating a mock dogfight during the First World War.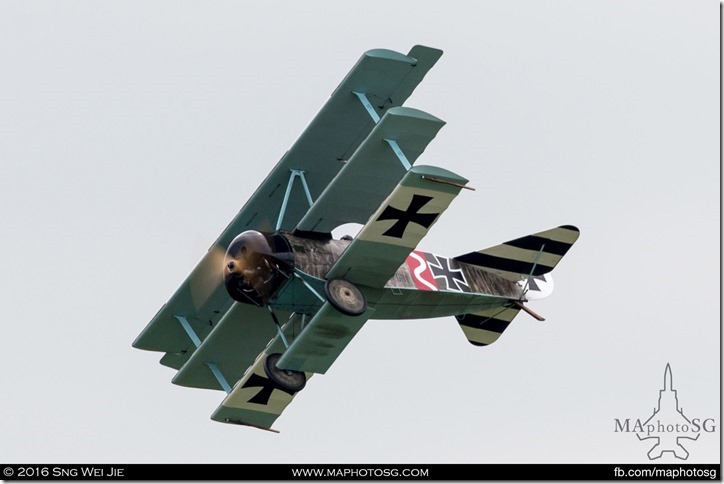 The Fokker DR.1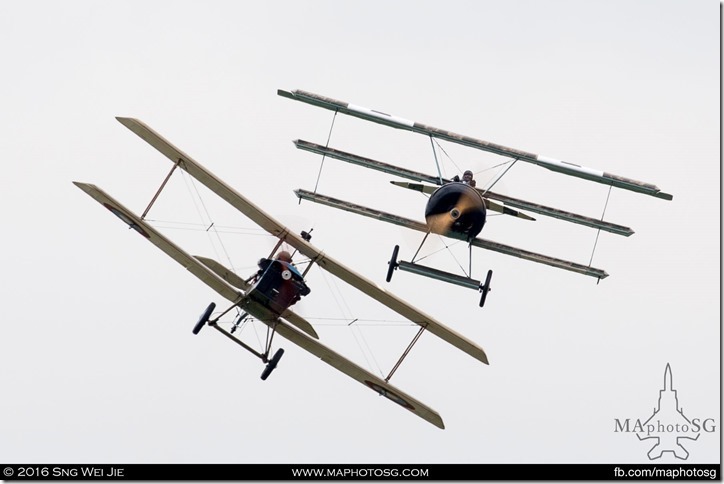 A Royal Aircraft Factory SE5a being chased down by the Fokker DR.1.
World War II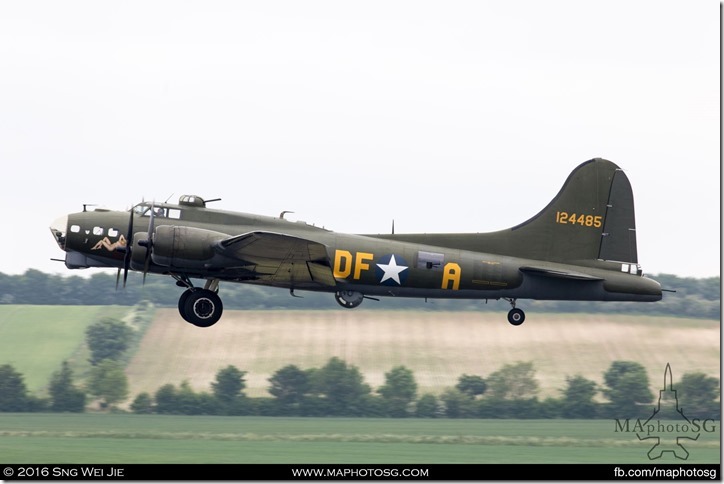 US Army Air Corp Boeing B-17G Sally B departing in preparation for the graceful flight display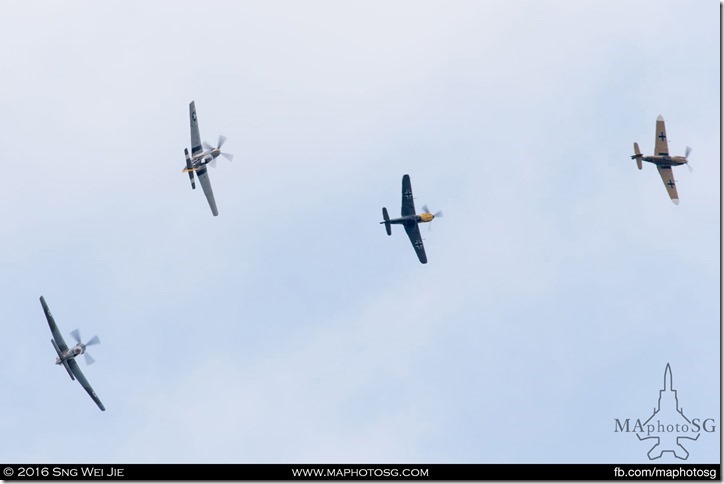 North American P-51D Mustang, North American TF-51D Mustang and two Hispano Buchón (Messerschmitt Bf 109) in simulated dogfight.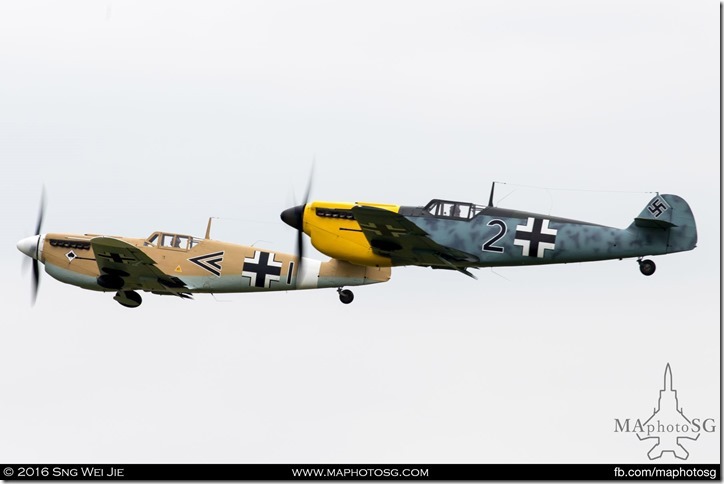 Hispano Buchón (Messerschmitt Bf 109)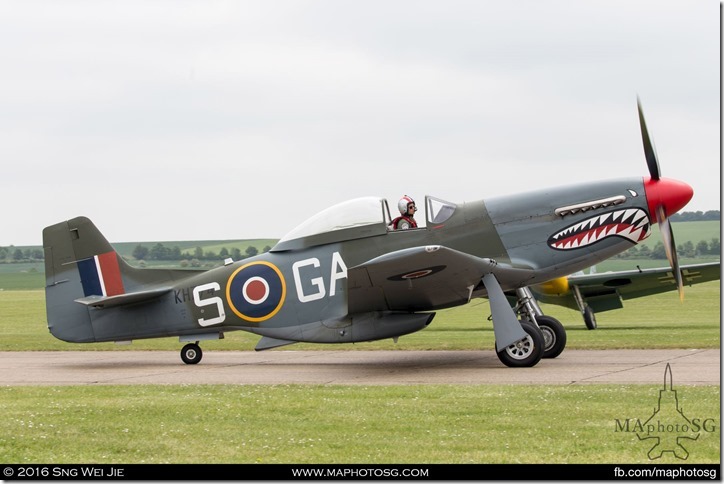 North American P-51D Mustang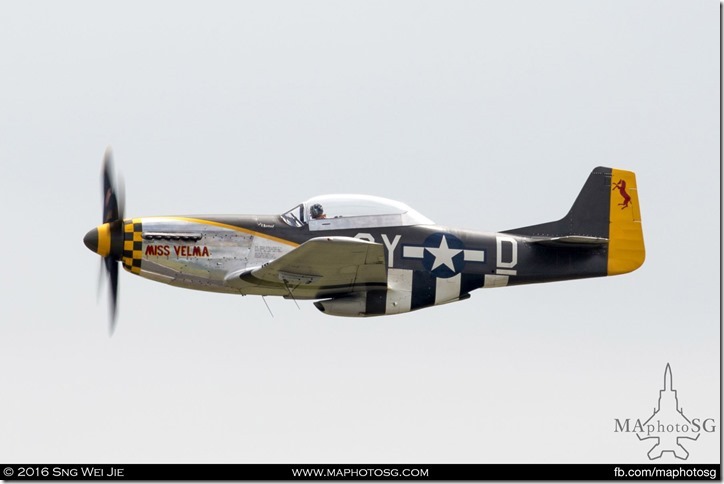 North American TF-51D Mustang Miss Velma