2017 marks the 50th Anniversary of diplomatic relations between Singapore and Indonesia, and a series of events were and will be held to commemorate this significant milestone. In particular, the air forces of both countries will be performing a joint flypast off the Marina South area on 7 Sep. (Please refer below for details on where to catch this flypast.) While we enjoy a warm and friendly relationship with our neighbour, it is apt to remember this friendship was borne out of a difficult period for both countries.

From Foes to Friends
Following the British decolonisation process in Southeast Asia in the early 1960s, then-Malaysian Prime Minister Tunku Abdul Rahman announced on 27 May 1961, a plan to bring together Singapore, Malaya, Sarawak, North Borneo (present-day Sabah) and Brunei into a union known as "Malaysia". However an armed uprising and resistance to this plan rocked Brunei on 8 Dec 1962, which became known as the "Brunei Revolt". While the British managed to put this down quickly, Brunei decided not to join Malaysia, and it became a pretext for Indonesia to launch its policy of Konfrontasi (Confrontation) on 20 Jan 1963 with Malaysia.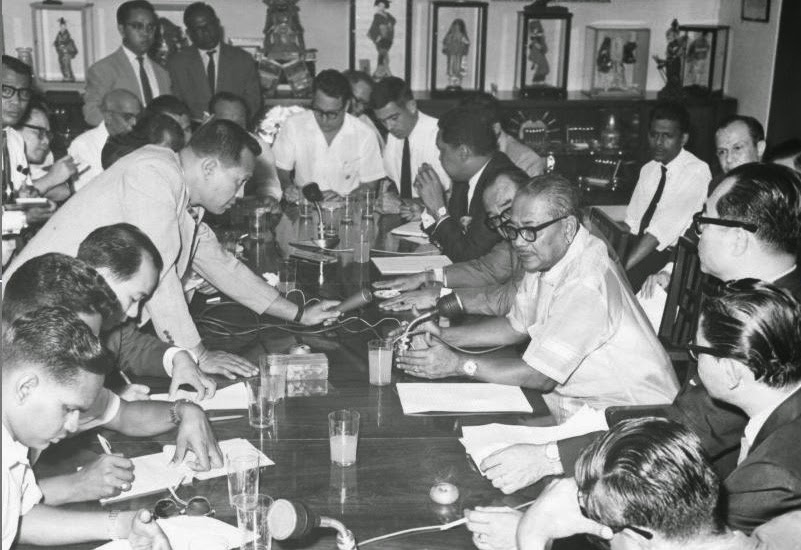 Then-Federation of Malaya Prime Minister, Tunku Abdul Rahman, explaining the concept of Malaysia to newsmen in this undated photo.
Subsequently, Singapore was expelled from the Federation and declared its independence on 9 Aug 1965. In Jun 1966, Indonesia officially recognised Singapore as an independent nation, and its Konfrontasi with Malaysia ended on 12 Aug 1966. About a year later, on 7 Sep 1967, Singapore established formal diplomatic relations with Indonesia, after then-Foreign Minister S. Rajaratnam visited Jakarta earlier to sign an agreement with his Indonesian counterpart. An important milestone occured a month later on 8 Aug 1967, with founding members Singapore, Indonesia, Malaysia, Thailand and the Philippines officially forming the Association of Southeast Asian Nations (ASEAN).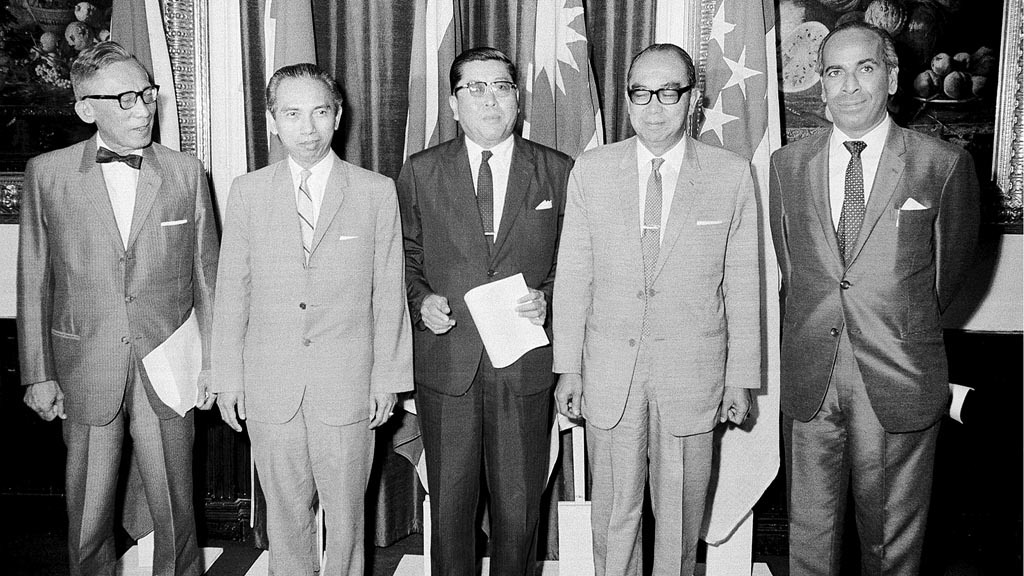 "Founding Fathers" of ASEAN in Bangkok, Thailand on 8 Aug 1967 : (L-R) Philippine Foreign Secretary Narcio Ramos, Indonesian Foreign Minister Adam Malik,
Thai Foreign Minister Thanat Khoman, Malaysian Deputy Premier Abdul Razak and Singapore Foreign Minister S. Rajaratnam
Since then, both countries have worked closely together at ASEAN and international fora to advance common interests. Regular high-level visits and exchanges have also been maintained over the years between leaders and ministers. The relationship is especially underpinned by strong economic cooperation, with S$56.1 billion in bilateral trade achieved in 2016. Since 2001, Singapore has been among the top 5 foreign investors in Indonesia and the top foreign investor since 2014. In 2015, both countries were each other's top sources of tourist arrivals.
A series of events have been held to date to celebrate this anniversary, leading up to a Leader's Retreat in Singapore in September between Prime Minister Lee Hsien Loong and Indonesian President Joko Widodo. "RISING50" has been adopted as a tagline for the anniversary, an acronym of "Republic of Indonesia and SINGapore 50 years of bilateral relations".
RSAF and TNI-AU (Tentara Nasional Indonesia-Angkatan Udara; Indonesian Air Force)– Rising 50 Years Together
A key relationship pillar between Singapore and Indonesia is the bilateral defence relationship across the various armed services. This can be seen in the fact that the SAF's longest running bilateral exercise with any foreign military is Exercise Eagle Indopura between the navies of both countries. In this year alone, there have been and will be several extensive exercises conducted by both armed forces at all levels, including Ex Chandrapura (11-19 Jul, Army), Ex Manyar Indopura (18-26 Jul, Air Force), Joint Minex (21-26 Aug, Navy) and Ex Camar Indopura (10-13 Oct, Air Force).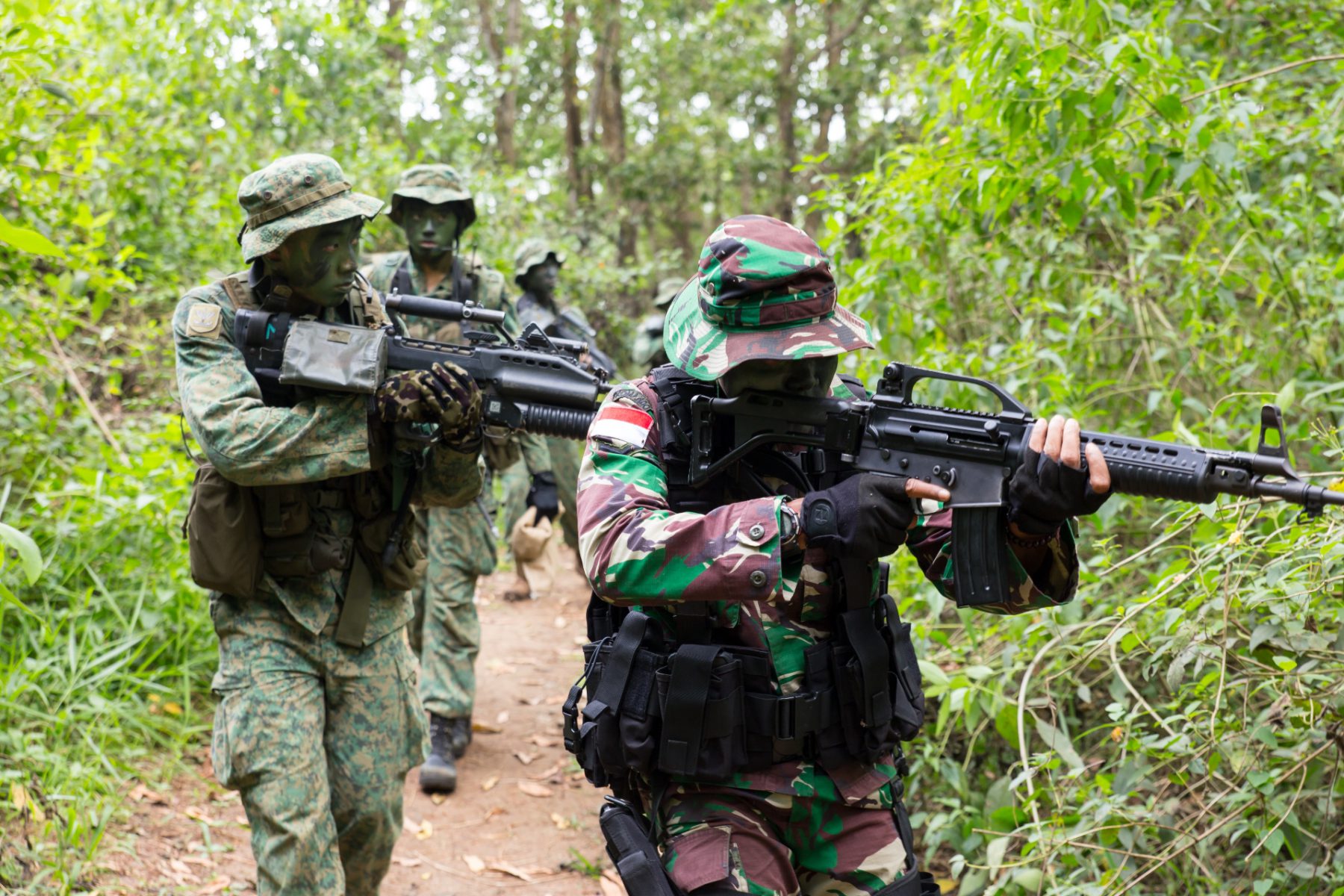 The TNI KOPASSUS training side-by-side with the SAF Commandos during Exercise Chandrapura 2017. (Photo Credit: MINDEF Singapore)
Both countries have also worked on SAR (Search And Rescue) and HADR (Humanitarian Assistance and Disaster Relief) efforts including:
The TNI-led SAR operations in the wake of the Dec 1997 Silkair MI185 crash in the Musi River in Paelembang.

The Dec 2004 SAF HADR operation as part of the Aceh tsunami relief mission, code-named Operation Flying Eagle.

The SAF medical team support for a TNI field hospital as part of the Central Java earthquake relief mission in May 2006.

The Dec 2014 SAF SAR mission operations after the Indonesia AirAsia crash of QZ8501 into the Karimata Strait, between Belitung and Kalimantan.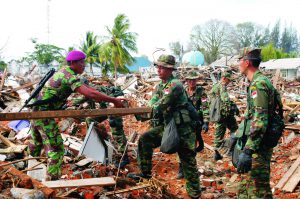 SAF personnel assisting in HADR operations during Operation Flying Eagle
The RSAF and TNI-AU interactions have included visits between both Chiefs of Air Forces, Senior and Junior Officers' Exchange Programmes, Joint Air Force Working Group meetings, Intelligence Exchanges, Exercises Elang, Camar & Manyar Indopura, Joint Fighter Weapons Course, Simulator Trainings and Honorary Wings Exchanges. These friendships did not happened overnight and it is due to personnel from both the largest and smallest ASEAN member countries who have worked hard to build and sustain it.
Joint Flypast Details
As part of the Leader's Retreat, the Republic of Singapore Air Force and the Indonesian Air Force will perform a joint flypast on 7 Sep 2017 from 2:30pm–3pm, under the callsign "RISING50". This will occur off the coast of the Marina South Area and will be witnessed by the leaders of both countries from the Marina Bay Cruise Centre in Singapore. The joint flypast will comprise ten F-16s each from both the RSAF and TNI-AU, and they will perform two flypast profiles. The first profile is an "arrowhead" formation led by the RSAF, while the second profile will be a combined "50" formation (TNI-AU as "5", RSAF as "0") about 20 minutes later.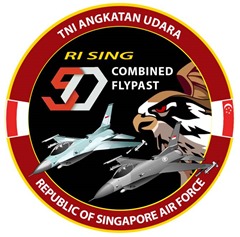 RISING50 Patch design for all aircrew and support staff of the joint flypast
Trailing the "50" formation will be five F-15SGs from the RSAF in a bomb burst manoeuvre in a salute to both nations. A post-flypast celebration will be held at Roesmin Nurjadin Air Force Base in Pekanbaru, Indonesia for the participants of the combined flypast and senior officers from both air forces. A rehearsal for the combined flypast is planned on 5 Sep 2017 at the same time, and the public may view the flypast on both days from the Marina South area. Please refer to the RSAF Facebook for real time updates of the combined flypast event as well as the flight routes.  The infographic at the end of this article contains the summarised flypast details for your reference.
On 30 Aug, MAphotoSG was invited by the RSAF to board a KC-135R flight to capture photos and video footage of the work-up training by the RSAF and TNI-AU F-16s for the combined flypast.
Two RSAF F-16s (center) and two TNI-AU F-16s (left, right) conducting work-up training for the combined flypast within Singapore and Indonesia's airspace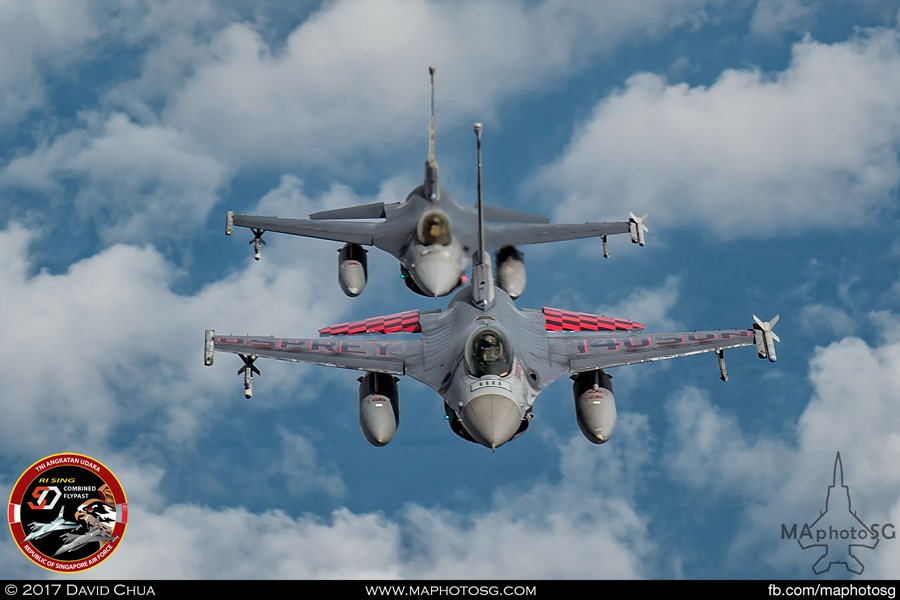 F-16s from RSAF's 140 Squadron (front) and 143 Squadron (back)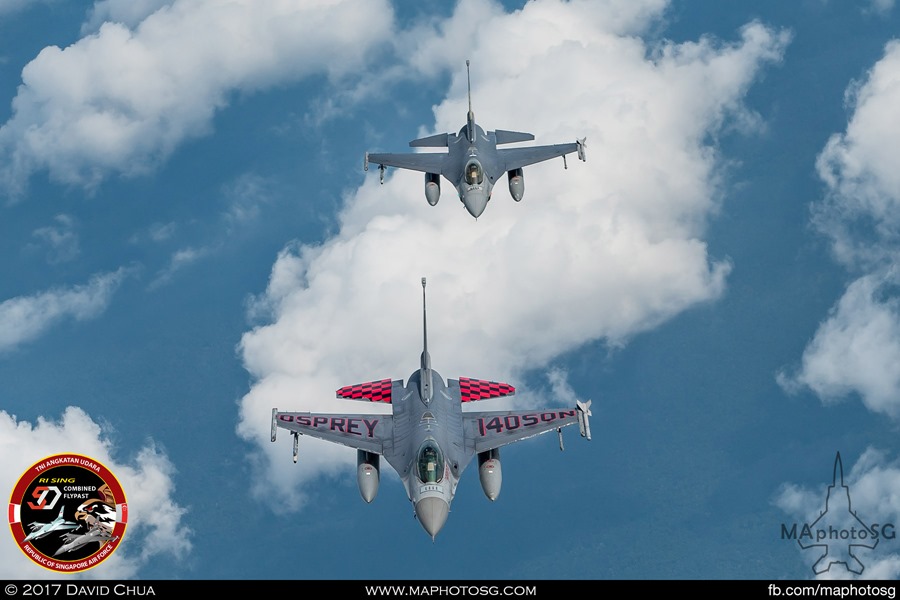 F-16s from RSAF's 140 Squadron (front) and 143 Squadron (back)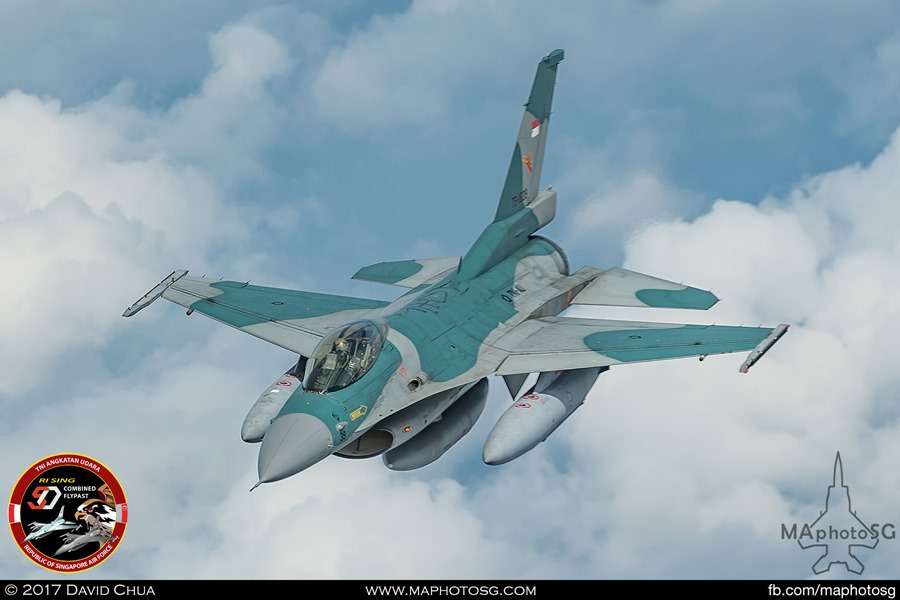 An F-16 of TNI-AU's Skadron Udara 3, based at Iswahyudi Air Force Base, Madiun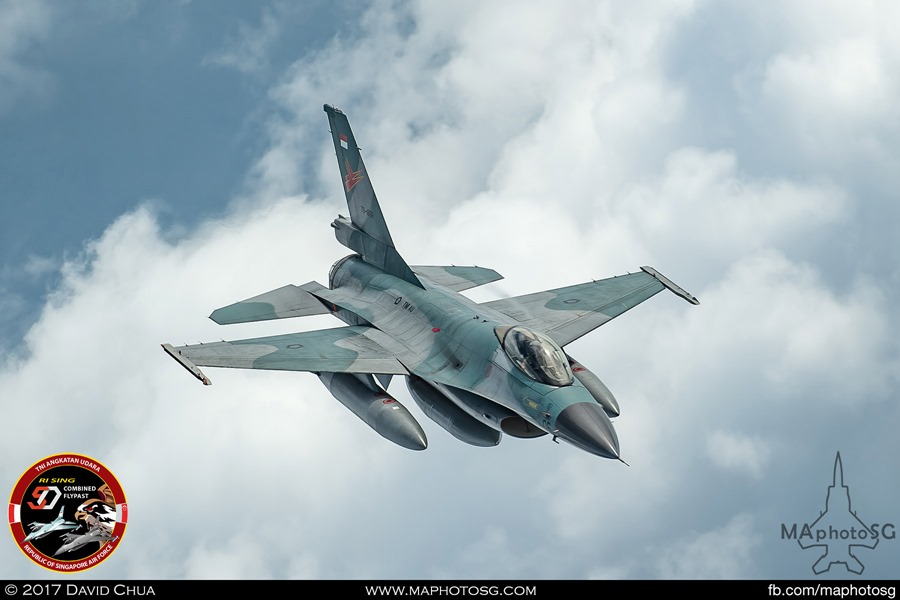 An F-16 of TNI-AU's Skadron Udara 16, based at Roesmin Nurjadin Air Force Base, Pekanbaru
Infographics on the RISING50 Flypast – Courtesy of RSAF