The Airbus A350-900 XWB (F-WWCY)
Extra wide body – if that does not intrigue you for a bit, you may not be a frequent flier who grimaces at the lack of personal space and claustrophobia on board aircraft especially when you fly coach like the good majority of us.
Making its second appearances at the Singapore Airshow, Airbus Industrie has returned with another of its factory product demonstrators for the biannual event. Manufacturer's Serial Number ("MSN")  #002 F-WWCY flew all the way from the factory in Toulouse, France to Singapore to serve as a static display and aerial demonstrator during the trade days of 16th to 19th February 2016. Backed up by Qatar Airways who flew their Airbus A380-800 (A7-APF) and the Airbus A350-900 (A7-ALG), Airbus definitely made their presence felt in comparison to their competitor, who was 'merely' represented by Scoot's 787-9 Dreamliner (9V-OJF) for a single trade day.
With 777 firm orders and 16 deliveries made thus far, the Airbus A350 is latest series of commercial airliners to take the skies. Poised to replace the older Airbus and Boeing aircraft from airline fleets, the A350 series boasts the latest technology, lower maintenance cost, significant reduction in fuel and emissions, all without compromising on the comfort of the crew and passengers. Powered by two Rolls Royce Trent XWB engines, the aircraft has a range of up to 14,350km that can fly up to 440 passengers (with a typical seating of 325) on medium to long-hual flights across continents.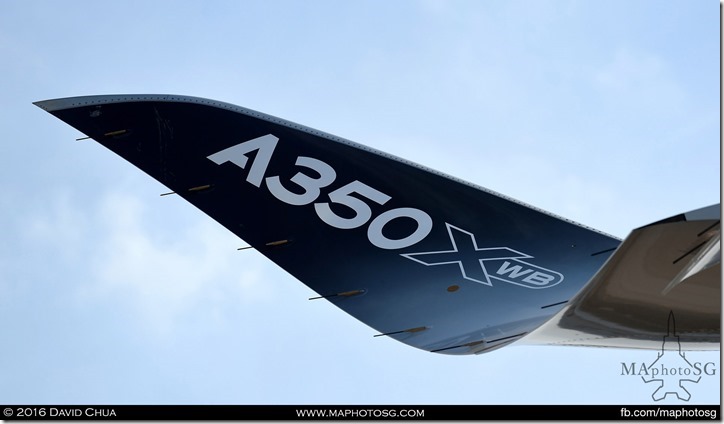 Signature Curved Wings of the A350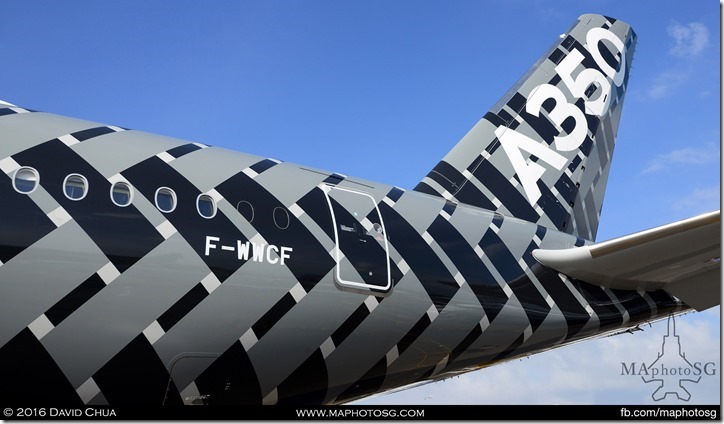 Carbon Livery of the F-WWCF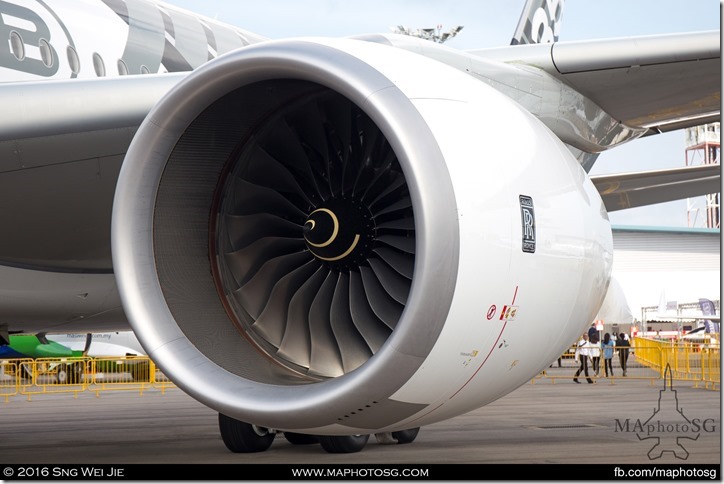 Rolls-Royce Trent XWB Engine developed exclusively for the Airbus A350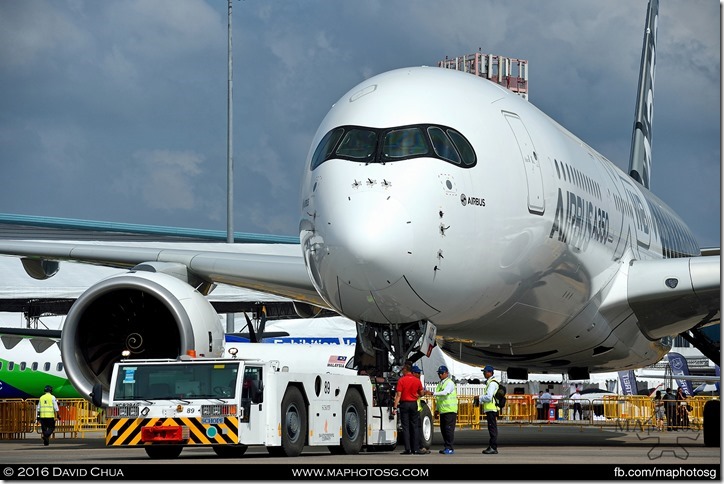 Preparing to tow the A350 out of Static Display
Airbus A350 towed out for aerial display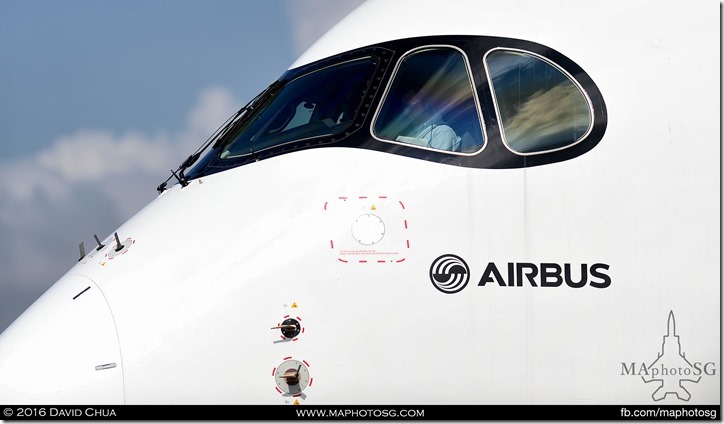 Captain preparing for aerial display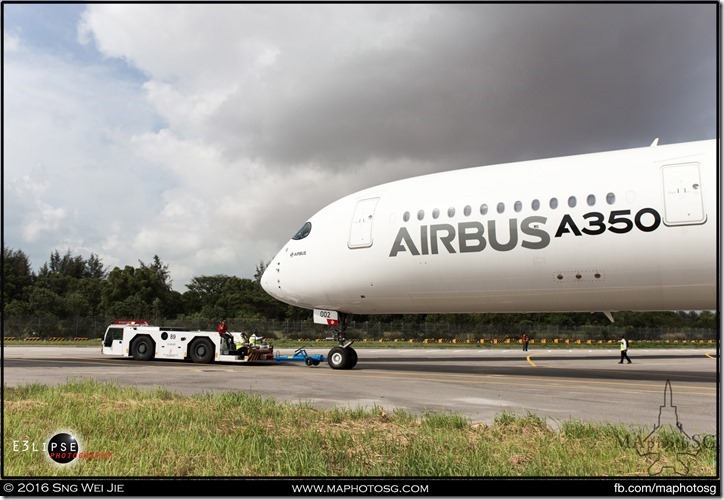 Airbus A350 towed out for aerial display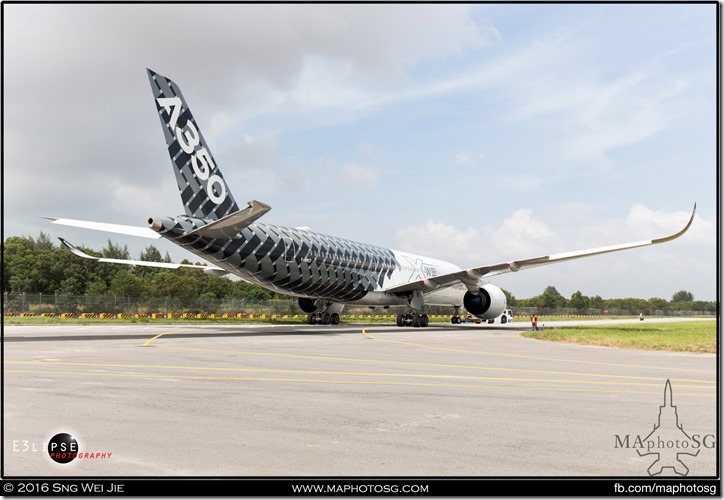 Airbus A350 towed out for aerial display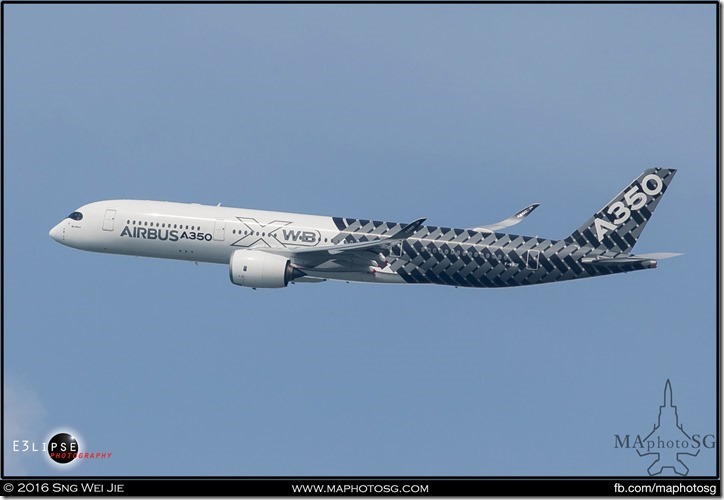 A350 Entering show center from the right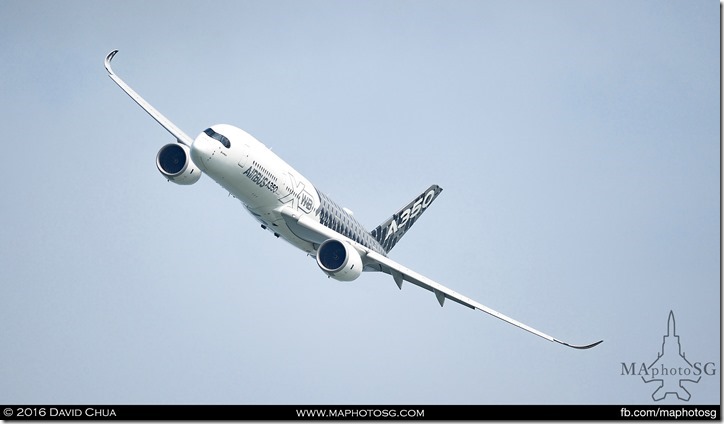 Left Bank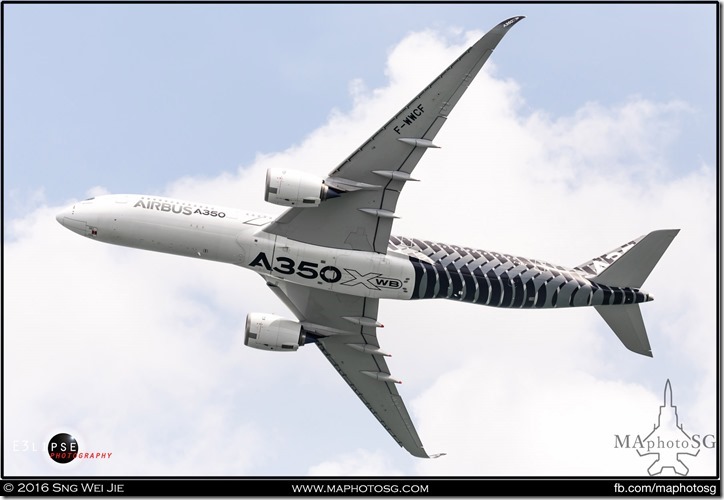 Belly shot of the beautiful A350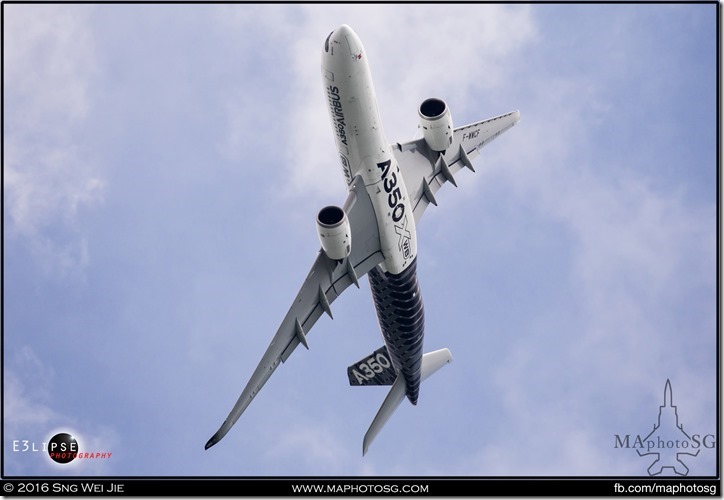 A350 performing a high angle turn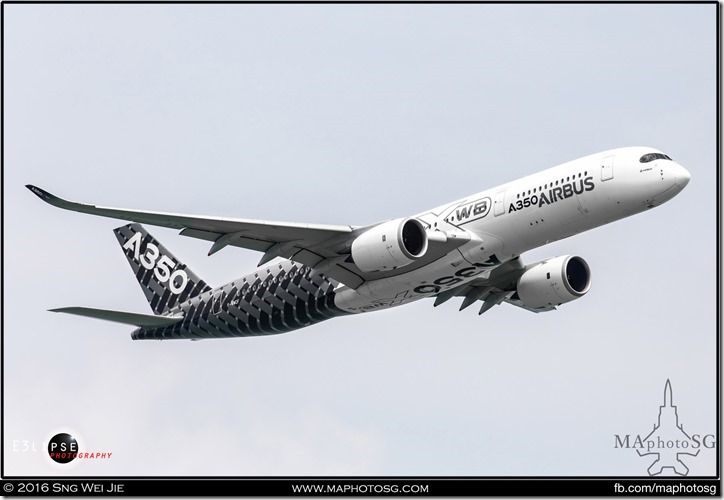 Another flypass from left for the crowd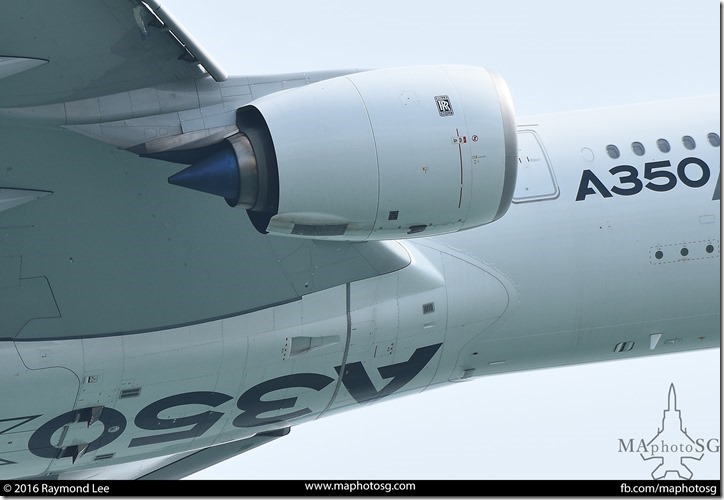 Rolls-Royces Trent XWB Engine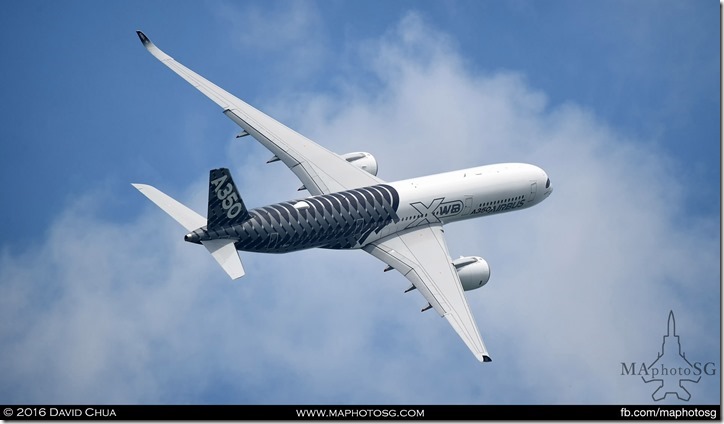 Airbus A350-900 XWB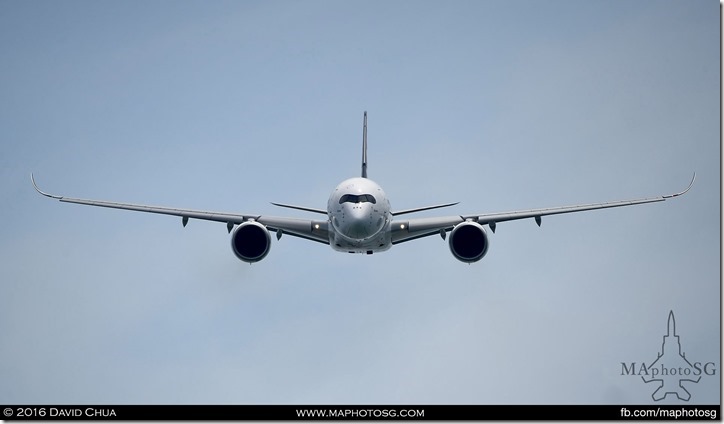 Frontal profile of the Airbus A350-900 XWB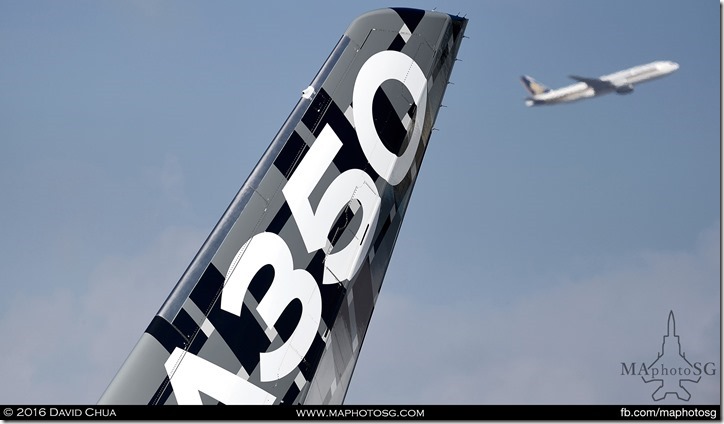 Carbon Tailfin of the demonstration aircraft
For the locals, Singapore Airlines has a firm order for 67 aircrafts to replace her current fleet of aging Boeing 777-200s, Boeing 777-200ERs, and the leased fleet of Airbus A300-300s.
Part of the orders includes seven Ultra Long Range variants (A350-900ULR) which will see the return of the non-stop service between Singapore and New York, and Singapore and Los Angeles. The services were discontinued in November 2013 when the routes proved unviable due to rising fuel cost and poorer efficiency from the Airbus A340-500.
For the aircraft enthusiasts in Singapore, the Airbus A350 can be caught in the liveries of Qatar Airways -who utilises their fleet for all three daily flights into Singapore – -, Singapore Airlines' numero uno 9V-SMA.
Qatar Airways A350-900 which was also on static display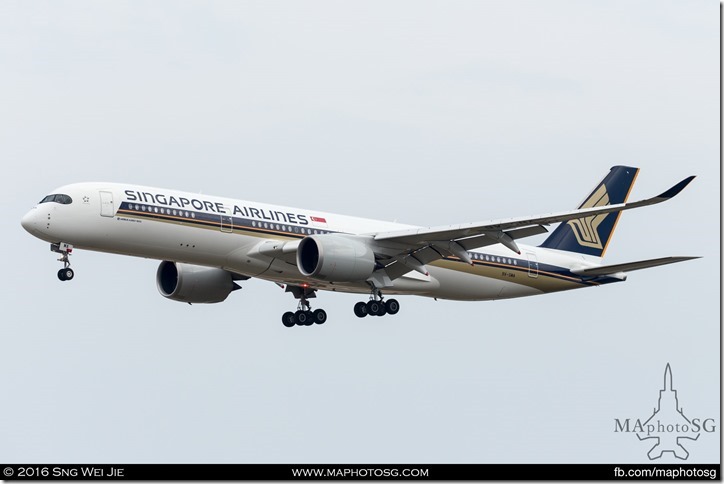 Singapore Airline's 1st A350-900 XWB (9V-SMA)
About MAphotoSG.com
Military Aviation Photography Singapore, is proudly represented by a number of dedicated individuals who are passionate about military aircraft. Follow us in our Facebook! www.fb.com/Maphotosg
This post is contributed by:
Written by Sng Wei Jie, our contributor team member.

Images by