On 21 March, 2017, Prime Minister Datuk Seri Najib Razak officially declared the opening of LIMA '17 in an early morning ceremony. What followed next was the most exciting and dynamic display ever performed by the Royal Malaysian Air Force (RMAF; Malay: Tentera Udara Diraja Malaysia (TUDM)) in the 27 year history of LIMA. In 5 minutes, guests were treated to a dazzling performance of low-level, high-speed and daring crossover manoeuvres in the Opening Gambit. This display was the talk of the town, both on the ground at LIMA and on the internet, during the week, and presented a side of the RMAF that has not really been seen publicly.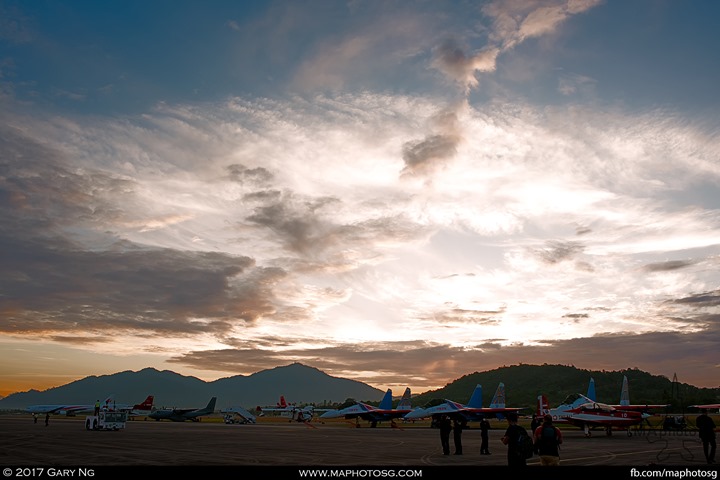 The RMAF's participation this year was significant for the McDonnell Douglas F/A-18D Hornets of 18 Squadron from RMAF Butterworth, as it celebrated 20 years of defending Malaysia'a airspace. It played a key significant role in 2013 during Ops Daulat (Operation Sovereignty) in Lahad Datu, when it provided ground support with the BAe Hawks 108/208s of 6 Squadron. The Hornet also displayed its new Joint Direct Attack Munition (JDAM) and Paveway II ordnance at the static display area.
The Sukhoi SU-30MKM Flankers of 11 Squadron also thrilled the audiences daily with its display routine, especially with the Tail Slide, Cobra Spike and Belly Barrel manoeuvres. With the Russian Air Force's Russian Knights in attendance with their new Su-30SM platforms, the Flankers ruled the skies with their raw power and huge platforms.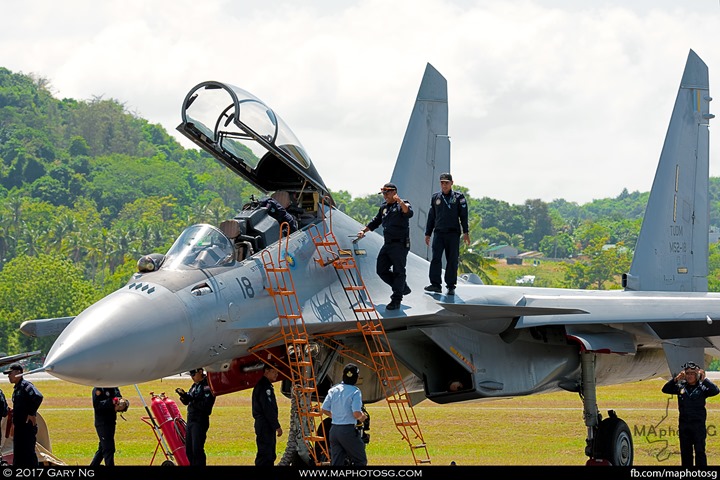 Eurocopter EC725 Caracals from 5 Squadron proved their agility during the opening display, and were on standby on the ground for Search and Rescue (SAR) duties. AIROD Sdn Bhd (Aircraft Inspection, Repair & Overhaul Depot) officially handed over the first upgraded Sikorsky S-61A4A Nuri from 5 Squadron during the show, featuring upgraded avionics, an all-new glass cockpit and digital flight displays. This aircraft served as the proof of concept for the upgrade program, and was completed in five months.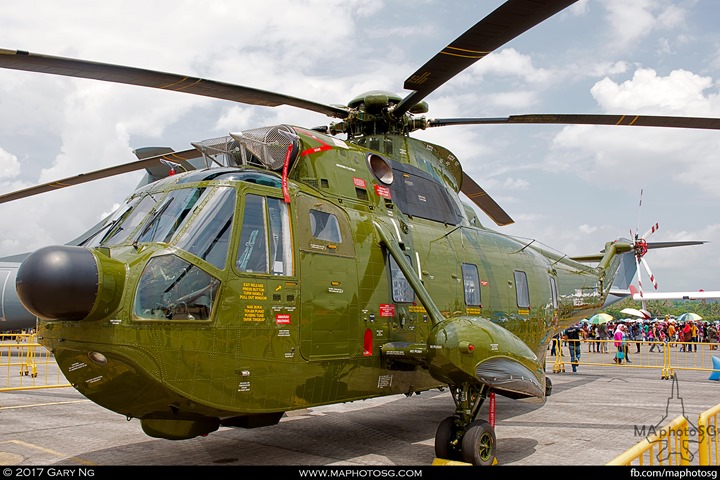 The fourth Airbus A400M Atlas was handed over the RMAF in a handing over ceremony between the Minister of Defence, YB Dato' Seri Hishammuddin Tun Hussein and Mr Fernando Alonso, Head of Military Aircraft, Airbus Defence and Space. With this, 22 Squadron has received the full order of four A400Ms, with the first being delivered during LIMA '15.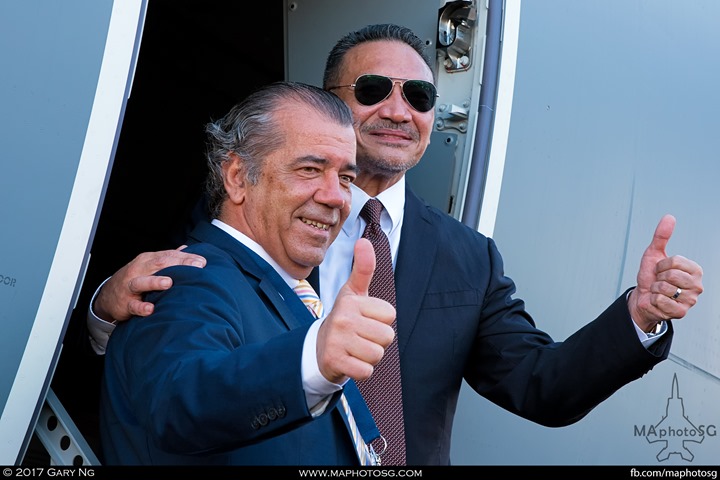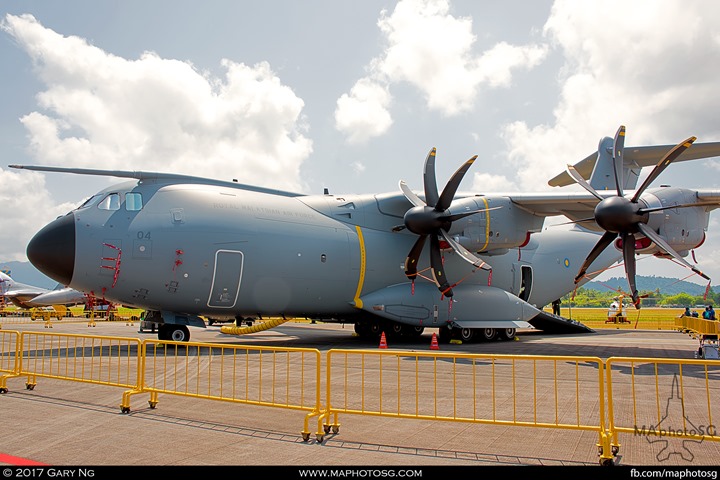 The RMAF made a tremendous impact at LIMA '17 with both trade and public visitors, and the Public Relations Department has done an excellent job of arranging and organising the various displays and assets to live up to its motto "Sentiasa Di Angkasa Raya"….Always in the Sky.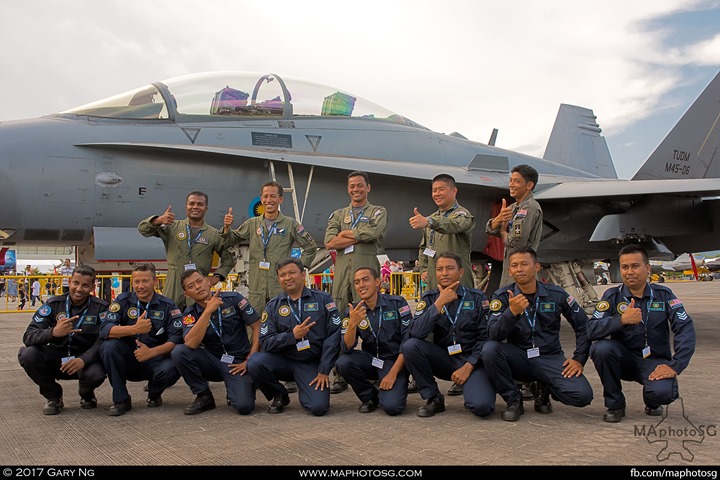 ---
Opening Gambit
During the opening ceremony of LIMA '17, the RMAF performed the Opening Gambit which showcased the precision and power of its aircraft. A single F/A-18D Hornet kickstarted the display with a low level transonic run, creating a vapour cone in the early morning Langkawi weather. Two more F/A-18Ds flew in from the rear and performed a crossover manoeuvre, which was followed by a pair of Su-30MKMs doing the same from the front. Almost immediately, five Hawk 108/208s flew in from the rear before performing a V-break manoeuvre.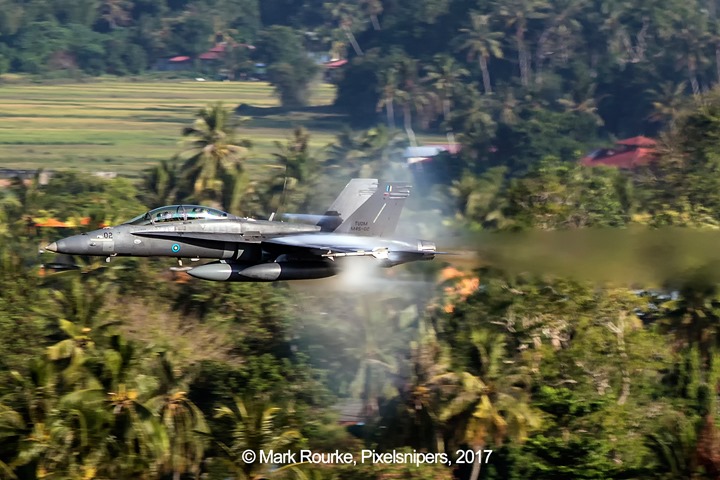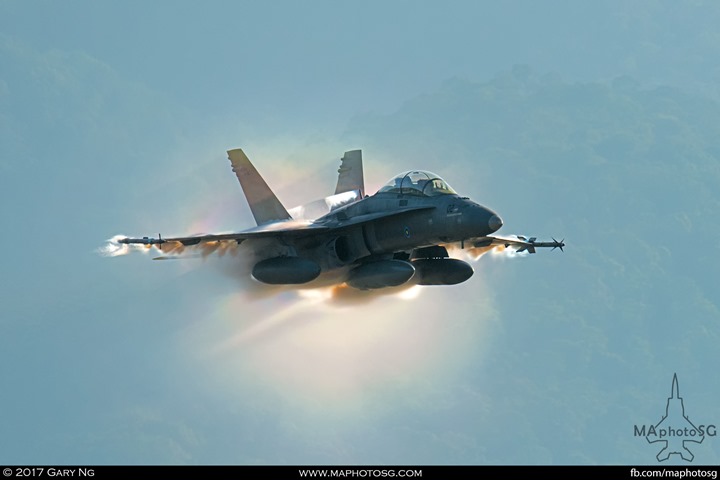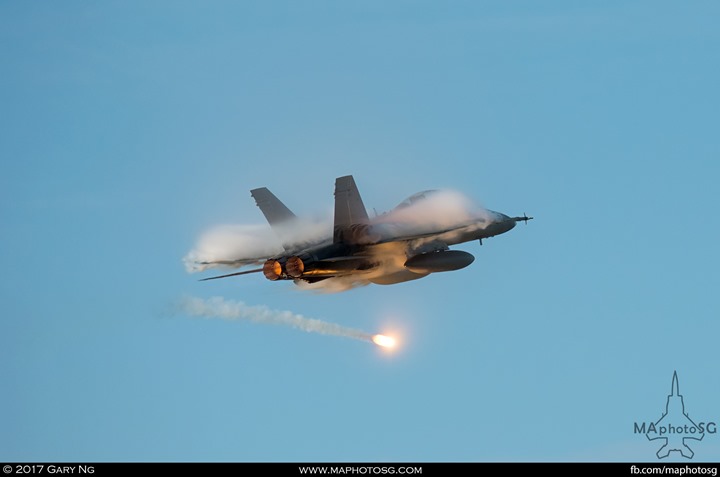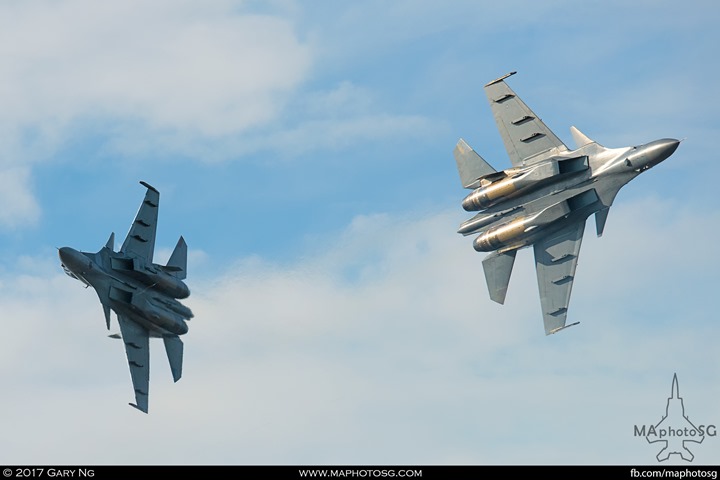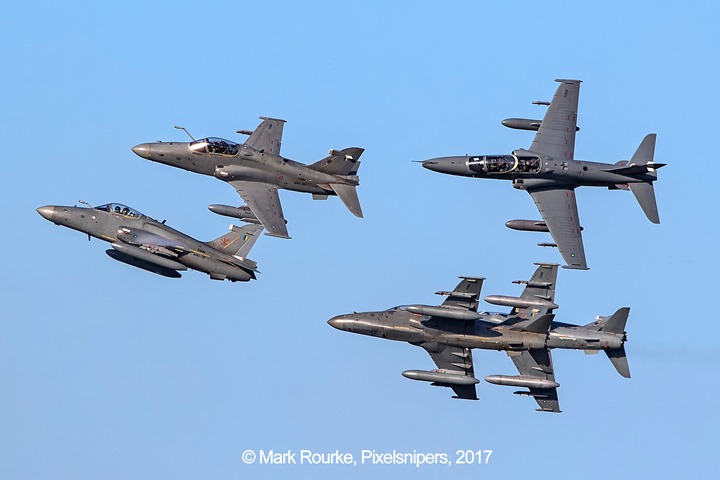 Two EC725s flew in at low level and displayed their high-G turn capabilities, while a third entered and performed a mock strafing run. Seven Pilatus PC-7 Mk IIs from 1 FTC (Flight Training Center; Malay: Pusat Latihan Terbang) flew past in a V formation, followed shortly by three A400Ms, with the lead aircraft pulling into a climb and high-G full turn.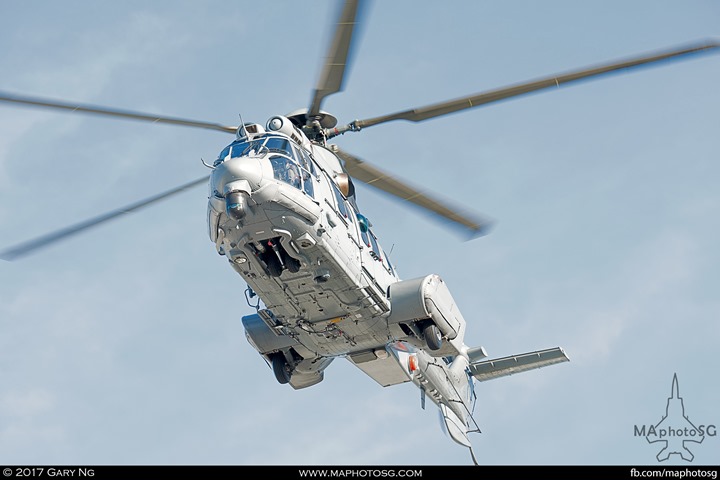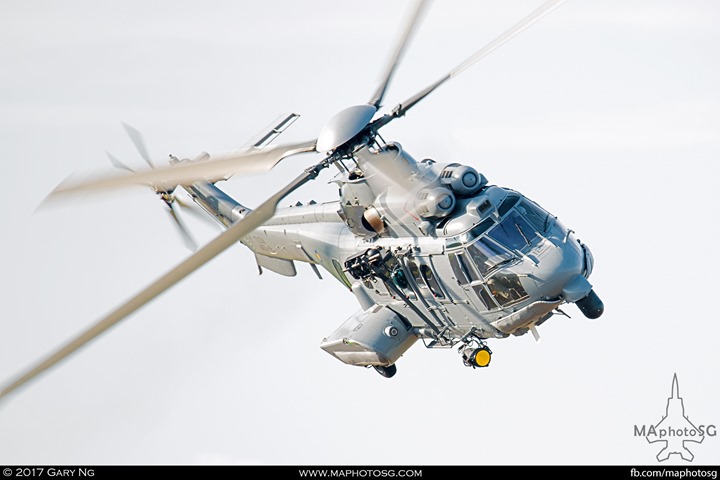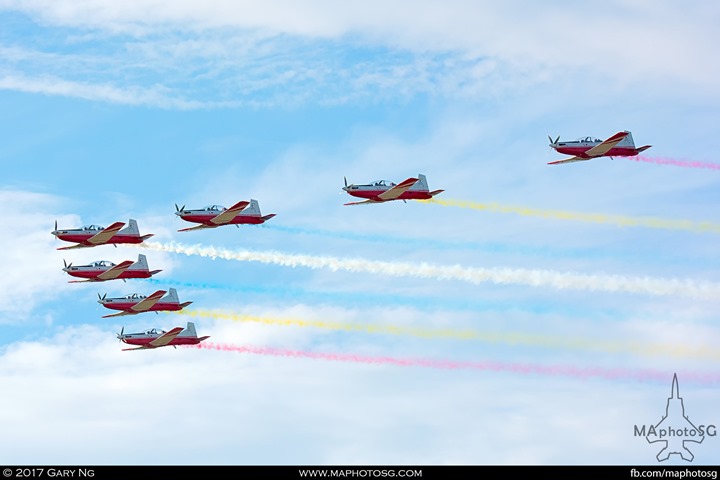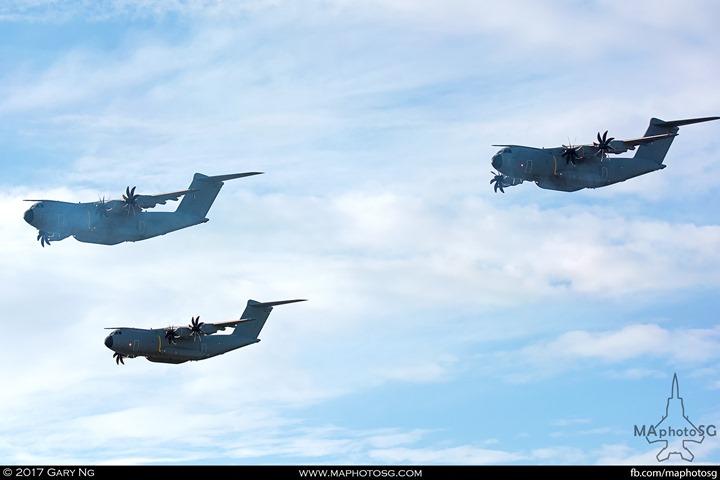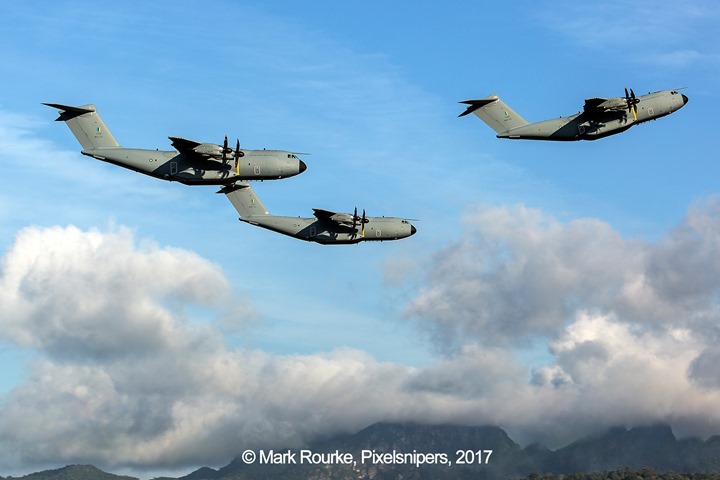 A formation flyover consisting of two F/A-18Ds and Su-30MKMs, and five Hawks, signaled the final part of the display. Following them were the PC-7 Mk IIs as a single F/A-18D flew head-to-head past them and performed a vertical climb, while a wall of flame ended the Opening Gambit in a spectacular manner.
---
Sukhoi Su-30MKM Flanker
Returning back again to LIMA, the RMAF Su-30MKM showcased its raw power and axis changing capabilities through a series of power turns and vector thrust enabled manoeuvres. Upon takeoff, it pulled into a high-G Oblique Turn, and returning for a Derry Turn. Next was the crowd favourite Tail Slide and the Half-Loop Tumble Yaw which showcased the Flanker's capability in performing a quick directional change.
The Cobra Spike and Belly Barrel displayed its tactical dogfight capability against pursuing aircraft. The High Alpha pass rounded off the display before it its return into the landing pattern.
---
McDonnell Douglas F/A-18D Hornet
Not to be outdone by its newer and bigger brethren, the Hornet showed off its tactical high speed agility through its display routine after a 10-year LIMA absence. Performing a 50 feet runway skimming takeoff, it immediately pulled into a Slice Turn, and performed an Inverted Run-in while popping flares in its wake. Changing its heading in a 1/2 Cuban roll, a high-G 360 Turn was performed over show centre, before climbing into a Negative-G Pushover.
A Square Loop was followed by a low speed High-Alpha flypast. The 4-Point Roll showcased its precise flight controls, before climbing into a Derry Turn with another 1/2 Cuban. Its final manoeuvre was a Twinkle Flare flypast before turning into the downward leg of the landing pattern.
---
Sunrise Shoot & Sunset Display Performance
MAphotoSG is grateful for a sunrise shoot arrangement for our Editor on an early 25 March morning, starting at 0600 hours. This timing allowed for a pre-sunrise shoot before the sun peaked over the hills in the distance.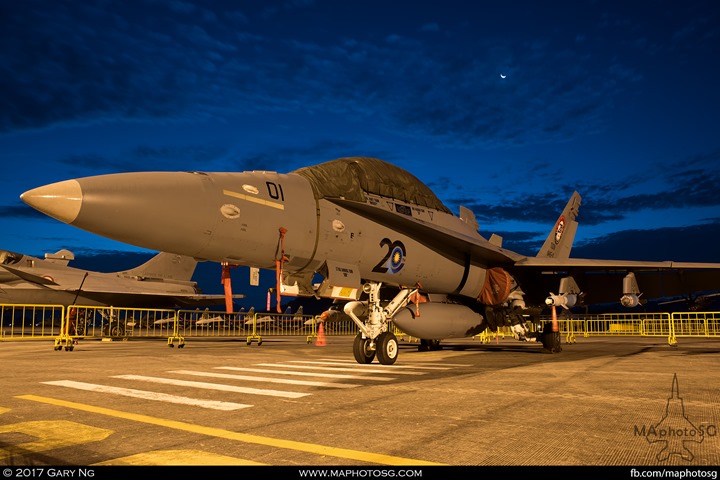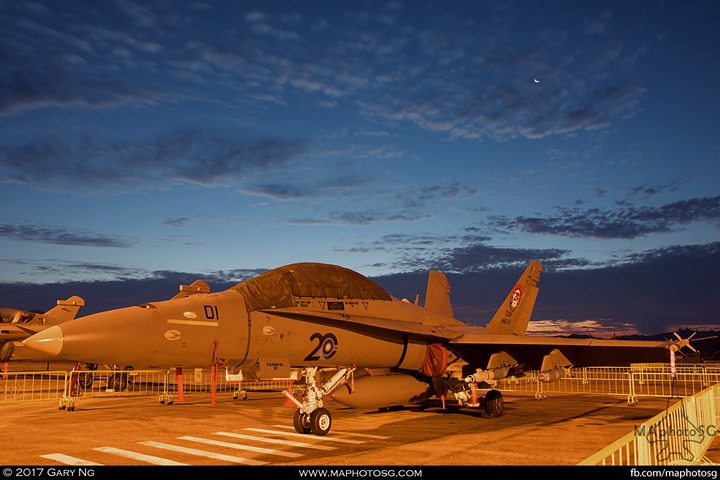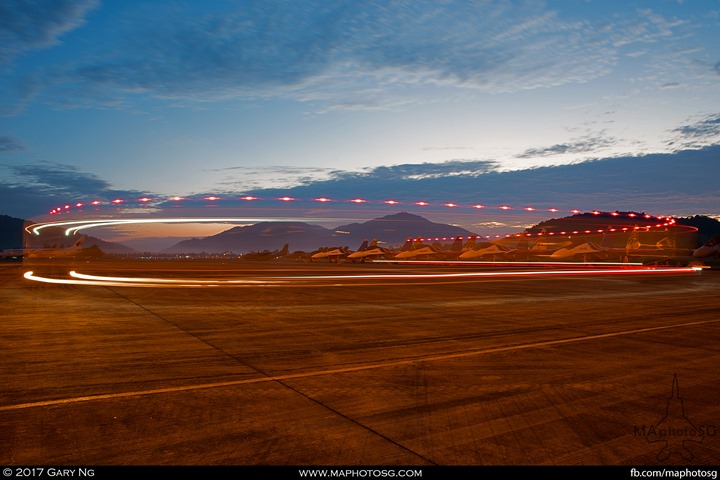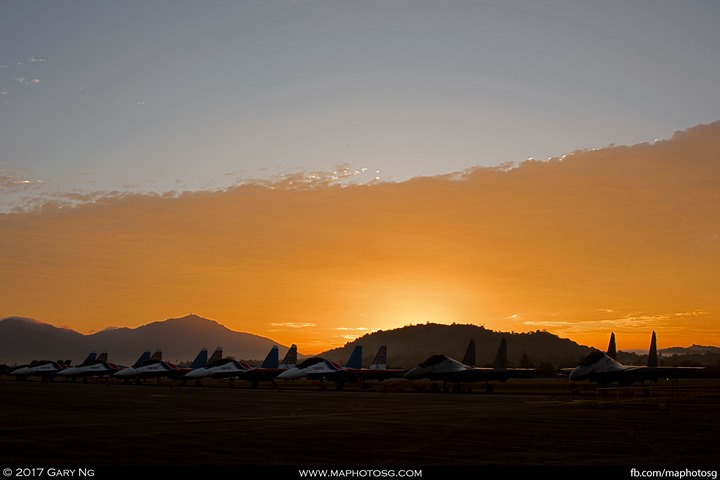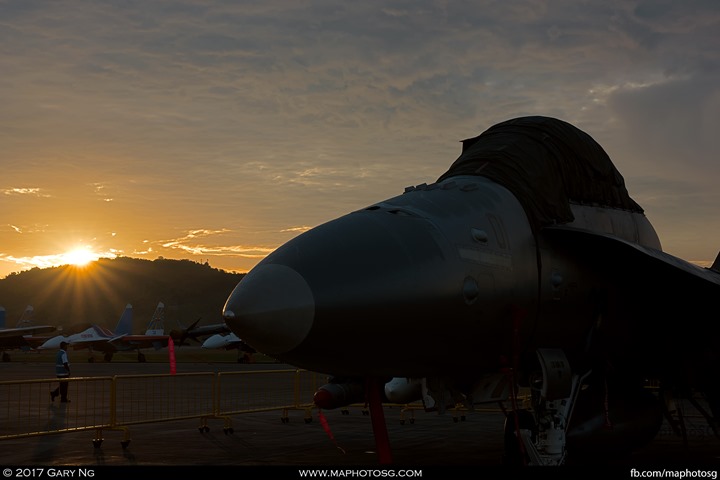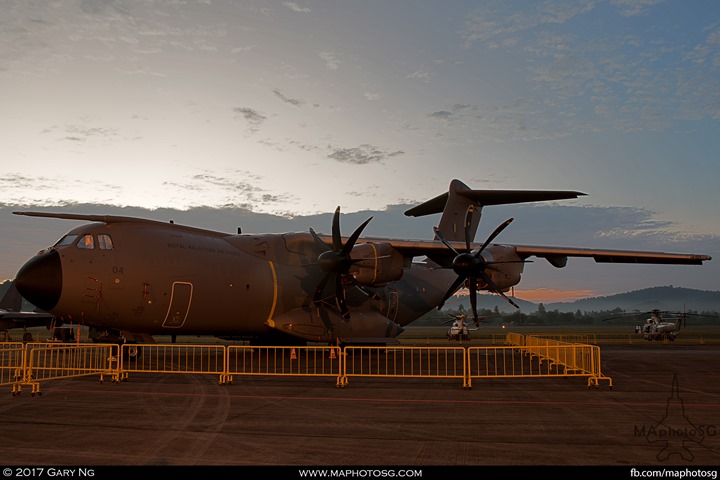 In the evening of the same day, after the last visitors have left the exhibition site, a single Hornet took off at 1840 hours on a sunset display over the island for photo opportunities. Upon returning back over the airfield, it performed a series of flypasts and a touch-and-go for the very small media team which were standing by along the edge of the runway. This was followed by a media shoot for the landing and taxiing process into the tarmac.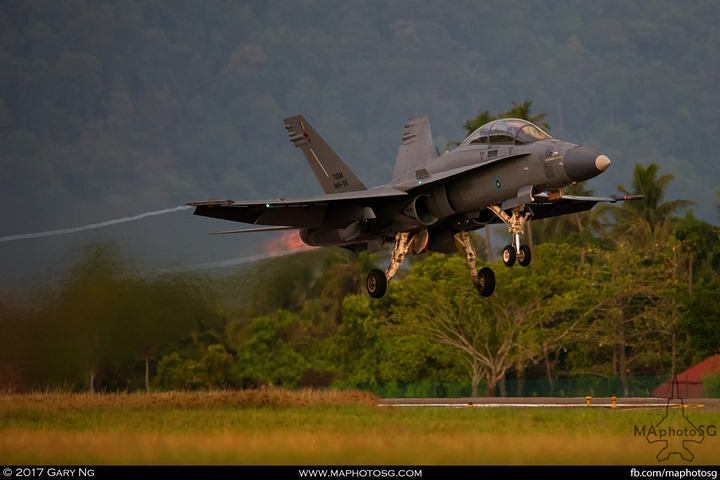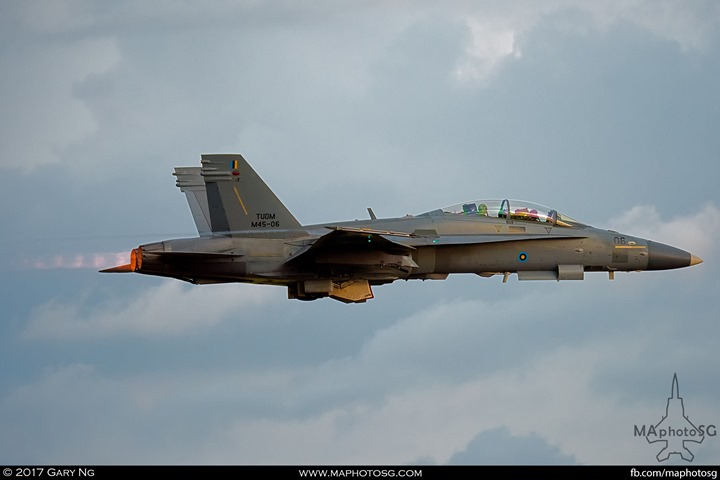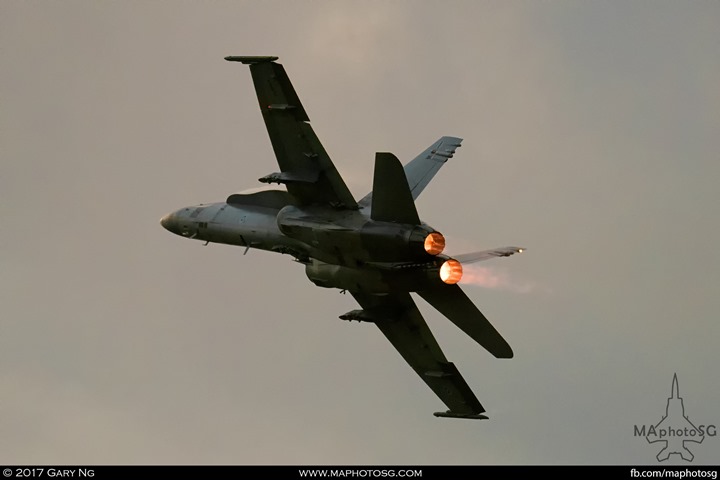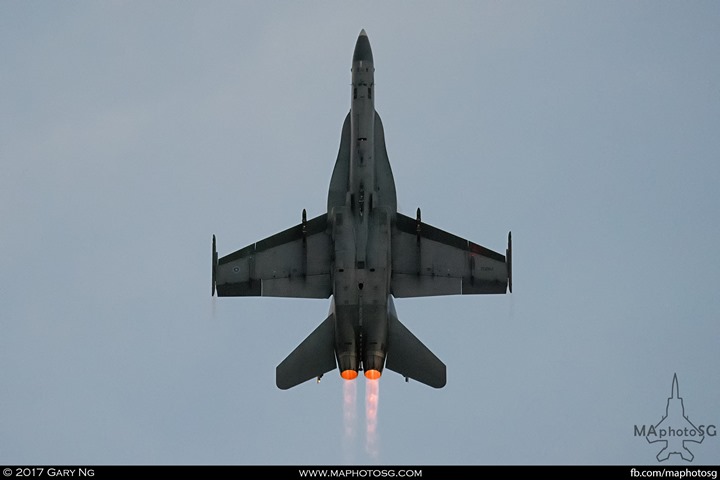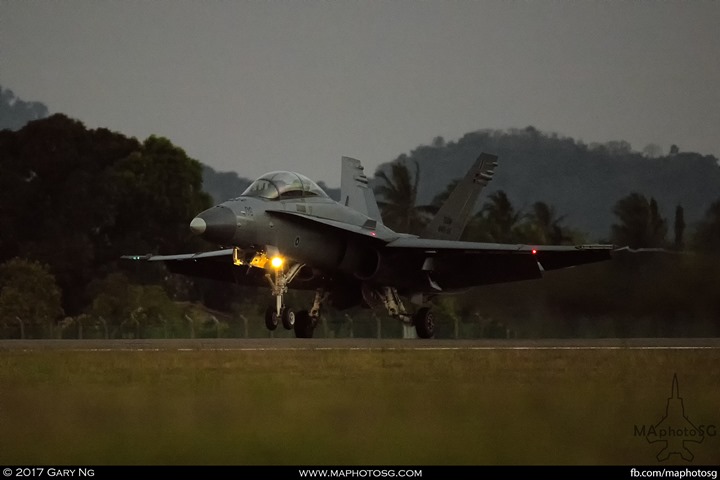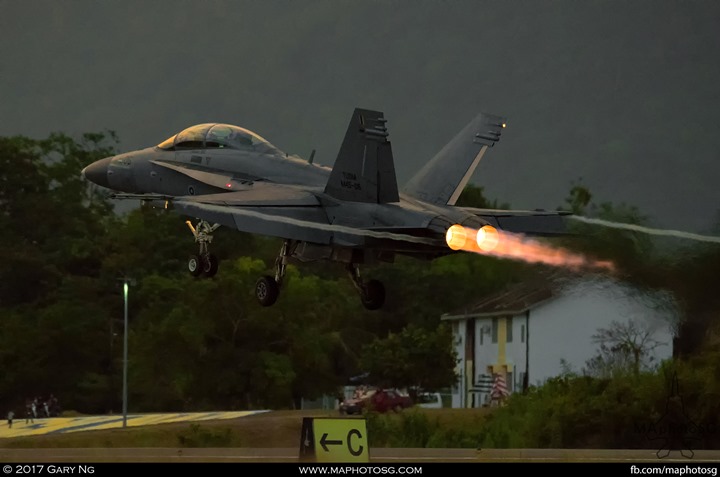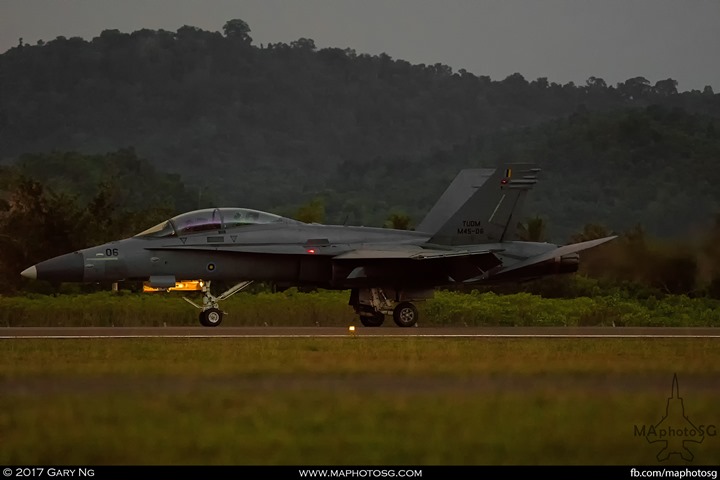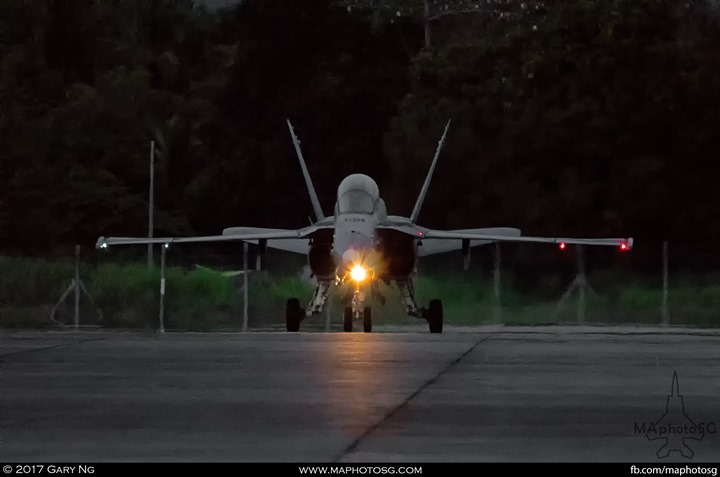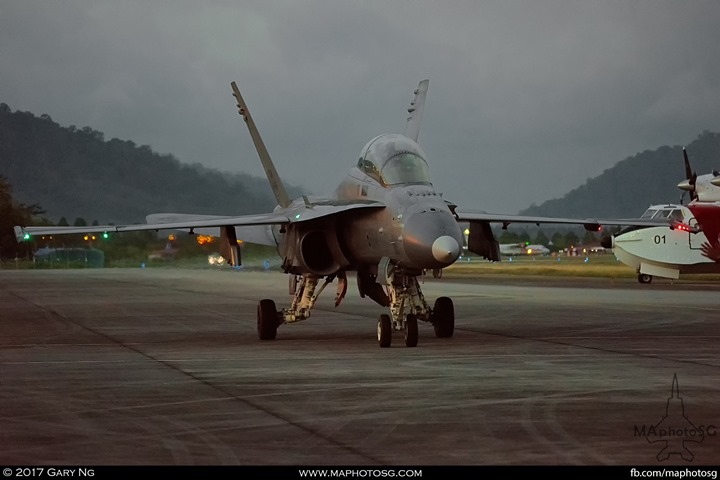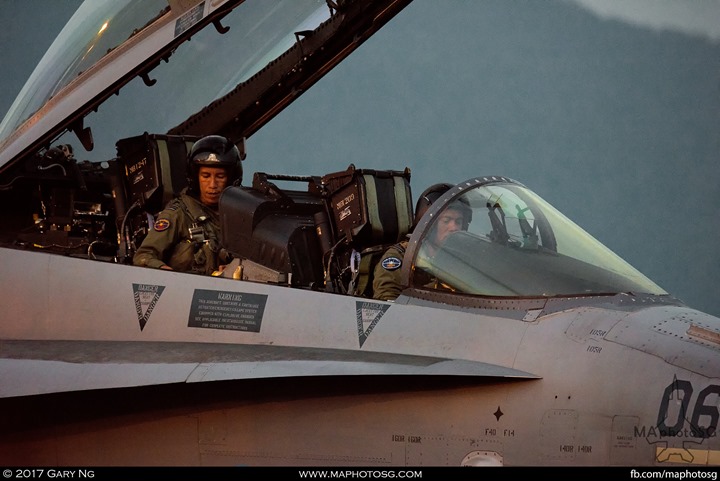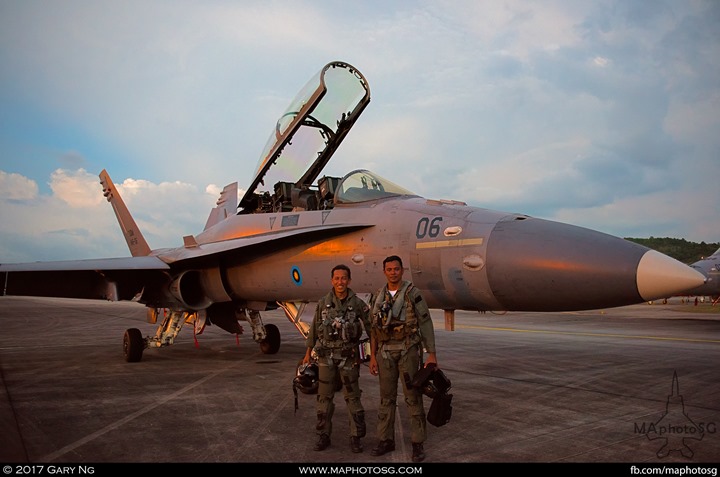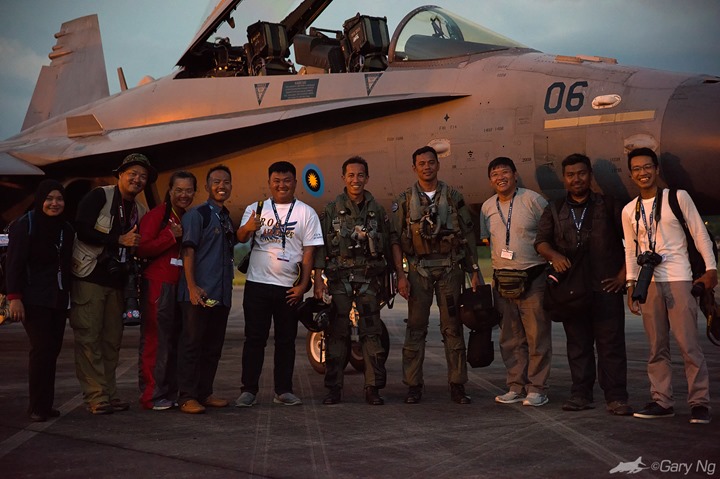 This year's RMAF's participation has been nothing short of amazing, and it has built a closer relationship with visitors, especially the public. It was not uncommon to see public and trade visitors grabbing shots with RMAF personnel both in the exhibition halls and on the display tarmac. The level of support is important as it faces a challenging economic situation, and will have to do its best with their current assets in performing its national defence role.