On 7 February, President Halimah Yacob officially launched the Republic of Singapore Air Force (RSAF) 50th Anniversary celebrations at the Singapore Airshow at Changi Exhibition Centre. At the launch ceremony, President Halimah unveiled the specially designed RSAF50-themed F-15SG. A flight of three F-15SGs overflew the stage as smoke and pyrotechnics accompanied the dropping of the curtain to unveil the blue and grey design.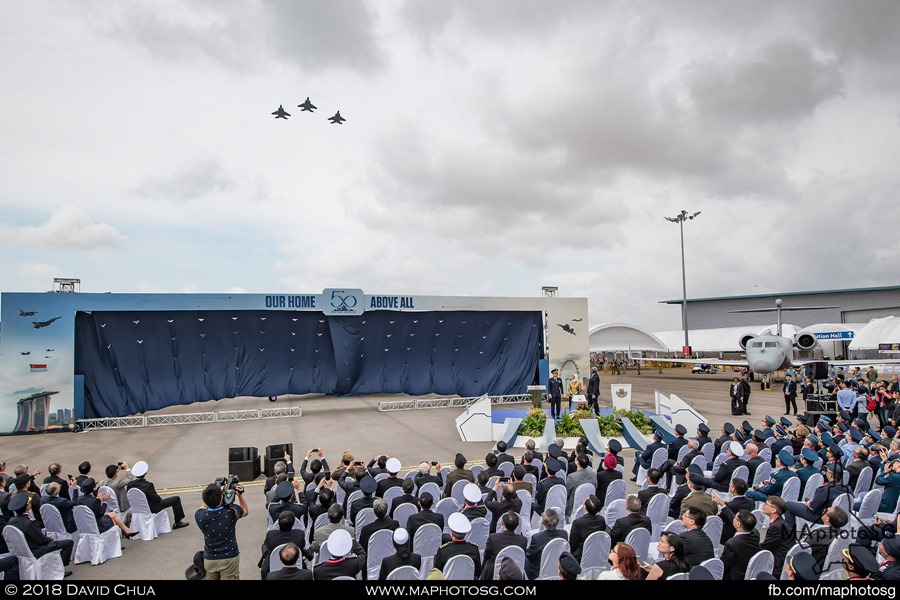 The President was accompanied by the Minister of Defence, Dr Ng Eng Hen, Second Minister for Defence, Mr Ong Ye Kung, Senior Minister of State for Defence, Dr Mohamad Maliki Bin Osman, Permanent Secretary for Defence, Mr Chan Yeng Kit, Chief of Defence Force, Lieutenant-General  Perry Lim, Chief of Air Force, Major-General Mervyn Tan, Chief of Army, Major-General Melvyn Ong, Chief of Navy Rear-Admiral Lew Chuen Hong, former RSAF Chiefs of Air Force and invited foreign officials.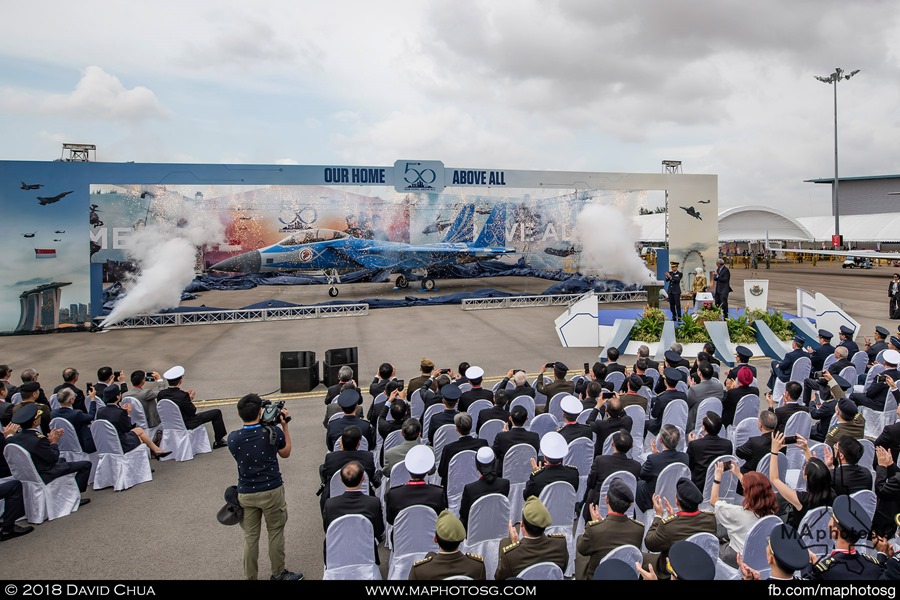 The paint scheme of the RSAF50-themed F-15SG incorporates the RSAF50 logo on the top and the outer sides of the twin tails. The past and current RSAF roundels were also painted on the inner sides of the tails to symbolise the RSAF's growth and transformation over the last 50 years. The predominantly blue colour scheme symbolises the skies above our home, Singapore, which the RSAF above all.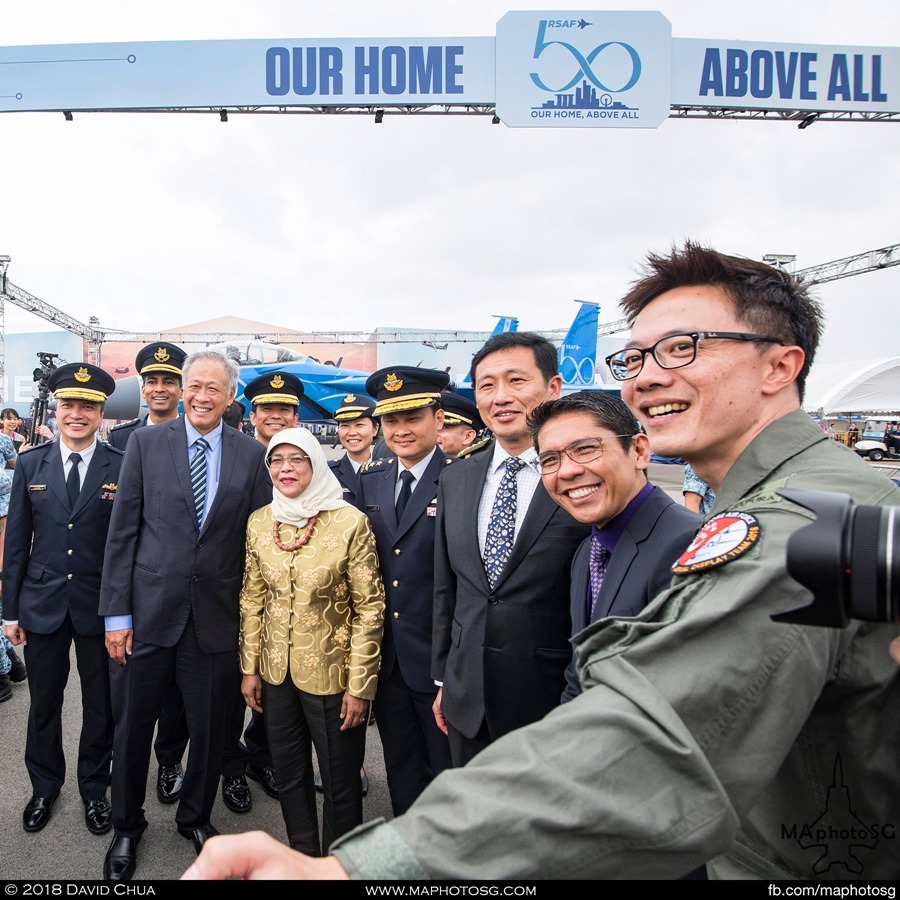 After the launch, President Halimah made a visit to the RSAF50 Pavilion, where she officially launched the RSAF50 Mural. When completed, the mural will feature a montage of 50,000 photos contributed by Singaporeans and collected during the various upcoming RSAF50 celebratory events. The President later toured the RSAF display and interacted with the current and previous generations of RSAF personnel.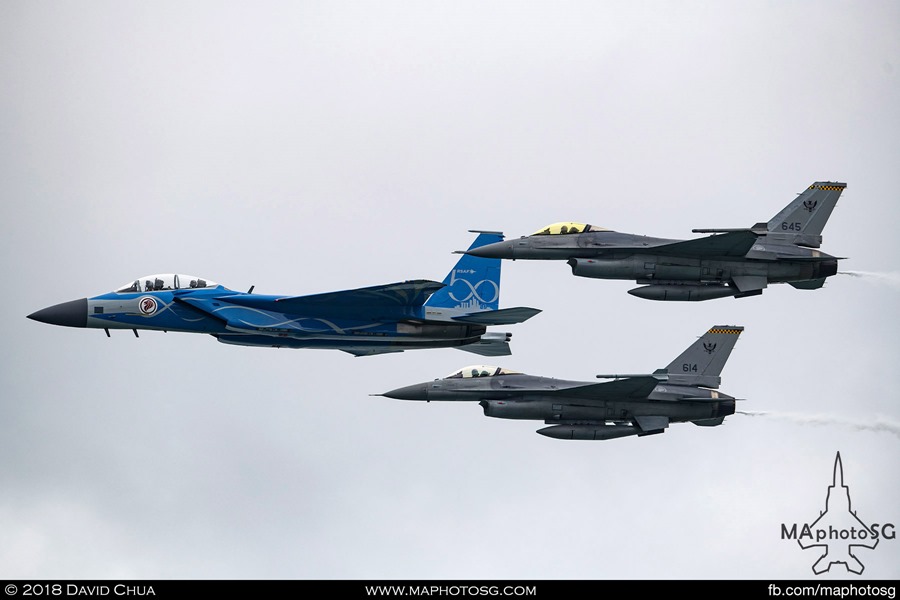 During her keynote address, she said, "I would like to congratulate the RSAF on its success and achievements over the last 50 years. I thank you for your professionalism and unwavering commitment. I am confident that the RSAF will continue to keep our skies free and secure, for the next 50 years and more. I wish the RSAF continued excellence in the years ahead."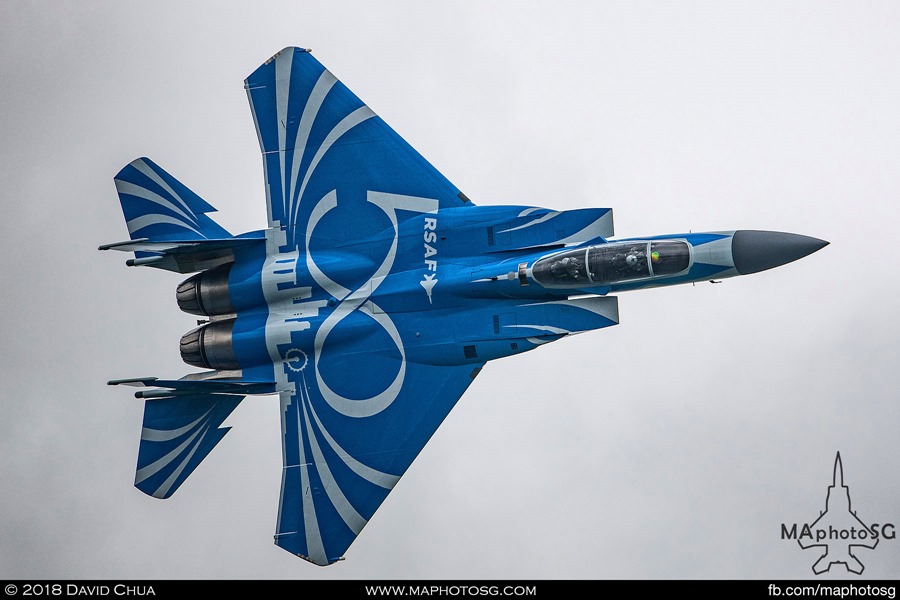 For the duration of the Singapore Airshow 2018, the RSAF50-themed F-15SG will be making a daily aerial display routine, except for 9 Feb, with the F-16Cs. Be sure to catch the "Blue Eagle" in the skies over Changi Exhibition Centre!