The skies and seas of Langkawi once again thundered with the roar of jet engines as it hosted the 15th edition of the Langkawi International Maritime and Aerospace (LIMA) Exhibition from 26-30 March 2019. Over 400 local and international companies took part this year with a total of about 42,000 trade visitors from 63 countries recorded during the trade days. On the final two public days, a total of 237,114 public visitors experienced the various performances, demonstrations and exhibits at both the Mahsuri International Exhibition Centre (MIEC) and Resorts World Langkawi (RWL). Over 40 static and 60 flying aircraft, and over 35 vessels were involved in the static, airshow and fleet review at both venues.

Mahsuri International Exhibition Centre (MIEC)
As LIMA approaches its third decade, it is aiming to break free of its traditional "defence only" focus with the theme "Defence & Commercial Connecting Intelligence". The Malaysian Ministry of Defence (MINDEF) and Ministry of Transport (MOT) has been supported in this push by the Ministry of International Trade and Industry (MITI), through National Aerospace Industry Coordinating Office (NAICO), Malaysia External Trade Development Corporation (MATRADE) and the Malaysian Investment Development Authority (MIDA), with a 60:40 defence-commercial participation ratio this year.

Resorts World Langkawi (RWL)

Defence & Commercial Collaborations
Delivering his LIMA '19 opening speech, YAB Tun Dr. Mahathir bin Mohamad, Prime Minister of Malaysia, reminisced about the beginnings of LIMA in 1991.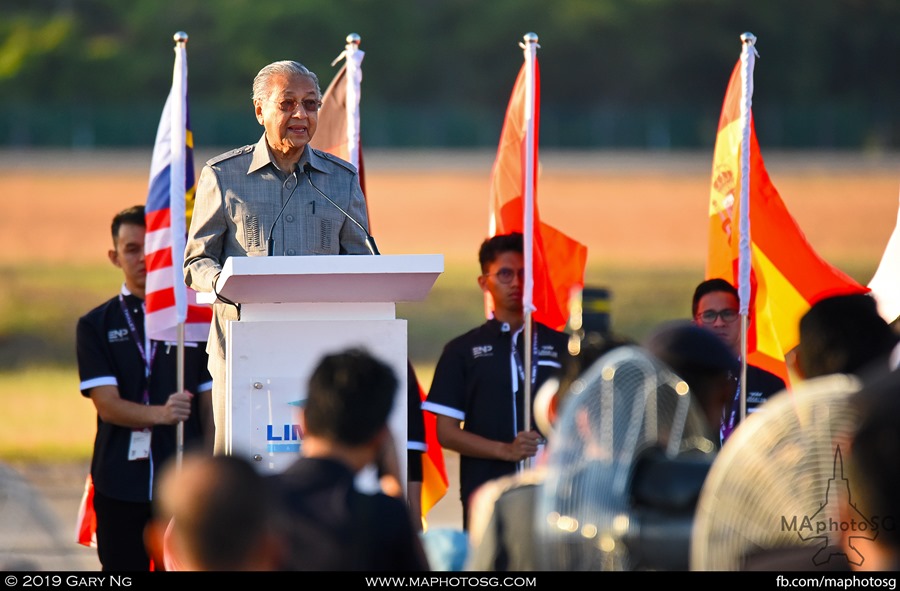 Tun Dr. Mahathir bin Mohamad, Prime Minister of Malaysia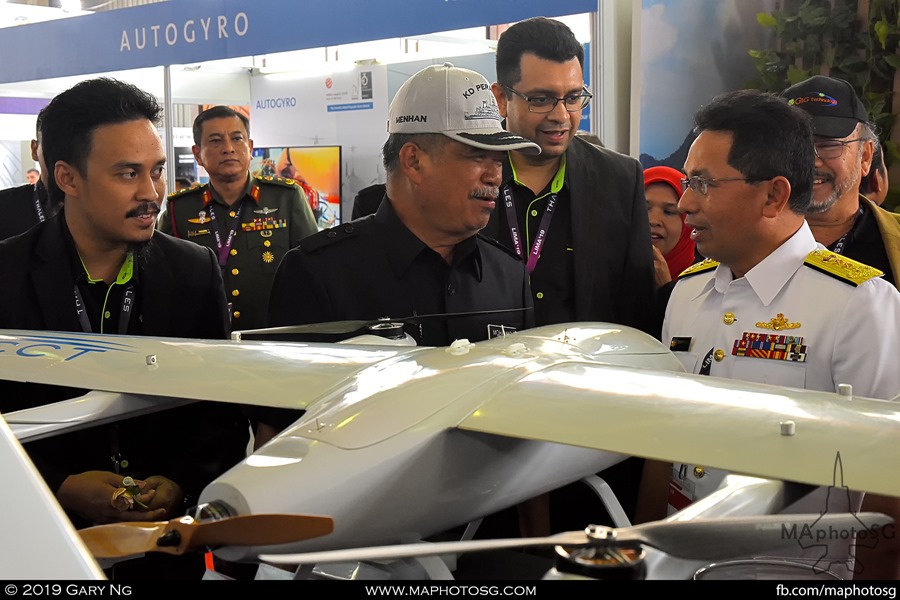 Mohamad Sabu (centre), Malaysian Defence Minister
"The 15th edition of LIMA brings back memories of the momentous 1991 edition when I launched the 1st Blueprint for the Development of the Aerospace Industry in Malaysia. It was a bold move for some and baby steps for others. But looking at what we have before as the development of the aerospace industry today, it was a necessary move to ensure that Malaysia kept up with the catalytic and rapidly growing industry," he said. "Today, LIMA has gained prominence as the leading Maritime and Aerospace exhibition in the Asia Pacific area. I would like to congratulate the Ministry of Defence (MINDEF), Ministry of Transport (MOT) and EN Projects Sdn. Bhd. as the co-organiser of LIMA`19 for making it an event worthy of international attention."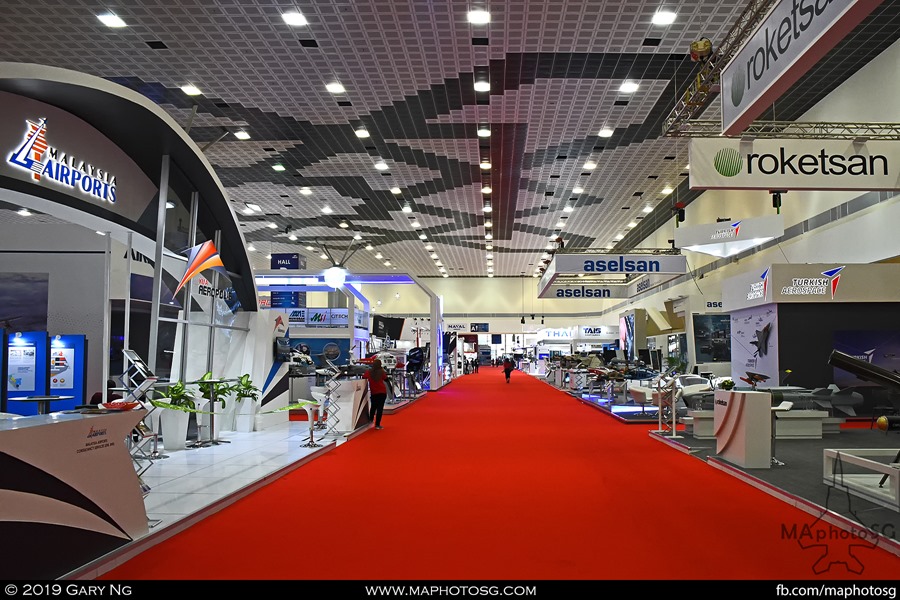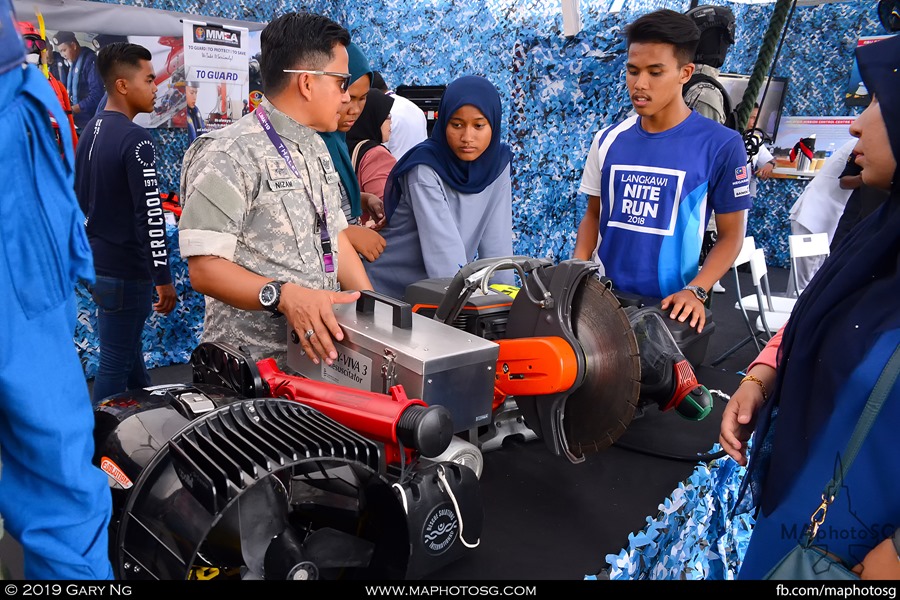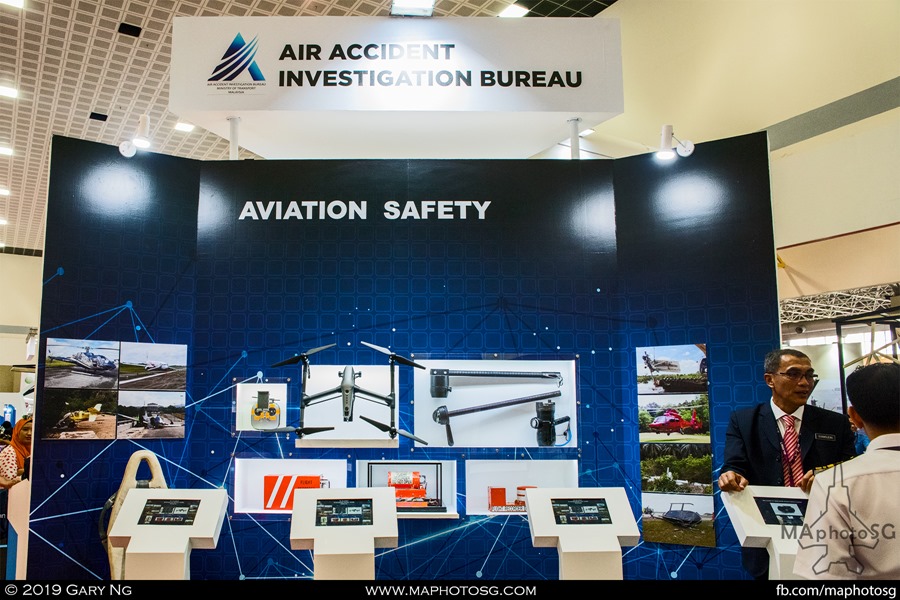 On LIMA's push from a "defence only" focus, he said: "LIMA`19 comprises 60% defence and 40% commercial contents. In this regard, MINDEF and MOT are being supported by MITI and its agencies in organising industry seminars, business meetings and talks to promote business engagements and to highlight Government initiatives on industry development and trade facilitation."
"We plan to make Malaysia the leading aerospace nation in South East Asia and an integral part of the global market. This is spelt out under the Malaysia Aerospace Industry Blueprint 2030. To achieve it, MITI through NAICO has implemented various aerospace industry development initiatives covering industry facilitation, local supply chain development, competency development, Research & Technology (R&T), international collaboration and human capital development. As of today 19 key initiatives of the Blueprint are being implemented by NAICO."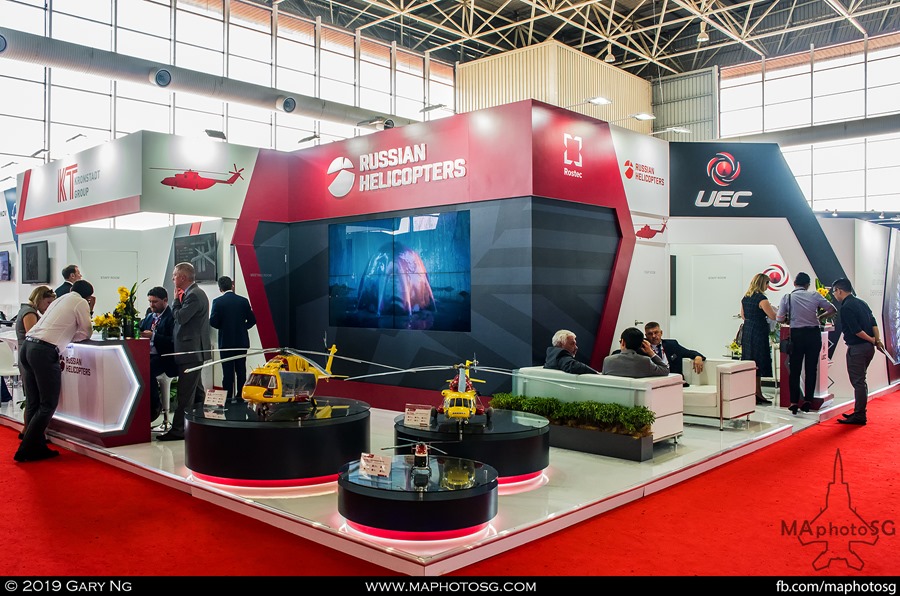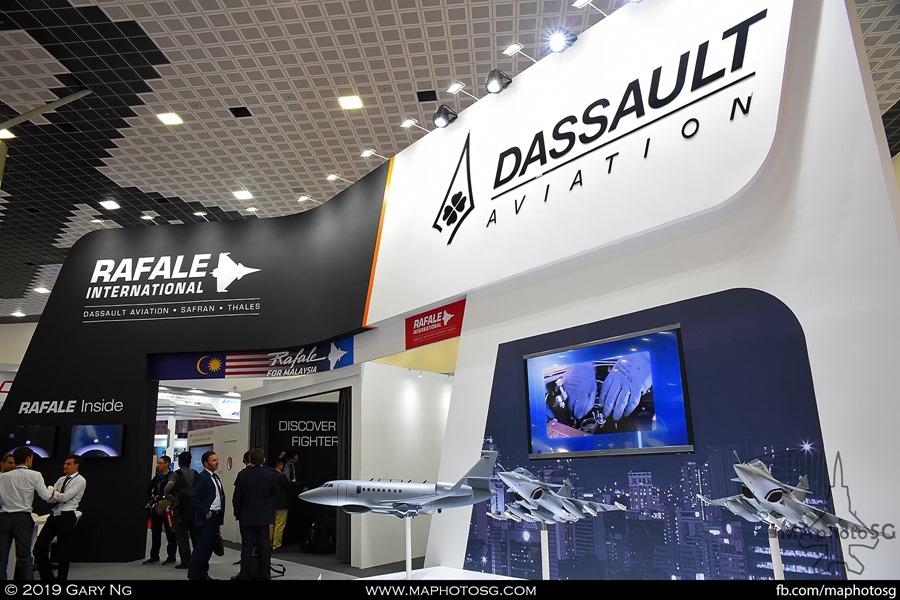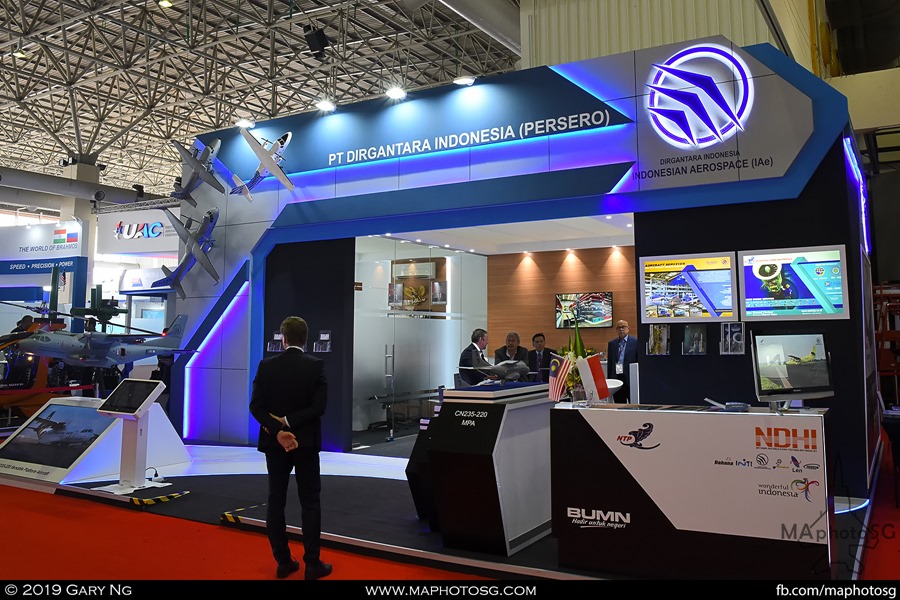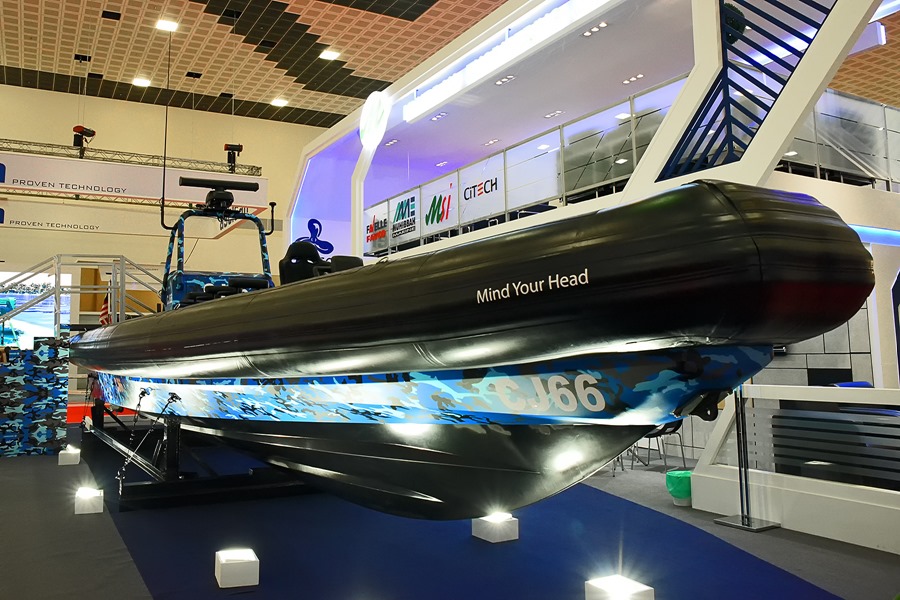 Commenting on the significance of Malaysian MINDEF's first ever Defence White Paper, he said: "It is aimed at informing the public on its priorities and future plans to bolster defence and security of the country. It sets out the Government's expectations for Defence in the coming decades. The White Paper reflects the Government's commitment to a more regular cycle of defence policy updates."
"As a comprehensive, responsible long term plan for Malaysia's defence, the Paper reiterates the need to develop an indigenous knowledge, research and technology based defence industry to support the Malaysian Armed Forces. The objective of achieving this vision is driven by key defence policy attributes, namely; to develop and enhance the local defence industrial capabilities; to achieve self-reliance in defence technology; and to prepare for global competition in selected niche areas strategy."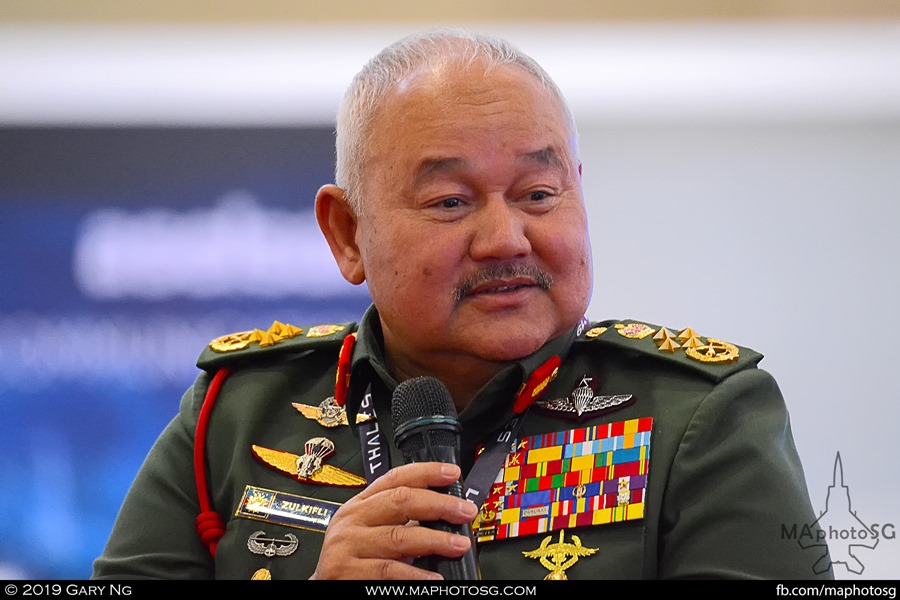 General Tan Sri Zulkifli Zainal Abidin, Chief of Defence Force, Malaysian Armed Forces
General Tan Sri Dato' Sri Affendi bin Buang, Chief of the Air Force, Royal Malaysian Air Force

East Meets West
The Opening Gambit by the Royal Malaysian Air Force (RMAF; Malay: Tentera Udara Diraja Malaysia (TUDM)) is always a perennial favourite at LIMA, and this year was no exception. From the opening sequence of a low level transonic run by a lone F/A-18D Hornet to the closing mass flypast, it kept the audience on alert as aircraft came in from various directions, showing the tactical precision and power of their manoeuvres.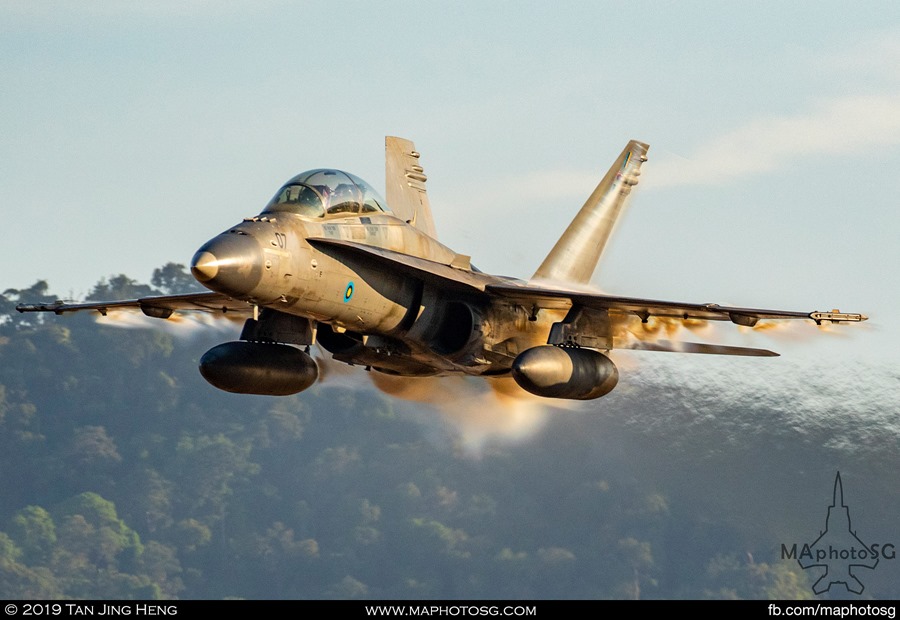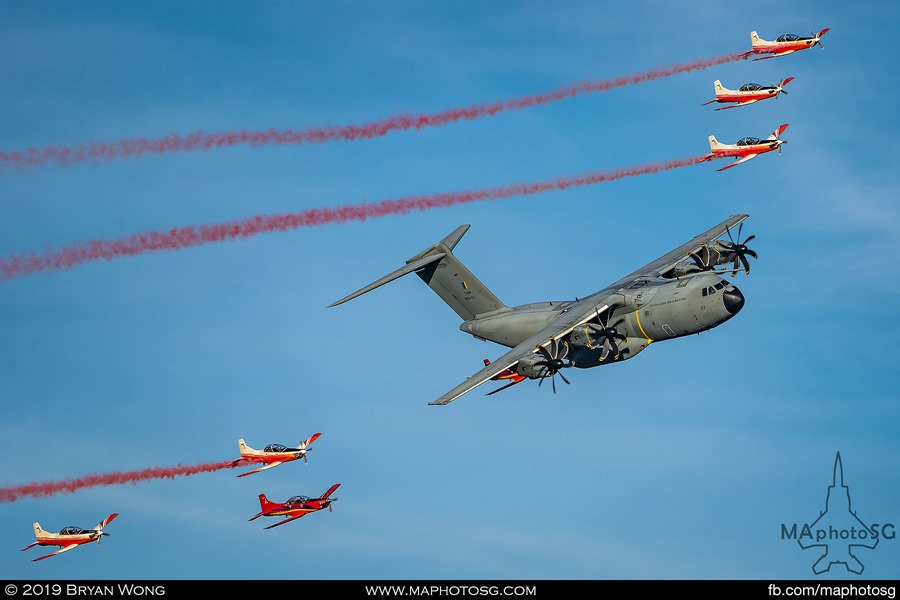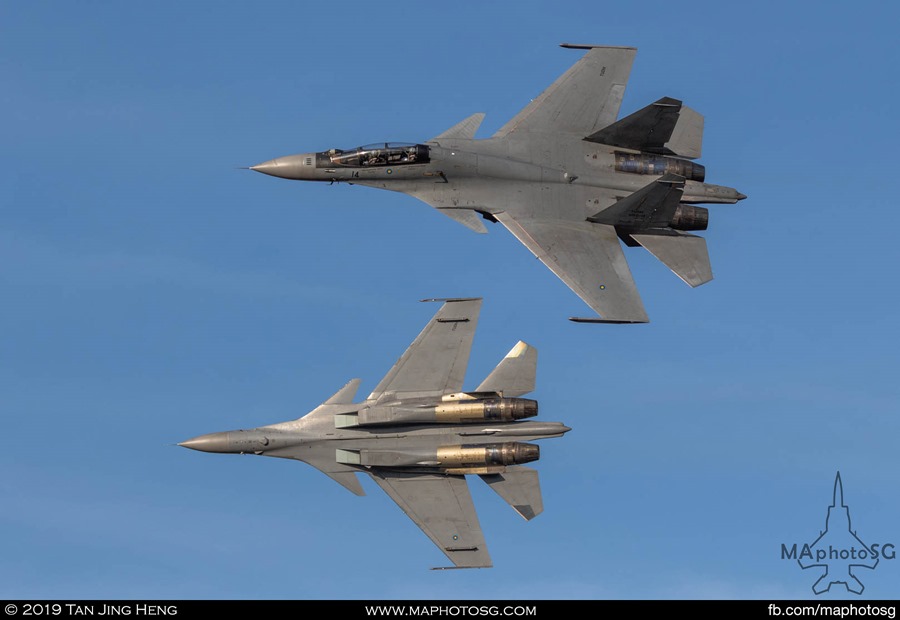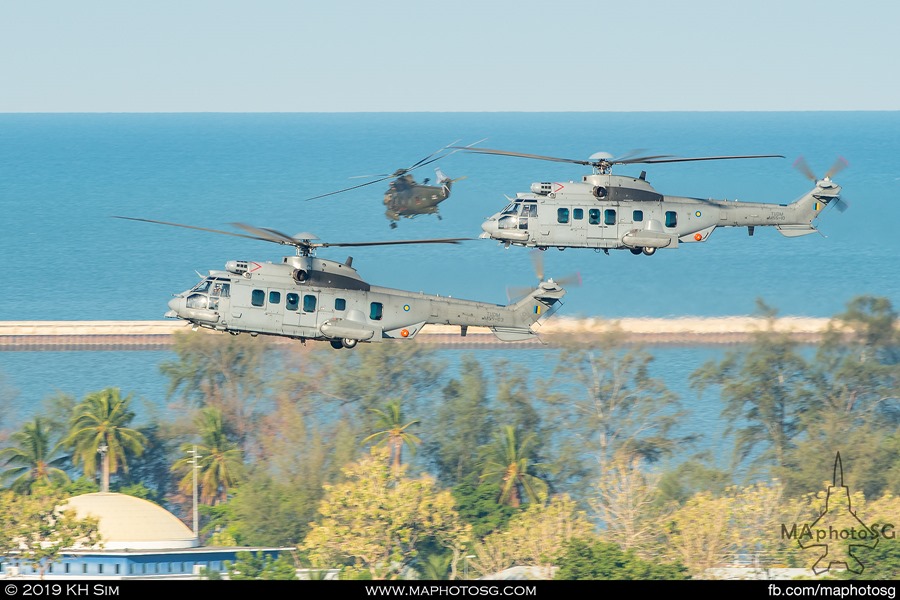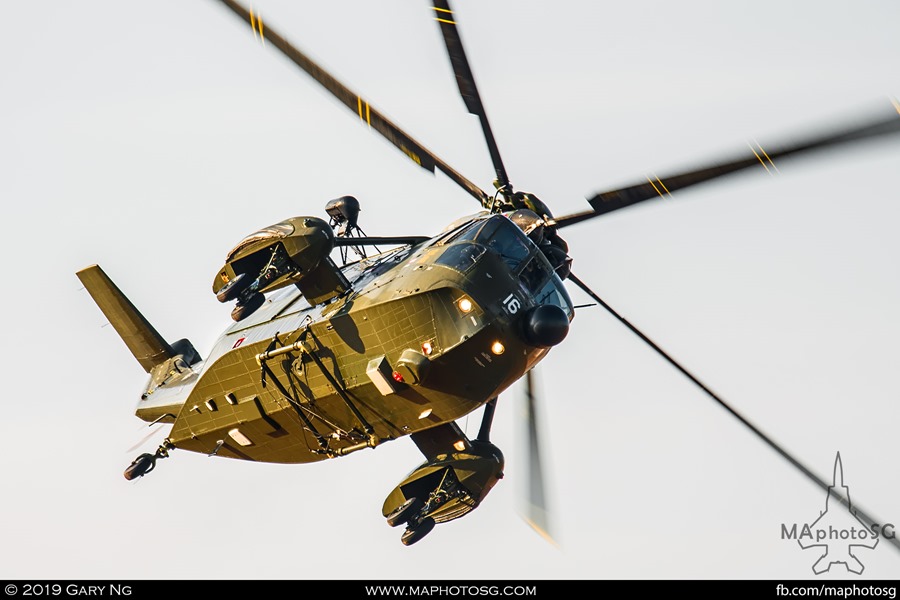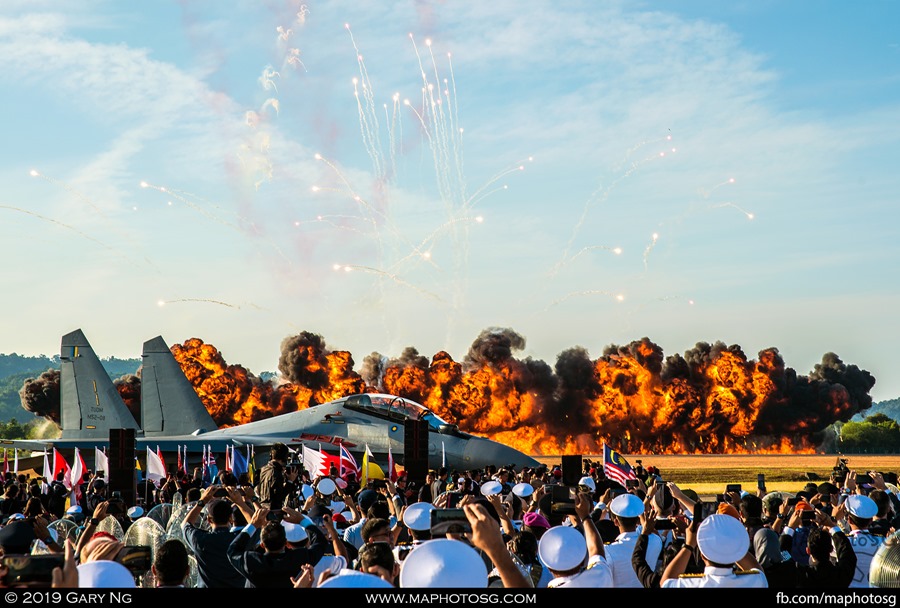 The daily flying display featured the Russian Air Force's Russian Knights and Indonesian Air Force's (TNI AU; Indonesian. Tentara Nasional Indonesia Angkatan Udara) Jupiter Aerobatic Team, alongside Aerotree's Krisakti Extra 300L among others. Making their flying debut at LIMA '19 were the Tejas Mk.1 LCA (Light Combat Aircraft) from the Indian Air Force and Irkut Corporation's Yak-130 Mitten, while the Republic of Singapore Air Force's Airbus A330 MRTT performed a flypast.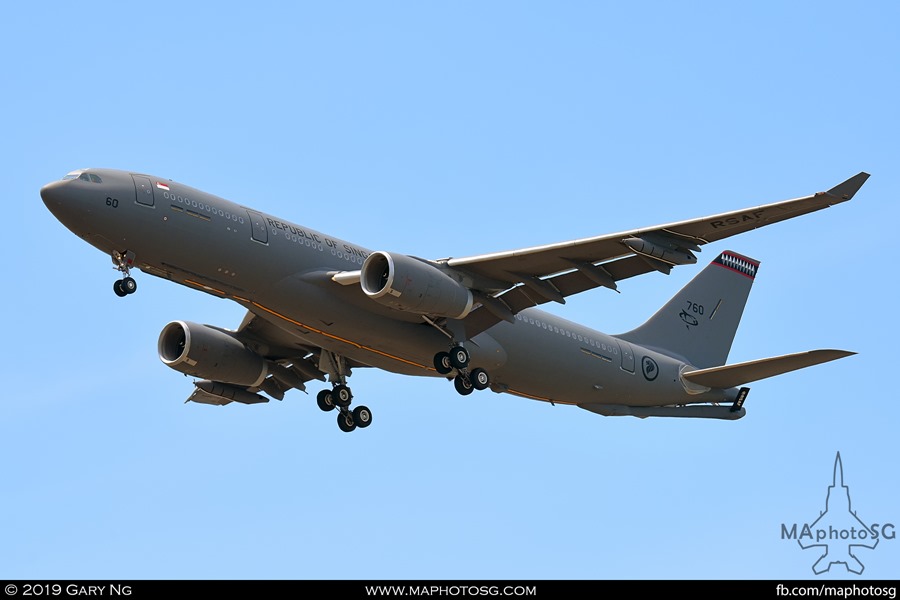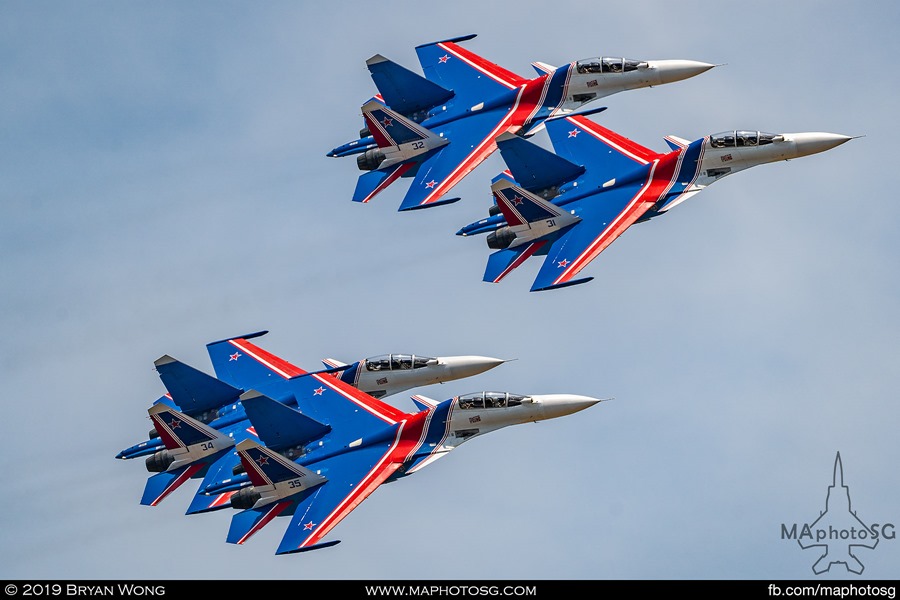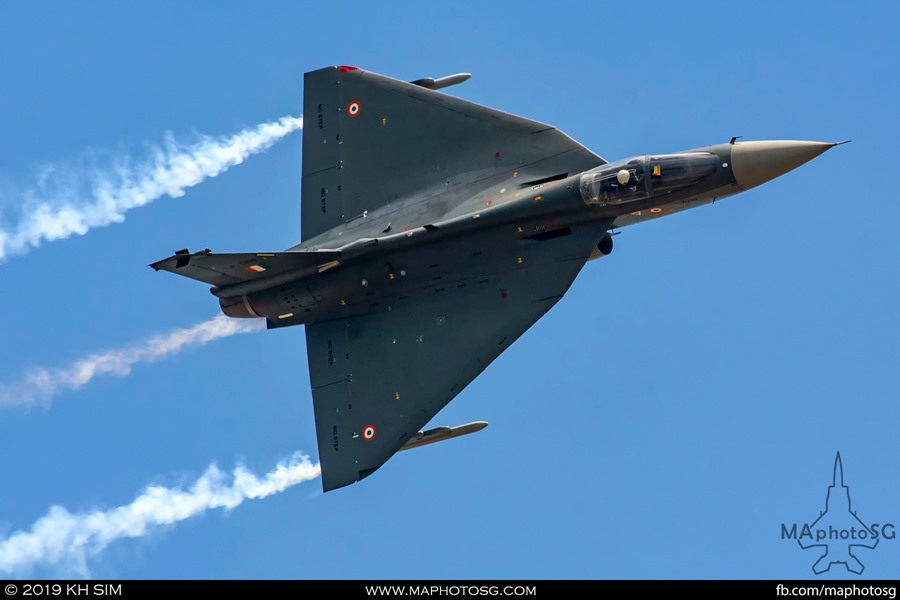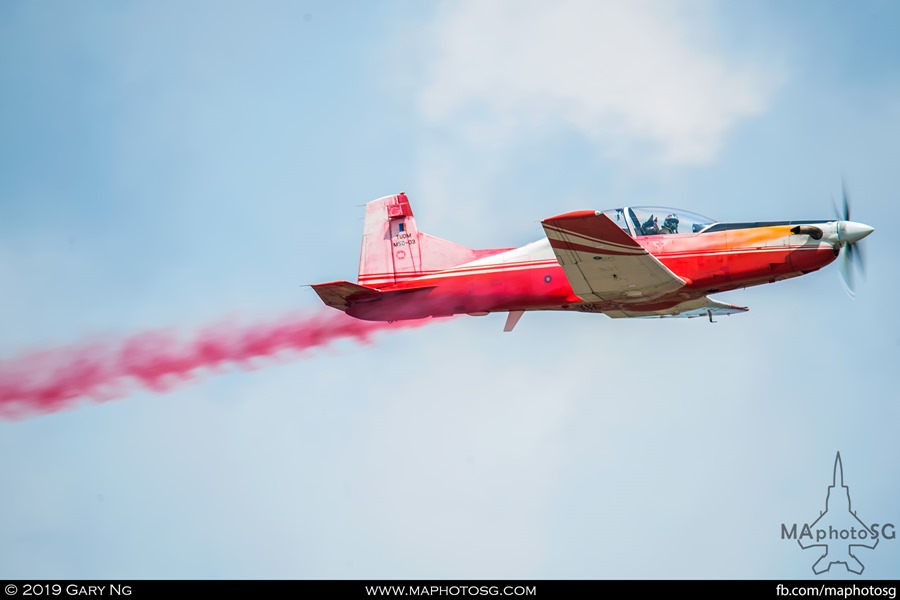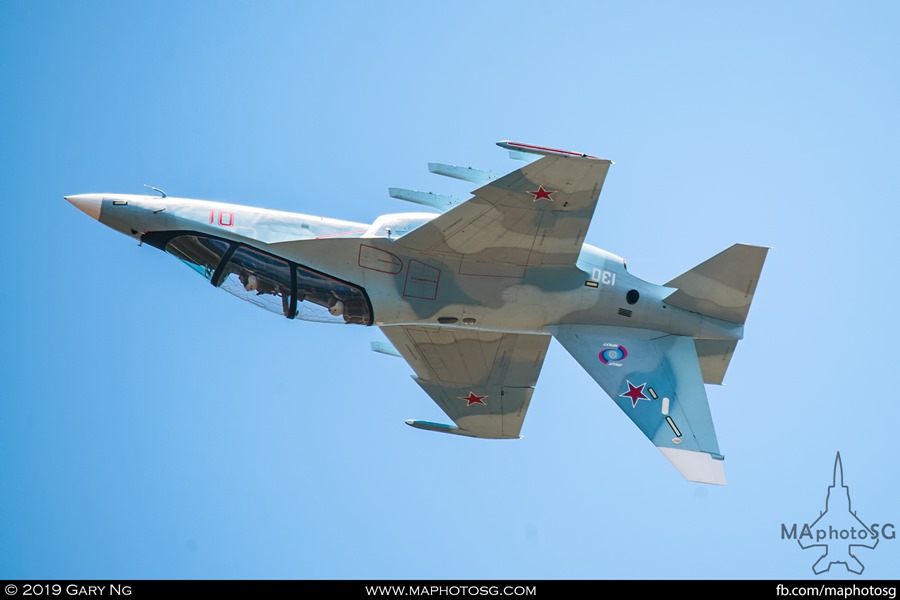 The TUDM put up both solo and team flying displays, with the Tactical Air (TacAir) Display generating the most buzz as three Su-30MKM Flankers and two F/A-18D Hornets performed a combined dissimilar aircraft display with unrelenting paced and lightning tempo.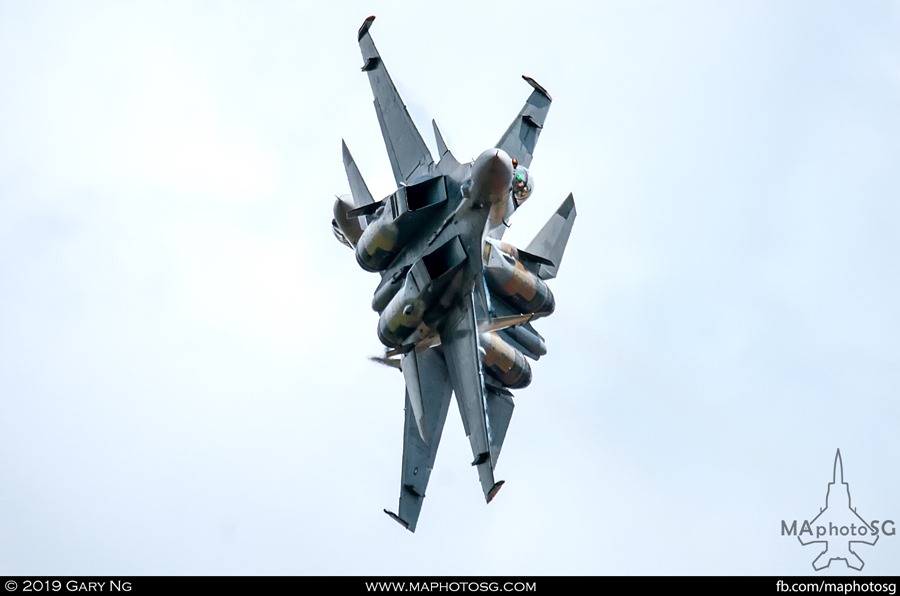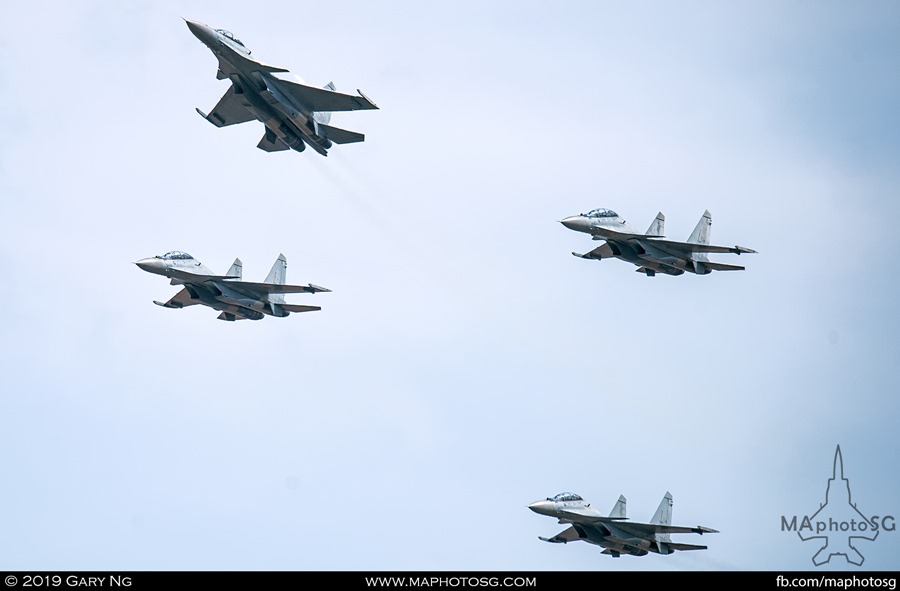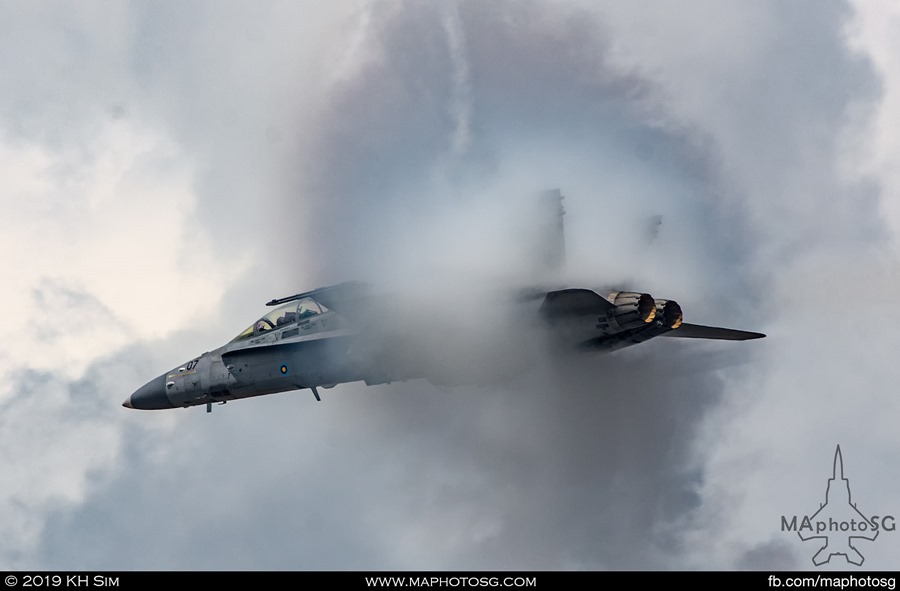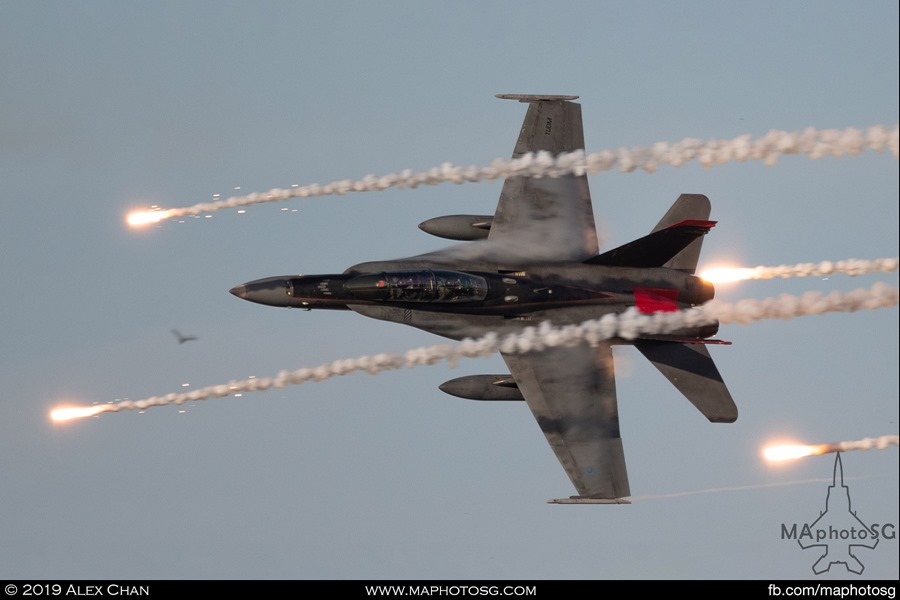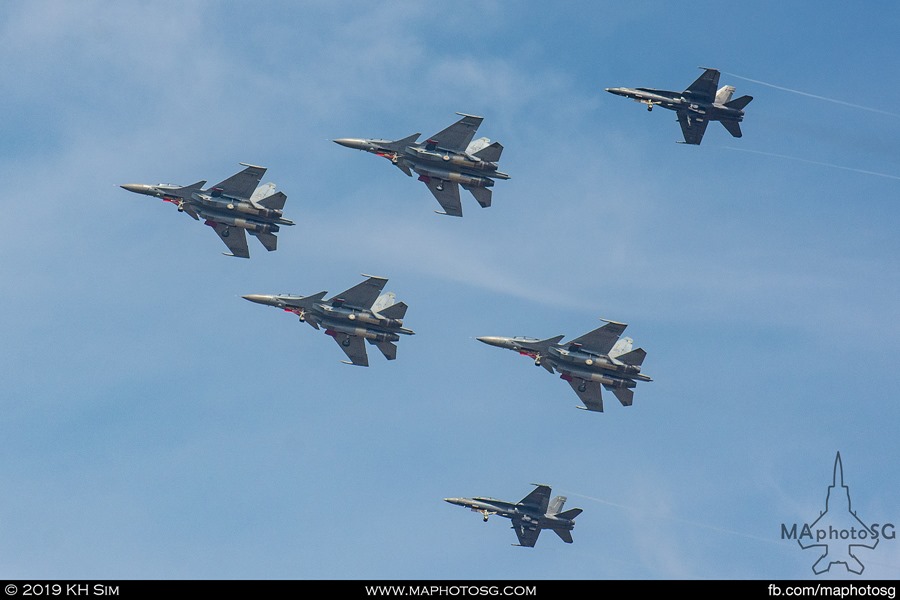 Maritime Might
Over at RWL, the main highlight of the maritime segment of the exhibition was the Fleet Review by the Prime Minister, featuring 16 vessels from foreign navies, and 17 vessels from the Royal Malaysian Navy (RMN; Malay: Tentera Laut Diraja Malaysia (TLDM)) and Malaysian Maritime Enforcement Agency (MMEA).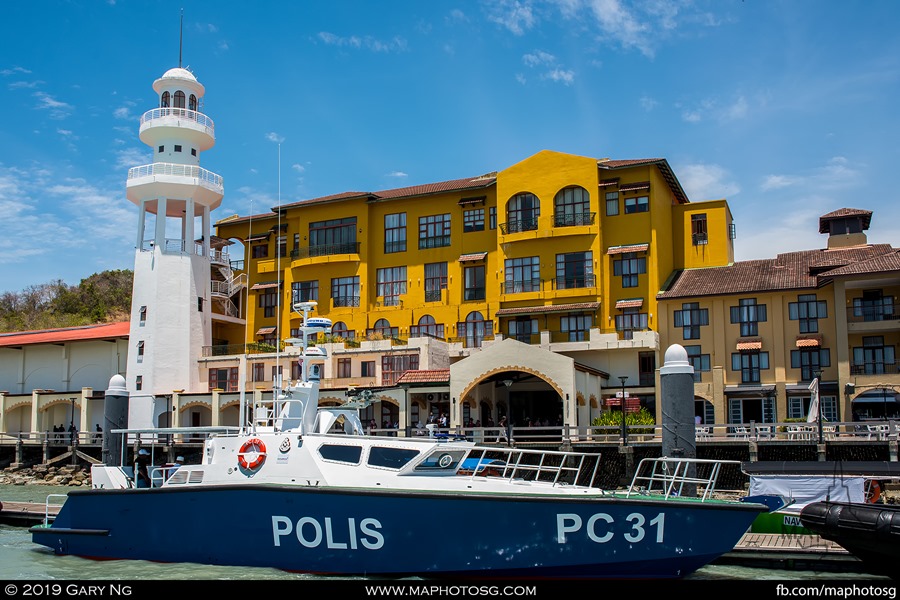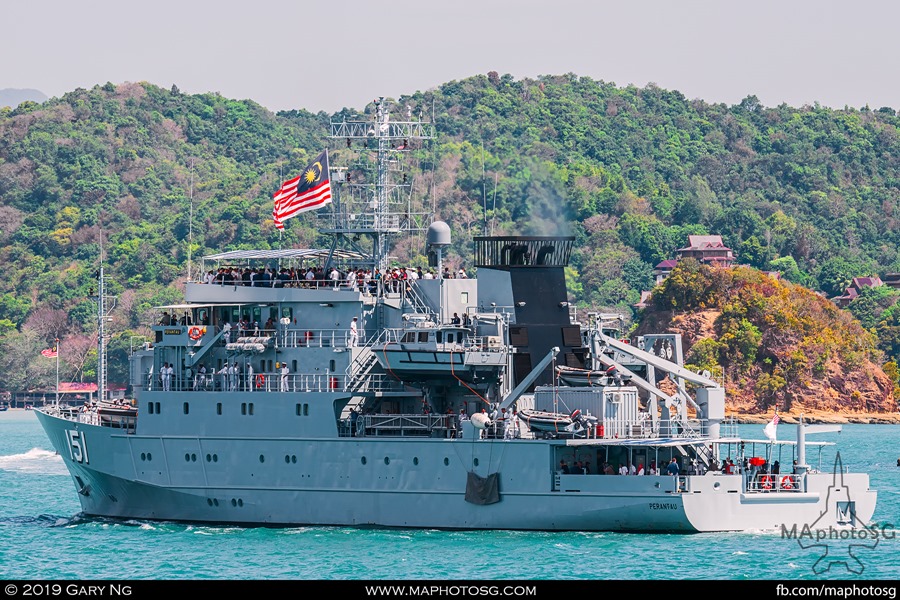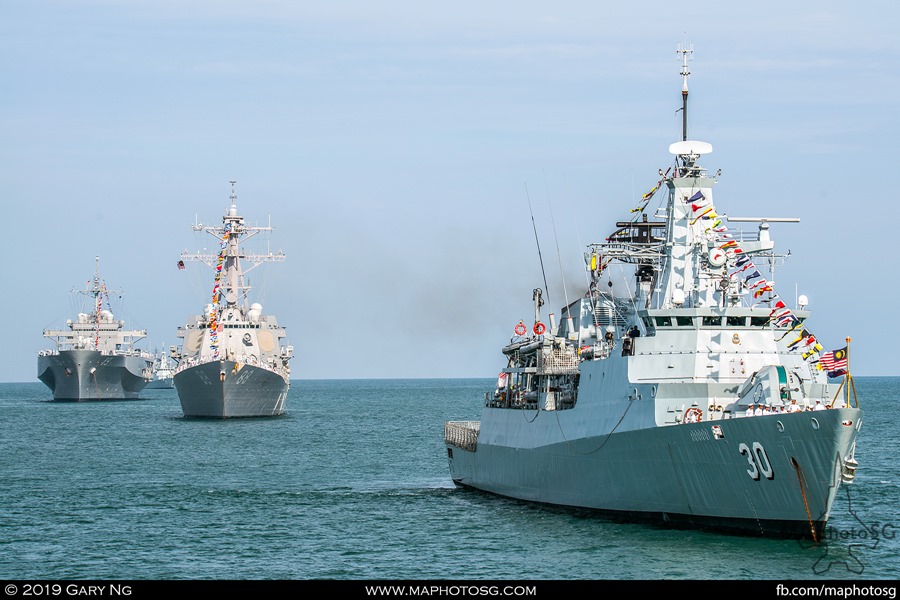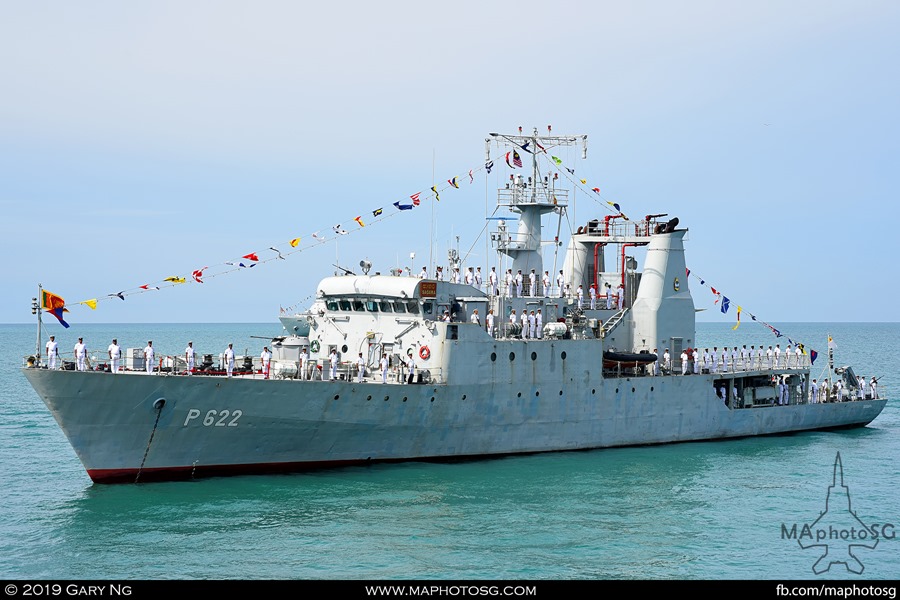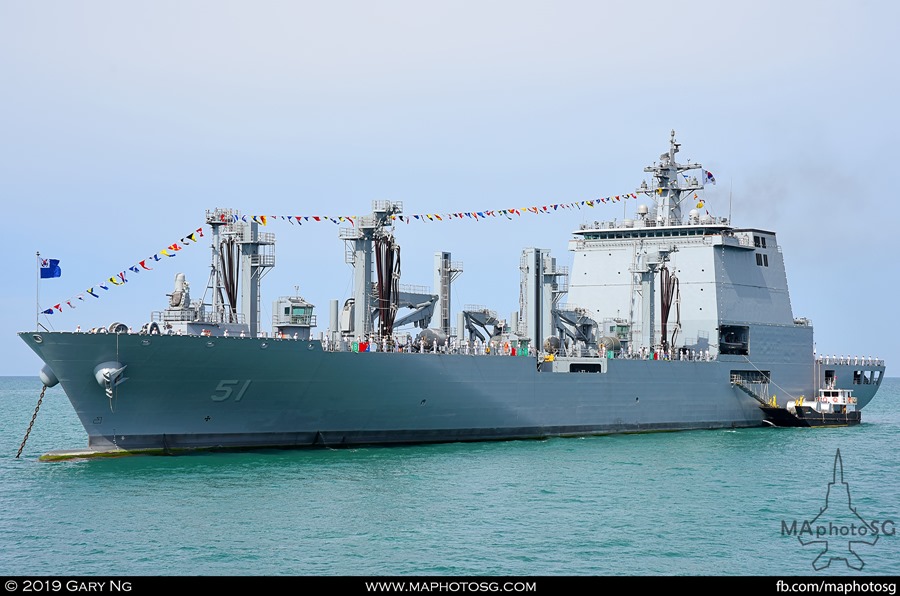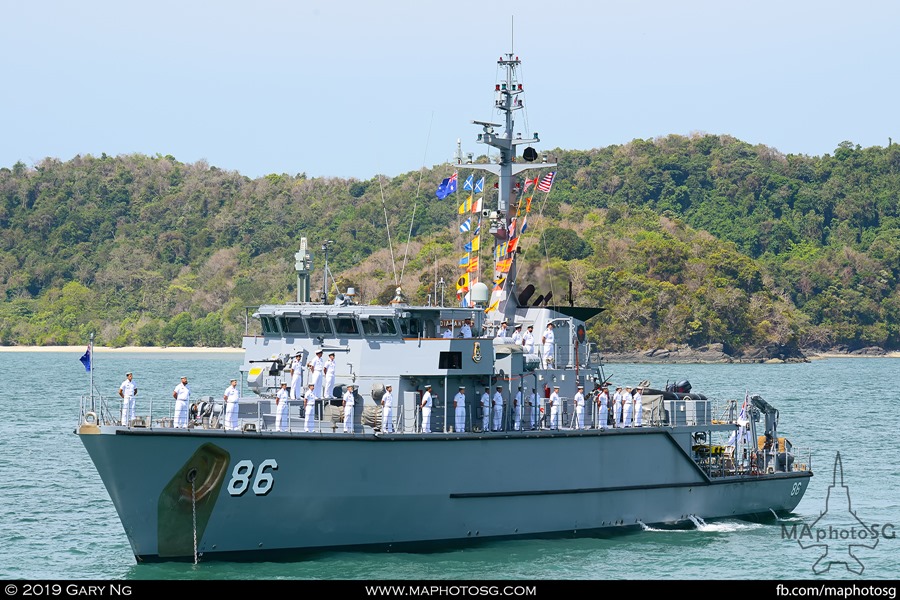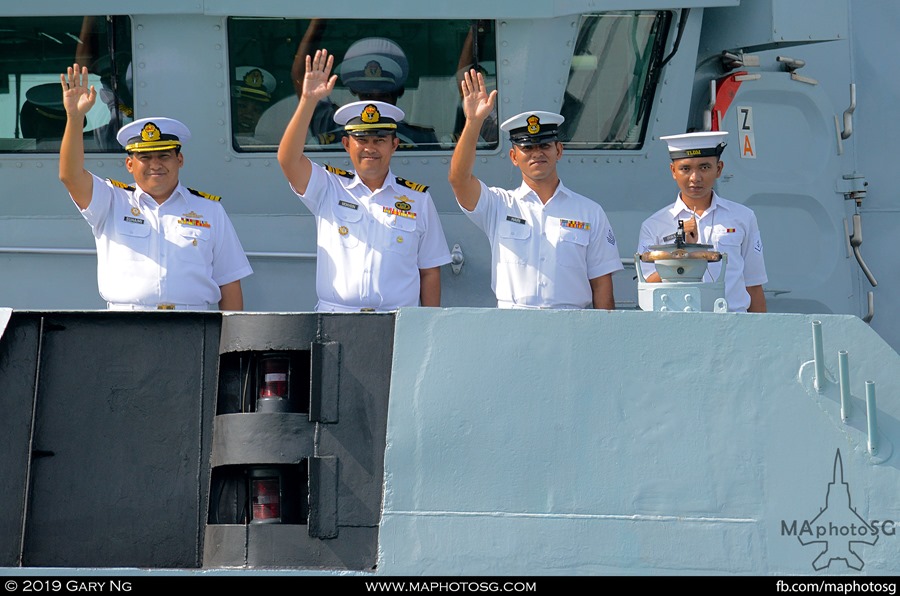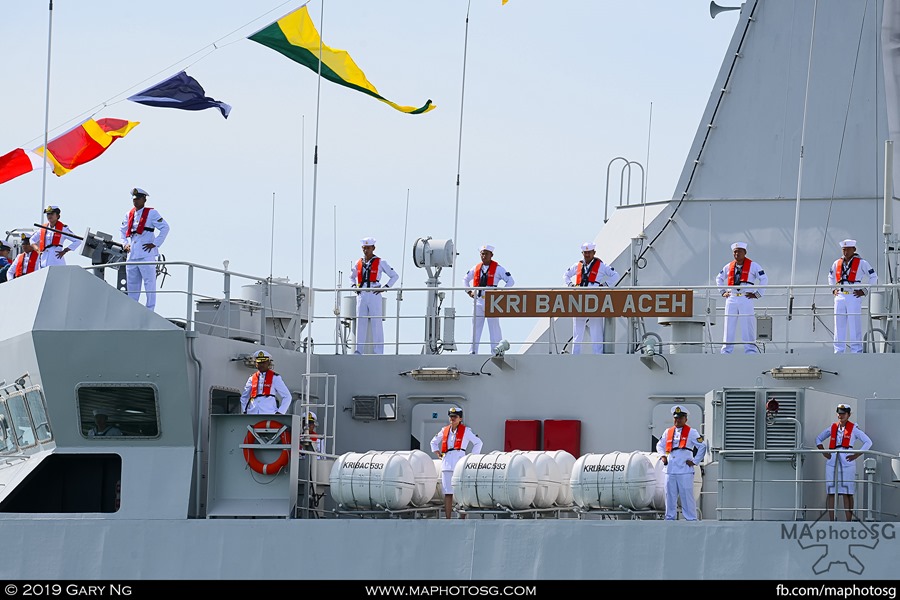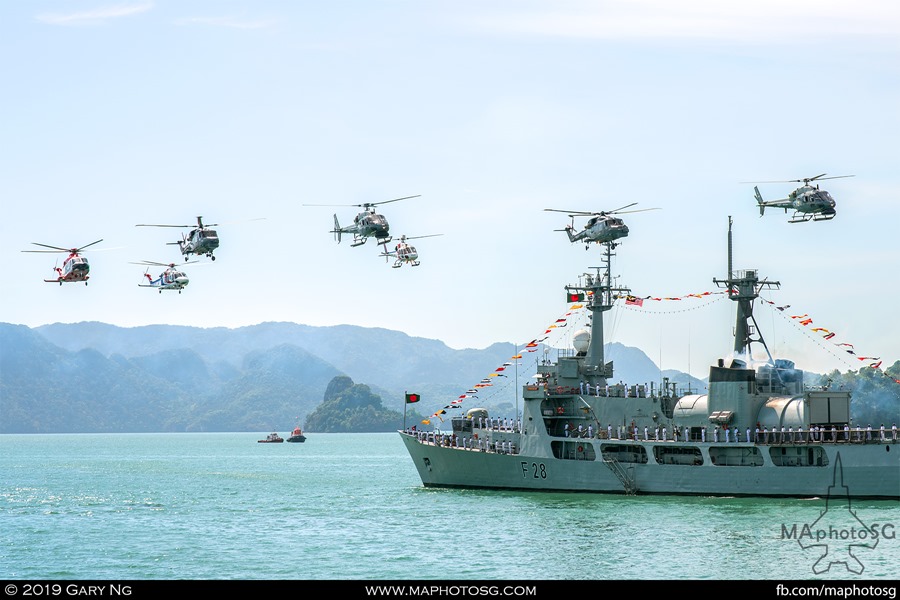 Helicopters and boats from the TLDM, MMEA, Royal Malaysian Police (Malay: Polis Diraja Malaysia (PDRM)), Royal Malaysian Customs Department (Malay: Jabatan Kastam Diraja Malaysia (JKDM)) also performed the daily maritime demonstrations. Also, for the first time in LIMA, all the maritime enforcement and research agencies had a combined static display area at RWL, featuring in addition to those mentioned, the Fire and Rescue Departmenr of Malaysia (Malay: Jabatan Bomba dan Penyelamat Malaysia (JBPM), Department of Fisheries Malaysia (DoF) (Malay: Jabatan Perikanan Malaysia), Science & Technology Research Institute for Defence (STRIDE) and Universiti Malaysia Terengganu (UMT).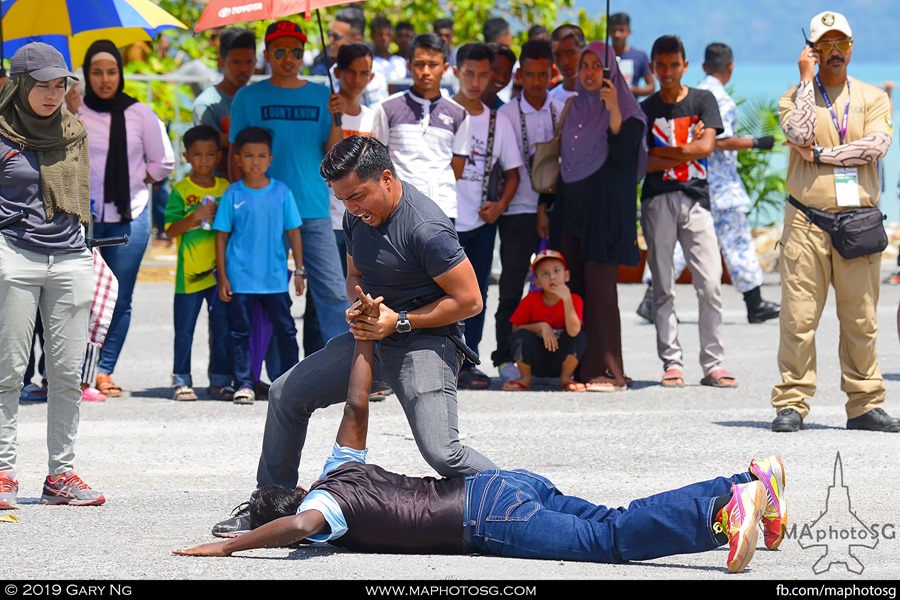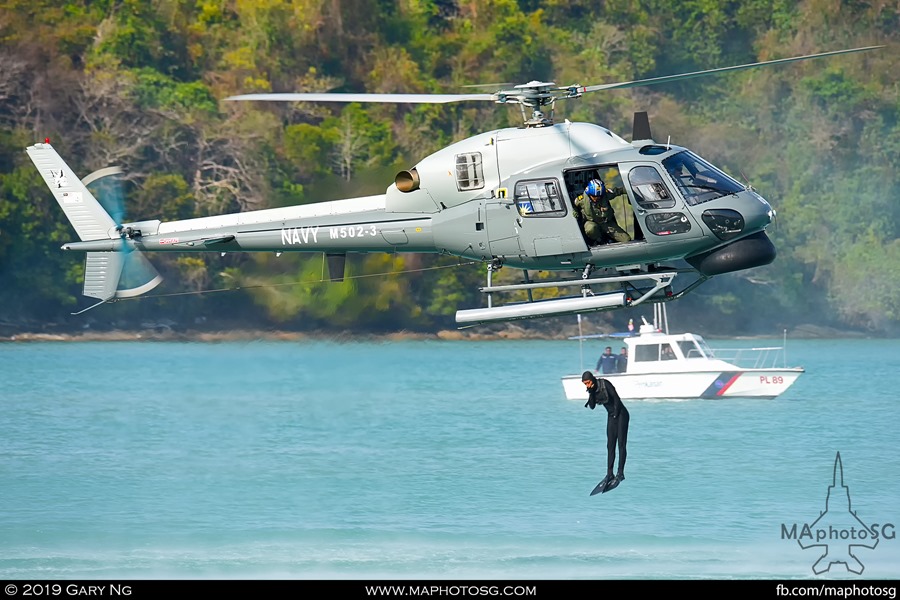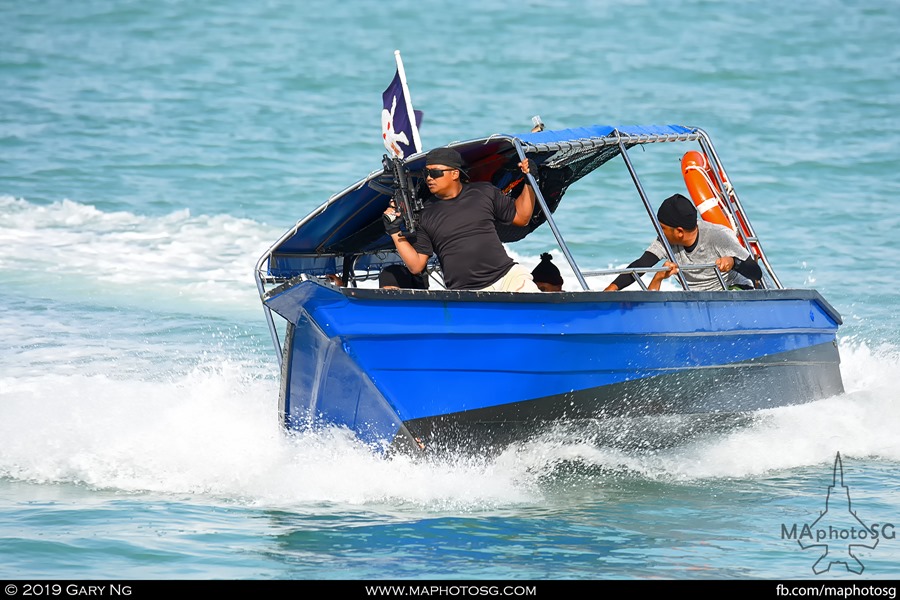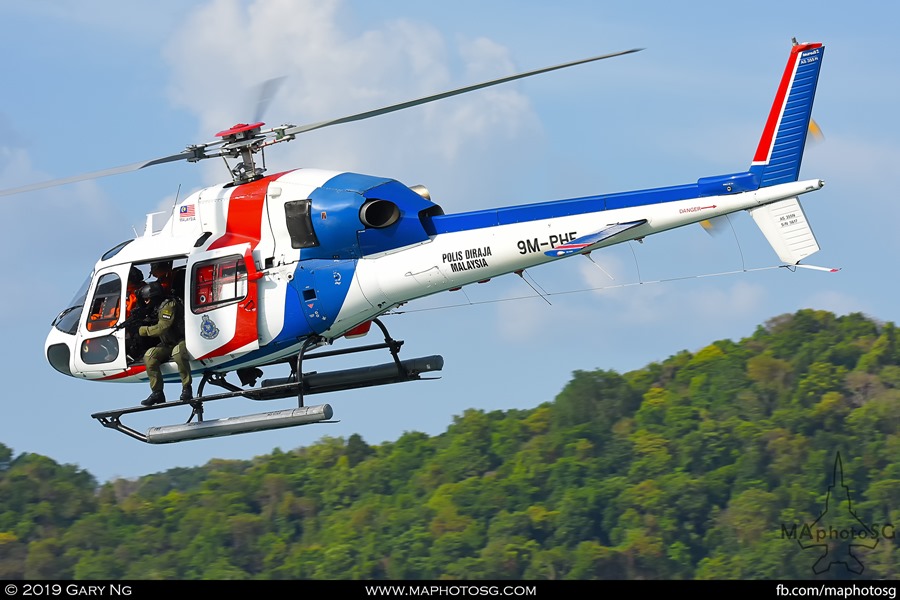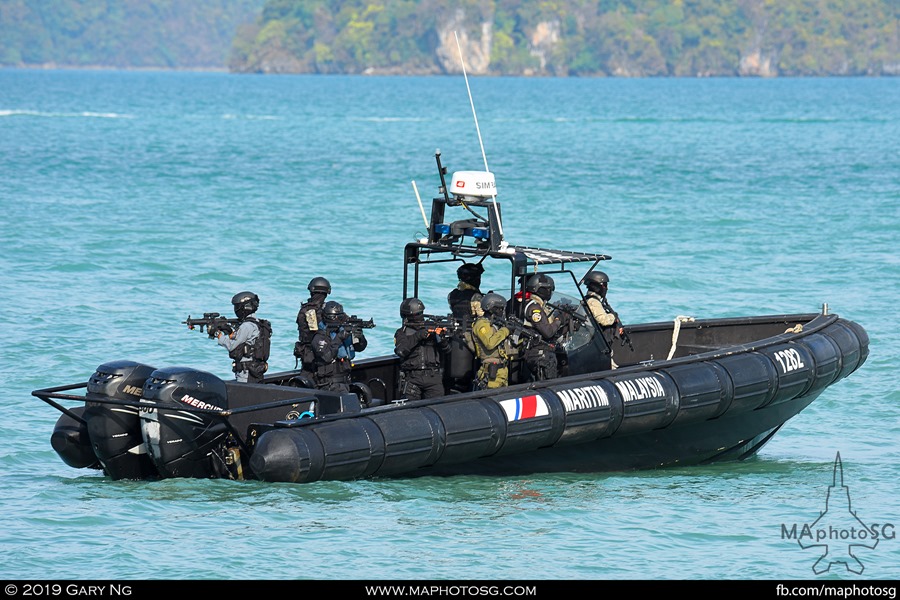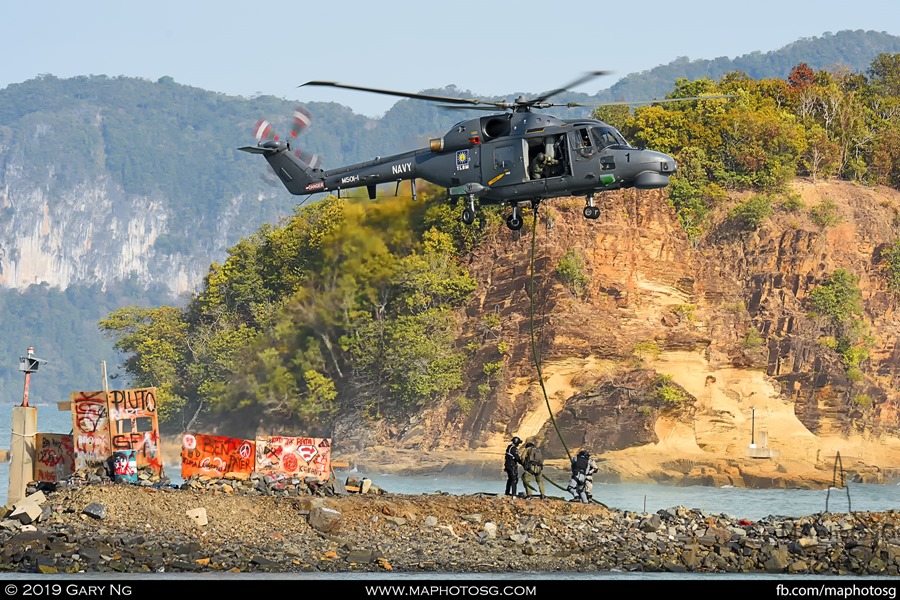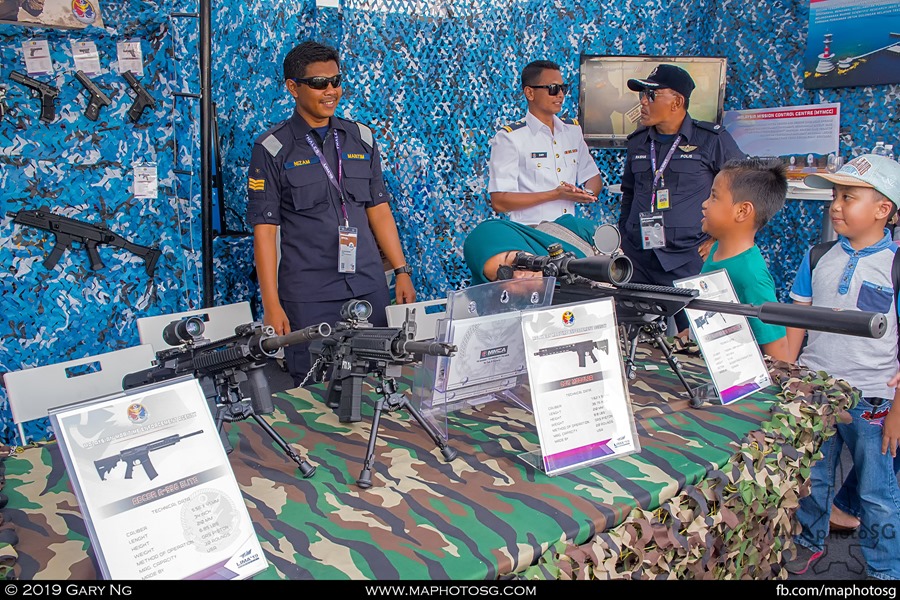 Carrying on from the momentum of LIMA '17, on all counts, this year's edition has been a success and we look forward to what 2021 brings to the table.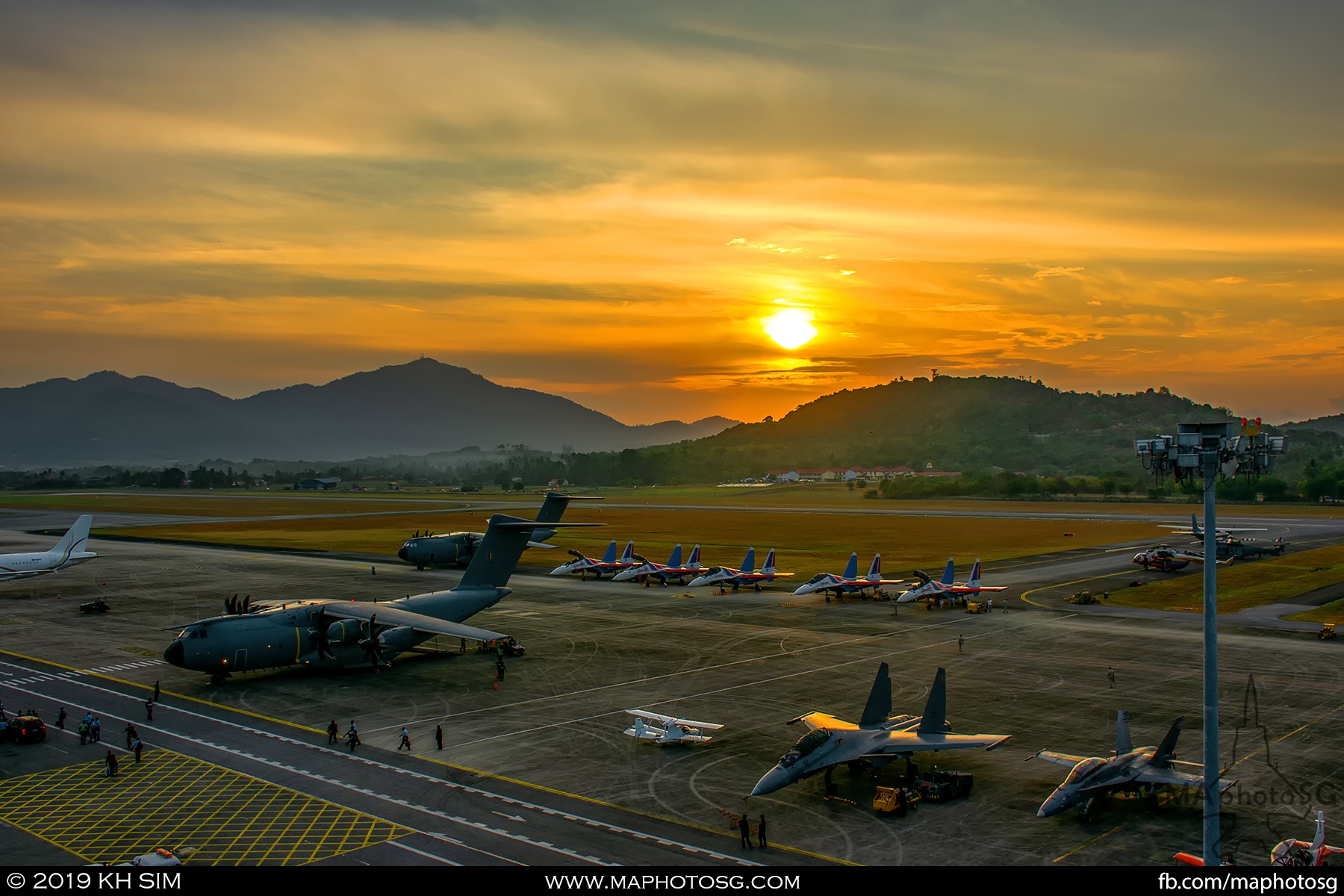 The MAphotoSG team would like to thank the organisers and staff of the LIMA Media Center for their assistance and help in the coverage of the event. A special note of appreciation goes out to the UKS (Unit Komunikasi Strategik) Team, especially Major Riduan and Lt Cdr Iliyas for their continued support. We also would like to thank our additional photography contributors, KH Sim and Bryan Wong.