With a strong growth in the Asian aviation market, MAphotoSG sat down with Sameer Rehman, Managing Director, Bell Helicopter Asia, at Rotorcraft Asia 2017 to learn more about the company's perspective on the market and directions in addressing it.

Editor: What is Bell Helicopter's objectives for participating in the inaugural edition of Rotorcraft Asia 2017?

Sameer: It is an important show for us as it allows us to get directly to the point for many of our civilian operators in the region. As you are aware, the Singapore Airshow has a more holistic and comprehensive approach to aviation and it is a terrific regional show, but the visitors to Rotorcraft Asia are specifically interested in rotorcraft, and more specifically the civilian aspects of it, and it can include both parapublic and paramilitary as well.

Importantly this has been a great event, and it's a proud moment for us to be one of the Founding Sponsors.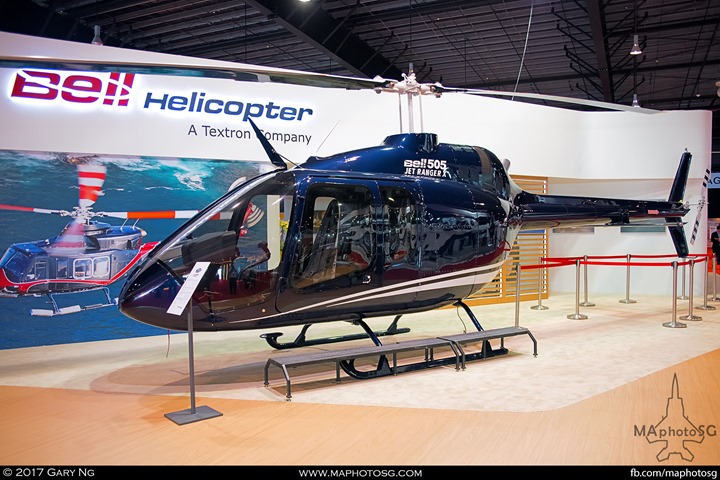 Bell 505 Jet Ranger X
Editor: Given the strong competitive landscape and current economic situation, what is Bell Helicopter's strategies to counter these, in general terms?

Sameer: I believe competition is great, both from an industrial perspective and technological advanced helicopter design perspective, and it allows us to cater more for our customers. Our strategies in the Asia-Pacific market are not complicated, complex or hard to understand. It's very simple – we listen more to our customers. At the end of the day, our ability to understand what our customers want and to deliver them that service and that product is paramount. So, yes it's a challenging economic environment, however, Asia-Pacific seems to be immune to that environment currently, given that military spending is up and more governments are allocating public funds towards public use helicopters.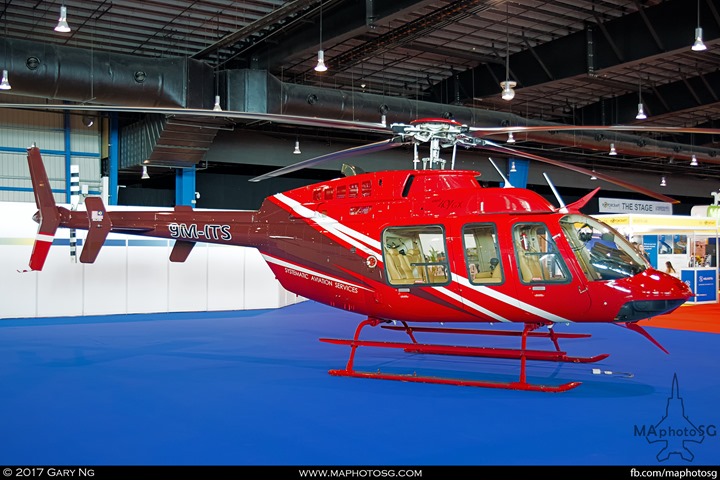 Bell 407GX
Also, it seems to me that at the macro level of GDP around the world, Asia-Pacific seems to have the highest, especially India and Indonesia. That all contributes to a healthy environment and we expect the growth in Asia-Pacific to be the most impressive for all of our business around the world.
Strategically speaking, we have never been more relevant. The word 'relevant' is the most important word in my book, because it doesn't make us any better to have a product that no one can fly or no one can use for their mission. Or for people who work towards something that to some end, the customer doesn't appreciate. Relevance to me matters the most, and I don't think we have ever been as relevant as we are today.
And that includes three things: our people, our products and our processes. We have an incredible team of professionals, we have a line-up that meets practically every segment of the helicopter business, and even though we are headquartered in Texas, Singapore is our regional base and Seletar not only allows to show our strength, but our breadth as well.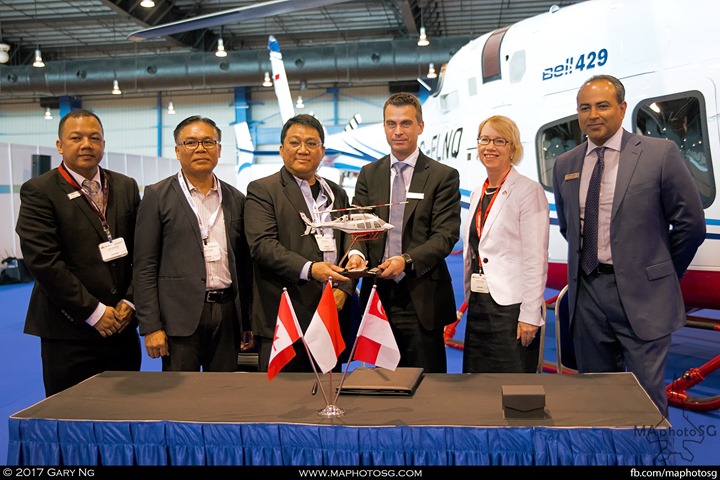 PT Carpediem Mandiri Bell 429 signing ceremony in the presence of Nancy Lynn McDonald, High Commissioner of Canada to Singapore
Our customers need not travel all the way to the United States, or Canada, to experience what we can do right here in Singapore. To be globally local is a big deal, and we do that by making sure our customers understand they don't have to go very far to get the service and support that they need. Selling a helicopter is only the very first step in a very long relationship that we have with our customers.
It is important to recognise that Bell Helicopter has been independently voted as the number one customer service and support organisation for rotorcraft for 23 years in a row. So taking care of your customers is taking care of business, it's as simple as that.
Editor: It's very reassuring to hear that the branding, quality and the processes behind Bell Helicopter allows the company to have a good standing in the market.
Sameer: We have over a thousand Bell helicopters operating in Asia-Pacific, and they by far are our best sales tools. Legacy and tradition matters, and you package that together and find new technology and innovate and make new things. Ultimately, the core of our values is customer services. I like to say that we are in the customer service business. We just happen to sell helicopters.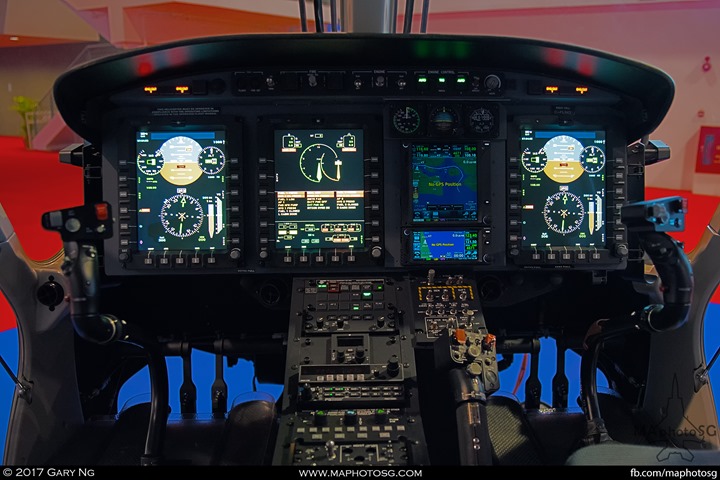 Bell 429 cockpit display panel
We are in an industry that is very important to keep assets flying. Helicopters are made to fly, and it does no good for no one if it's on the ground. That is our primary focus to make sure our customers understand that Bell Helcopter will be there for them, day or night.
Editor: For the current Asia-Pacific civil rotary-wing market which is growing at a much higher rate than other markets, are there any particular segments that Bell Helicopter is taking note of?
Sameer: There are four segments of note, and they all fall under what I term as parapublic, which is for the greater good of the public:
EMS (Emergency Medical Services), whether that involves hospital to hospital transfers, scene to hospital, or even Doctor-Heli;

ALE (Airborne Law Enforcement), which is the ability of police agencies around Asia-Pacific to be more efficient and effective when policing their respective area;

DADR (Disaster Assistance and Disaster Recovery), which is event-specific, such as tsunamis, floodings, typhoons and earthquakes and these seem to occur more frequently now;


SAR (Search and Rescue), which is on an ad hoc basis, such as rescuing people trapped on the side of a hill, or even from a burning building.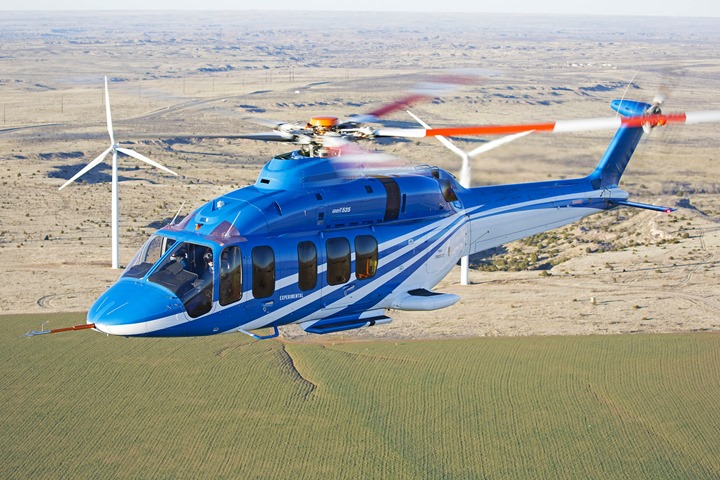 Bell 525 Relentless (Credit: Bell Helicopter)
These are the trends that Asia-Pacific is going to and it seems to me that more public funds are dedicated and directed toward those type of activities. While these four segments should develop in their own individual capability within each country, more often than not you find countries in Asia-Pacific having a police force with helicopters that tend to lend those to SAR, or to DADR, or even EMS activities. Which is very good in that in times of needs, all helicopters, personnel and services have to work together.
What I would like to see in Asia-Pacific, and which may happen soon as regulations develop for it or financial means become available for it, are departments specific to aviation services. For example, many Asia-Pacific countries have coast guards and all have law enforcement, but not all law enforcement agencies use helicopters, and not all coast guards use anything outside of ships.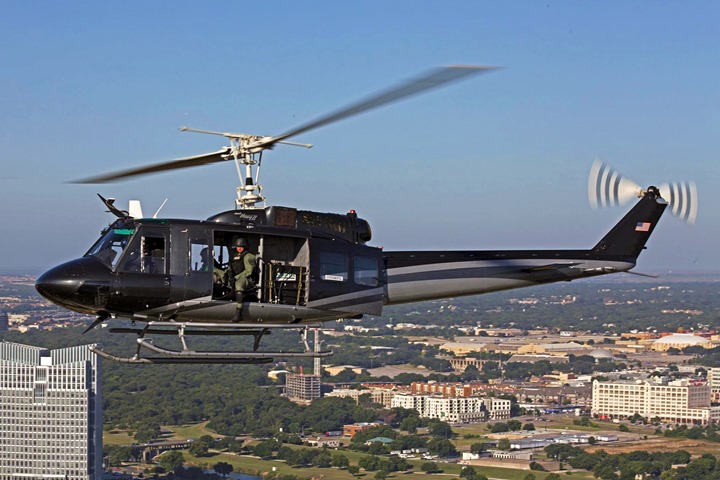 Bell Huey II (Credit: Bell Helicopter)
We would like to see more helicopters for these mission specific activities as it will help to grow the market and increase the safety and reliability of helicopters, as people use it and learn more about it. At the citizen level, they get to appreciate these assets more for what they do for the country. In fact, China's low level reform that allows flights within 5000 feet without clearance is a significant example of how China is moving towards that, especially for EMS or ALE operations. These are critical infrastructure and regulation changes that we would like to see.
Editor: For Australia, with a long history of EMS operations, particularly with the Bell 412, I assume this then is a market that Bell Helicopter is actively targeting?
Sameer: That's right. A majority of the Australian EMS and SAR market is based on CSR (Corporate Social Responsibility), so you'll find a lot of contributions from Australian entities with the right mindset to help the citizens. This is an important step which Australia took many years ago and we would like to see many other countries in Asia-Pacific replicate and repoduce it.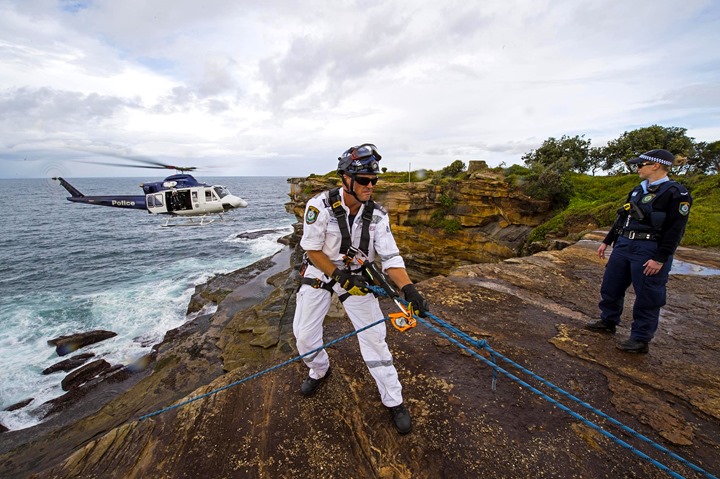 Bell 412EPI (Credit: Bell Helicopter)
Editor: Looking at the Bell 429, 407GXP and 505 Jet Ranger X, what would be their USPs (Unique Selling Points) for the Asia-Pacific market?
Sameer: It's not easy to design a product that can meet the multiple requirements of any one customer, but Bell Helicopter does that very well. Helicopters, by the nature of the product, are highly customised aircraft. You'll find that in fixed-wing aviation, 90% of the aircraft looks the same and the remaining 10% is customisable.
The 429 is a light-twin helicopter and in many countries around Asia-Pacific, it operates at 7500 lbs* with 7 passengers and a pilot. It has the ability to go from a law enforcement, to an EMS, to a coast guard, to a corporate role. It has the ability to fly auto-pilot on 4-axis, to land on a ship, to have retractable wheels and so on. So it meets many missions. The 407 is simply another Bell doing all of those things, but with only one engine. Same reliability, same optimum economics that you have with the 429. The 505 is no different too.
*(Editor's Note: The Bell 429 has recently received type certification from Transport Canada to operate with an increased external load up to 8000 lbs, adding an additional capability of 500 lbs.)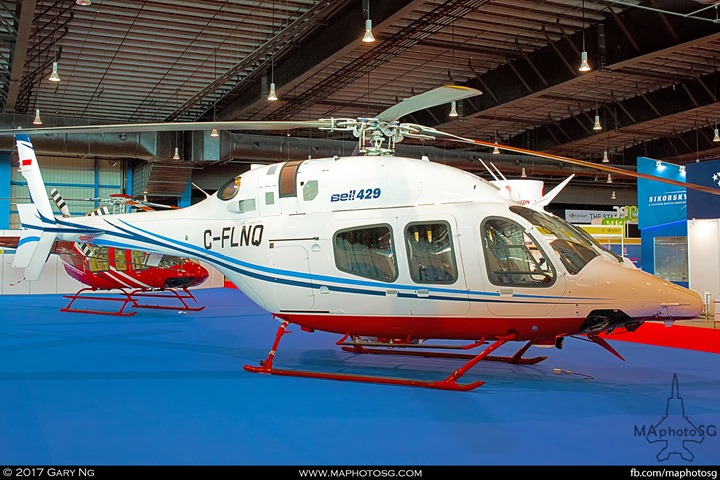 Bell 429
But a person doesn't buy a helicopter from a product; a person buys a helicopter from another person. Our key strength is our people, and we have an incredible diverse team in Asia-Pacific, and I think that is where the promise of our future will come. Nobody wants to be sold. Customers want to be informed, to make informed decisions, to compare products and to understand the positive implications to their business and mission. It takes good people to get that point across and to show how a product can meet their requirements.
Our people at Bell Helicopter, our ability to understand and to design products and services around those needs, is going to make us sustainable in this region.
Editor: As far as Bell Helicopter's Asia-Pacific strategy is concerned, how important is the role of Singapore within it?
Sameer: Singapore has been our home for over three decades and I can't imagine us doing business from anywhere else simply because, firstly Singapore is geographically centrally located to most of Asia, secondly the Singapore Government is a very friendly government that wish to do business and lastly the talent pool is very deep.
Because of Seletar Aerospace Park, we have access to amazing people. Going back to what I said earlier, we are only as good as the people we have on our team. So its makes no sense for us to be based outside or in other places where distance wise we can't reach our customers, and also importantly, when we have a need to fill our open positions, we should be able to contract with those locally.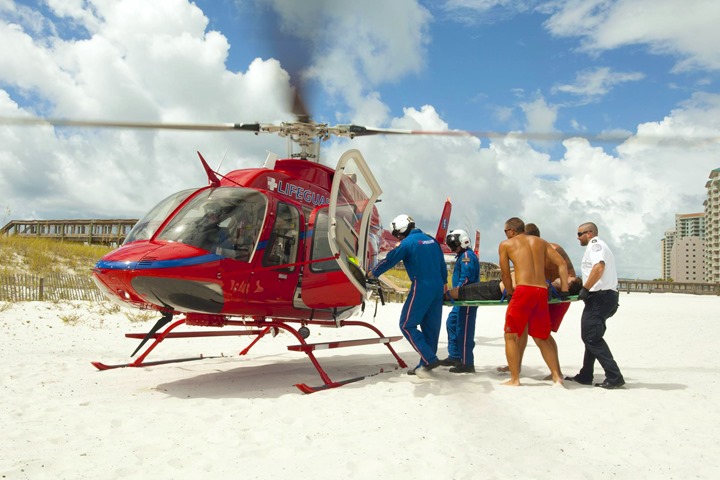 Bell 407GXP (Credit: Bell Helicopter)
What I would like to see in Singapore, perhaps enhanced over time, is our ability to operate helicopters on the island. As you know we operate in a military airspace here, and as an advanced country, something which I spoke to Ms Low (Low Yen Ling, Parliamentary Secretary, Ministry of Education & Ministry of Trade and Industry) was, how do we have the ability to have EMS operations in Singapore. The landing sites are few but many cities have that issue of limited land too, so it may not make sense to do it right away, but there are ways to regulate it. Especially from a hospital to hospital standpoint, I think there are significant opportunities that Singapore can find regulations for.
Editor: Lastly, what developments can we expect to see from Bell Helicopter in the future, from a technological and innovation standpoint?
Sameer: If there is one word, the key word is 'innovation'. We have a deep sense of understanding in tiltrotor and fly-by-wire technologies and we have been operating aircraft based on these technologies for decades. We have taken the experience learnt, and put it all on the 525 from a fly-by-wire, and the V-280 FVL (Future Vertical Lift) from a tiltrotor perspective, respectively. The Bell FCX-001 which we unveiled at Heli-Expo 2017, is a futuristic concept helicopter that we have developed to show the possibility of what may be available to customers in the future.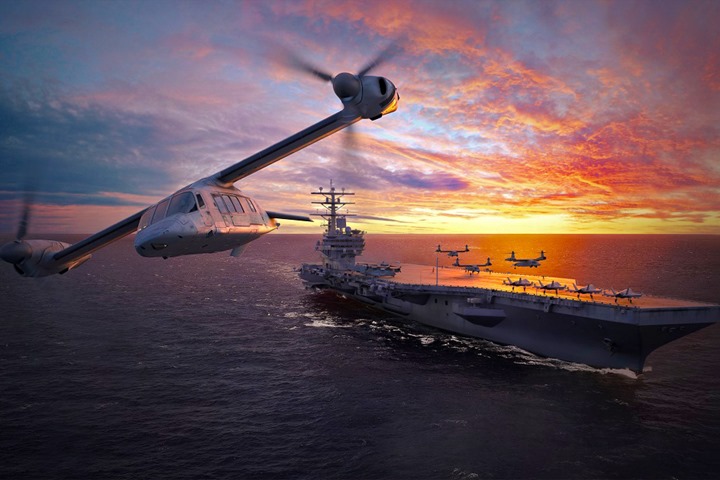 Bell V-280 Valor FVL (Credit: Bell Helicopter)
Again going back to the word 'relevant', and to be relevant on serving the needs of the United States Government is very important to us. Technology, innovation and advancement, you hear that in the halls of Bell Helicopter all the time.
One thing that most people don't quite put the numbers to, is that technology and innovation are great things, but they have to be affordable. You can't make the most expensive and most inaccessible if it doesn't meet the needs of your customer. And needs means mission requirements, operations and fiscal responsibility. And the 505 Jet Ranger X is such an example, taking the market by storm with over a hundred customers for that aircraft in this region.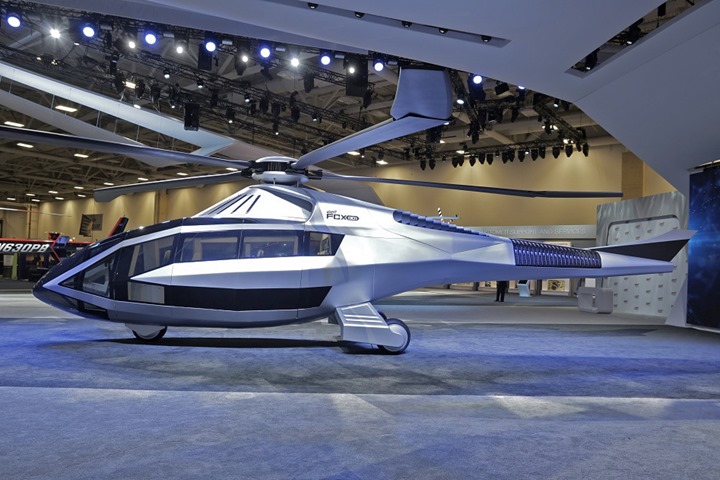 Bell FCX-001 (Credit: Bell Helicopter)
At the bottom end we have the Bell 505, and the top end, the Bell 525. And everything else we do from now on, these will be the baseline to our future technology and innovation. And we are not going back.