The biggest ever International Maritime Defence Exhibition & Conference, IMDEX Asia, took place from the 16-18 May at the Changi Exhibition Centre in Singapore. Along with the the 5th International Maritime Security Conference (IMSC 2017) and the 3rd Asian edition of the prestigious International Naval Engineering Conference (INEC@IMDEX Asia 2017), the event was also held in conjunction with the Republic of Singapore Navy's (RSN) Golden Jubilee.




This year's record number of global stakeholders in attendance highlighted the exhibition's important role as a neutral platform for facilitating strategic discussions around maritime defence and security. Important visitors included 73 VIP delegations from 45 countries/regions and a record participation by 25 Chiefs of Navy, 10 Vice-Chiefs and Directors-General of Coast Guard, as well as 17 high-level representatives from other Navies and Coast Guards. A record attendance of 10,600 trade visitors was achieved, from 69 countries/regions, and overseas visitors accounted for 38% of the total. During the exhibition period, 630 business meetings took place and 123 media personnel representing 79 media outlets were present to capture the highlights and news. Over 230 participating companies from 29 countries came together to network, forge partnerships and foster collaborations.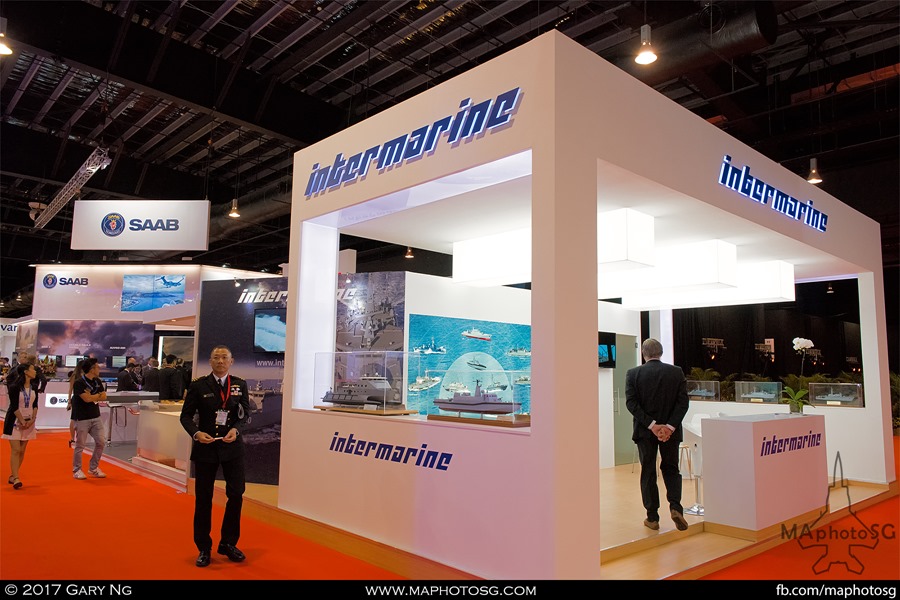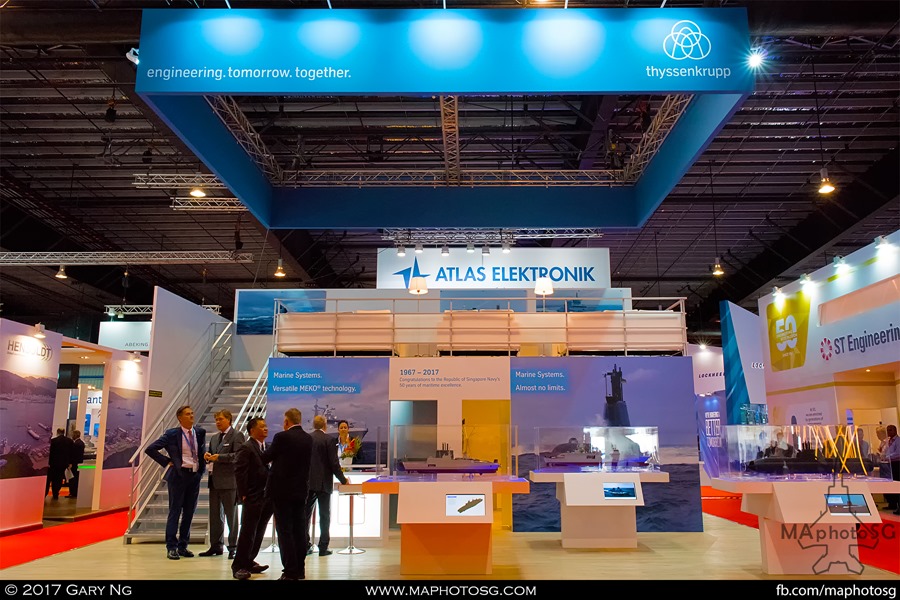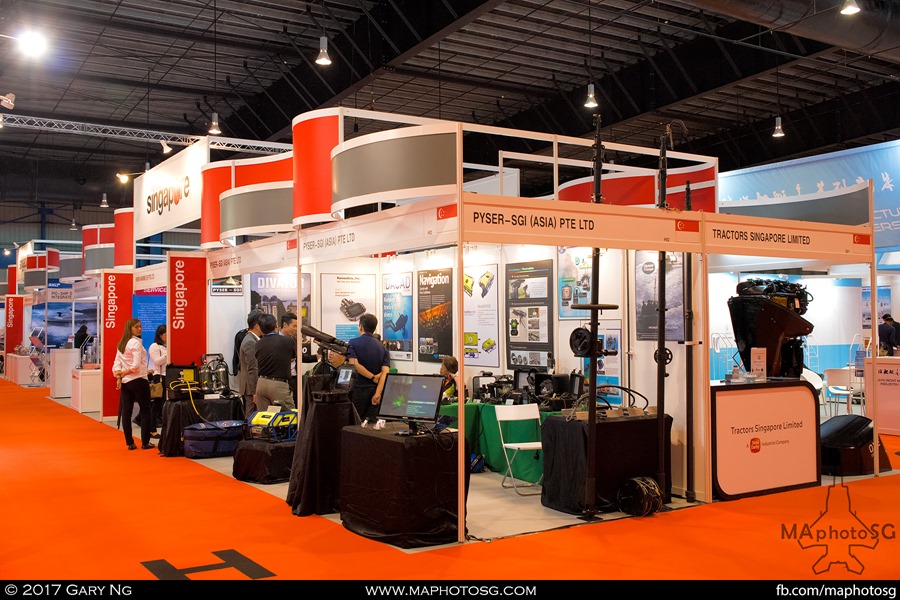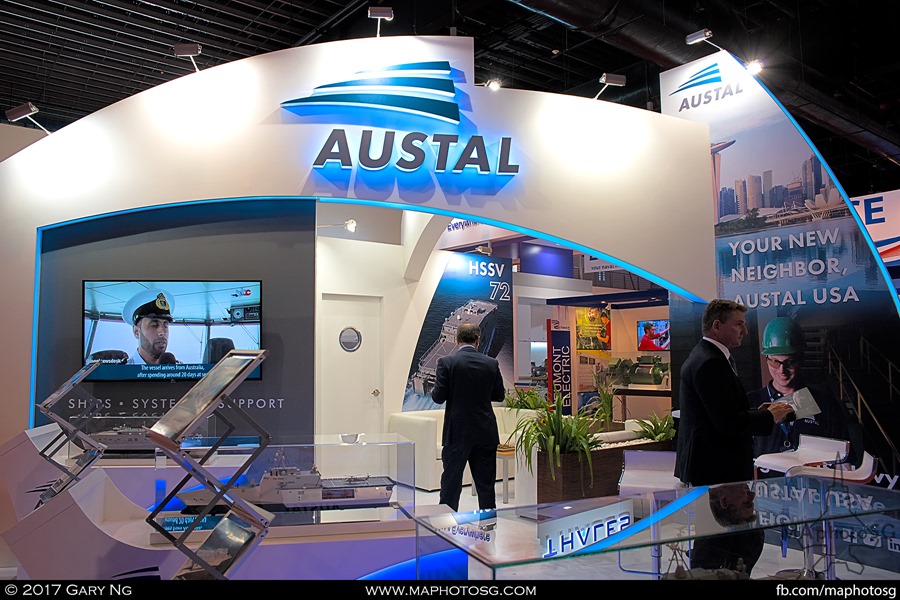 A Growing and Expanding Role
In his Welcoming Address, Mr Vincent Chong, Chairman, Experia Events, highlighted the growth of maritime trade and expanding role of IMDEX Asia in Asia-Pacific. "With about US$5 trillion of global ship-borne trade passing through Asia-Pacific every year, the strategic and economic value of this vital region continues to grow. This strong economic expansion and maritime commerce growth is giving rise to an increase in defence and maritime security spending to protect the region's sea lanes. Asia-Pacific economies are projected to contribute 30% of the total global defence acquisition budget till 2020."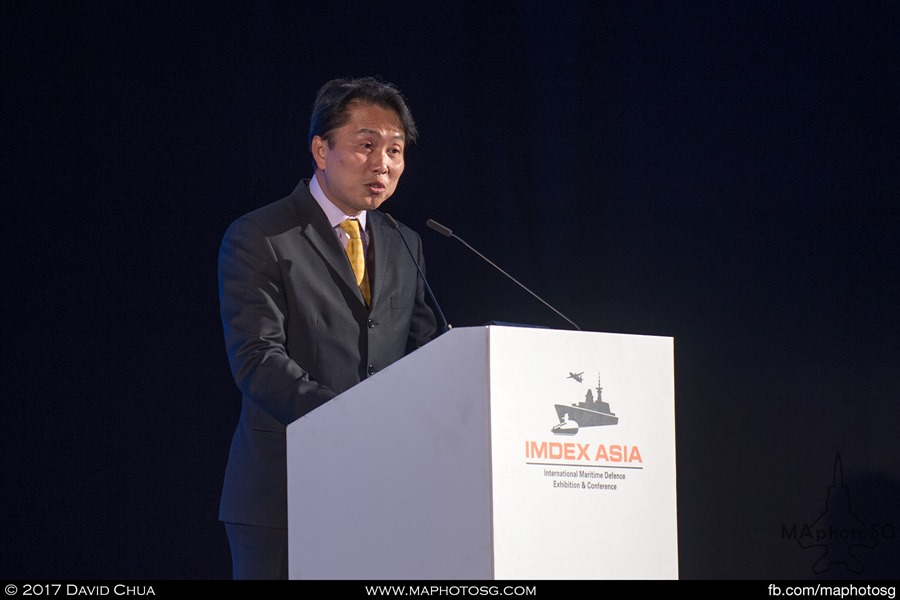 Mr Vincent Chong, Chairman, Experia Events
"With the global maritime security and defence landscape also facing rising threats, including piracy and terrorism, supporting the delicate balance of maritime security and defence in the Asia-Pacific region has become more critical. Global platforms like IMDEX Asia are therefore palying an expanding role in facilitating key discussions focused around the regional maritime security and defence agenda."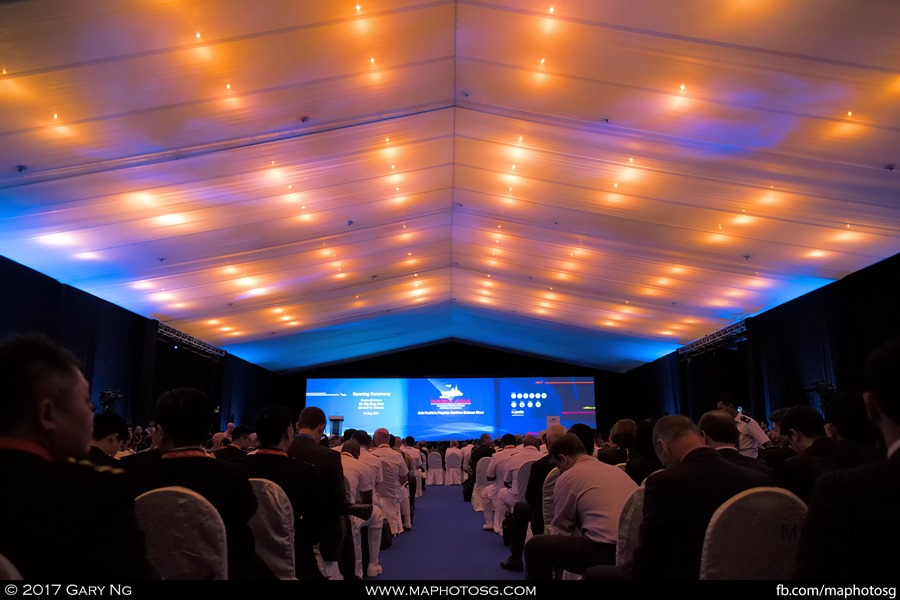 He also touched on the relevance of the two strategic conferences held at IMDEX Asia. "The 5th International Maritime Security Conference brings together Chiefs of Navy and Directors General of Coast Guard from around the world for high-level discussions on 'Safe and Secure Seas: A Vision for the Maritime Region'. We will focus on the development of a cooperative security approach to create critical capabilities that will enhance the safety of our complex maritime landscape. The 3rd edition of the prestigious International Naval Engineering Conference, or INEC@IMDEX Asia 2017, seeks to generate high-level exchanges and discussions around the theme of 'Robust Designs, Flexible Capabilities', to address key challenges faced by the naval engineering industry."
Meeting the Challenges and the Future
Dr Ng Eng Hen, Minister for Defence, delivered his Opening Address by also echoing the growth of maritime trade in the region. "Maritime trade for the Asia-Pacific has indeed grown exponentially and brought wealth to its countries. Today, more than 50% of the global container traffic now moves through the Asia-Pacific. Singapore saw an increase of 20% over the last decade – from 480 million tonnes in 2006 to almost 600 million tonnes in 2016."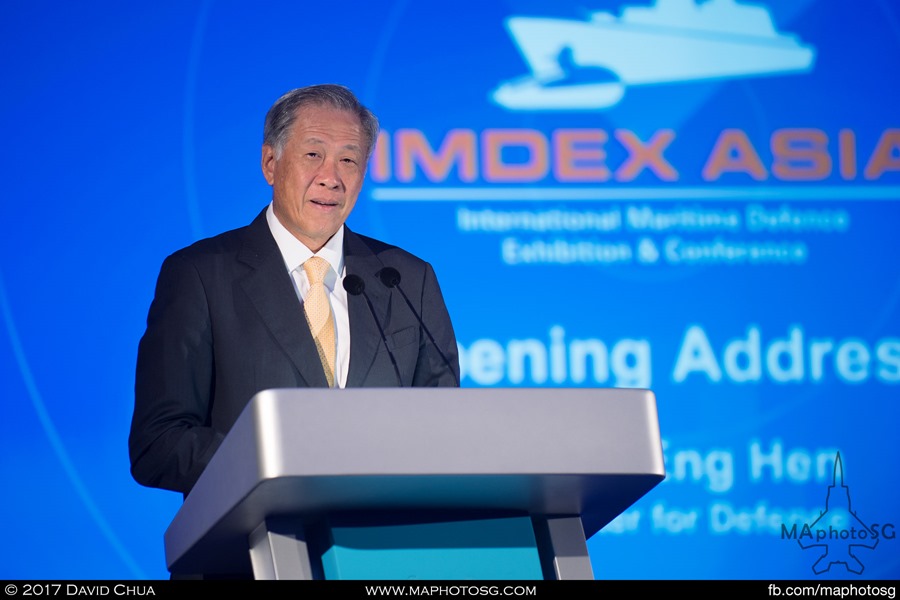 Dr Ng Eng Hen, Minister for Defence
To protect this growth "ASEAN countries, Australia, China and India have all increased the strength of their navies, with naval budgets in the Asia-Pacific region expected to increase by 60% through 2020." Dr Ng also announced an important step in the RSN's modernisation plans. "In addition to the two previously announced, the RSN will acquire two more Type-218SG submarines to replace its older submarines, with an expected delivery from 2024 onwards. At steady state, the four Type-218SGs in service will complement each other in maintenance, logistics and operations, and have better capabilities to protect our SLOCs (sea lines of communications)."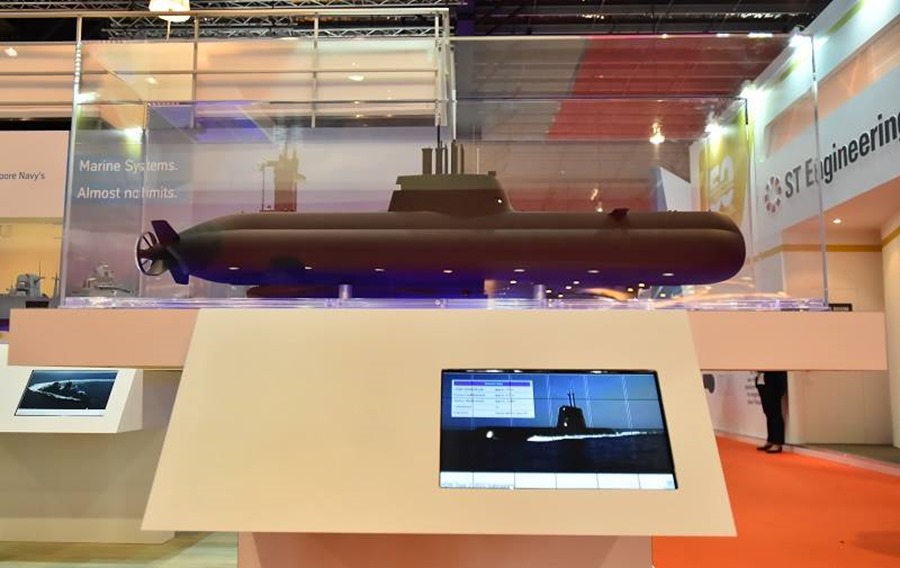 Type-218SG submarine model (Photo Credit: MINDEF)
Addressing the maritime threats faced by the region, "trans-national threats from terrorism, piracy, illegal smuggling of weapons of mass destruction (WMDs), drugs and human trafficking cannot be addressed adequately by any one country, no matter how well-resourced and capable their security assets. In particular, ISIS terrorirsts present a clear and present threat to this region. Just last year, the Katibah Nusantara (KN), otherwise known as the Malay Archipelago Unit for ISIS, was formally launched with the sole purpose of establishing an ISIS-like caliphate in Southeast Asia."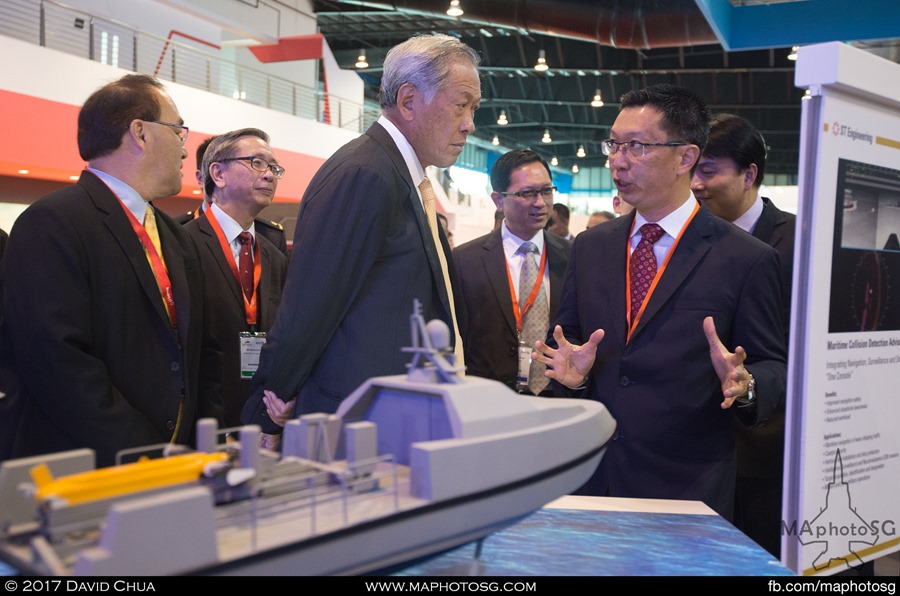 "These terrorist groups have and will continue to use maritime routes to conduct and expand their reach. Since early 2016, the Sulu Sea has witnessed 15 maritime attacks and over 60 innocent crew kidnapped by the ASG (Abu Sayaff Group). Singapore welcomes the efforts by Indonesia, Malaysia, and the Philippines to deal with maritime terrorism and kidnapping incidents in their waters. Singapore has offered the assistance of our Information Fusion Centre in Changi Naval Base to  assist in this important effort," said Dr Ng.
On managing incidents at sea, "we also need to facilitate practical procedures and platforms to prevent or manage unintended incidents at sea. A goof example is Brunei's proposal, adopted at the ASEAN Defence Ministers Meeting (ADMM), to establish a Direct Communication Link, or hotline, to maintain open channels of communication among the ASEAN member states in the event of emergencies. Moving ahead, we should explore building on the success of CUES (Code for Unplanned Encounters at Sea) between navy ships to expand it to include coast guard and non-military ships."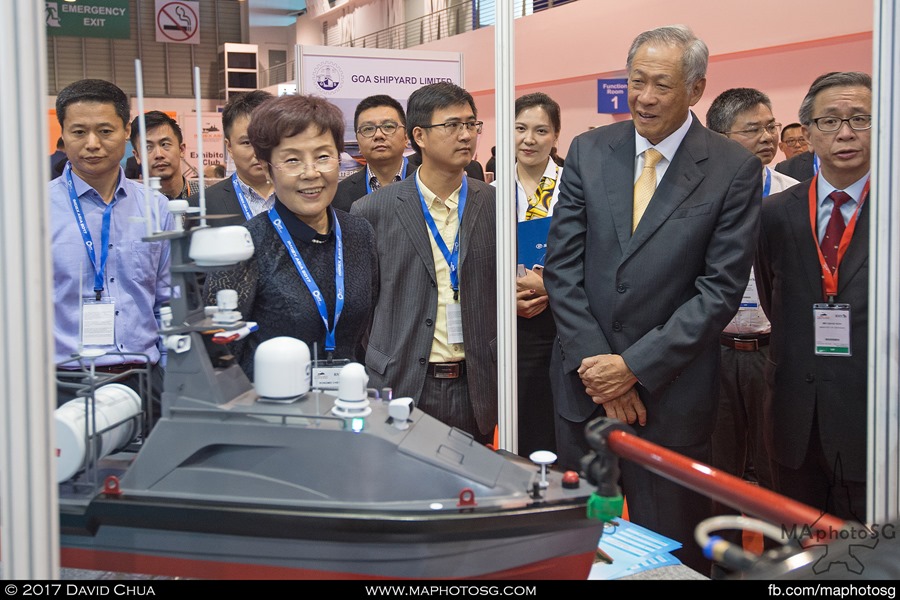 Rounding up his address, Dr Ng said: "The collective aspiration for all countries represented here and beyond is for our surrounding seas to stay calm and fair winds to bring our ships safely to their destinations and back. To maintain these virtuous conditions of freedom of navigation and growing trade, we must be able to find common ground to strengthen maritime security through constructive dialogues, cooperation, and practical solutions and common rules in dealing with security challenges we face."
Increased Technological Focus
Over 230 participating companies from 29 countries came together at this year's exhibition, spanning a wide spectrum of the naval industry, and innovative technologies including robotics, unmanned and autonomous vehicles, and data analytics have emerged as a growing focus. An example was the Autonomous Underwater and Surface System (AUSS), which was showcased by Thales for the first time in Asia-Pacific. ST Engineering also highlighted the Mercury AUV, the Venus family of USVs and the LEUSV as part of their focus on unmanned vessels. ST Marine displayed its NERVA Ship Management System with Sensemaking (SMS2), which utilises data analytics to perform equipment health monitoring and predictive diagnostics.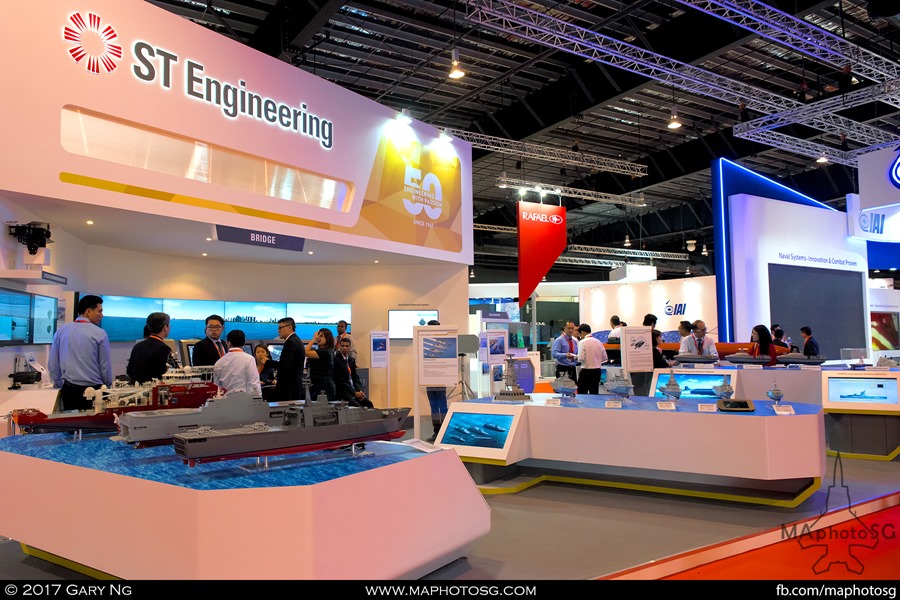 Mr Chew Men Leong, Deputy President & President (Defence Business), ST Marine, said: "This year's IMDEX Asia has seen an increase in the crowds as well as visits by high level delegations, and it is very encouraging to see many taking a greater interest in future naval solutions, and what we have to offer. IMDEX Asia is a must-attend show where many of the Navies from Asia-Pacific and around the world come to look at the latest technologies and capabilities, and it's a good opportunity for us to showcase our offerings, while also establishing and maintaining key touch-points for the future."
The China Pavilion made its debut this year, with leading maritime unmanned systems companies from the Zhuhai Prefecture showcasing their innovations at IMDEX Asia for the first time, while the India Pavilion made a return from its debut in 2015, and taking up twice as much space as before. New exhibitors this year include Ferretti Security & Defence, Huntington Ingalls Industries, MTech Imaging, Parsh Marine and Tractors Singapore, while Lockheed Martin, Thales, ThyssenKrupp Marine Systems and Damen are some of the returning exhibitors.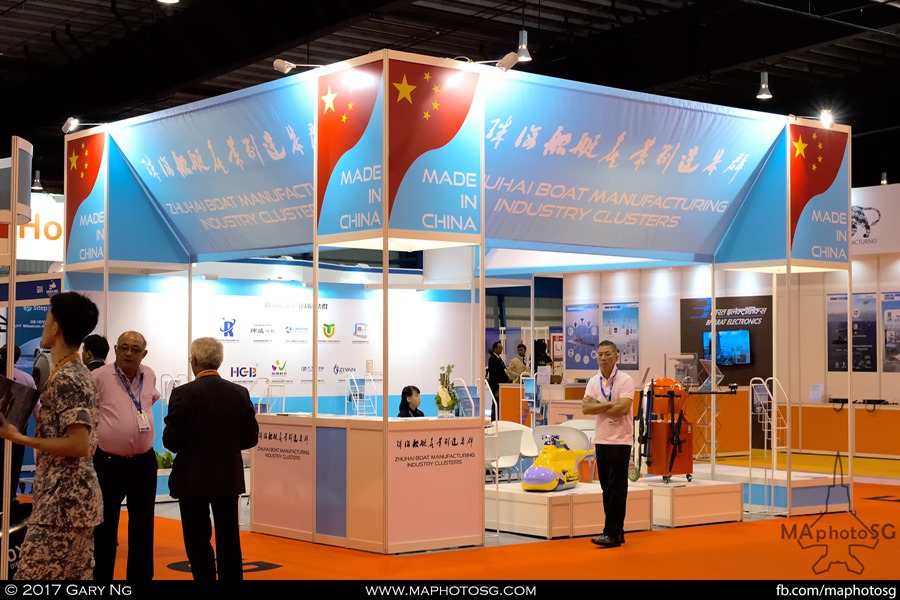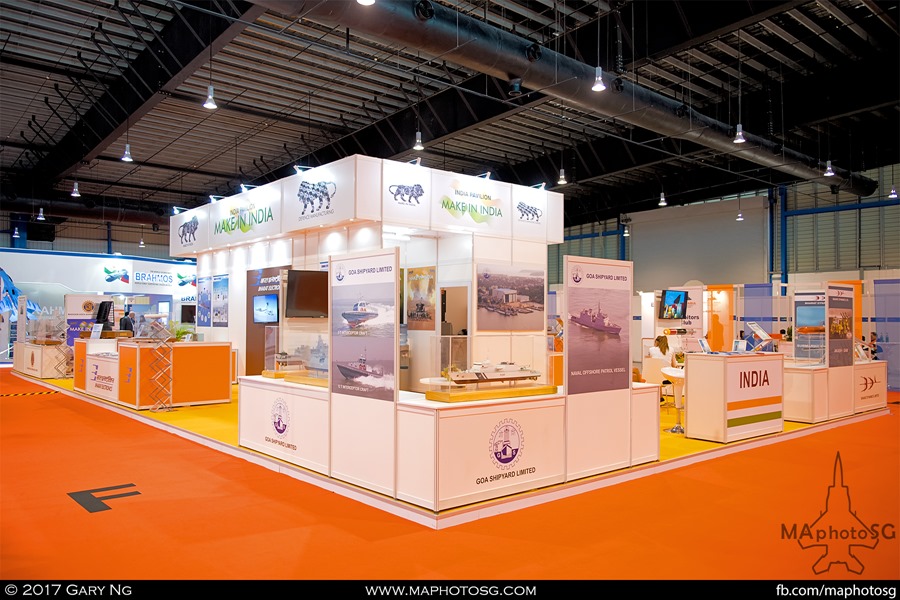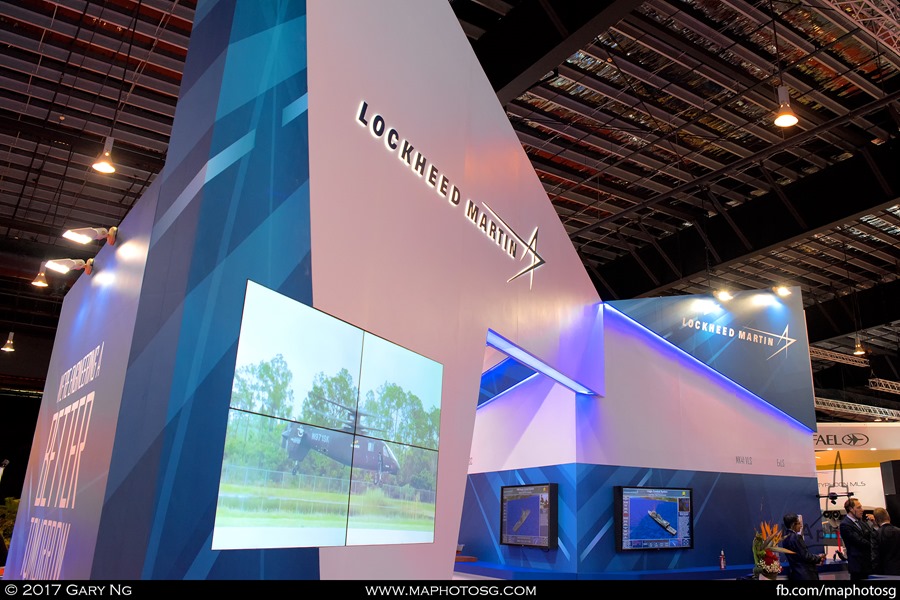 The RSN displayed some of its naval hardware at the indoor static display area, including a new Zodiac Milpro Hurricane Rigid Hull Inflatable Boat (RHIB), along with a Protector Unmanned Surface Vessel (USV) by Rafael. Kairos Singapore Holdings was also displaying its range of boats such as the Whaly, Pioner and Roughneck OPH M10.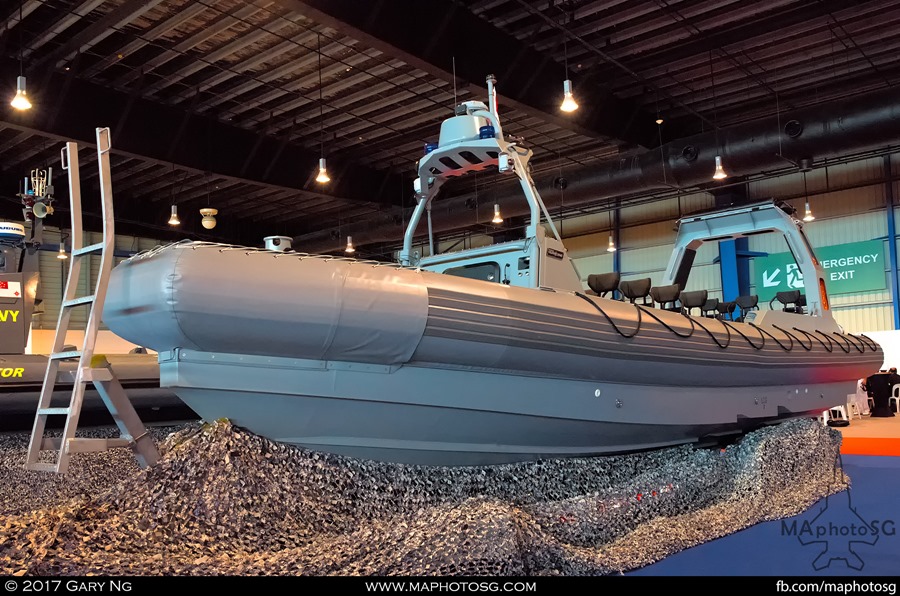 Zodiac Milpro Hurricane Rigid Hull Inflatable Boat (RHIB), Republic of Singapore Navy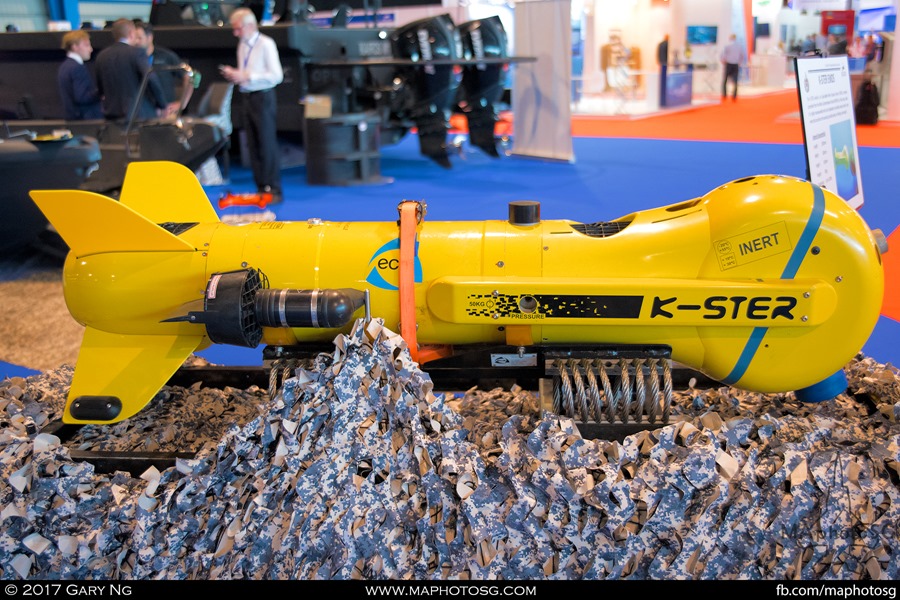 K-STER, Expendable Mine Disposal System (EMDS), Republic of Singapore Navy
Roughneck OPH M10, Kairos Singapore
Technology Seminars by companies such as Curtiss-Wright, ABS and Wartsila allowed visitors to get an in-depth understanding of the design and technological considerations behind their products or solutions on display. It also enables the chance to exchange ideas with the presenters face-to-face. ABS also chaired the Commercial Maritime Cyber Security Forum in which seasoned experts and practitioners in cyber defence and security share their knowledge and approaches in protecting critical infrastructure, vessels and facilities.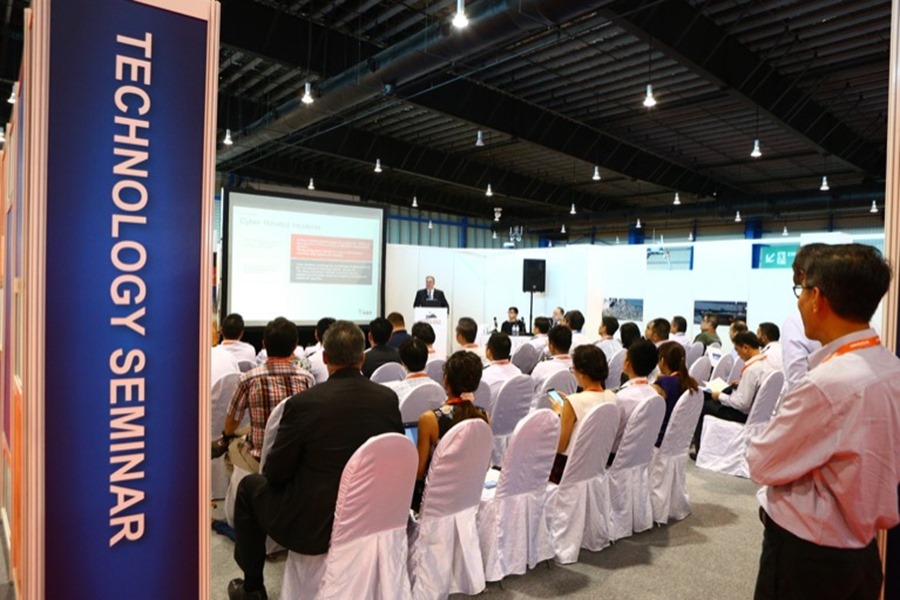 (Photo Credit: Experia Events)
International Maritime Security Conference (IMSC) 2017
The 5th IMSC was opened by Dr Mohamad Maliki Bin Osman, Senior Minister of State for Defence, with the theme of "Safe and Secure Seas: A Vision for the Maritime Future". Touching on the modern complexity of the the maritime domain, Dr Maliki said: "Today, UNCLOS (United Nations Convention on the Law of the Sea) is an international agreement that helps preserve order and stability at sea. However, there are emerging global and maritime trends that make the landscape at sea, or seascape more complex than before. The US-China relationship is the single-most important factor that undergirds stability in the region. Strategic cooperation between the US and China over issues such as North Korea brings stability to the region. Conversely, a lack of cooperation and a climate of mistrust would have adverse effects, particularly when both countries have stepped up their naval deployments in the region."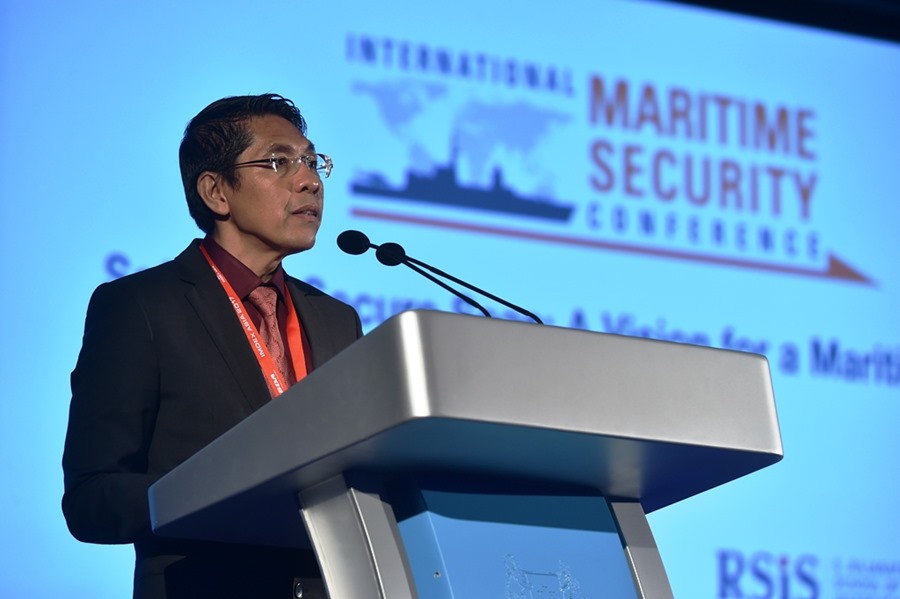 Dr Mohamad Maliki bin Osman, Senior Minister of State for Defence (Photo Credit: MINDEF)
"The threats to the maritime domain also come from non-traditional threats. Maritime terrorism has been steadily on the rise and the porosity of the maritime domain makes it a convenient medium for would-be perpetrators. And then there are other non-traditional maritime security threats such as the Illegal, Unreported and Unregulated (IUU) fishing and illegal human trafficking, as well as natural disasters that occur frequently, particularly within our Pacific Ring of Fire."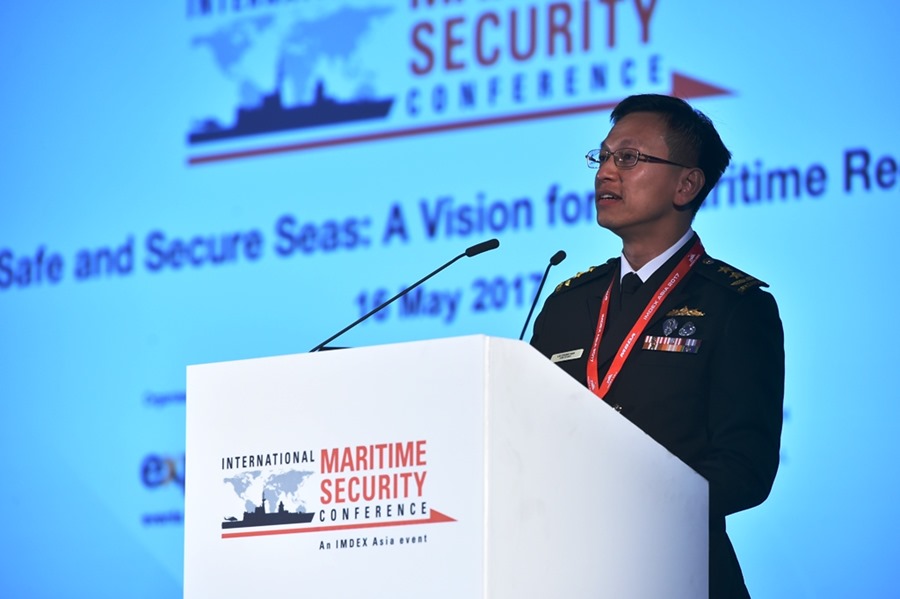 Rear-Admiral Lai Chung Han, Chief of Navy, Republic of Singapore Navy (Photo Credit: MINDEF)
Dr Maliki also stated his belief in building trust and advancing practical cooperation to achieve safe and secure seas. "Building trust is a key foundation for effective cooperation. Without trust, promises of cooperation would merely be superficial lip service. We can build trust by engaging in dialogue and maintaining open channels of communication," he said. "Trust can be further deepened with greater practical cooperation for us to achieve safe and secure seas. With our ships on the ground, navies and coast guards are in prime position to work together and enhance our interoperability."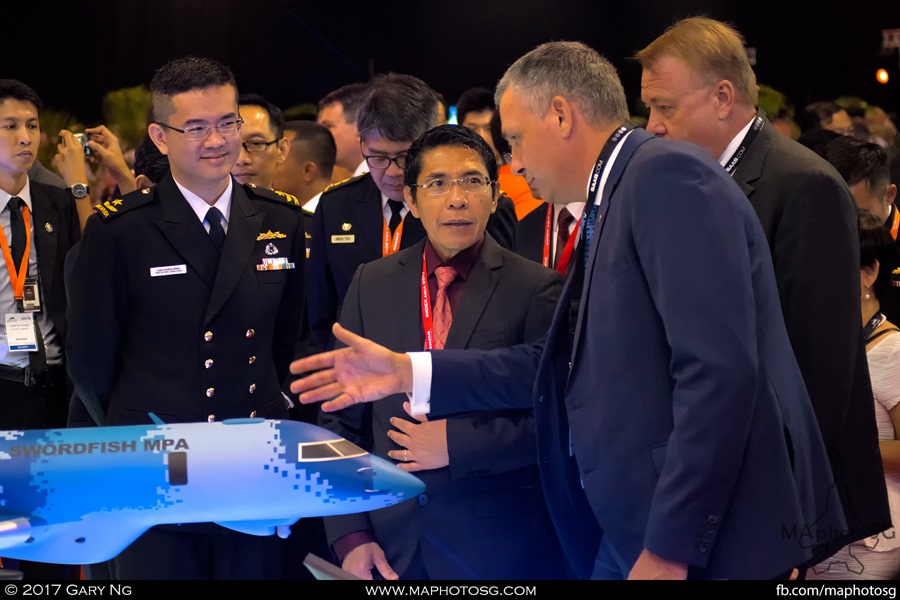 Highlighting the IMSC as a valued platform for the discussion of issues, Dr Maliki said: "As we discuss these issues and more, let us use this occasion to strengthen our collective commitment to regional peace and security. As prominent maritime practitioners, your inputs are crucial in shaping our seas and achieving our vision of safe and secure seas for the maritime region. It is also important that we use this opportunity to reinforce our institutional and personal friendships. While we build trust among the institutions we represent, the personal friendships we build are equally important in providing a meaningful foundation for concrete and substantial collaboration."
International Naval Engineering Conference (INEC) 2017
Mr Ng Chee Kern, Permanent Secretary (Defence Development) opened his Keynote Address for INEC 2017 by highlighting the 4th Industrial Revolution (IR) trend. "Since I last spoke, advances in technologies have continued unabated, and there have even been instances where technologies themselves are being disrupted by new advances. Indeed, our society and security landscape will continue to be influenced by wider technological trends. One of such trends that have gained significance is called the 4th Industrial Revolution, or 4th IR in short. It is characterised by a fusion of technologies that is blurring the lines between the physical, digital and biological spaces, and sees advances in data science, AI, quantum and cognitive computing, robotics."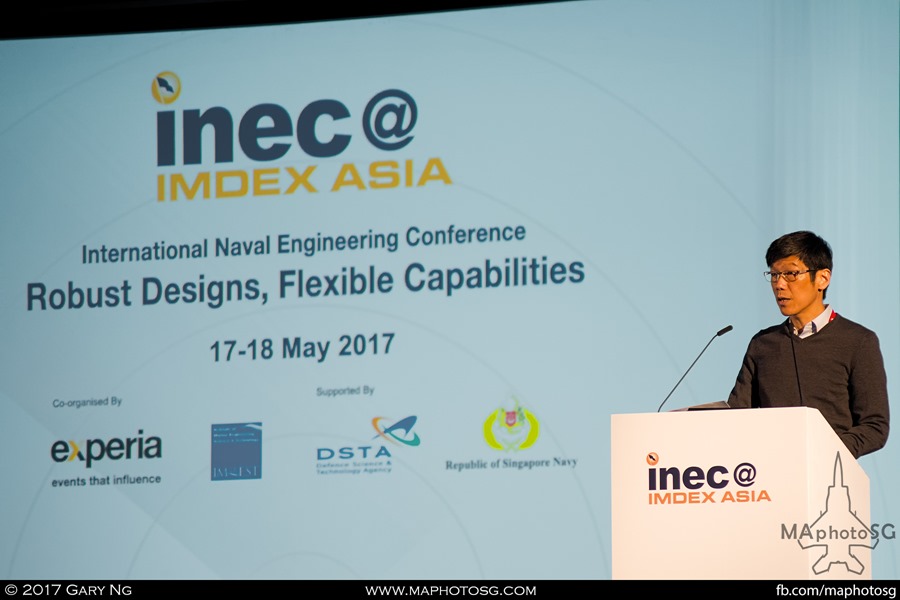 Mr Ng Chee Kern, Permanent Secretary (Defence Development)
Expanding on the theme of "Robust Designs, Flexible Capabilities", Mr Ng pointed out four approaches that defence planners need to seek in order to exploit the opportunities of disruptive technologies: Develop Mastery of 4th IR Technologies, Instil a Multi-disciplinary Approach, Be Open to "Experimentation" and Leverage Expertise Beyond.
"The key to cyber, information and AI lies mainly in the techniques. These software-centric capabilities are conceived, designed and evolved by programmers. Just how sophisticated and advanced these techniques are will ultimately depend on human ingenuity and intelligence. Hence, building up a body of expertise in this area will be crucial. As data, cyber and AI would be embedded in everything, in all hardware and weapons systems, whoever is able to make software work better with hardware will hold the dominating ground. This calls for a tight integration of software techniques with operational acumen of the battle ground to truly yield effective weapons systems. A multi-disciplinary approach would be needed."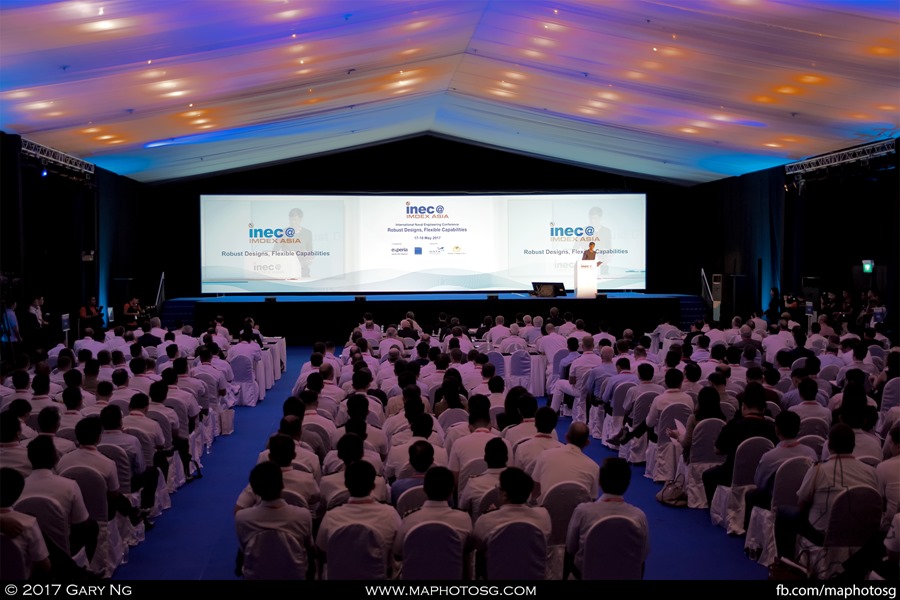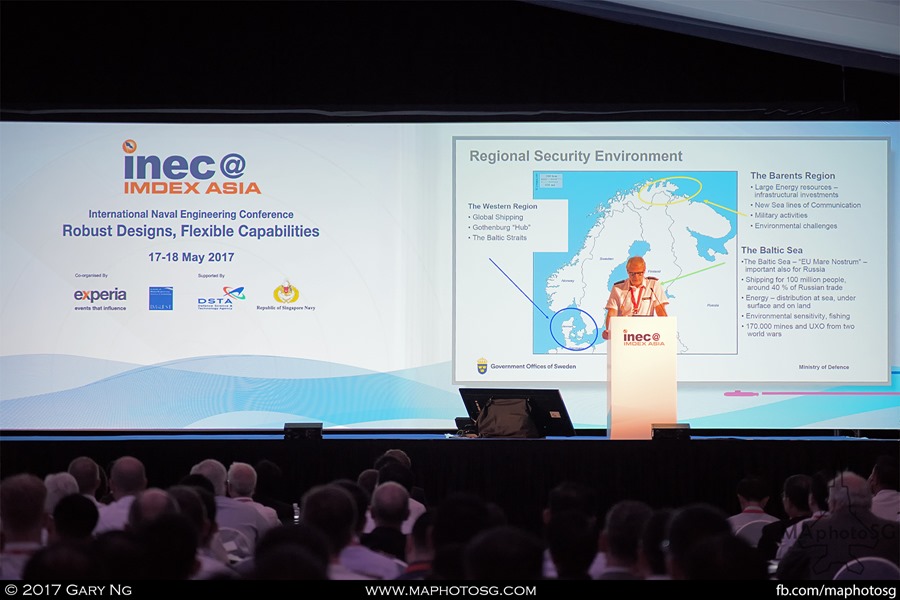 "We must also embrace the right mindset and culture to be able to seize the opportunities. A setting for agile development should be instilled. Lastly, we need to look beyond the "siloes" of the defence eco-system to leverage what is already out there. Today, cutting edge technologies and expertise that have great potential for militaries reside in the commercial sector. At the same time, we should also be looking out for local small-medium enterprises, or SMEs, as given their nimble size and entrepreneurial mindset, they could also be developing 'the next big thing'."
Warships Display
Fresh off the back of the International Maritime Review in celebration of the RSN's 50th Anniversary (Read Article Here), 28 foreign warships from 20 navies also took part in the IMDEX Asia 2017 Warships Display at RSS Singapura – Changi Naval Base. Visitors were able to visit vessels such as the JS Izumo helicopter carrier of the Japan Maritime Self-Defense Force, the Huangshan Type 054A frigate of the People's Liberation Army Navy, and the UMS King Sin Phyu Shin frigate of the Myanmar Navy. Most of the vessels were making their debut appearance in Singapore waters, and showcased a wide range of naval weapons and systems during the onboard visits.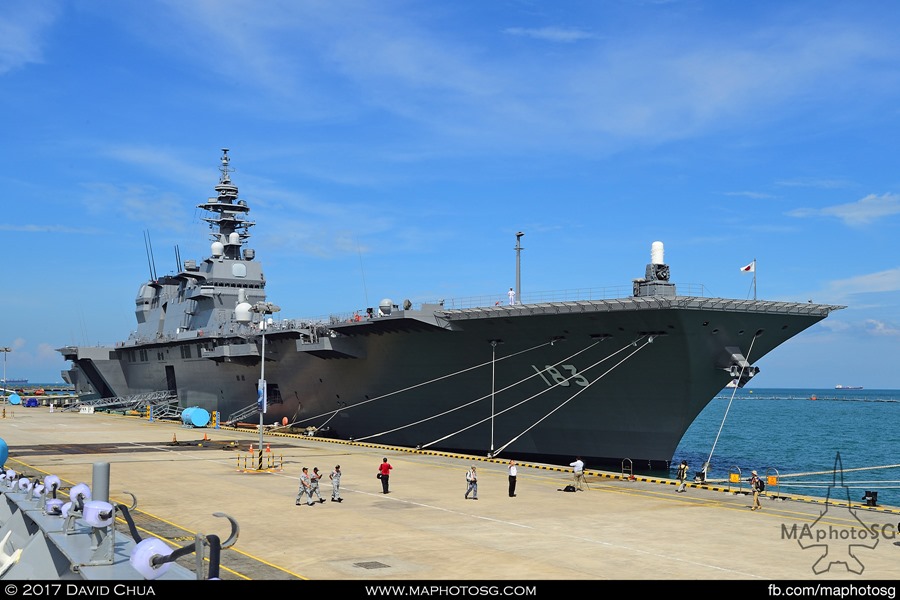 JS Izumo, Japan Maritime Self-Defense Force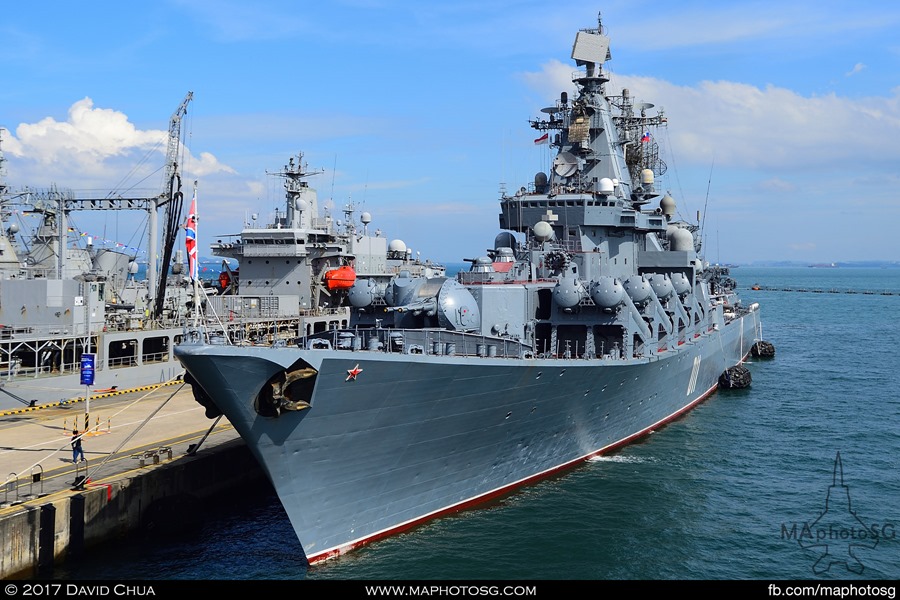 Varyag, Russian Navy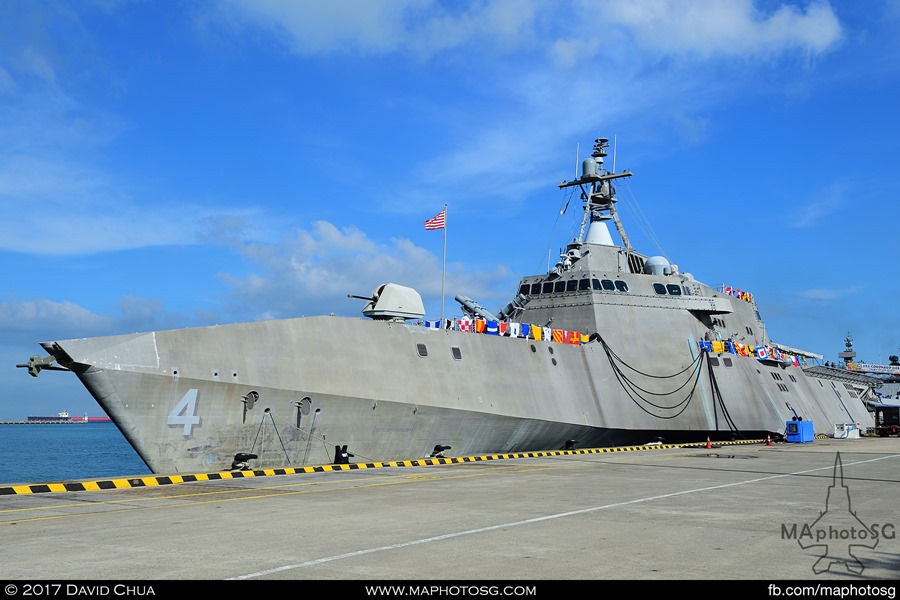 USS Coronado, United States Navy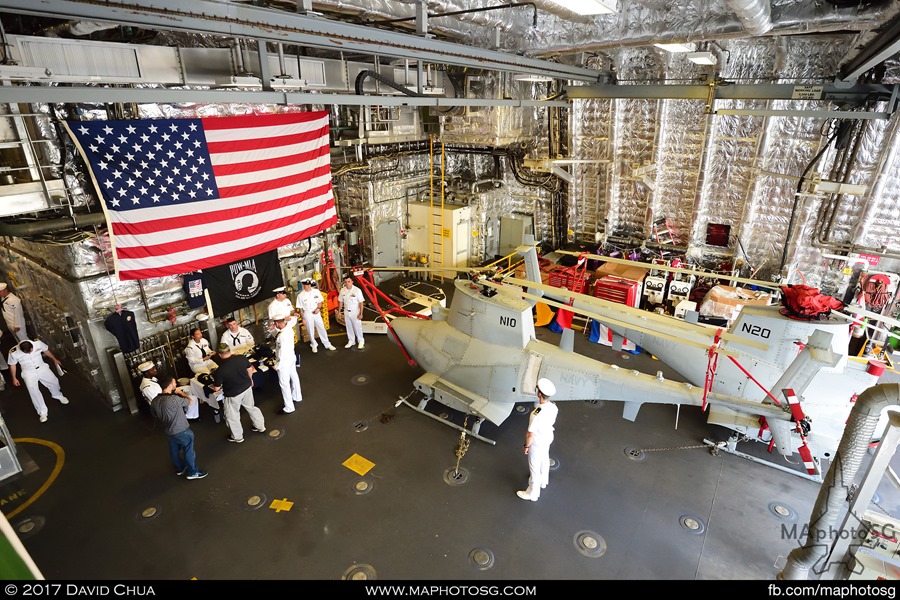 USS Coronado, United States Navy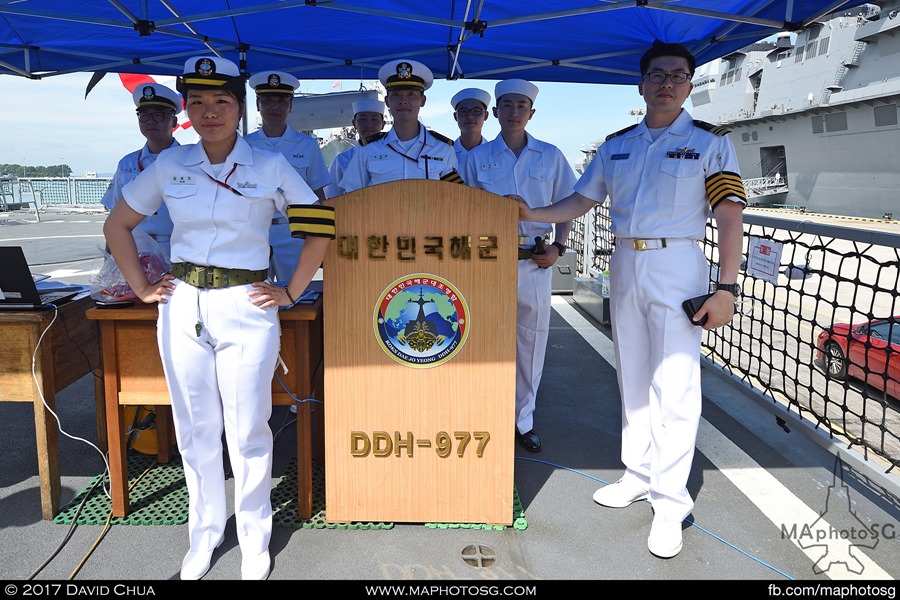 ROKS Dae Jo Yeong, Republic of Korea Navy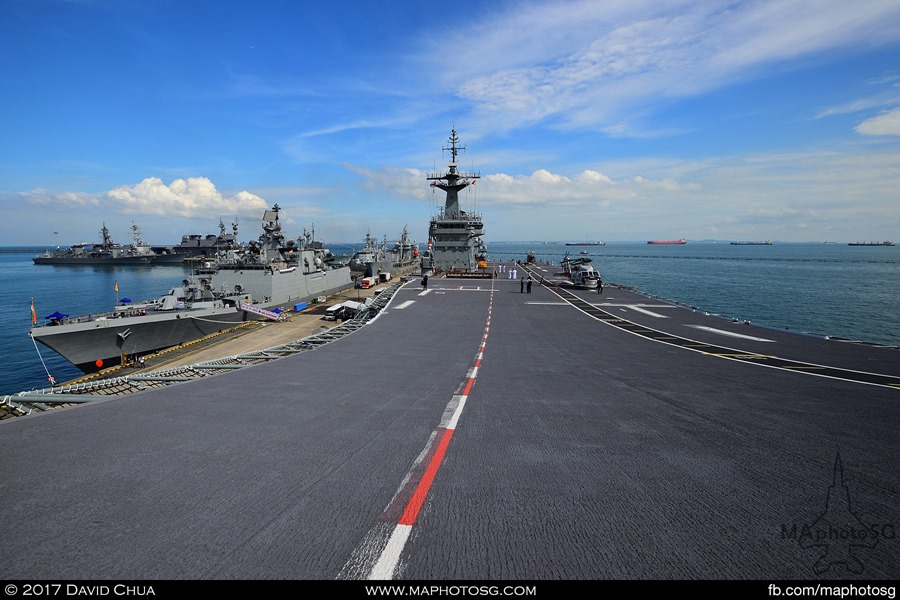 HTMS Chakri Naruebet, Royal Thai Navy
"2017 has been a milestone year for IMDEX Asia with record participation by Chiefs of Navy, ViceChiefs and Directors-General of Coast Guard, representatives from navies and Coast Guards, as well as foreign warships. Together with record VIP delegations and trade visitor attendance, and participating companies, these milestones underscore the expanding role of IMDEX Asia as a truly global platform for facilitating strategic discussions around maritime defence and security," said Mr Leck Chet Lam, Managing Director, Experia Events. "Recognising the strategic importance of these discussions, future editions of IMDEX Asia will also evolve to meet the growing needs of our global stakeholders, with a stronger focus on leveraging emerging technologies and innovations to address pressing maritime defence and security issues."
The 12th edition of IMDEX Asia will be held from 14-16 May 2019.